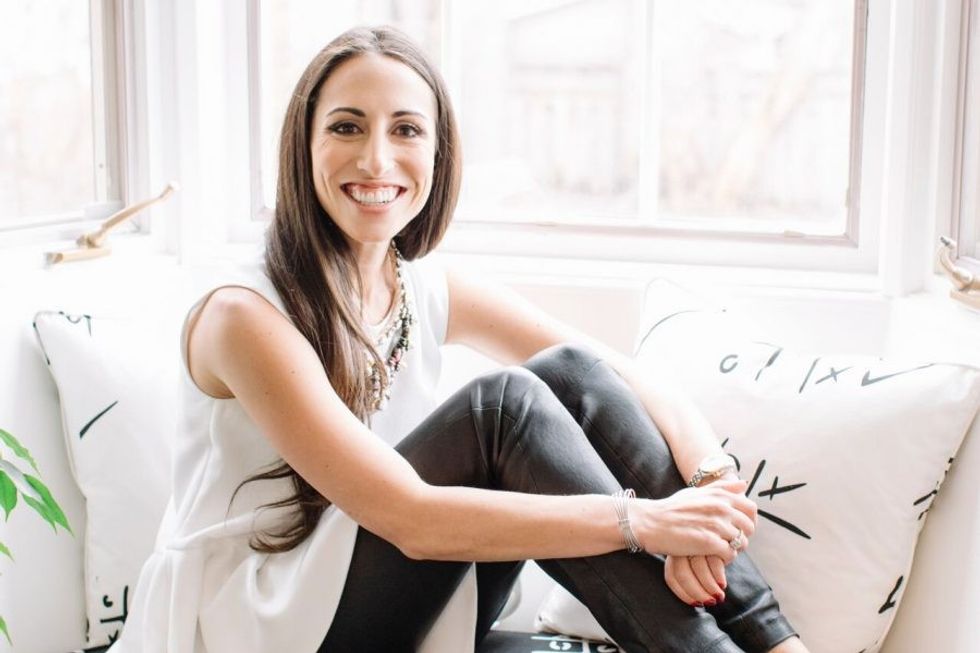 I first met Amy Burstyn-Fritz just over five or six years ago, through our mutual friend Ainsley. We were guests at a dinner cooked by celeb chef Lynn Crawford, at Inniskillin Winery out in Niagara-on-the-Lake. There we bonded while roasting marshmallows over a fire at the outdoor s'more station.
---
We continued chatting throughout the pre-arranged bus ride back home. Many of the guests were already passed out, care of the endless courses of comfort food — and many, many glasses of wine. So, instantly began our friendship.
As my work is predominantly about dating and relationships, I had heard all about Amy's other half — whom she's been with since high-school. (High school!) Since then, it's been nothing short of remarkable to see her launch her own company Burstyn Inc., chair and sit on many boards in Toronto, get married, buy her first home, and give birth to her first born — her precious ham-of-a-daughter Grace.
Did I mention Amy did all this whilst constantly appearing at local events, charities, launches and openings?
Amy is total #goals and one of those well-rounded women you'd normally envy — if she wasn't so goddamn sweet.
Since she and her signature smile are often featured in the society pages of the city's and country's top newspapers and glossies, I thought it would be apropos to do my first "At Home With" feature for Toronto Storeys on Amy's (and her real-estate hubby Graham Smith's) home.
And despite the couple's boss-like nature when it comes to work-life, Amy assures me their home is totally controlled by their one-year-old Grace.
Since little Grace is so busy controlling the household, I sat down with Amy to get the answers to all of the unasked questions about her and her home …

Home is ________________.
Home is where my family is.
How did you and Graham meet? And tell us a bit about your love story.
Graham and I met at the Brunswick House when we were in high school. We officially started dating May 4, 2000. He proposed on our 12-year anniversary in Niagara on the Lake and we were married exactly a year later on May 4, 2013 at the AGO. We will have been married five years this May.
How many places have you cohabited together over the years?
We bought a condo together in Summerhill in 2009 and moved to this house in Lawrence Park in 2015.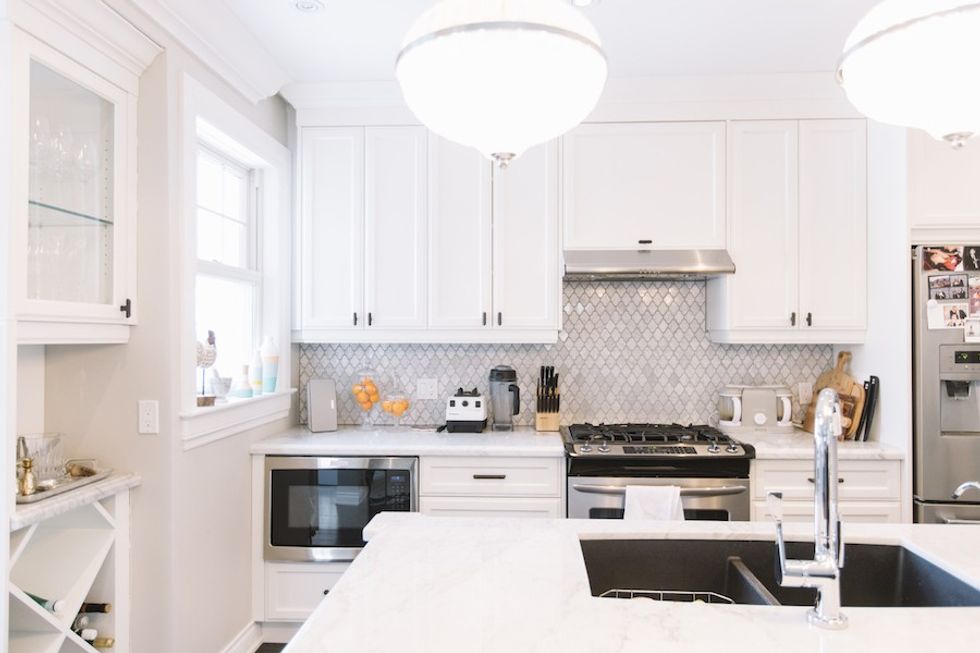 Does his involvement in real estate affect how you guys chose and designed your space?
Graham tends to look at real estate more as an investment — he wants good land size and resale value. Same goes for any design choices or renovations, he always wants to ensure they add value. I'm more emotional in how I choose and decorate our home. We tend to balance each other out nicely.
What drew you to this house and neighbourhood?
Graham grew up two streets up from us, so we knew the neighbourhood well. And the schools are really great.
How would you describe the style and vibe of your home?
Our house is modern with a neutral base, bold prints and added flair with artistic accents like bold wallpapers and fabrics, artwork and mementos. We love to entertain and renovated the house to create more of an open floor plan and a big island in the kitchen where everyone can congregate.
You're so involved in the arts. How does that play a role in the art on your walls and the feel of your house?
I've had the opportunity to work with some amazing artists and love to adorn our home with works that I have a personal connection to. We have a number of original art pieces from Maryam Keyhani, Donald Robertson, Harrison Taylor and Rundi Phelan. As well as photography from Analogue Gallery and Caitlin Cronenberg.
Did you work with an architect or designer on your home?
We did a few stages of renovations. When we first bought the house we totally gutted it with the help of the Property Brothers. At my request, they made one of the bedrooms a full walk-in closet, which we later worked with Rachel Deeks Designs to transform into a nursery for Grace.
Walk us through your home.
It's your standard Lawrence Park side-entry style house. You walk in, living room on the left with an open-concept kitchen dining and office space. Upstairs there are three bedrooms: our master, a guest room (we use as the everything-room), and Grace's room. Downstairs there is an additional bedroom, playroom/family room and laundry.
What are a few unique features in your home?
We have heated floors in the front hall and bathrooms, which are delightful to come home to — especially in winter. We also have a reverse osmosis system, which I could not live without.
What's the first thing you do when you get in from a long day/night out?
First thing I do is get into sweats and play with Grace. It instantly relaxes me.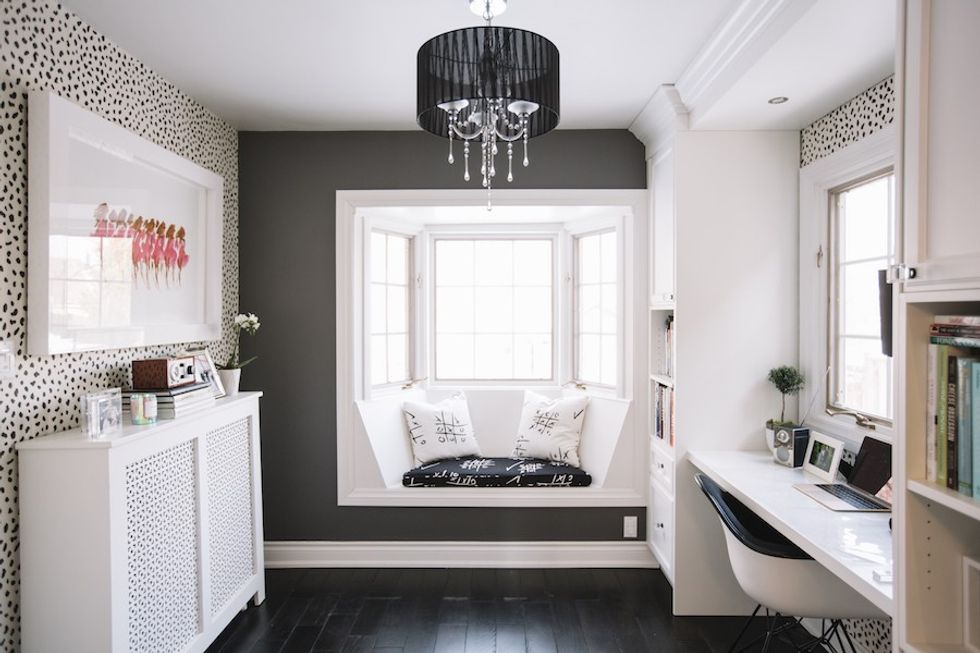 Fav room in the house?
I love the office nook on the first floor. It's the perfect spot for me to work when I'm at home and is so full of light. It's all black and white, but for this incredible Donald Robertson artwork which provides a hit of hot pink with its dancing Beyoncé print. I had a custom Eames chair designed in black and white — that I'm in love with. The bookshelves are lined with coffee table books, which I have a bit of an obsession with.
I bring home a coffee table book from every museum and exhibit I visit, both at home and on my travels. One of my Europe trips, I had six coffee table books I was lugging around in my suitcase, which was like travelling with a pile of bricks.
What one thing can you not live without in your home?
The large island in the kitchen — it's where everyone congregates.
Are there any 'velvet rope' rooms, so to speak, that Grace isn't allowed in?
Grace runs the show around here, and has pretty much taken over every space in the house. It's amazing how much space a little person can take up!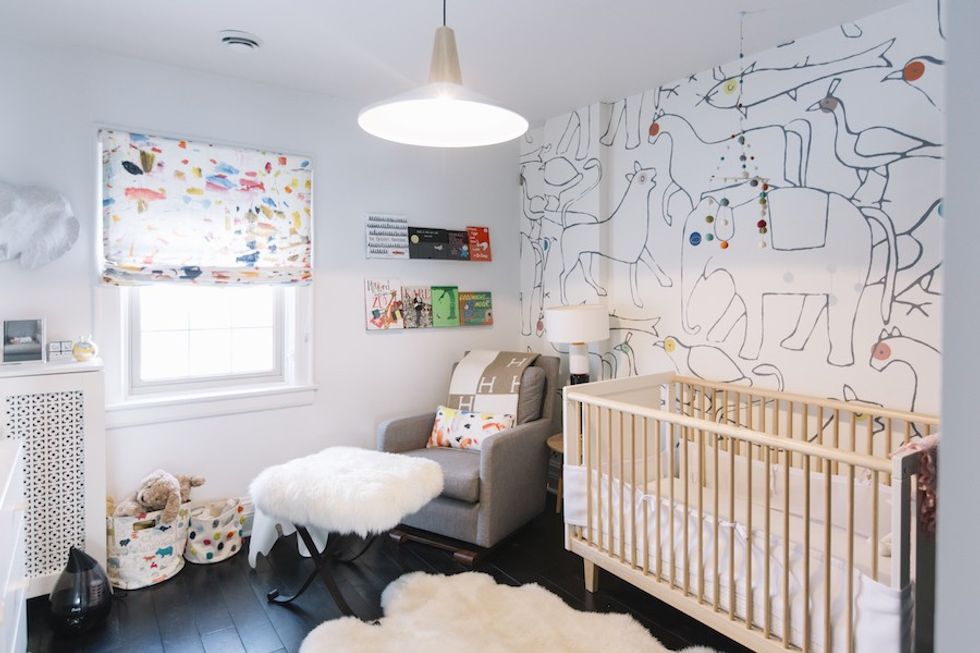 Talk to me about designing Grace's room, and the vibe you wanted to get across in it.
I was so excited for Grace's arrival. I put a lot of love into that room. I worked with a good friend and designer Rachel Deeks Design to bring it all together. The piece de resistance is a feature wallpaper that was hand-painted in France by Minakani studio. We also used this amazing painterly print fabric on the window coverings and pillows by Pierre Frey. For the artwork above the change-table, we had three elephant pieces, specially commissioned by artist Maryam Keyhani.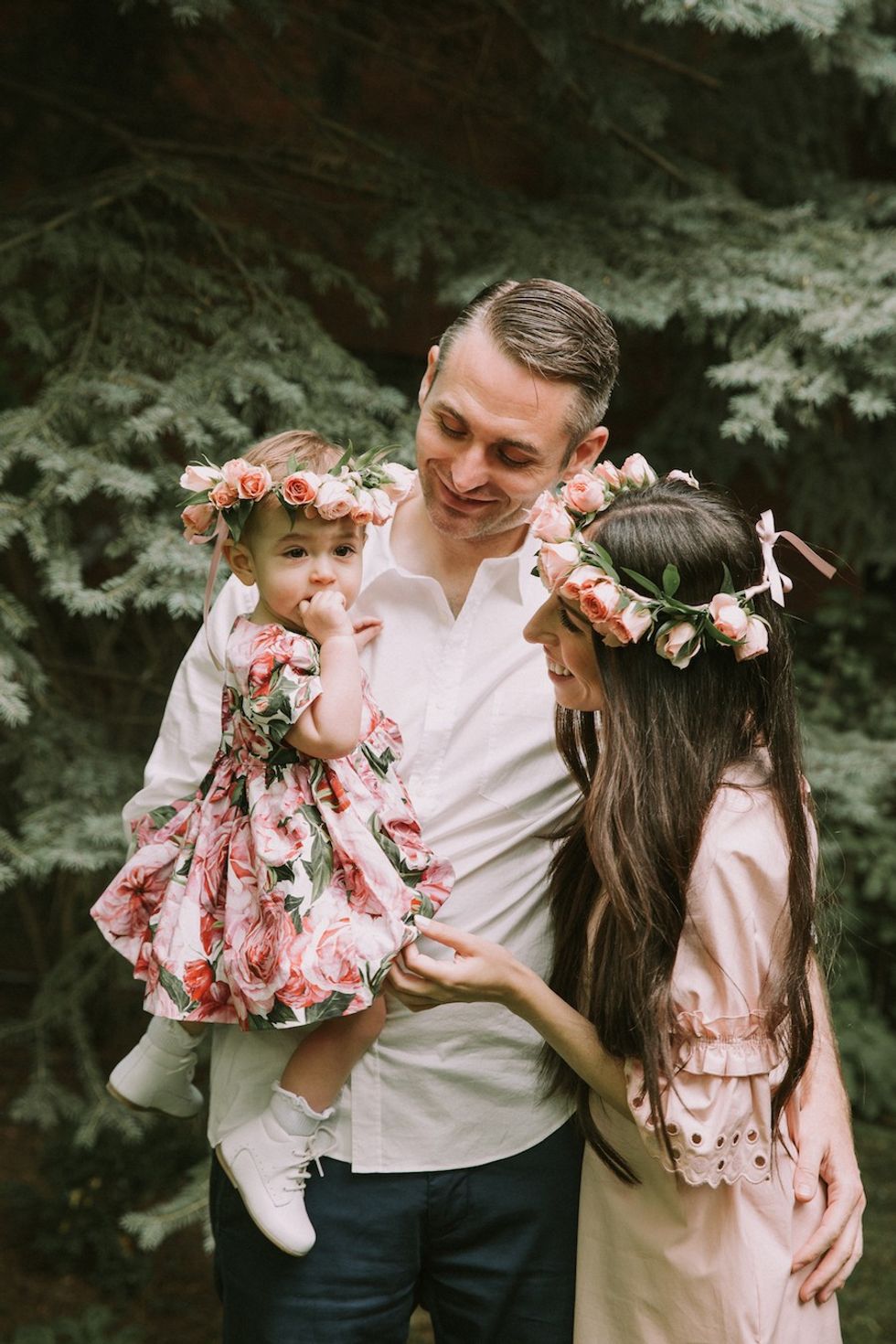 You're such a notable name in the city. You seem to be one of those women that have it all: The killer job, great group of friends, you sit on a ton of boards, have a long-term relationship — now marriage (!) —  and a beautiful daughter. Do you actually manage to spend any time at home? How do you ground yourself?
When I had Grace I definitely had to take a step back and prioritize my time. I also learned a whole new form of multitasking and how I can accomplish more in less time. Being a mom and running a business both rely on being organized and scheduling.
I often work from home so I can spend more time with Grace in the mornings and not waste time commuting. I try to be home in time to put Grace to bed and then go back out to an event or do work when she is sleeping. What I love about my business is it's more about getting it done than working within a nine-to-five structure.
Are there any must-haves in your fridge, and cupboards in your kitchen, or are you UberEATS top customer?
Most of what is stocked in our cupboard and fridge is food for Grace. So I'm either eating like a toddler or ordering UberEATS. I'm also a terrible cook.
Industry Profiles