Canadian home sales and prices smashed records once again in September amid record-tight overall market conditions, according to the latest data from the Canadian Real Estate Association (CREA).
CREA, which represents more than 130,000 realtors across the country, released its latest national housing report Thursday; the data revealed that national sales edged up a further 0.9% between August and September, raising them to yet another new all-time monthly record for the third month in a row.
---
CREA said actual sales, not seasonally adjusted, rose 45.6% from a year earlier, while the group's Home Price Index (HPI) was up 10.3% from September last year and up 1.3% from August.
"This is starting to sound like a broken record (about records being broken), but Canadian home sales and prices set records once again in September amid record-tight overall market conditions as they did in July and August," said Shaun Cathcart, senior economist at CREA.
READ: Up to 20% of Canadian Mortgages at 'Higher Risk of Defaulting': RBC
While there was only a small monthly sales increase, CREA says 60% of local markets still experienced gains, with the largest increases recorded in smaller markets like Ottawa, Greater Vancouver, Vancouver Island, Calgary, and Hamilton-Burlington, where sales were mostly offset by declines in the Greater Toronto Area (GTA) and Montreal. Though, activity in the two largest Canadian markets is still historically very strong.
This reinforces what so many industry leaders are saying -- that residents are now fleeing the confines of urban centers for larger spaces amid the COVID-19 pandemic.
"Home has been our workplace, our kids' schools, the gym, the park and more. Personal space is more important than ever," added Cathcart.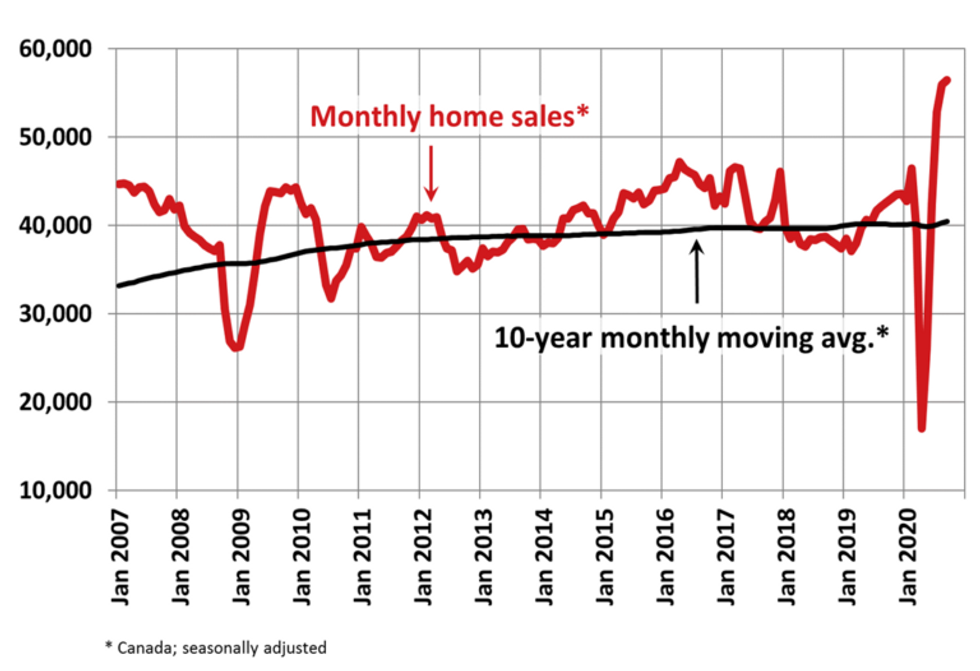 The actual average home price in Canada jumped 17.5%, hitting a record $604,211 in September. CREA says the national average price is heavily influenced by sales in Greater Vancouver and the GTA, two of Canada's most active and expensive housing markets. Excluding these two markets from calculations cuts around $125,000 from the national average price.
However, one thing that did decline last month was the number of newly listed homes, which fell back by 10.2%, reversing the surge to record levels seen in August. New supply was down in two-thirds of local markets, led by declines in and around Vancouver and the GTA.
With sales edging up in September and new supply dropping back, the national sales-to-new listings ratio tightened to 77.2% — the highest in almost 20 years and the third-highest monthly level on record for the measure.
Real Estate News