Canadian home sales and prices are expected to see a "more pronounced and extended" downturn than previously predicted, as high interest rates weigh on activity.
Following the summertime resumption of rate hikes and the ensuing market slowdown, TD Economics has downgraded its forecast for the Canadian housing market. In a new Provincial Housing Market Outlook, Rishi Sondhi, Economist, projects that national home sales will slump 8% and prices will dip 6% from their Q2 2023 levels by Q1 2024.
---
On a local level, as has been the case since June, the most significant near-term declines will be seen in Ontario and British Columbia. Quebec, Nova Scotia, Prince Edward Island, and New Brunswick will experience smaller dips in comparison.
Meanwhile, the Prairie provinces and Newfoundland and Labrador are expected to see prices rise, as relatively affordable conditions spur sales. As Sondhi notes, sales-to-new-listings ratios across the Prairies have surged into seller's territory since the start of the year; in Newfoundland and Labrador, the ratio was 30% above its long-term average in August.
TD is currently under the assumption that the Bank of Canada has finished raising interest rates and will begin cuts in Q2 2024.
"As Canada's growth engine continues to downshift and investors move to price in the growing likelihood of rate cuts, Canadian bond yields should start to edge down from their current multi-year peak by the end of this year," Sondhi wrote. "Population growth should also remain robust while job markets bend (but not break) under the weight of higher rates. These forces should support gains in home sales and prices, starting in Q2 2024."
However, "historically challenging" affordability conditions will slow the pace of growth in most provinces. Such a scenario is expected to play out in Ontario, BC, Quebec, Nova Scotia, PEI, and New Brunswick. With the exception of the latter, affordability will remain near historically worst levels over the next few quarters.
In the Prairies and Newfoundland and Labrador, price and sale growth will continue over TD's forecast horizon.
"We suspect that it will take until 2025 for Canadian home sales to sustainably surpass their pre-pandemic level," Sondhi said.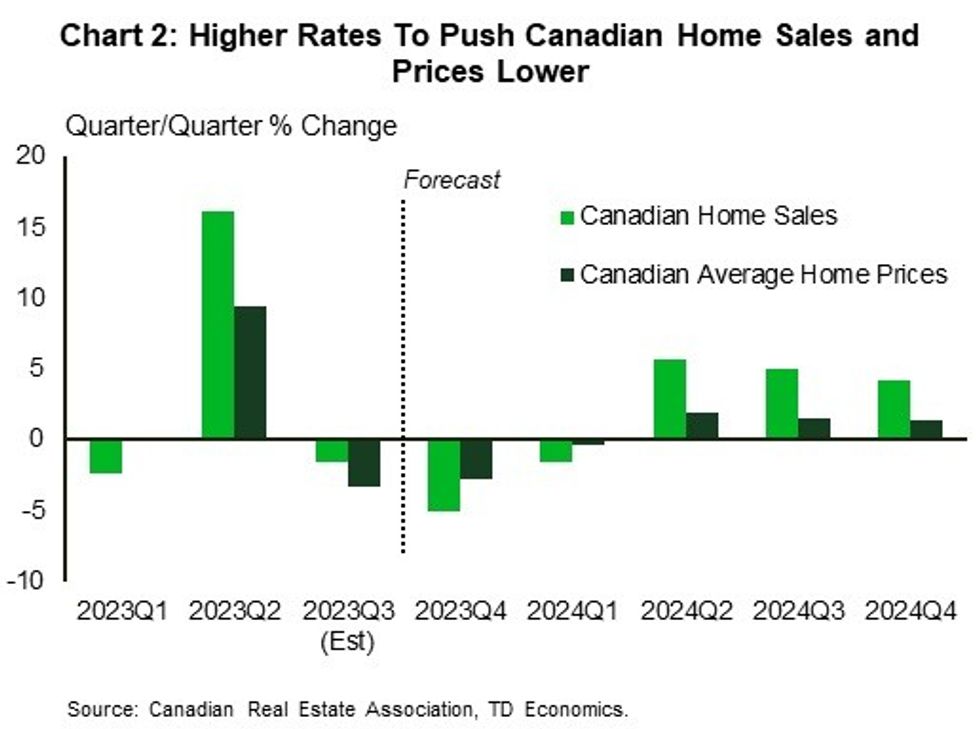 TD Economics
Downside risks to TD's forecast include a weaker-than-expected economy, which would dampen demand and potentially incite forced selling. And, if inflation remains elevated, interest rates will stay higher, too.
In contrast, with Canada's strong population growth expected to continue, supply shortages will likely persist, driving prices up higher than anticipated.
Real Estate News