---
After soaring to record highs in early 2022, home prices across Canada took a significant hit as interest rates increased.
After eight Bank of Canada rate hikes in just 10 months, the national non-seasonally adjusted benchmark price hit $713,700 in January 2023, a 17.8% decline from the March 2022 peak.
The drastic decline spurred real estate agency Zoocasa to analyze benchmark prices in 49 cities and regions across Canada in an effort to determine when they were last this low.
According to the data, sourced from the Canadian Real Estate Association, the last time the national benchmark price hovered around its current level was in August 2021, when it sat just over $710K.
In several Ontario cities, though, prices haven't been this low in roughly two years. January 2023 benchmark prices in Hamilton-Burlington ($809,800), Kitchener-Waterloo ($705,100), London-St. Thomas ($568,300), Mississauga ($1,038,300), and Ottawa ($603,900) are nearing their February 2021 levels.
Across the country, a further seven locales, including Edmonton ($362,200), Winnipeg ($323,600), and the Niagara Region ($629,100), are seeing prices akin to March 2021 figures.
In the Greater Toronto Area and Greater Vancouver -- Canada's most expensive regions -- benchmark prices are closing in on September 2021 levels. As of January 2023, they sit at $1,078,900 and $1,111,400, respectively.
With affordability already elusive in Ontario and British Columbia prior to their 2022 peaks, many would-be buyers were sidelined earlier than in other markets, putting the breaks on additional price increases.
On the east coast, though, prices continued to rise. While the vast majority of markets included in Zoocasa's report have seen their benchmark prices fall back to 2021 levels, in each of the Atlantic cities analyzed prices have reverted to 2022 figures.
In St. John's, the January 2023 benchmark price of $316,300 is comparable to June 2022. At $343,600, prices in Prince Edward Island are nearing June 2022. Halifax-Dartmouth's benchmark of $490,700 hasn't been approached since February 2022.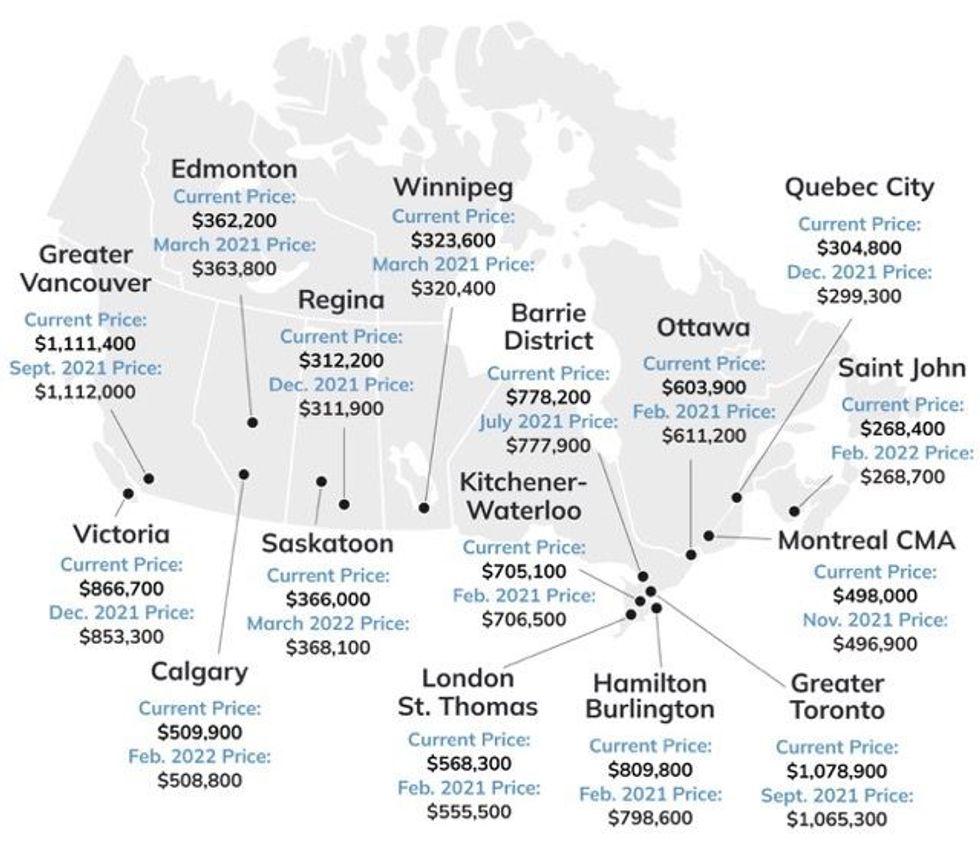 Zoocasa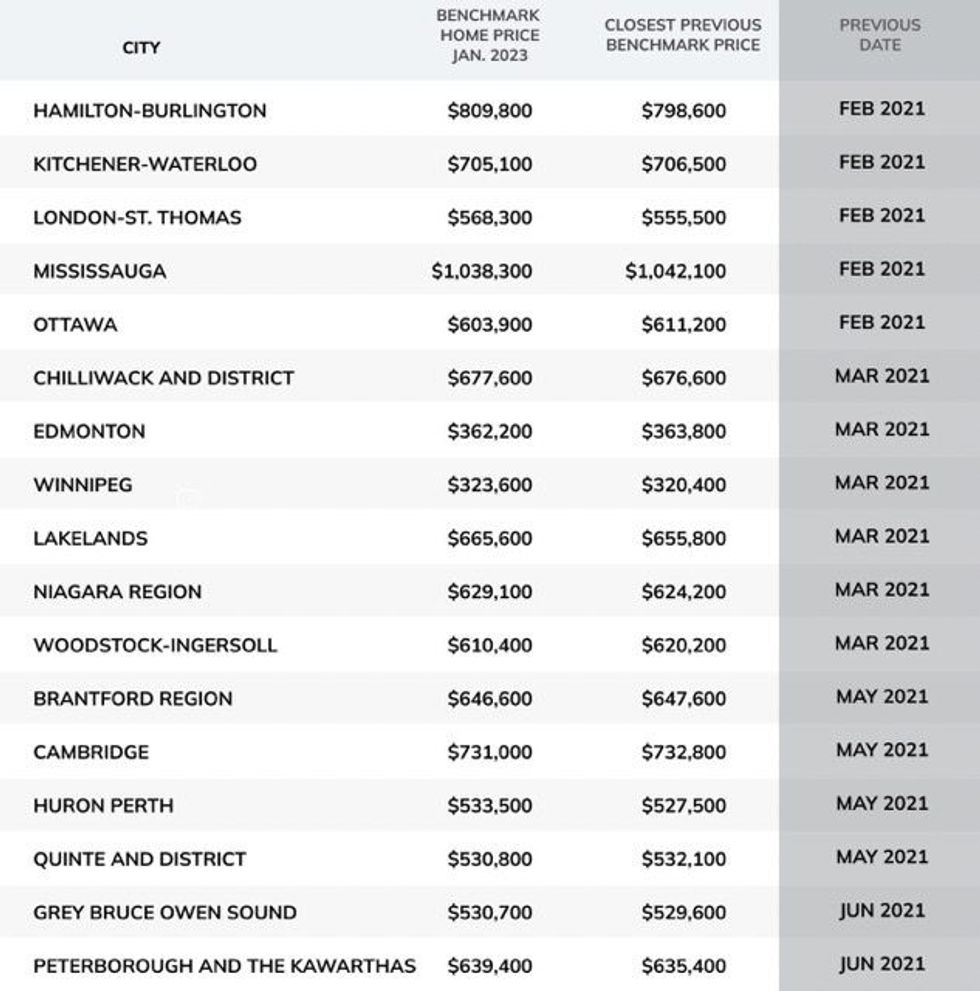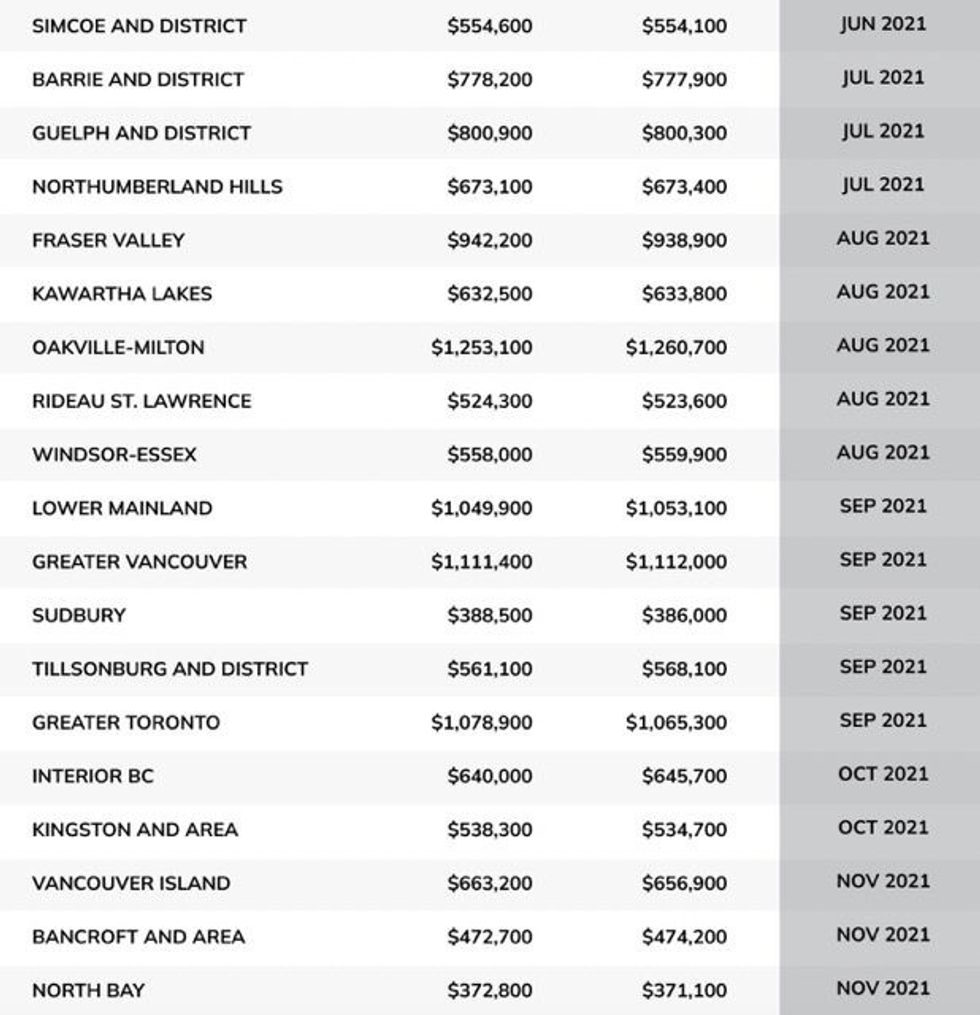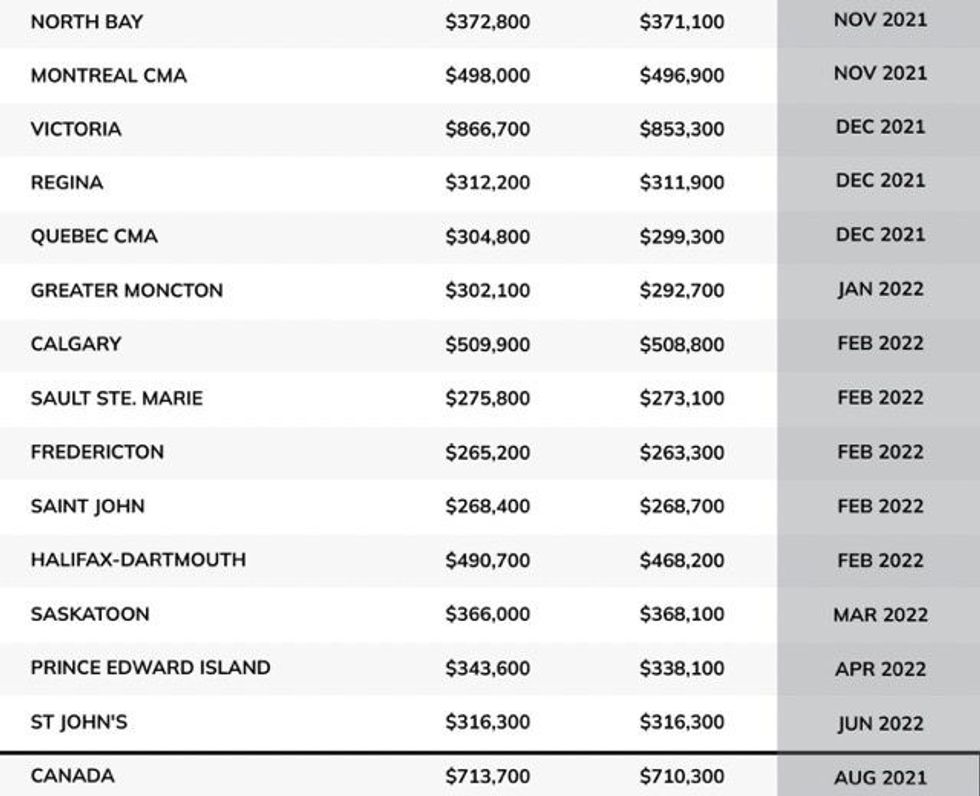 Zoocasa
The downturn has been enough to draw some buyers out of the woodwork. According to insurance comparison platform RATESDOTCA, mortgage purchase quotes were up 48% year-over-year in January.
While the jump is a seasonal norm, the fact that mortgage quotes have surpassed what was seen during the "hot" market of early 2022, "indicates a new wave of interested buyers," RATESDOTCA said.
Real Estate News