Canada is growing up fast. Literally. 
According to the skyscraper authority Emporis, 13 of the 20 tallest residential buildings in Canada were built in just the last decade. By 2024, six more that are currently under construction will take up residence on that list. 
---
Again, literally. 
Unlike the previous generation of skyscrapers, the new super-tall towers sprouting up in Canadian cities are built for humans, not commerce; condos, not banks. And it's keeping people downtown, leading to more vibrant communities, shorter commutes, and all of the civic amenities catering to cosmopolitan life.  
READ: Construction Officially Begins on Tallest Residential Tower in Canada
Incredibly, all but two of Canada's 50 tallest residential buildings are in Toronto. Below are the 13 tallest in descending order (apologies to our readers with triskaidekaphobia).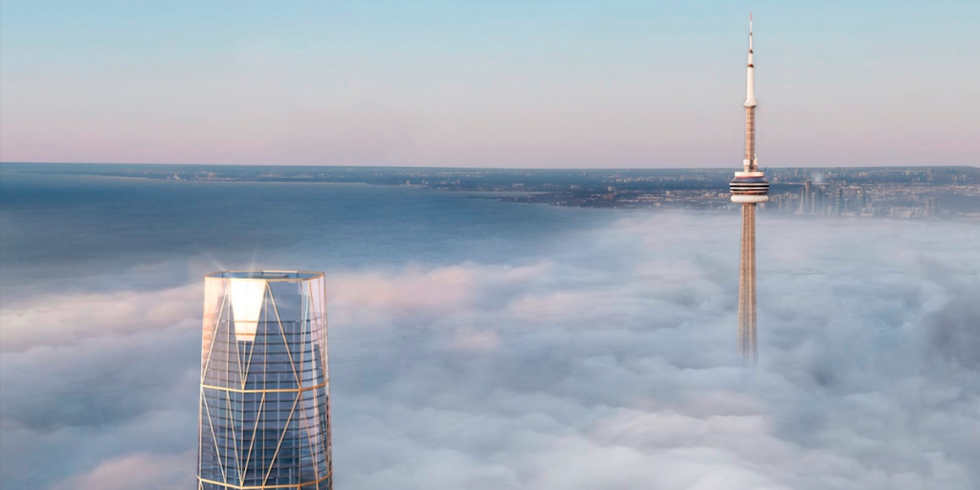 Pinnacle International
Height: 312.5 m (1,025 ft)
Floors: 95
Completion Date: 2024
When completed, the currently-under-construction SkyTower will be Canada's tallest building, a title First Canadian Place has held for 45 years and counting. It will also have the most floors by 10, compared to the next tallest residential building. Wrapped in a sleek glass blanket are 840 condominium suites addressed at the foot of the world's longest street. But that's not all – the development also includes space for a hotel, community centre, offices and shops. Plus, Lake Ontario is practically in the backyard. The CN Tower will finally have a rival in Toronto's sky.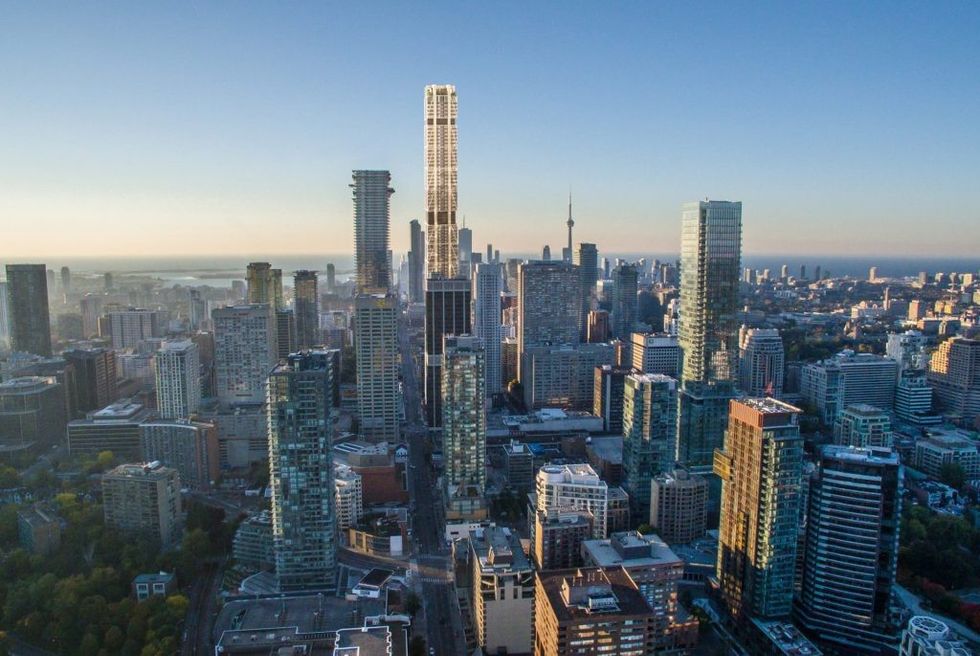 onebloorwest.com
Height: 308.6 m (1,012 ft)
Floors: 85
Completion Date: 2022 or 2023
For a year or two, The One will be able to call itself Canada's tallest building. The cost of that achievement? About $1 billion. Across the street from One Bloor (a little further down on this list), the first 18 floors are reserved for restaurants, event spaces, major retailers and a super-luxe Hyatt hotel. Stacked atop are 416 residential units crowned by four stunning penthouses. Most notable is the building's exoskeleton design, which has been all the rage in London for a while.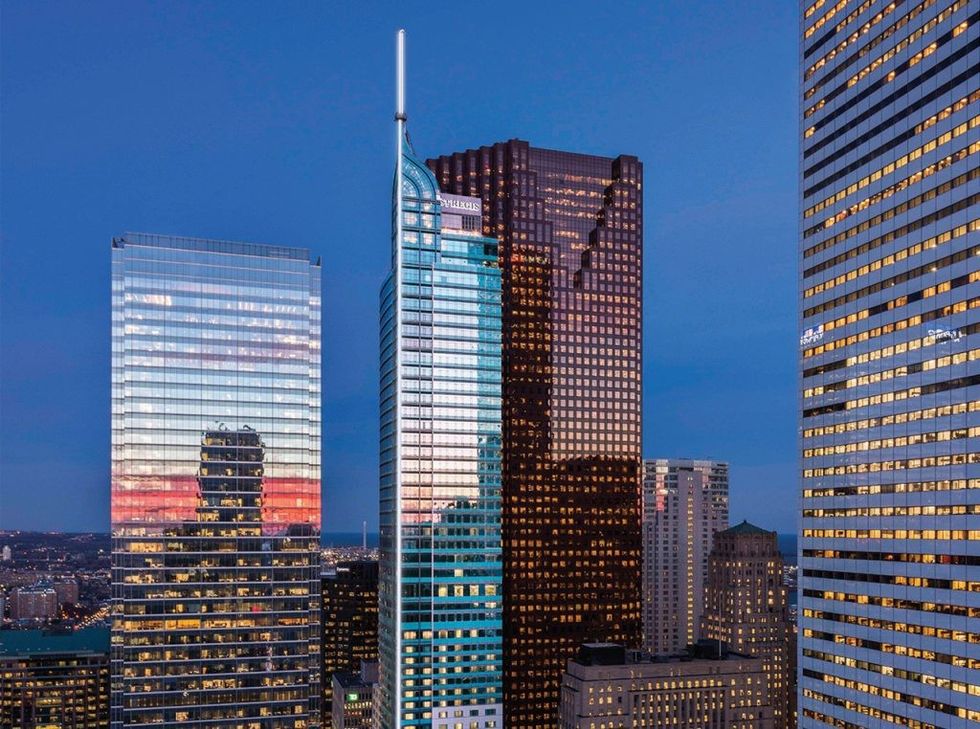 311baystreet.com
Height: 276.9 m (908 ft)
Floors: 57
Completion Date: 2012
Formerly known as the He-Who-Shall-Not-Be-Named Tower, the St. Regis stands out because it's emerald. On top of that, it's one of the few new developments with architectural longevity. Finished in 2012, it's still generally pleasant to look at. It's comparatively low floor count speaks to the quality – and height – of those floors. Today, the St. Regis is home to 261 luxury hotel rooms and 118 residential condominium suites.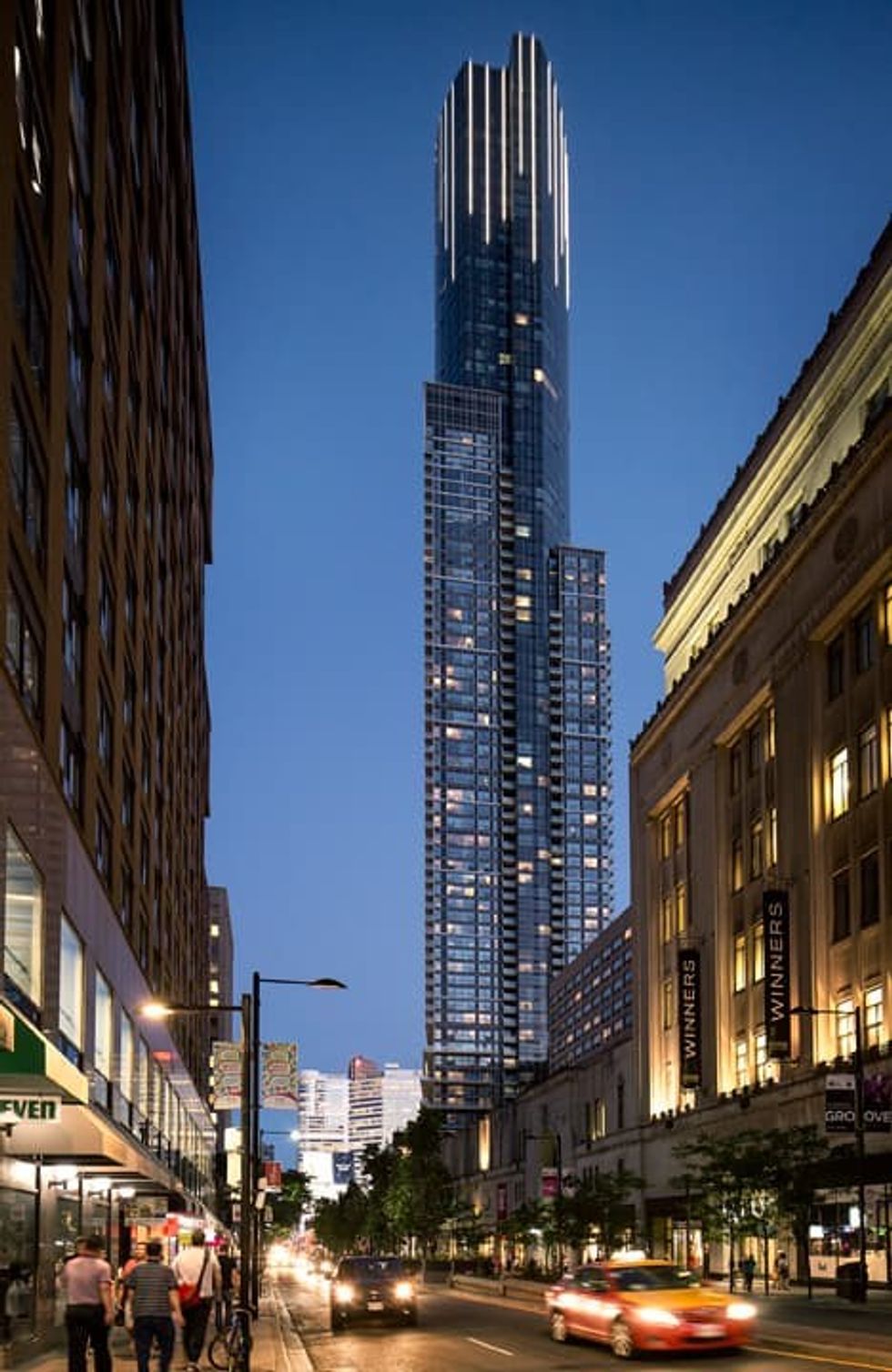 canderelresidential.com
Height: 271.9 m (892 ft)
Floors:79
Completion Date: 2014 
Aura's cool because it has a bunch of lightsabers at the top (turned off after 10:30 pm during the fall migration season for birds) and, completed in 2014, is also an antique. Together with nearby Ryerson University's maturation, the development kickstarted the gentrification of the Yonge-Gerrard neighbourhood. Sadly, much of its retail potential has yet to materialize.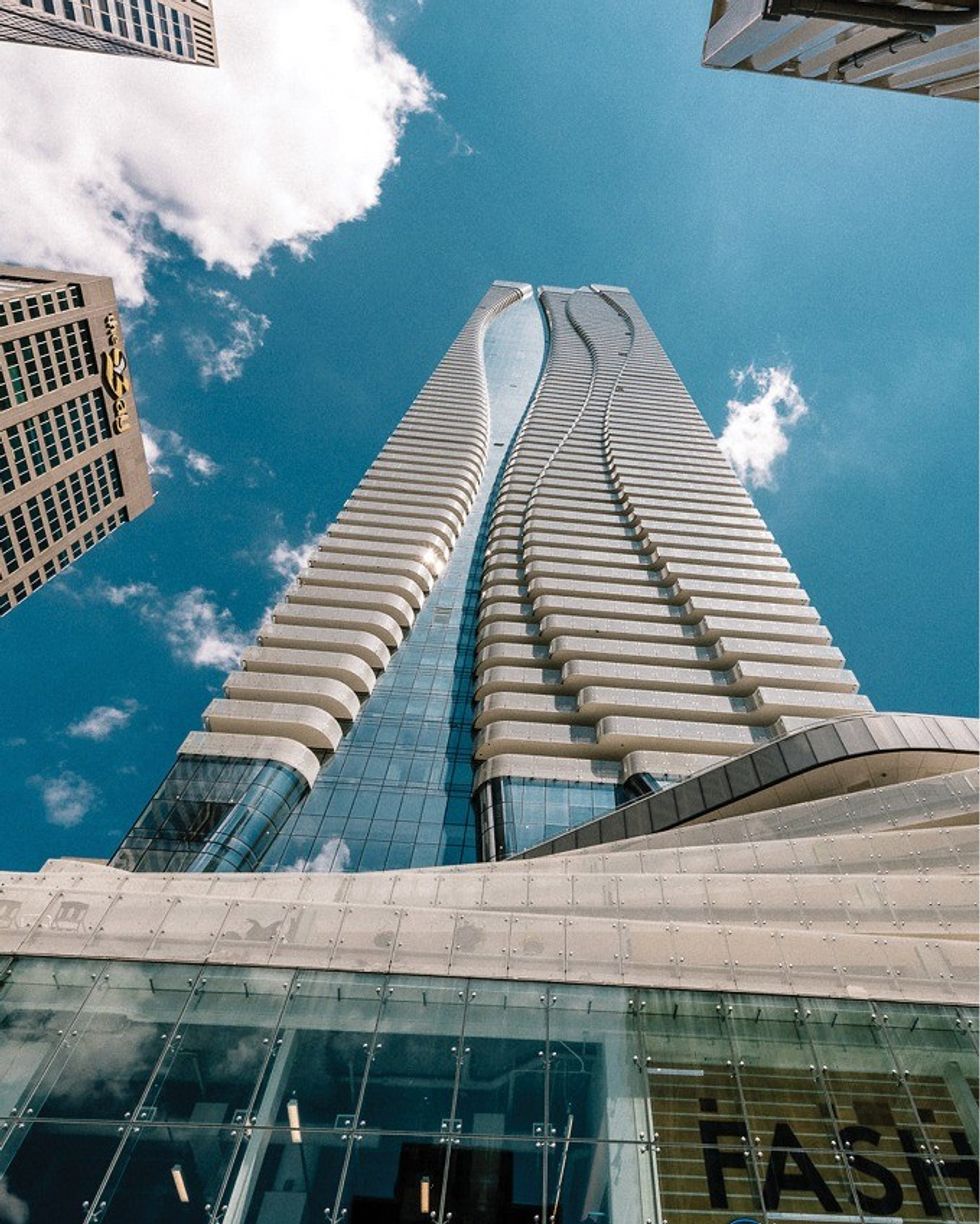 onebloor.com
Height: 257.3 m (844 ft)
Floors: 78
Completion Date: 2017
One Bloor was finally finished after a decade-long saga that began with an 80-storey proposal in 2007. Located at probably Canada's most prestigious intersection, it became a site of criticism in 2019 when Chick-fil-A, the American chain whose evangelical owner expressed homophobic beliefs, opened on the ground level. The tower's mammoth concourse rivals the size of most small-city malls.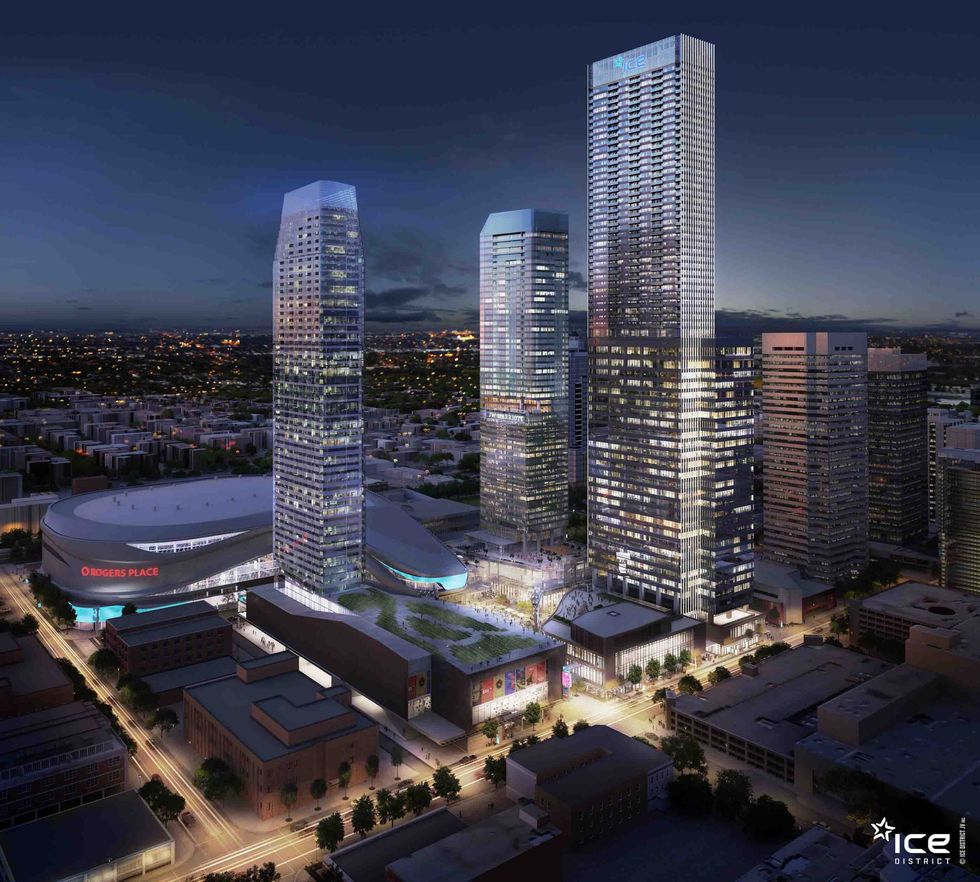 www.stantec.com
Height: 250.8 m (823 ft)
Floors: 66
Completion Date: 2019
Technically a mixed-use building, we're including it here to break up Toronto's domination of this list. Edmonton's Stantec Tower is home to the company of its namesake as well as 454 apartments. Fun fact: During construction, the Stantec Tower was in a race with the neighbouring JW Marriott Edmonton Ice District & Residences to become Edmonton's tallest building. The latter held the title for 14 days before it was surpassed by Stantec's 30th floor.
7. ÏCE Condominiums II, Toronto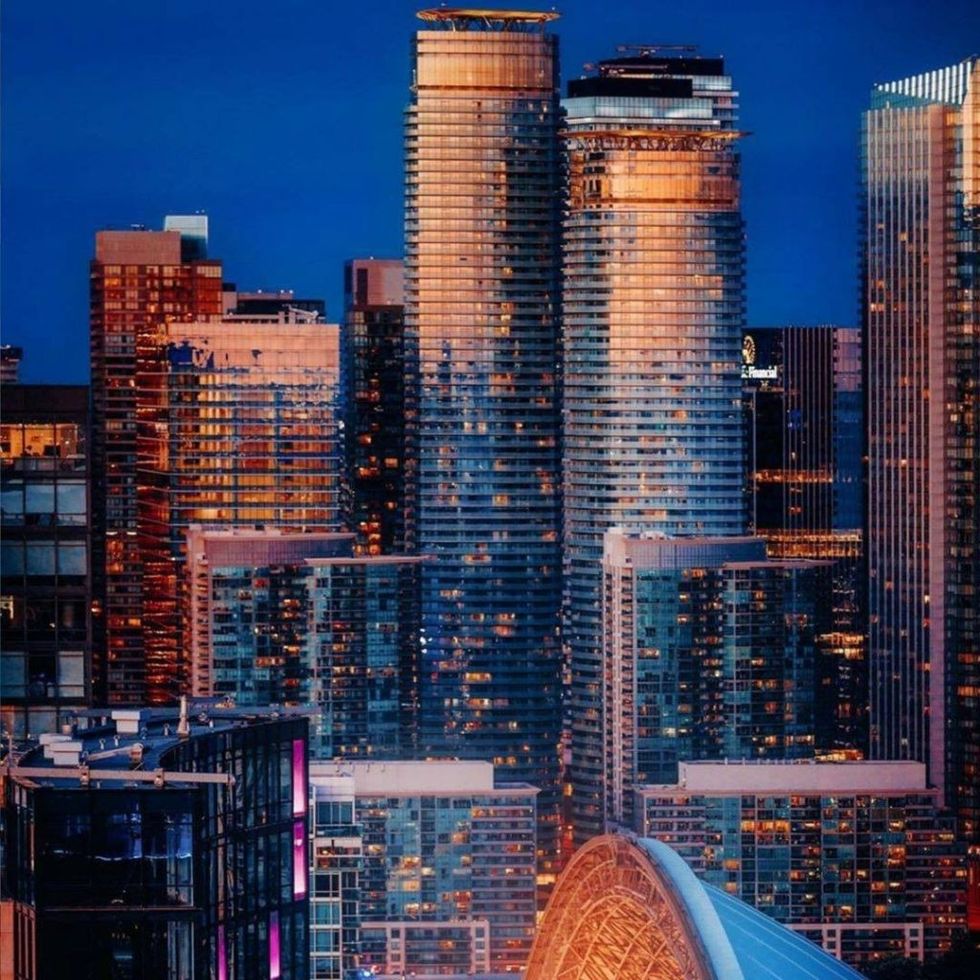 Instagram/lanterradev
Height: 234 m (768 ft)
Floors: 67
Completion Date: 2013
Completed in 2013, the ÏCE towers are veterans of Toronto's residential skyscraper scene. It is likely that every person in the world is at most six degrees of separation from someone who has lived at this address. ÏCE II, or the North Tower, is the taller of the two. The name refers to the cooling effect of the 6,000-square-metre green roof canopy at its base. 
8. Harbour Plaza Residences East, Toronto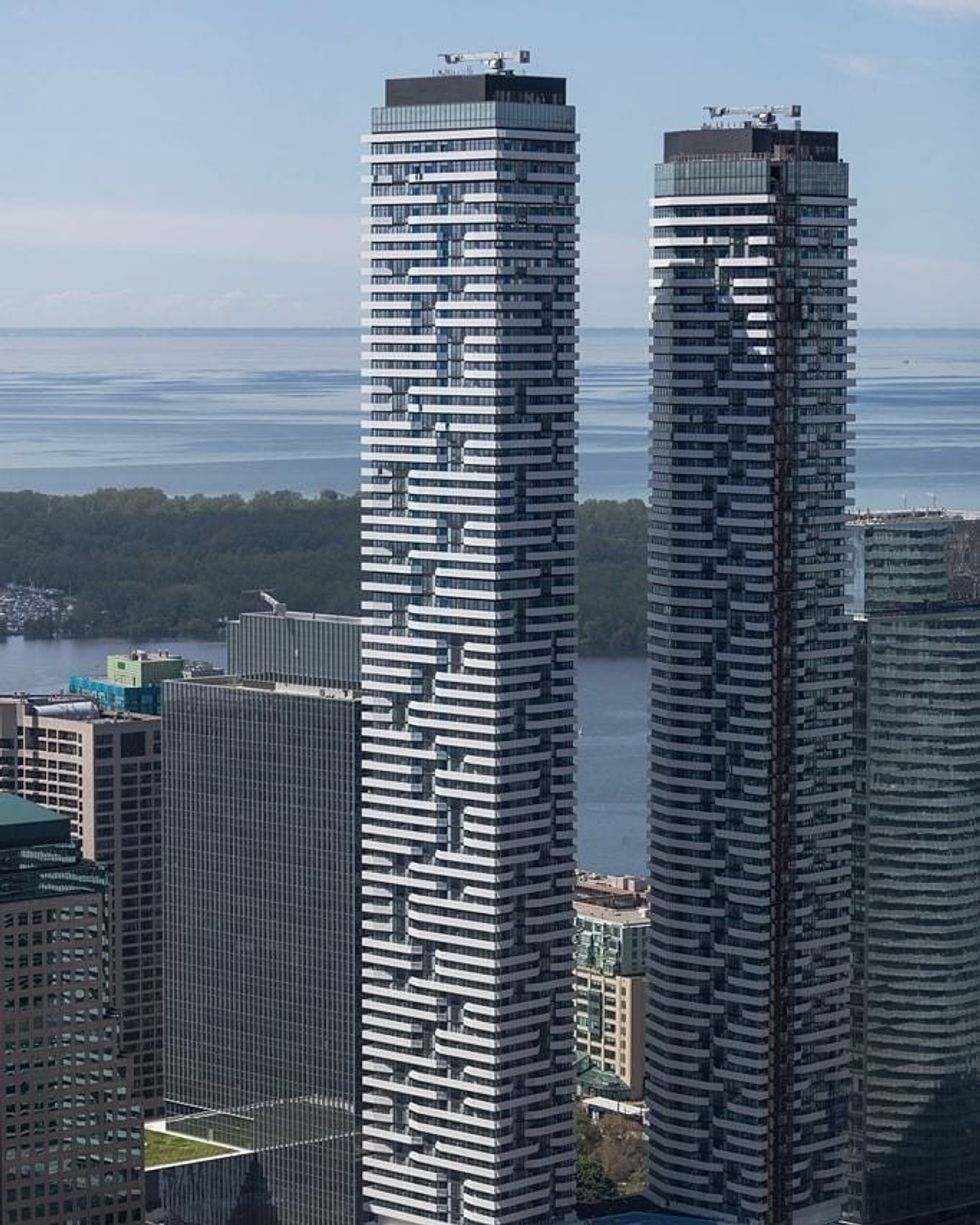 Instagram/menkesrentals
Height: 233 m (764 ft)
Floors: 66
Completion Date: 2017
The taller of the Harbour Plaza twin towers, which are identical in all but height, the Harbour Plaza Residences stand out from the skyline with their puzzled white balconies. On a quick glance they kind of look like Canada's tallest skyscraper, First Canadian Place, only twice. Complete with a four-storey retail podium and direct access to the underground PATH, residents could essentially spend their entire lives indoors.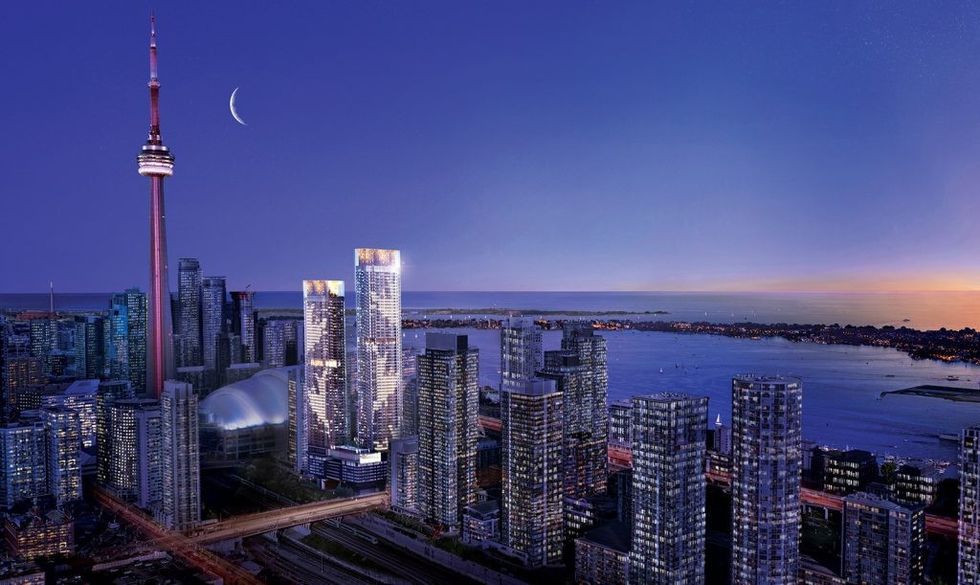 concordcanadahouse.ca
Height: 230.2 m (755 ft)
Floors: 70
Completion Date: 2022
If you thought CityPlace was retired, think again. By 2022, the Concord neighbourhood will welcome two new towers taller than any of the dozen or so others within a stone's throw. Canada House A is the taller of the two and features your standard condo fare, plus a bird's eye view of the Rogers Centre.  
10. Sugar Wharf Tower D, Toronto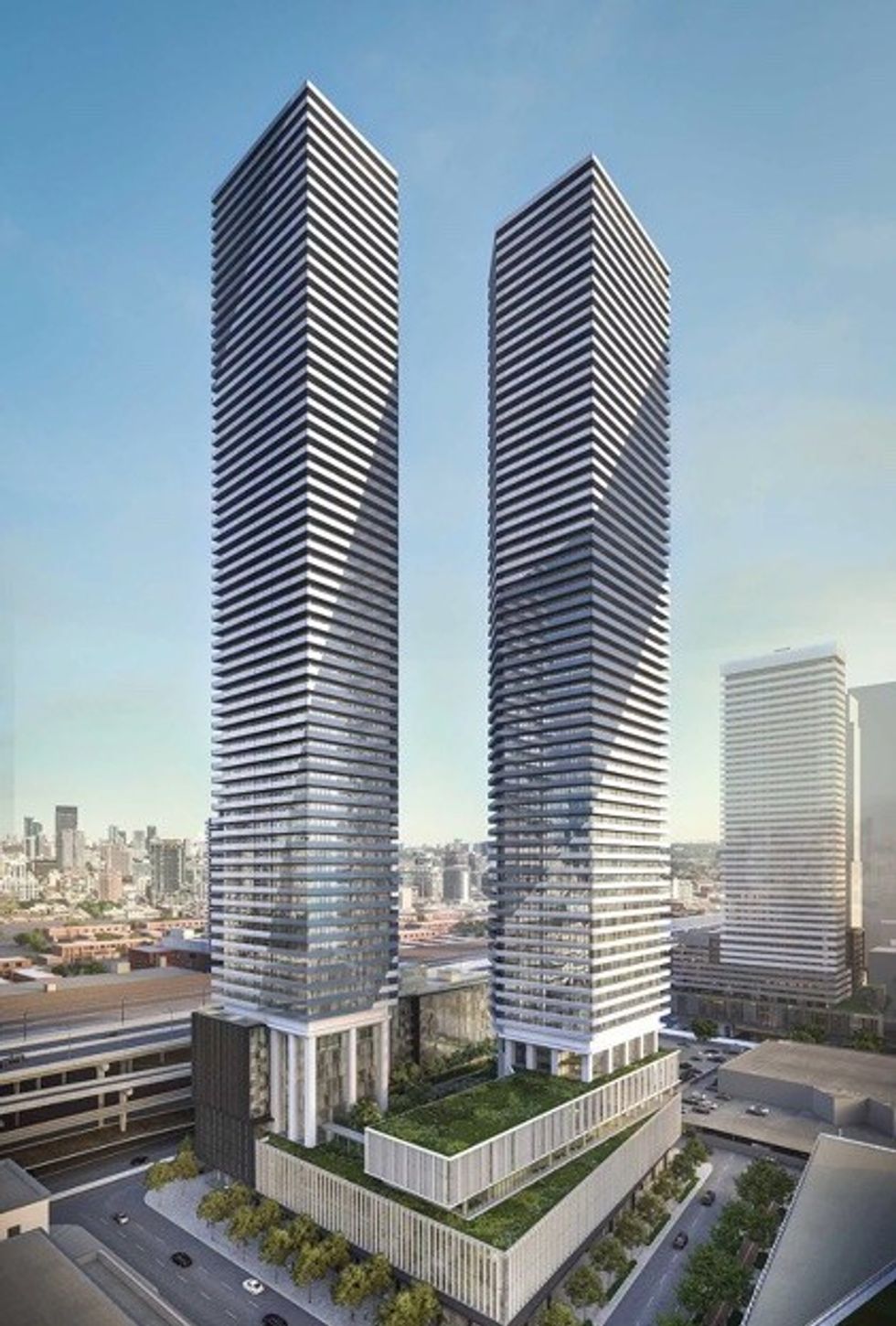 sugarwharfcondotoronto.ca
Height: 230.2 m (755 ft)
Floors: 70
Completion Date: 2022
Perhaps no other neighbourhood in Toronto is growing up as fast as Sugartown (let's make that a thing) at the foot of Yonge Street. The two-tower Phase 1 is almost complete, topped by Sugar Wharf D. Phase two proposes an additional three towers, all of which, if approved, would feature in the top 10 of this list.
11. Eau de Soleil Sky Tower, Toronto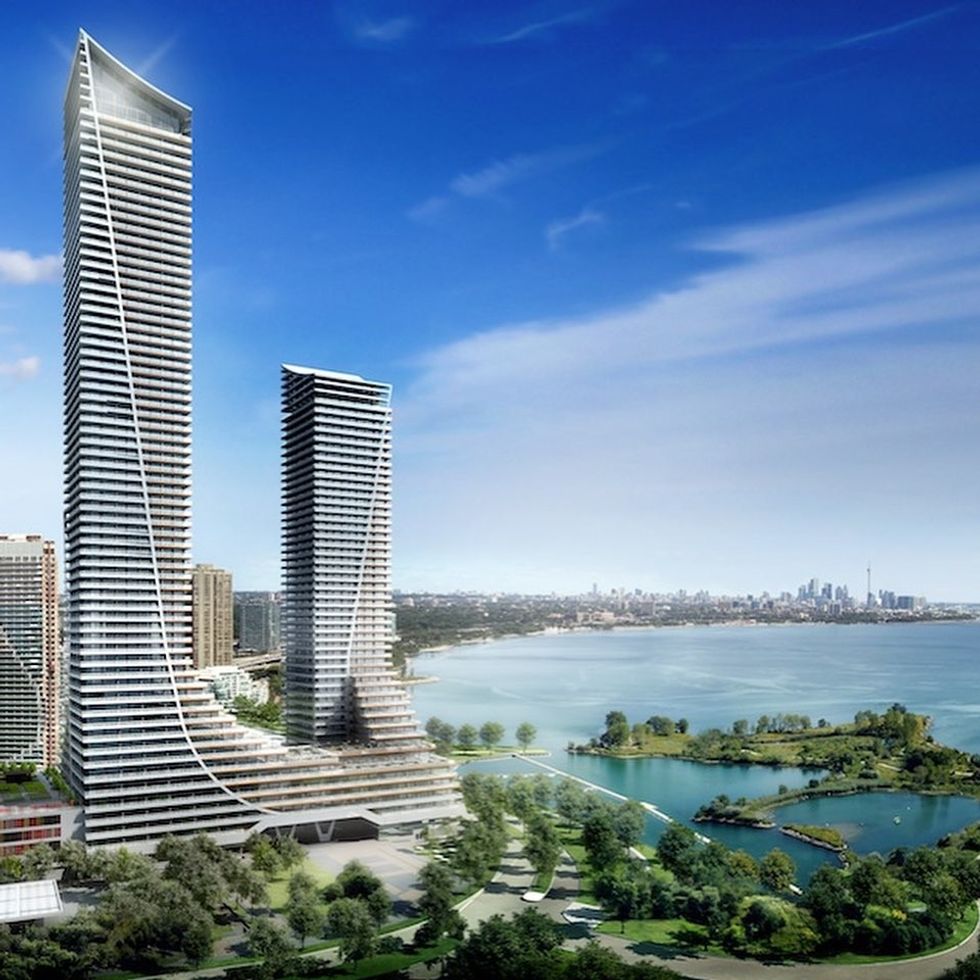 empirecommunities.com
Height: 228.2 m (749 ft)
Floors: 66
Completion Date: 2019
Billed as an "urban oasis on the waterfront," the condos at Eau de Soleil look like they were copy and pasted from Miami and transposed to the cold shores of Lake Ontario. A couple of kilometres outside of downtown, residents enjoy spectacular skyline views, a saltwater pool, and uncountable other fine amenities.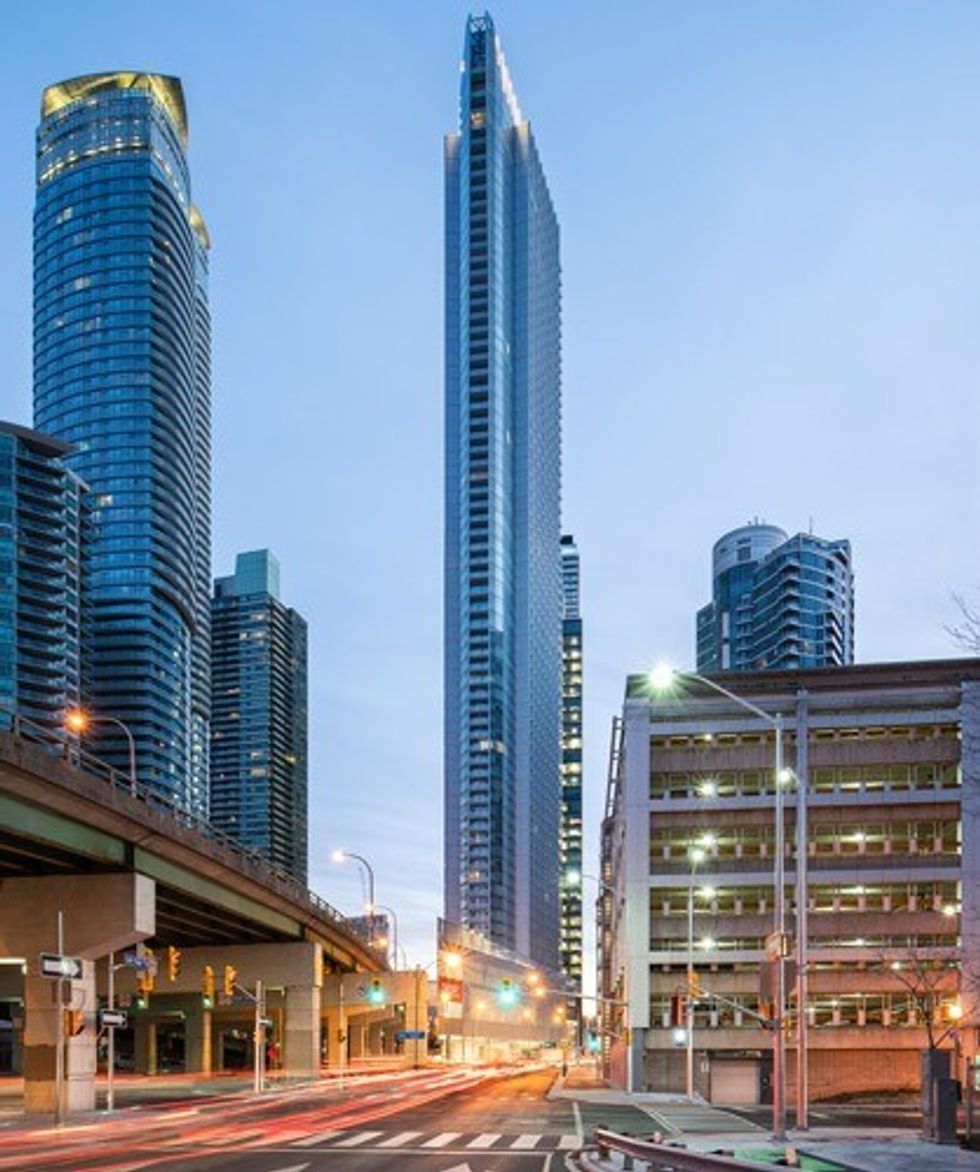 tridel.com
Height: 224 m (735 ft)
Floors: 68
Completion Date: 2018
Posted up at the corner of Queens Quay West and York Street, Ten York embodies the quintessential Toronto condo in both amenities and aesthetic. It comes complete with a rooftop pool, spin and yoga studios, billiards room, and suites sky-high enough to be out of earshot from the highway directly below.
13. Harbour Plaza Residences, West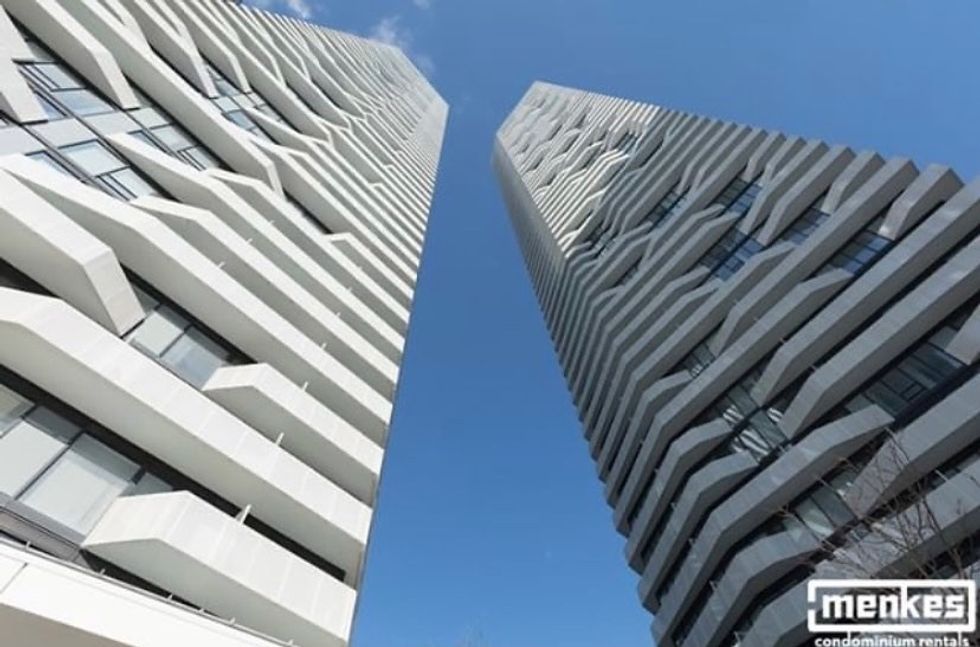 Instagram/menkesrentals
Height: 224 m (735 ft)
Floors: 62
Completion Date: 2017
The shorter of the two Harbour Plaza Residences, there's not much new to say here. So let's get into the amenities: indoor pool and hot tub, rooftop patio, gym, party room with wet bar, and a couple of lounges. Face north and you get a wonderful vista of downtown, face south and bask in views of Lake Ontario and the Islands.
Future Developments