As the COVID pandemic continues, travel restrictions, business closures, and physical distancing measures have amounted to an international shutdown of the Canadian economy. As of mid-April, this shutdown had resulted in an unprecedented shock to the Canadian labour market, including unemployment of more than 3 million.
Even in May, as some provinces began to reopen their economies by easing public health restrictions – including allowing some nonessential businesses to reopen – the country's unemployment rate remains at a "record high" despite the economy adding 289,600 new jobs, according to Statistics Canada.
---
Despite the job gains, Canada's official unemployment rate rose to 13.7%, topping the previous high of 13.1% set in December 1982. The increase in the unemployment rate came as more people started looking for work.
READ: Bank of Canada Says Impact of COVID on Economy Has "Peaked"
In May, as employment rose by 1.8%, the number of people who worked less than half their usual hours dropped by 292,000 (-8.6%). Combined, these changes in the labour market represented a recovery of 10.6% of the COVID-19-related employment losses and absences recorded in the previous two months.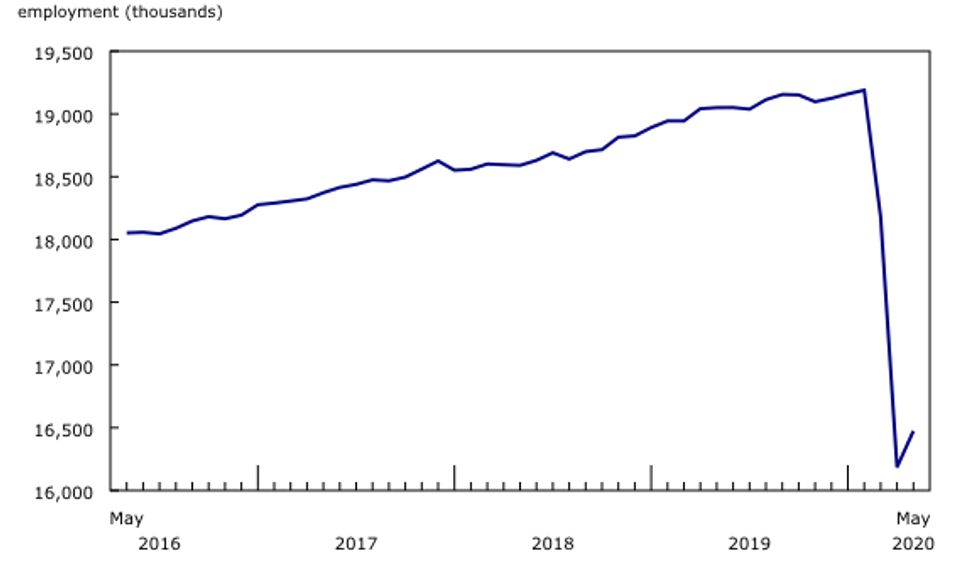 Employment declines halt in May/Statistics Canada
The total number of hours worked in all industries rose 6.3% last month, following a drop of 27.7% between February and April. Total hours worked rose in most industries, led by construction (19%), wholesale and retail trade (11%), and manufacturing (10.9%).
According to Statistics Canada, Quebec accounted for nearly 80% of May's employment increase as it saw an addition of 231,000 workers. The province allowed the construction industry to return in mid-April and other restrictions began to ease outside the Montreal area in early May.
Ontario was the only province where employment declined last month, although losses were less drastic than in March and April. Statistics Canada says this is consistent with the fact that most restrictions on economic activity remained in place in Ontario during its Labour Force Survey reference week of May 10 to May 16.
While employment declined in Ontario last month (-65,000), it did so at a much slower pace than in March (-403,000) and April (-689,000). All of the employment decline in the province in May was in the services-producing sector (-80,000). At the same time, employment rose by 15,000 in the goods-producing sector, driven by manufacturing (+14,000).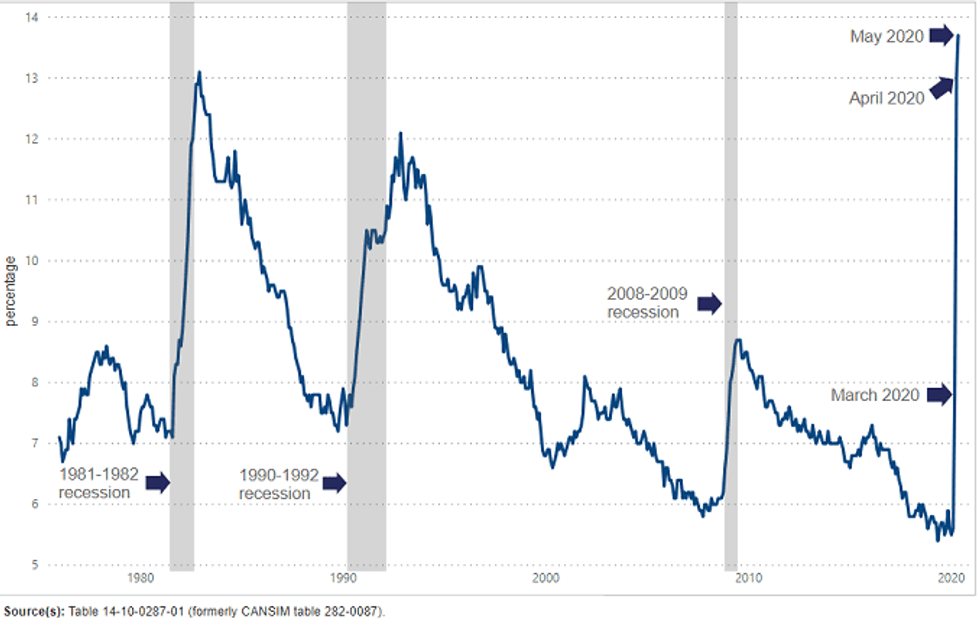 Statistics Canada
The increase in the number of jobs comes after three million jobs were lost over March and April, and about 2.5 million more had their hours slashed.
Economy