Real Estate News
Affordability Crisis: Canada on Pace to Fall 3.5M Homes Short By 2030
Lack of supply has long been decried as the catalyst behind surging home prices — and new analysis from the Canada Mortgage and Housing Corporation reveals just how far behind the nation is from building its way to affordability for all.
In a report titled "Canada's Housing Supply Shortages: Estimating what is needed to solve Canada's housing crisis by 2030," the housing Crown Corporation finds current construction projections are still 3.5M units short of what is needed in order to address the supply and demand imbalance in the market.

According to the data, should the current pace of new building continue, it would result in an increase of 2.3M units between 2021 – 2030, reaching close to a total of 19M units overall. However, 22M are needed in order to provide affordable housing for everyone living in Canada, CMHC states.
READ: Speeding Up Development in BC Key to Calming Home Price Growth
Realizing affordable housing isn't just about building shortfalls, though — the CMHC points out that "housing supply alone won't fix housing affordability challenges for everyone," emphasizing that real change will come as the result of government support for the most vulnerable, as well as addressing existing housing inequities in the system.
"The scale of the challenge identified in this report is more important than the exact number of housing units required. Canada's approach to housing supply needs to be rethought and done differently," said CMHC Deputy Chief Economist Aled ab Iorwerth. "There must be a drastic transformation of the housing sector, including government policies and processes, and an 'all-hands-on-deck' approach to increasing the supply of housing to meet demand."
CMHC also projects that the number of Canadian households will grow by over 2M — to a total of 17.5M — by 2030. Real incomes are set to grow by 17% over that time frame, with the five-year fixed discount mortgage rate hovering just over the 5% threshold.
"We want to restore affordability to levels last seen in Canada in 2003-04 when the economy was stable and housing costs were a relatively low share of the economy," states the report.
Supply Shortages By Province
Not surprisingly, the report finds two-thirds of the 3.5M-housing unit gap is found in Canada's most populous — and expensive — provinces of Ontario and British Columbia. According to CMHC, back in 2003 – 2004, the average household had to devote close to 40% of their disposable income to purchase the average home in Ontario, and nearly 45% in B.C. That ballooned to 60% in both provinces in 2021. "Restoring affordability levels in these provinces means cutting housing costs by between a quarter and two-fifths," states the report.
Quebec has also been earmarked for its rapidly eroding affordability, having experienced a "marked decline" in recent years due to a growing supply imbalance, now requiring a fifth of all new supply.
The good news is that, for a household with the average level of disposable income, housing markets in other provinces remain largely affordable; though challenges persist everywhere for low-income households.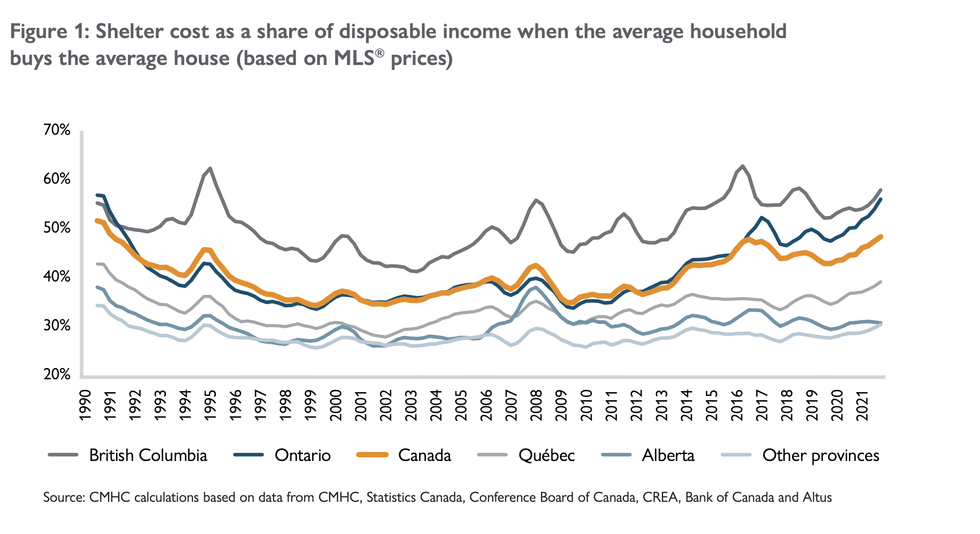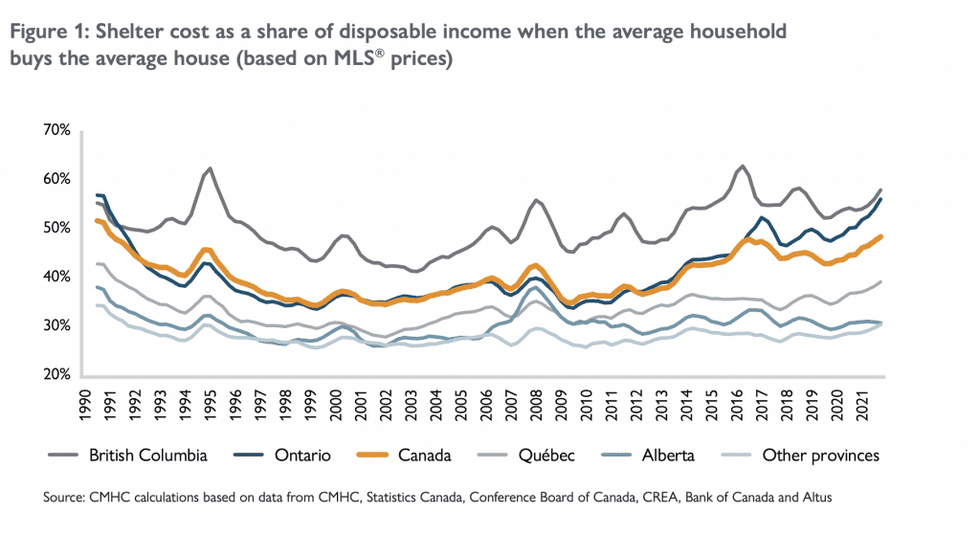 Based on a ratio of average housing cost compared to average incomes, the CMHC laid out what it would take supply and price-wise in order to achieve affordability in each province by 2030.
According to its most aggressive scenarios, in Ontario, home prices would need to fall to $499,000 from the current average of $871,000, with the affordability ratio dipping to 37% from 59. In order to achieve that, construction would need to ramp up by 28%, by 1.85M housing units.
In B.C., affordability would require an average home price of $679,000 (from the current $929,000), the ratio falling to 44% from 60%, and building to increase by 21%.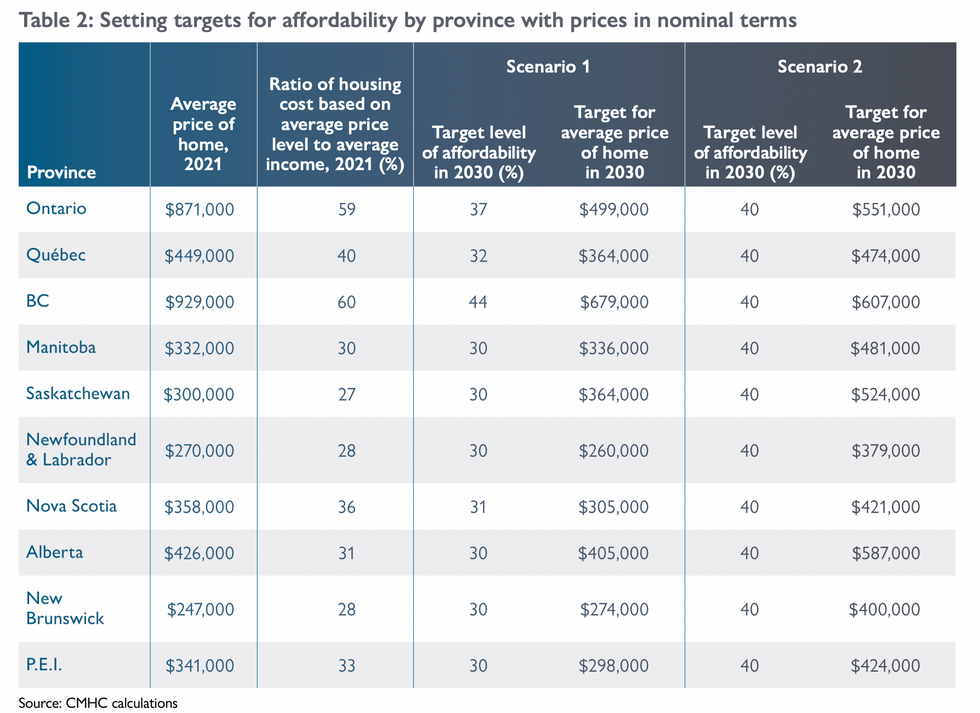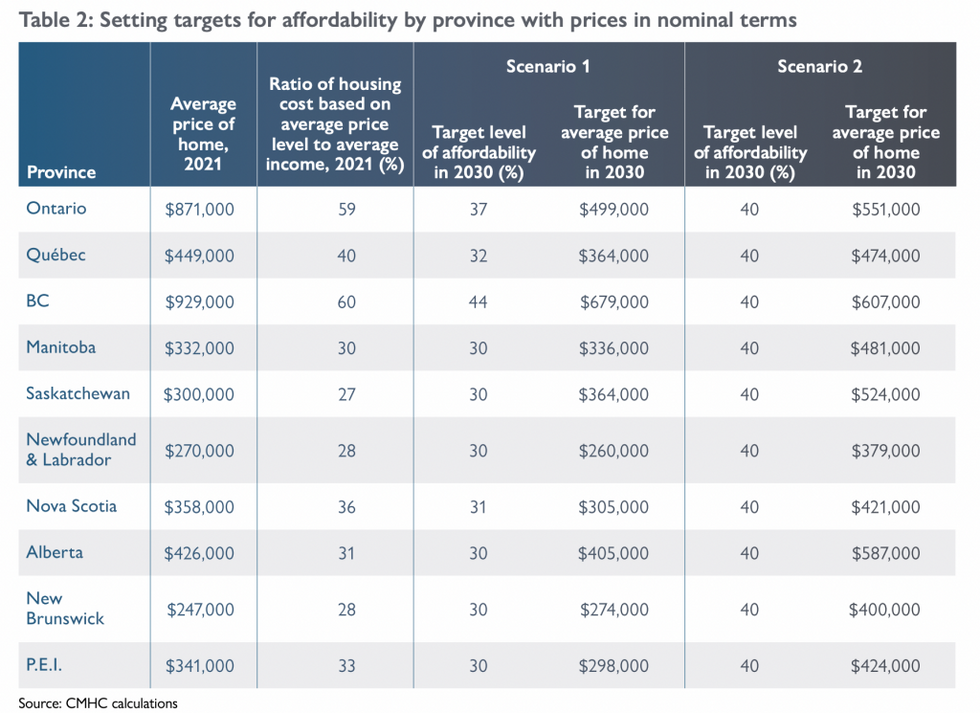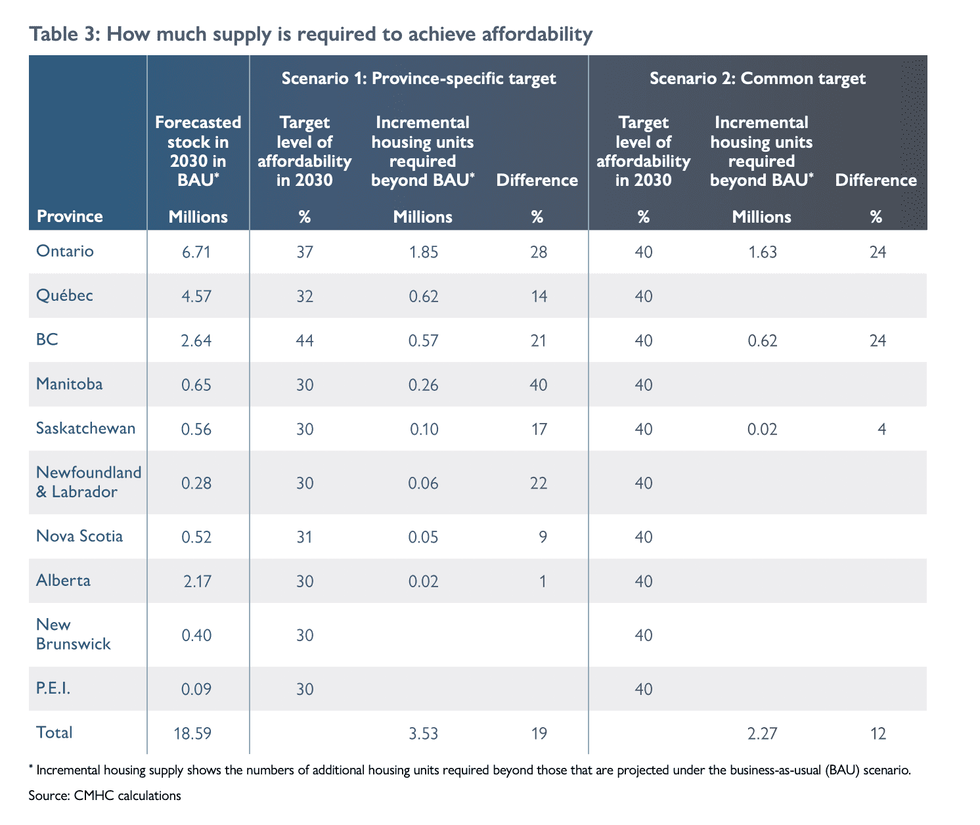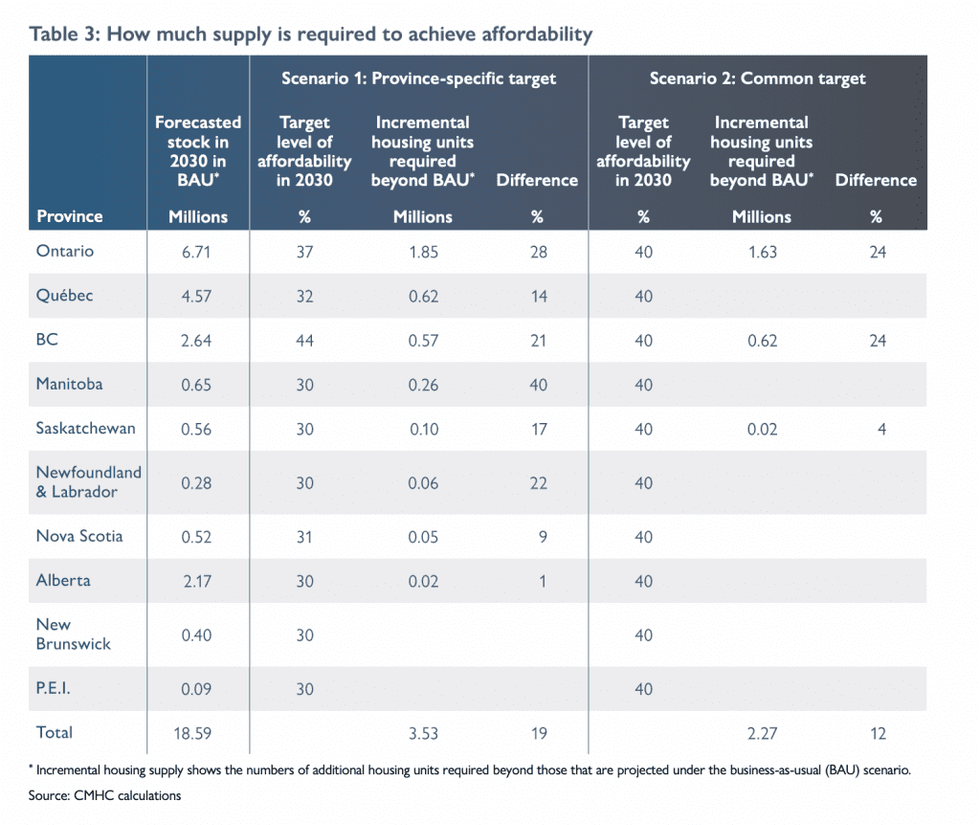 "Increasing housing supply to meet demands of middle-income Canadians means that house prices will move closer to their construction costs over time — and not driven by the cost of land. A commitment by governments to increase housing supply across the spectrum and putting it into action will also change Canadians' perceptions of how much gains will come from house price appreciation so demand growth will slow," states CMHC.
Various Hurdles Preventing Supply
As has been a highlighted issue at various levels of government, effectively ramping up supply will mean fundamental change at the permit approval level — such as addressing years-long delays — as well as alleviating skills shortages and the supply-chain challenges that are pushing up construction costs.
READ: Getting Homes Built is Just the Start in Addressing Ontario's Supply Woes
"…the construction sector needs to become more productive as well because its productivity growth has been low in relation to the rest of the economy," states the CMHC. "These challenges in construction are layered on long-standing challenges of progressing through the regulatory system to get new housing built."
"Governments help by subsidizing housing costs for low-income Canadians. But achieving housing affordability for everyone in Canada will be done with increasing supply in the rental and homeownership market, and having this supply respond more quickly to greater demand. Developers must become more productive and make full use of land holdings to build more housing while governments must make regulatory systems faster and more efficient. Working together, the number of housing units built can be increased dramatically."