---
Canada's real gross domestic product (GDP) was stagnant in May according to Statistics Canada (StatCan). This is following a 0.3% expansion between March and April.
Despite 0.4% growth in services-producing industries, a 1.0% decline in goods-producing industries tempered the overall GDP.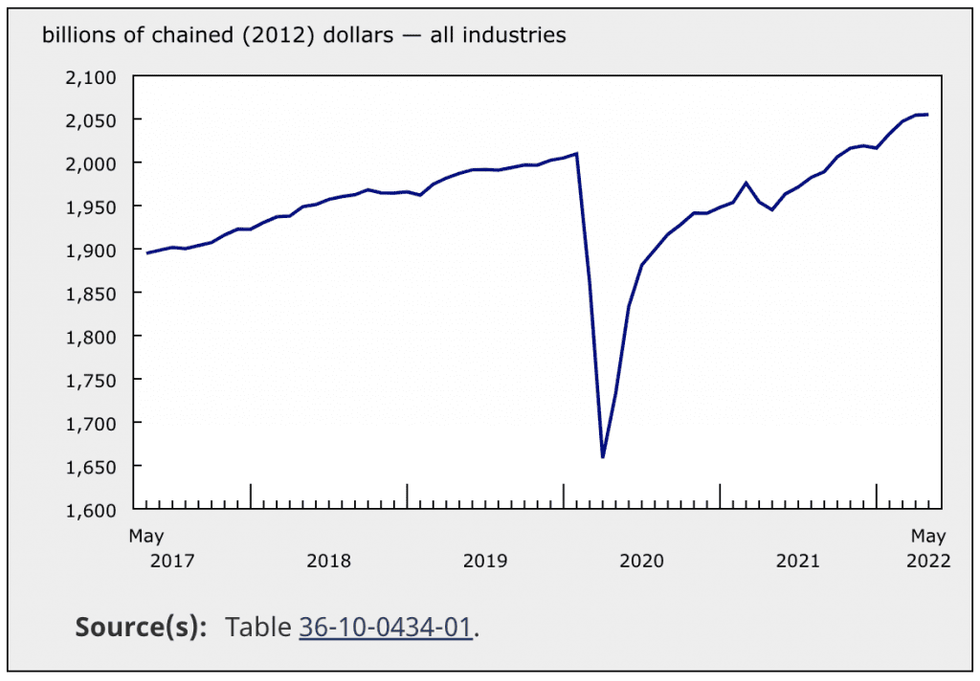 Real gross domestic product essentially unchanged in May
The transportation and warehousing sector saw a 1.9% increase in May, up for the fourth consecutive month. Although this is record-breaking growth for the sector, it was about 7% less than its pre-pandemic level. Within that sector, seven out of 10 subsectors saw expansion. Most notably, air transportation rose by 14.1% (driven by higher movements of cargo and passengers), urban transit systems by 8.9% (driven by an atypical increase in ridership), and rail transportation by 2.3% (driven by higher rail movement of forestry products, metals and minerals, and grains).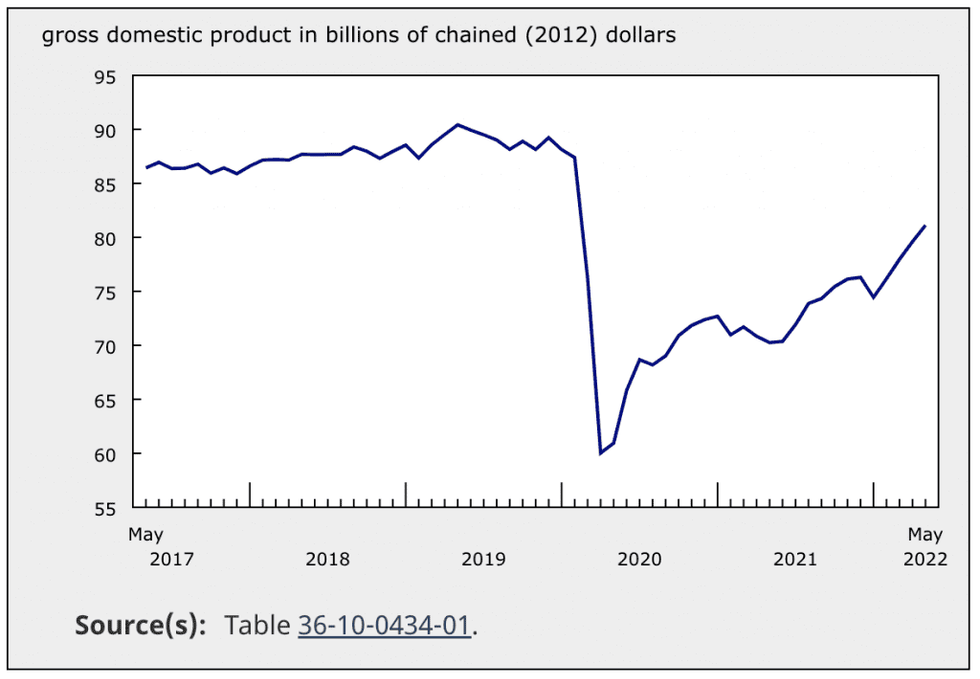 Transportation and warehousing sector grows in May
The accommodation and food services saw an increase of 1.9% in May, up for a fourth consecutive month. The growth was driven by food services and drinking places, which grew by 2.7%. The accommodation subsector saw no change, following three months in a row of growth.
The wholesale trade sector saw an 0.7% increase in May, following three consecutive months of decline. May's increase is attributed to the food, beverage and tobacco wholesaling subsector, up by 6.5%, machinery, motor vehicle and motor vehicle parts and accessories wholesaling, up by 1.8%, and equipment and supplies wholesaling, up by 1.5%. The latter was driven by an increase in farm, lawn, and garden machinery and equipment wholesaling.
The agriculture, forestry, fishing and hunting sector also saw a 1.6% increase in May, driven by a 3.4% increase in crop production (excluding cannabis). Farmers' seeding and good weather conditions forecast positive growth for this sector in the months to come.
The manufacturing sector declined by 1.7% in May for the first time in several months. This is attributed to as drops in both durable-goods and non-durable goods manufacturing. Durable goods dropped by 1.7%, transportation equipment manufacturing by 5.1%, and non-durable goods declined by 1.7% due to declines in five of nine subsectors. In particular, chemical manufacturing dropped by 3.4%, petroleum and coal products manufacturing by 3.9%), plastics and rubber products manufacturing by 4.6%. Some of the declines can be chalked up to reduced activity in motor vehicle and motor vehicle parts manufacturing, and reduced demand for same.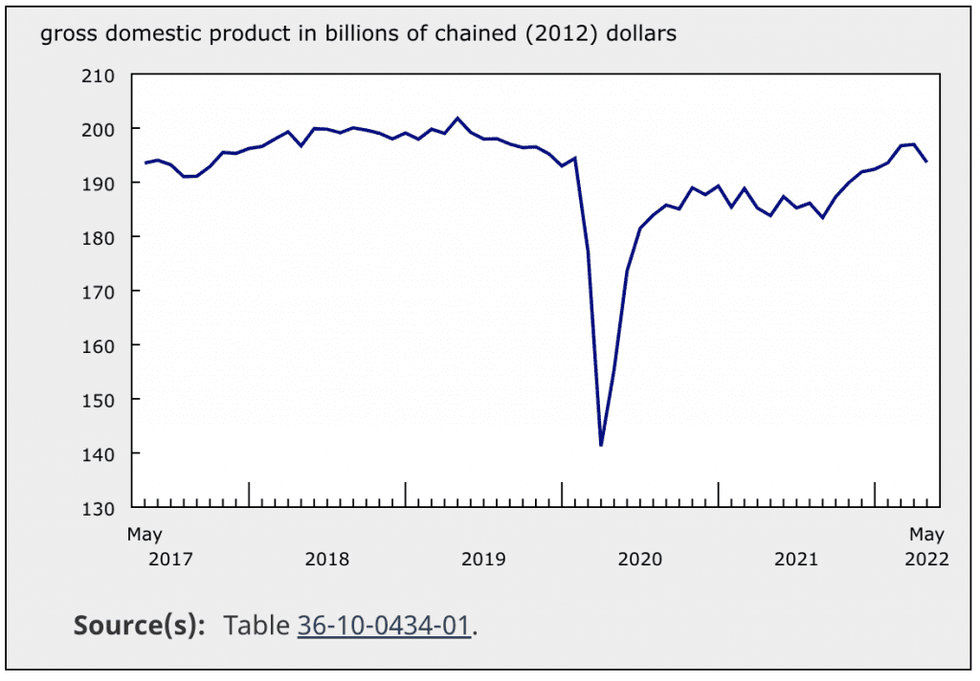 Manufacturing sector declines in May
The construction sector declined for a second consecutive month, registering a 1.6% contraction in May. This is due to the fact that many of Ontario's unionized construction workers were on strike, which led to project delays. Residential building construction dropped by 1.9% due to decreases in construction of new single-family detached houses and of apartments. That said, the level of activity in May was 11% more than the pre-pandemic level. Engineering and other construction activities dropped by 2.0%, repair construction by 1.4%, and non-residential building construction by 0.4% marking the first decline in six months.
Mining, quarrying and oil and gas extraction dropped by 0.1% in May, after three consecutive months of growth. Oil and gas extraction contracted by 1.4%, oil sands extraction by 3.4% due to stalls in synthetic oil output. On the flip side, oil and gas extraction (except oil sands) increased by 1.4% (driven by higher extraction of crude oil and natural gas) and mining and quarrying (except oil and gas) by 1.6% (driven by increases in metal ore mining). Both sectors benefitted from increased exports of metal ores and non-metallic minerals. Additionally, support activities for mining, and oil and gas extraction rose by 3.5% for the fourth consecutive month.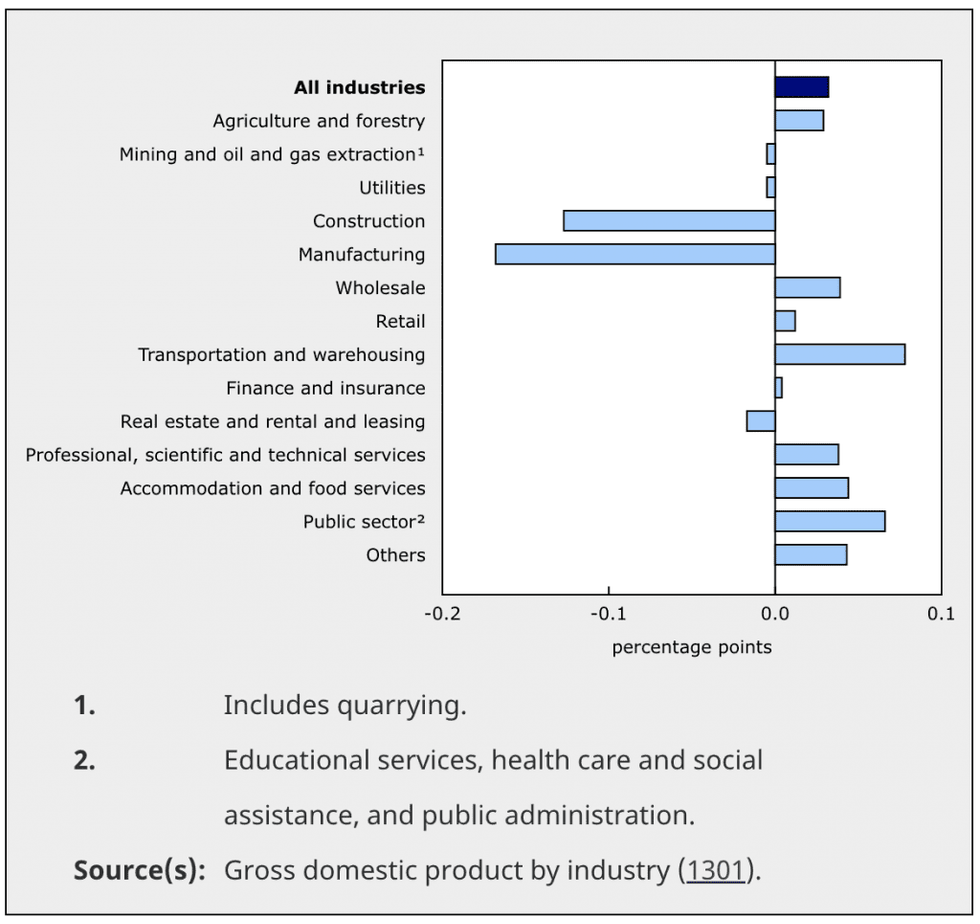 Main industrial sectors' contribution to the percent change in gross domestic product in May
With that all said, advance information for real GDP by industry shows that real GDP increased 0.1% in June due to growth in the construction, manufacturing, and accommodation and food services sectors. Meanwhile, the the mining, quarrying and oil and gas extraction sector, the finance and insurance sector, and in the professional, scientific and technical services sector all saw a decline. This shapes up to a 1.1% increase in the second quarter of 2022, but official data for June and the second quarter of 2022 will be released on August 31.
Economy