It appears the Canadian economy continues to get back on track following months of uncertainty and job loss brought on by the COVID-19 pandemic, as Statistics Canada says the economy added 246,000 in August. While still a significant jump, the pace of job gains in August was down from July when 419,000 jobs were added.
On Friday, StatCan released its monthly Labour Force Survey, showing that August marked the fourth consecutive month for job gains following the COVID-19 related lockdowns and the economic shutdown, which had resulted in record job losses for Canadians.
---
The new gains brings the number of added jobs to within 1.1 million of pre-pandemic levels.
By mid-August, public health restrictions had substantially eased across the country and more businesses and workplaces had re-opened. As a result, full-time work in the country rose by 206,000 while the number of part-time workers rose by 40,000.
This shows that the unemployment rate in Canada fell to 10.2% in August compared with 10.9% in July.
READ: Toronto Sees Record-Breaking August as Home Prices Soar 20%
According to the report, the new job gains in August were largely tied to full-time work, which had been falling behind gains in part-time employment. Full-time employment is now almost 6% away from pre-pandemic levels compared to the 3.9% shortfall in part-time work.
In August, the total number of Canadian workers affected by the COVID-19 economic shutdown stood at 1.8 million, compared to in April when this number reached a peak of 5.5 million. This included a 3 million drop in employment and a 2.5 million increase in COVID-related absences from work.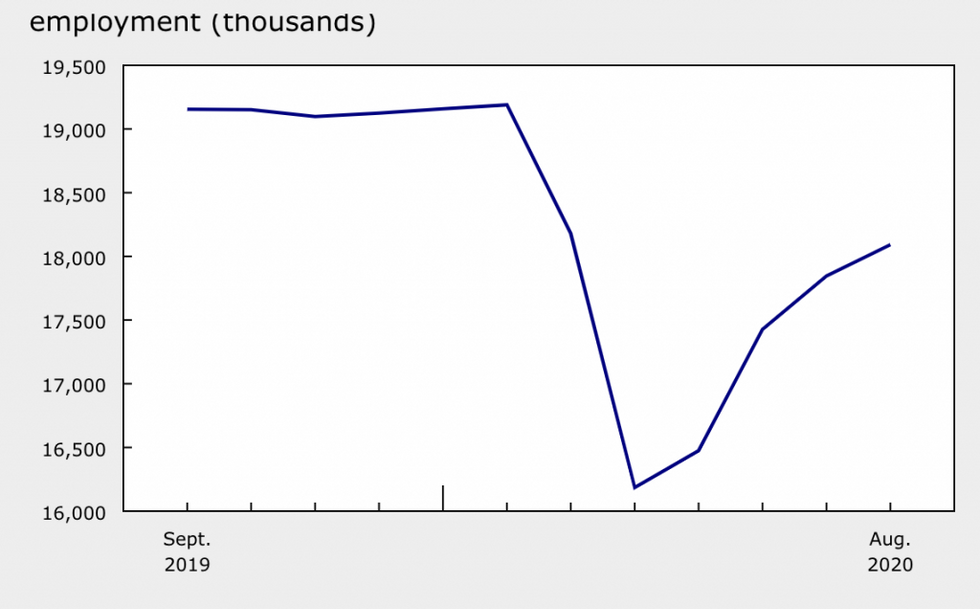 Statistics Canada August Labour Force Survey
The numbers show that employment rose at a faster pace for women than men for the third straight month as Statistics Canada reported women gained about 150,000 positions in August compared with 96,000 for men.
What's more, the number of Canadians working less than half their usual hours -- likely due to COVID-19 -- fell by 14.6%, indicating that some 713,000 workers are still working fewer hours, down from a peak of 2.5 million in April.
Here's a breakdown of Canada's August employment:  
 Unemployment rate: 10.2%
 Employment rate: 58%
 Participation rate: 64.6%
 Number unemployed: 2,046,900
 Number working: 18,091,700
 Youth (15-24 years) unemployment rate: 23.1%
 Men (25 plus) unemployment rate: 8.4%
 Women (25 plus) unemployment rate: 7.7%
According to the report, employment increased in every province except Alberta and New Brunswick, with the largest gains in Ontario and Quebec.
Employment in Ontario rose by 142,000 in August (+2%), nearly all in full-time work, while the unemployment rate fell by 0.7 percentage points to 10.6%. Combined with the employment increases in June and July (+529,000), the jobs gained in August brought employment in Ontario to 93.6% of its pre-pandemic level.
Economy