---
Despite soaring mortgage costs, Canada's annual inflation rate slowed to its lowest level in nearly two years in May.
According to Statistics Canada's latest Consumer Price Index (CPI), inflation rose 3.4% year over year in May, the smallest increase since June 2021 and down from 4.4% in April.
The slowdown in headline CPI was largely driven by declining gas prices, which fell 18.3% annually due to a base-year effect. The effect, which refers to the impact that price movements from a year ago have on the current month's calculation, also influenced the 12.4% annual drop in energy prices.
In the first half of 2022, Canadian consumers experienced significant price increases as the global economy reacted to Russia's invasion of Ukraine. As time passes, these price increases will fall out of the monthly calculations, which will have a downward effect on headline CPI.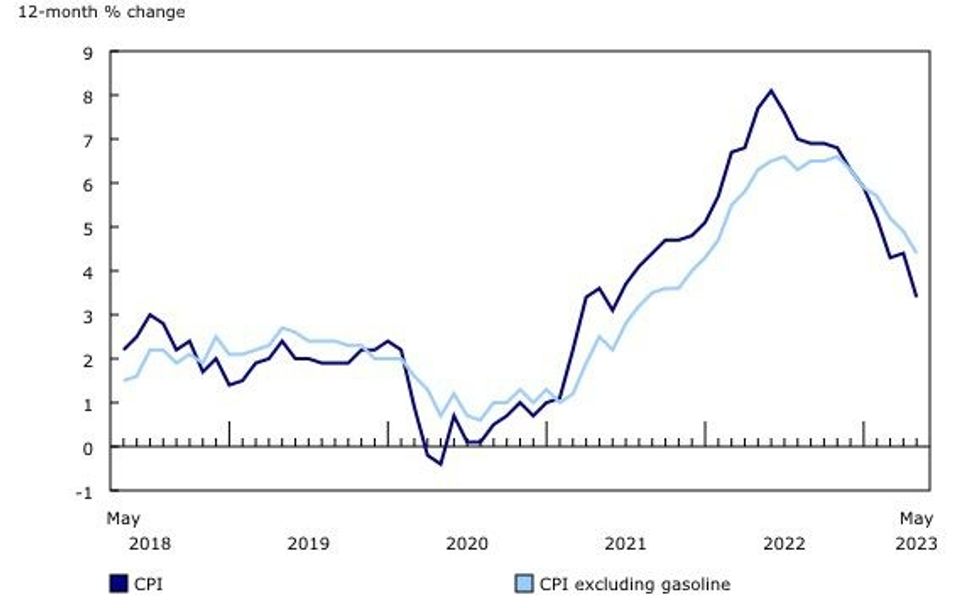 12-month change in the Consumer Price Index, Statistics Canada
Prices for durable goods also grew at a slower pace in May, rising 1.0% annually. The increase is the smallest since May 2020, and coincides with easing supply chain issues.
Furniture prices, which fell 2.9% annually -- the largest decline since June 2020 -- and passenger vehicle prices, which rose 3.2% annually -- the smallest increase since February 2021 -- contributed to the deceleration.
While inflation has slowed in recent months, it remains well above the Bank of Canada's 2% target. Prices continue to be elevated, particularly so where food is concerned.
Following a 9.1% increase in April, grocery prices rose 9.0% year over year in May. The acceleration was driven by a 20.3% increase in the cost of edible fats and oils, a 15.0% rise in the price of bakery products, and a 13.6% increase in the cost of cereal products. At 6.8%, prices for food purchased from restaurants also rose faster than headline inflation in May.
The largest contributor to elevated inflation, though, was mortgages. With more and more Canadians renewing and initiating at a higher rate, the mortgage interest cost index rose 29.9% annually in May. The rise follows a 28.5% jump in April, and marks the third consecutive month to register the largest increase on record. Excluding the mortgage interest cost, the CPI rose 2.5% in May.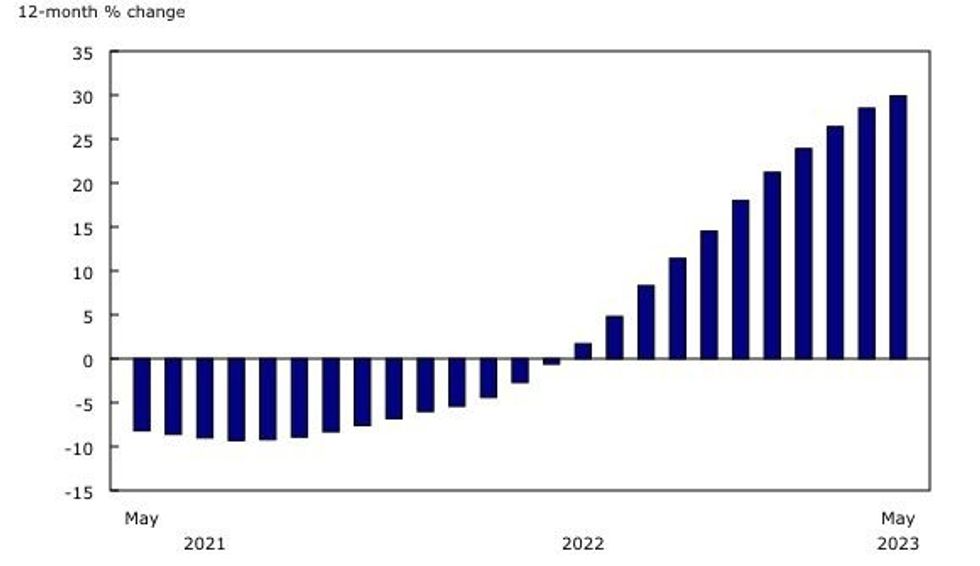 With the Bank of Canada once again raising interest rates, the trend will only continue, Jerome Trail, owner and broker of record at The Mortgage Trail, told STOREYS.
"This elevated state is going to carry on for the foreseeable future as more people are forced to renew or refinance at higher rates," Trail said. "Mortgages will continue to push CPI up in the next few months."
The worst may be yet to come, with Trail noting that the "real test" will come in 2025 and 2026 -- when five-year terms that were initiated during the real estate boom of 2020 and 2021 mature. The "900 pound gorilla in the room" is just how Canadian will manage when their payments skyrocket.
"This will be a slow, gradual unwinding of inflation and a slow, gradual unwinding of increased borrowing costs. It's going to take a while for this to play out," Trail said. "Mortgage costs will continue to rise around us. Get used to it. Hold onto your hat."
Economy