---
Availability in Canada's industrial real estate market rose above 2% for the first time in two years, but market conditions remain remarkably tight.
According to CBRE's Q2 2023 Canadian Industrial Figures report, the national availability rate rose 20 basis points (bps) to 2.1% in the second quarter of the year. However, market conditions remain well below the 15-year average rate of 4.8%.
On a local level, seven of the 10 markets included in CBRE's report saw their availability rate rise, while contractions were seen in London, Calgary, and Edmonton.
The former continues to hold the tightest industrial market in Canada, with availability falling 60 bps to 0.7%, while the latter lands on the other end of the scale, with an unchanged availability rate of 5.4%.

CBRE Research
The national increase in availability was due to significant levels of new supply being delivered over the last several quarters; in Q2, 8.8 million sq. ft of industrial space was delivered to market. However, the impact on availability rates was muted as 73% of the new builds were already pre-leased.
The new supply delivered was largely concentrated in Toronto (38.9%), Edmonton (16.1%), Vancouver (15.9%), and Calgary (11.6%). Combined, the cities accounted for 82.5% of all completions in Q2.
According to CBRE, more than 27.1 million sq. ft of space that is currently under construction will be delivered in the second half of 2023, 38% of which is already pre-leased. Again, the majority will be located in Toronto (12.2 million sq. ft), Calgary (4.3 million sq. ft) and Vancouver (4.2 million sq. ft).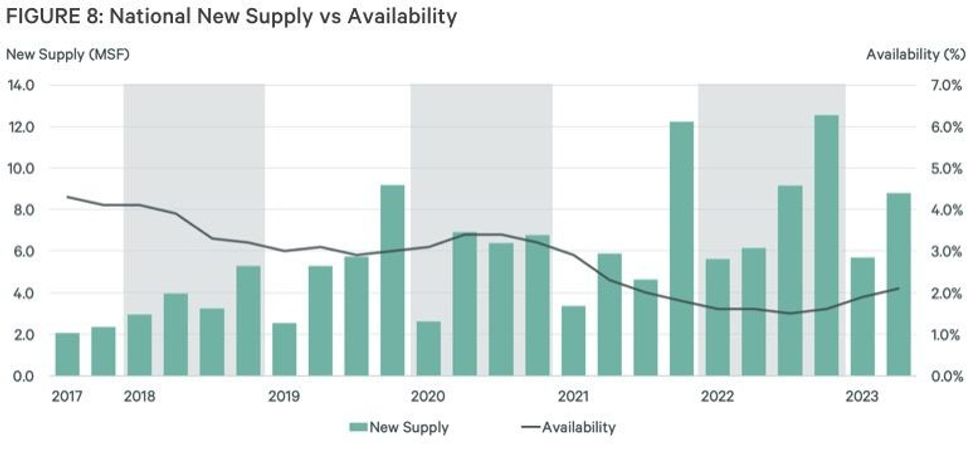 CBRE Research
For the third consecutive quarter, new supply outpaced net absorption in nearly every market across Canada. After reaching a post-pandemic low at the start of the year, leasing activity picked up in Q2, with 3.4 million sq. ft of positive net absorption nationally.
Activity was led by Toronto and Edmonton, with both markets seeing strong levels of new supply delivered. The cities saw total positive net absorption of 2.1 million sq. ft and 1.3 million sq. ft, respectively.
Meanwhile, Montreal marked a second consecutive quarter of negative net absorption, down 652,000 sq. ft Despite a slight increase in Q2, Winnipeg has also recorded cumulative negative net absorption in 2023.

CBRE Research
READ: Commercial Real Estate To See "Upswing In Demand" As Industrial, Retail Grow
With high levels of completions, the national development pipeline slowed, with 44.4 million sq. ft of space under construction in Q2. The pace of industrial construction has moderated from the peak levels seen throughout the pandemic, but remains "healthy" with 6.6 million sq. ft of net new projects breaking ground.
The new developments were focused in Toronto, Vancouver, and the Waterloo Region, which accounted for 79.6% of all new construction that began in Q2.

CBRE Research
Although the pace of leasing activity moderated, net asking rents rose in Q2, with the national average jumping 19.3% year over year to $16.35 per sq. ft. 
Growth outpaced the national average in several local markets, including Montreal (28.4%), the Waterloo Region (27.7%), and Toronto (21.0%). In contrast, Edmonton saw prices decline 2.2% annually in Q2, marking the first industrial rental rate decline in Canada since Q4 2021.

CBRE Research
While rents rose, sale prices began to plateau as the pace of growth decelerated. The national average asking sale price hit $273.55 per sq. ft in Q2. An 8.3% annual increase, it marks the first time in 10 quarters that year-over-year growth has fallen to single-digits.
Locally, asking sale prices fell 6.4% year over year in London and 10.2% in Vancouver, the first declines Canada has seen since Q3 2020. Despite the decline, Vancouver continues to see the highest asking sale prices in Canada, at $575.00 per sq. ft.
Toronto follows with an asking sale price of $377.97 per sq. ft, a muted 2.1% annual increase. Meanwhile, the most significant year-over-year increases were seen in Halifax (35.1%), Ottawa (29.8%), and Montreal (23.4%).

CBRE Research
Industrial