The six-month trend in housing starts rose for a second consecutive month in July, but weak home sales seen throughout 2022 will soon pull the measure back down.
This, according to the latest data from the Canada Mortgage Housing Corporation (CMHC), comes despite the seasonally adjusted annual rate (SAAR) of housing starts falling to 254,966 units in July, a 10% decline from the decade-high level seen in June.
---
Total urban starts fell 11% on a monthly basis to 234,857 units. Multi-unit urban starts led the decline, falling 12% to 193,466 units, while single-detached urban starts dipped 4% to 41,411 units in July. Meanwhile, the monthly estimate of rural starts was 20,109 units, an 8.3% jump from June.
Regionally, much of the monthly decline was concentrated in Nova Scotia, which saw the total SAAR of housing starts fall 63%, while British Columbia experienced a 25% decline and Ontario saw starts drop 19% in July. Following the flurry of activity seen in June, housing starts declined 23% in Vancouver and 29% in Toronto in July.
Meanwhile, total housing starts rose 46% in Alberta, 34% in Manitoba, and 17% in Quebec in July. On a local level, significant monthly increases were seen in Edmonton (67%) and Calgary (33%).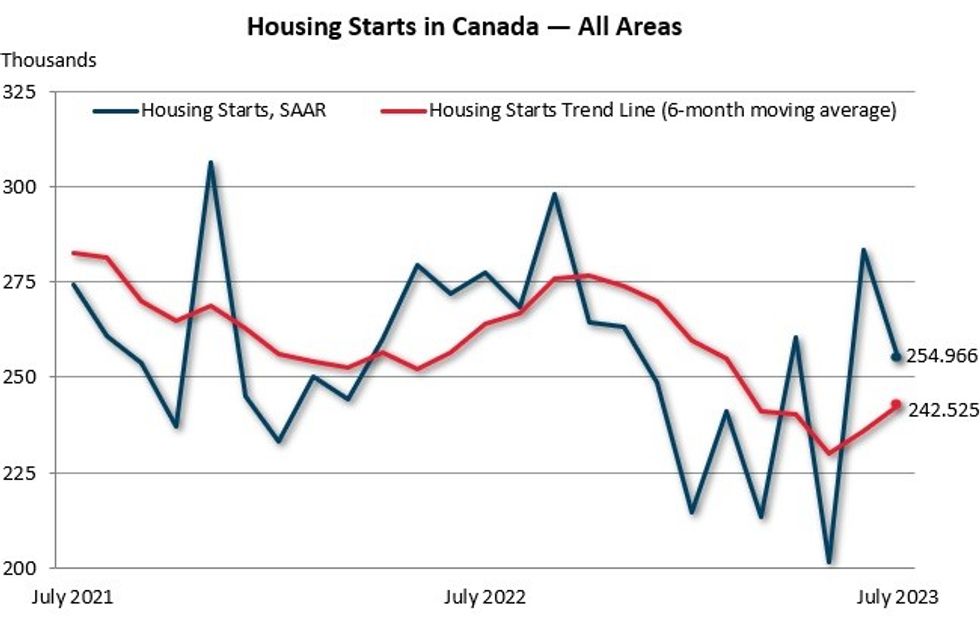 Canada Mortgage and Housing Corporation
Although housing starts declined on a monthly basis in July, the dip came on the heels of a significant burst in June. The actual number of starts seen in July was "healthy," and kept the six month trend on an upward trajectory for a second-straight month. The trend was 242,525 units in July, a 2.8% increase from June.
However, Bob Dugan, CMHC's Chief Economist, noted that market intelligence suggests that multi-unit projects that started in June and July were likely financed a few months beforehand, so, "the effect of the most recent interest rate hikes on housing starts remains to be seen."
Rishi Sondhi, an Economist at TD, predicts that starts will begin to trend lower moving forward, as sluggish home sales seen throughout 2022 result in weaker levels of homebuilding.
Real Estate News