---
Already facing a significant inventory issue, Canada's housing supply shortage is poised to get worse as soaring construction costs weigh on homebuilding ambitions.
The rising cost of raw materials, increased development fees and levies, and a shortage of workers will challenge efforts to grow the housing stock, and lead to worsened affordability in the long-term. The prediction is courtesy of a new report from RBC's Robert Hogue, Assistant Chief Economist, and Rachel Battaglia, Economist.
Since the start of the pandemic in Q1 2020, Canada's Residential Construction Price Index has risen 51%, well outpacing the Consumer Price Index (CPI), which is up 13%.
The increase in the former has been driven by a "dramatic" rise in the price of key building materials, including concrete and steel, which are up 55% and 53%, respectively, from Q1 2020. Lumber prices also contributed to the increase, having risen significantly in 2021 and 2022, but have since retreated.
RBC Economics
The surge has coincided with a rapid population increase -- Canada's population grew by more than 290K in Q1 2023 alone, and has now surpassed 40M -- which, together, have led to a rise in development fees and levies.
The fees are imposed by municipal governments and intended to fund the infrastructure required to support a new development, such as roads and transit. Indexed to Statistics Canada's Construction Cost Index, they increased by as much as 30% annually in 2022 for single or semi-detached units.
The rising population, and low interest rates, kept the development industry busy during the pandemic. However, the increased demand for materials was not met with a comparable rise in production -- in fact, the report notes that lumber production declined 11% between Q1 2020 and Q1 2023, while the production of lime, a key component in cement, dropped 20%.
While the former was due environmental impacts, such as wildfires, and the latter was attributable to the temporary shutdown of cement plants in several provinces, higher input costs, including fuel, have hampered production, too.
Meanwhile, a shortage of workers in the construction industry have led to increased labour costs -- wages in the sector grew 9.4% in 2022, while other industries increased 4.6%.
"Reining in construction costs to deliver more affordable and attainable housing won't be easy," Hogue and Battaglia wrote.
While price pressures will be eased somewhat in the near term -- the pair predict housing starts will fall 10% across Canada in 2023, leading to a drop in demand for materials -- the national push to ramp up homebuilding will keep costs elevated in the long term.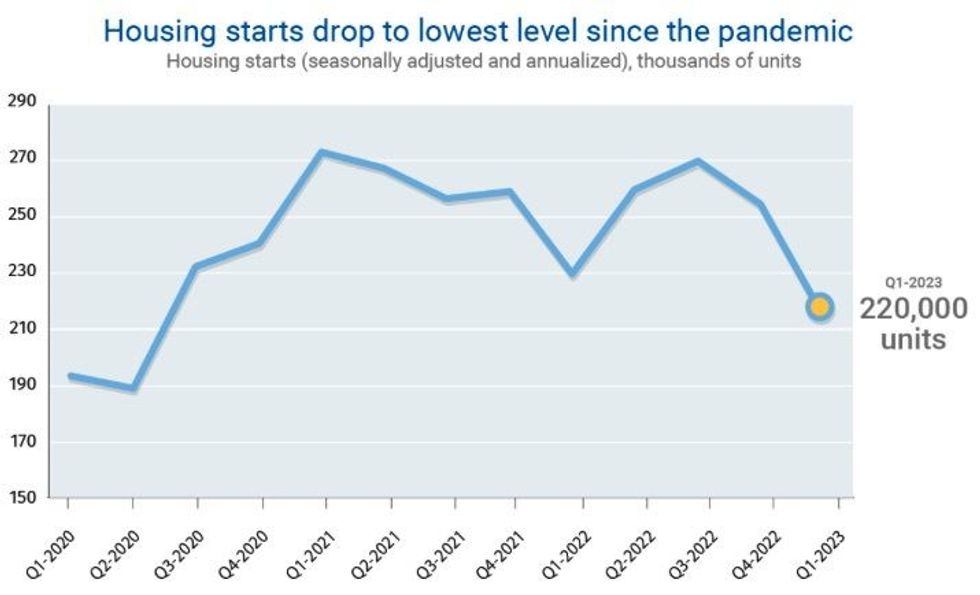 RBC Economics
While federal and provincial governments have made efforts to address labour shortages, including express entry for skilled trades workers, Hogue and Battaglia note that it "remains to be seen" if such programs will curb the growth of construction costs.
And while development fees and levies are intended to support the growth of municipalities, costs need to be consistent with the overarching goal of improving affordability.
Together, Hogue and Battaglia believe these longer-term issues will "continue to challenge builders."
Real Estate News