Affordability, whether it be your rent or your groceries, is becoming more and more of a problem across Canada, but there is one thing that isn't becoming harder to afford: co-op housing.
---
According to a report published by the Co-Operative Housing Federation of Canada (CHF Canada) -- which examined costs for co-op housing compared to costs in the rental market in Vancouver, Victoria, Edmonton, Toronto, and Ottawa between 2006 and 2021 -- housing costs in co-ops have not only been consistently lower, but the gap continues to widen.
In the early part of that period, co-op housing costs (usually referred to as the "housing charge" rather than the "rent") were on average about $150 to $200 less per month than a similar one-bedroom or two-bedroom market rental unit. In recent years, that gap has shifted to between $400 and $500 a month, in all the aforementioned cities except Edmonton (where the gap hasn't changed as much).
The CHF found that housing charges for co-ops have increased by about 2% to 3% annually within this period, while market rents have increased by approximately 3% to 4% every year, not to mention an 11% increase in 2021 alone.
"Because individuals and families living in co-ops tend to have lower than average incomes, the affordability of co-op homes has an outsized impact," said Tom Clement, Executive Director of the CHF's Toronto chapter.
What explains the gap and affordability of co-op housing? To answer that question, the Federation looked at public investment in co-op housing in Canada.
The Co-Op Housing Model
According to the CHF, co-operatives have a different financial logic than rentals. In the development phase, both have similar capital costs, although co-op developments typically can save on marketing costs. For owners to (at least) break even on the development, high market rents usually need to be charged to make up for the capital costs. Meanwhile, co-op and other social housing require substantial subsidies for the same reason, but from here the two models start diverging more and more.
For owners and operators of rental buildings, rents usually rise to whatever the market allows, as stakeholders seek to maximize their revenue and return-on-investment -- profits they then use to pay off mortgage loans, which provide them capital to invest elsewhere.
With the co-op housing model, however, the housing charges are based solely on operating costs and mortgage amortization, and co-ops often have agreed-upon rent-setting rules and practices, which means the housing charges do not need to be hiked for the purpose of making a profit that will be used for future investment.
In general, the CHF says, the pattern is for co-ops to have above-market rents in the first few years of operation, but to fall increasingly below market over time.
"The general pattern is that 'economic' or break-even rents in new co-ops may be higher than average market rents in the first few years of operation; but once co-ops mature financially, break-even rents tend to fall increasingly below market over time," the CHF says. "In many cases, as rents fall below market and/or once the mortgage is paid off, the co-op refinances (takes on a new mortgage loan) to undertake repairs or modernizations."
They add that patterns of subsidies over time show this as well, with it usually being high in a co-op's early years, but then dropping lower and lower -- sometimes to zero -- in the long term. "Starting in those years once the project is mature, and certainly once the mortgage is paid off, the co-op can sustain itself economically at rents well below market, without subsidy."
"Of course, co-ops benefitted from public investment which supported their construction and operation in their early years," said Tim Ross, Executive Director of CHF Canada. "But the long-term payoff of that investment is clear. We now have permanently affordable co-ops across the country that enable people to put healthy food on the table and save for their children's education, along with living securely."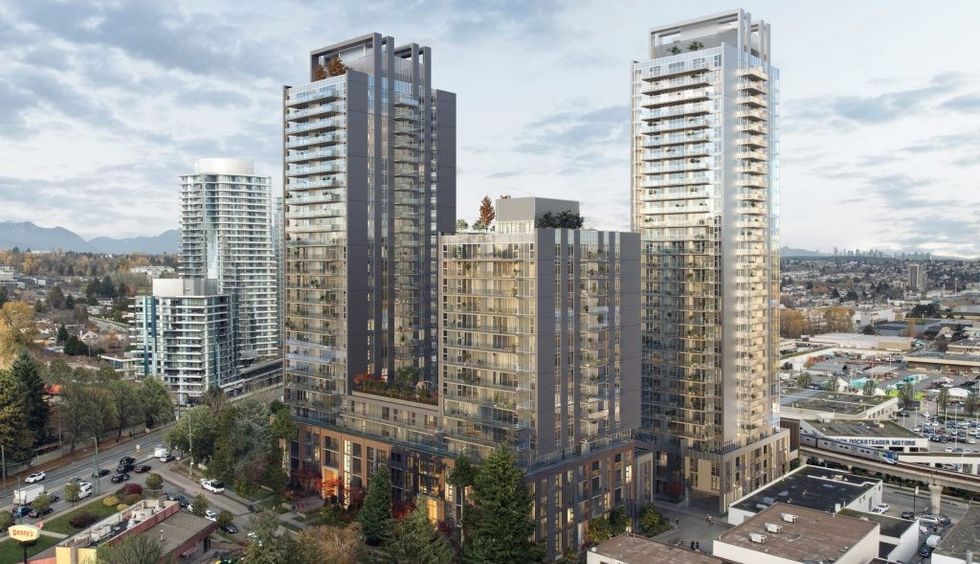 Ashley Mar Co-Op in Vancouver. (Image: Intracorp Homes / Oxford Properties)
READ: Oxford & Intracorp Break Ground on One of Canada's Largest Co-Op Projects
The Co-Op Housing Market
According to the Federation, there are 2,212 co-ops across Canada, for a total of 92,526 units. Ontario has nearly half of those units, with 44,181; followed by Quebec's 22,501; British Columbia's 15,784; 6,739 in the Prairies; 3,164 in the Atlantic provinces, and 162 in the Yukon, Northwest Territories, and Nunavut.
Looking at just the five major cities the report looked at, the amount of co-op units compared to rental stock in 2021 was 15,969 compared to 508,679, which is approximately a ratio of one to 32.
Rental stock is also mostly apartment buildings, with townhouses being less common for rental, whereas townhouses are mainstream when it comes to co-op housing. In the aforementioned five cities, Toronto is the only city with more co-op housing in apartment buildings than in townhouse form and most of the cities had double the amount of co-op townhouses than co-op buildings.
Most co-ops in Canada were developed in the 1970s and 1980s, but there has been newfound emphasis in recent years as affordability and housing has become more prominent issues.
As part of the federal government's National Housing Strategy to use $72B across 10 years to create more affordable housing, one of the stated goals has been to "create a new generation of co-op housing through the largest investment in new co-op housing in more than 30 years." As the CHF's report indicates, this is an investment that can ultimately pay for itself.
Renting