---
The real estate market tends to follow a reliable pattern: home sales dip in the winter, rise in the spring, temper off in the summer, and then find new life again in the fall before the winter dip. The Calgary market appears to be following that seasonable trend, according to February statistics published by the Calgary Real Estate Board (CREB) last week.
Last month, Calgary registered a total of 1,740 sales and 2,389 new listings. Although both numbers were declines compared to February 2022, they were an improvement over January's 1,199 sales and 1,852 new listings, both of which were the lowest seen in a January since the 1990s.
Home sales remained relatively strong compared to long-term trends, but the amount of new listings recorded in the month were the lowest registered in a February since 2006.
"While higher lending rates are impacting sales activity as expected, we are seeing a stronger pullback in new listings, keeping supply levels low and supporting some stronger-than-expected monthly price gains," said CREB Chief Economist Ann-Marie Lurie. "Prices are still below the May 2022 peak and it is still early in the year. However, if we do not see a shift in supply, we could see further upward pressure on prices over the near term."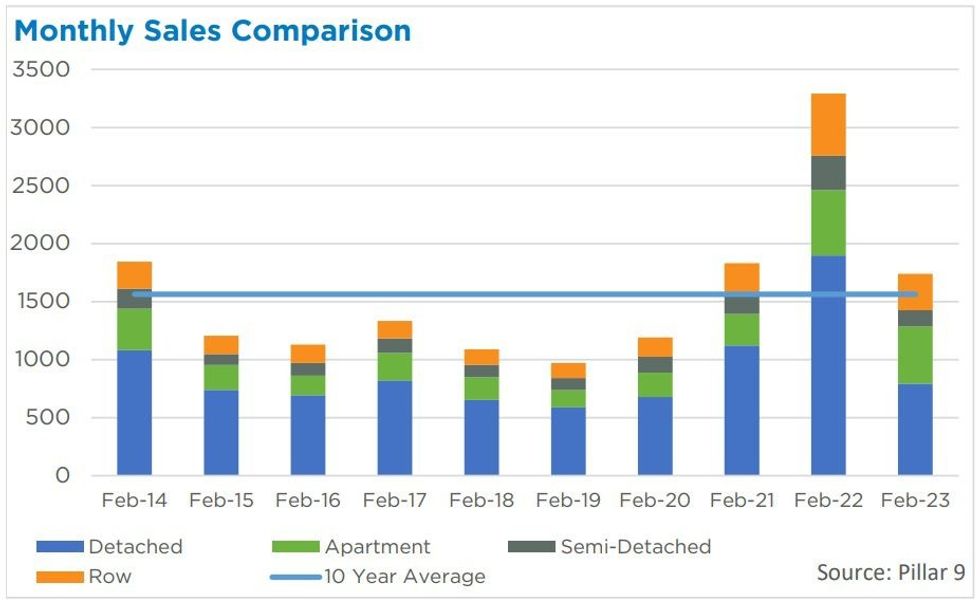 Home sales in February, in the last 10 years. (Calgary Real Estate Board)
The Market Lean
So what does this mean? Is the market currently favouring buyers or sellers?
Using the aforementioned statistics, we can determine the sales-to-new-listings ratio, a solid indicator of which way the market is leaning. A ratio below 40% is typically considered a buyers' market, while a ratio above 55% is viewed as favouring sellers, and anything in between indicating market balance.
With Calgary seeing 1,740 sales and 2,389 new listings in February, the sales-to-new-listings ratio is 72.8%, a strong sign that sellers may have an advantage at the moment.
"With a sales-to-new-listings ratio of 73% [...] the market has struggled to move into balanced territory, causing further upward pressure on home prices," CREB said.
Upward Pressure on Prices
The composite residential benchmark price in the City of Calgary is now $530,900, a 1.5% increase compared to this time last year, while the median price was $460,000.
Homes between $200,000 and $299,999 accounted for the largest portion of sales in the month.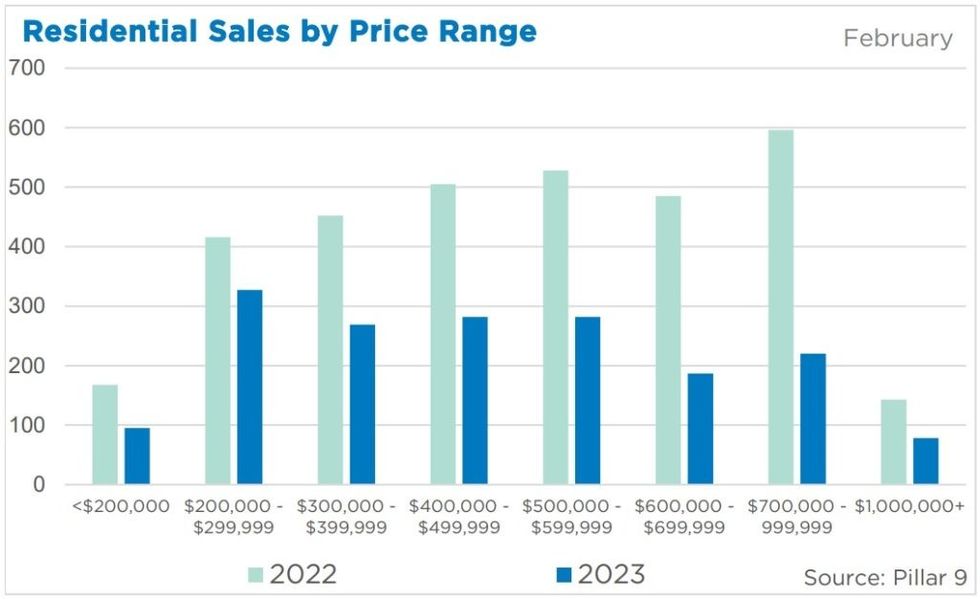 Home sales in February, by price range. (Calgary Real Estate Board)
The benchmark price is now at $635,900 for single-detached homes, $568,100 for semi-detached homes, $369,700 for row houses, and $286,000 for condominiums.
READ: Canadian Cities Where You Can Buy A House For Under $500K
According to CREB, those benchmark prices all represented increases over January.
Regionally, home sales in the City of Calgary accounted for 80% of sales in the Calgary region. Airdrie accounted for 5%, while the Foothills Region and Rocky View Region both accounted for 4%.
Homes