On Monday, Burnaby City Council granted final approval to the next high-rise residential tower that will join the dense neighbourhood of Brentwood: Etoile Gold by Millennium Development.
Planned for 2230-2270 Springer Avenue and 2330 Douglas Road, just about midway between the Millennium Line SkyTrain's Brentwood Town Centre Station and Holdom Station, Etoile Gold will rise 47-storey (502 ft) and consist of 274 strata condominiums, 102 rental units, and three live/work townhouses fronting Douglas Avenue.
---
The subject site was formerly occupied by a small handful of old industrial buildings and single-family homes that have already been demolished. The tower will be directly adjacent to two other towers by Millennium Development, 26 and 32 storeys in height and collectively called Etoile, which were completed in 2020.
According to the City of Burnaby, Millennium Development first brought forth their proposal in August 2021. The project then reached the public hearing stage in April 2022 and received conditional approval in December.
Construction of the new development will require the closure of a 2,589-sq.-ft portion of Springer Avenue and a 4,713-sq.-ft portion of a laneway, both of which the developer will acquire from the City and have also been approved.
The site for Etoile Gold and its surrounding context.(Chris Dikeakos Architects / Millennium Development)
The planned 274 strata condos will include 62 studios, 84 one-bedrooms, 108 two-bedrooms, and 20 three-bedrooms.

The rental portion will then include 21 studios, 37 one-bedrooms, 42 two-bedrooms, and two three-bedrooms. Of the 102 total rental units, 29 will be provided at CMHC market median rates, 45 will be provided at 20% below CMHC market median rates, and the remaining 28 will be provided at market rental rates.
A total of 376 vehicle parking spaces and 834 bicycle parking spaces will be provided across five levels of underground parking, which will be accessible from Springer Avenue. All in all, the project will have a total floor space ratio of 8.36.
Residential amenities will include a fitness centre, recreation rooms, meeting rooms, bicycle repair facilities, outdoor terraces housed on the ground floor and 14th floor, and an outdoor pool on the roof of the podium.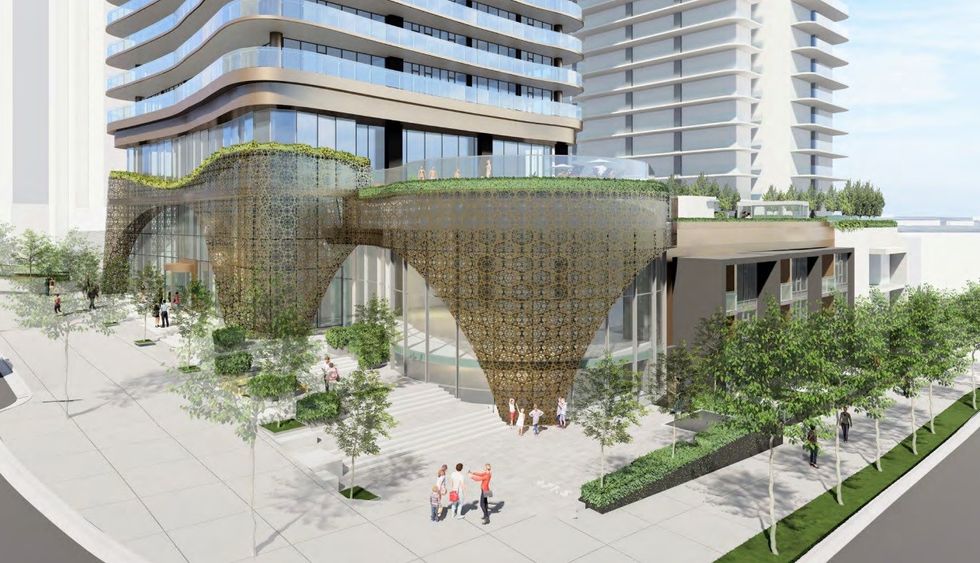 View of the grand level from the Springer-Douglas intersection.(Chris Dikeakos Architects / Millennium Development)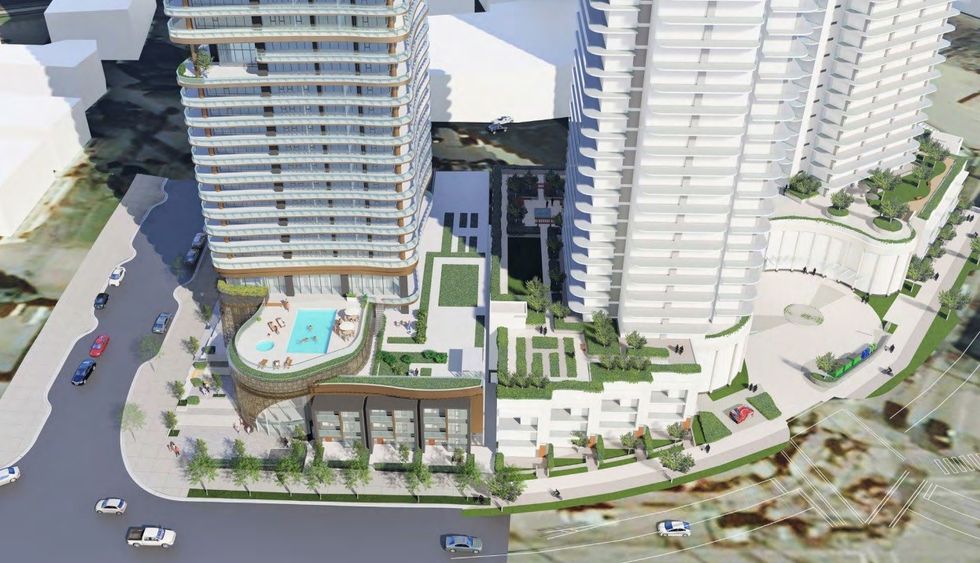 View from Douglas Road.(Chris Dikeakos Architects / Millennium Development)
The architect of the project is Vancouver-based Chris Dikeakos Architects, who has designed many of the existing and upcoming high-rises in the Brentwood area of Burnaby. Those include a 61-storey tower by Amacon which is up for a public hearing later this month, and both the Brentwood West Master Plan by Bosa Development and the Buchanan West Master Plan.
For the Etoile Gold project, the architects say that their proposal "achieves the level of architectural and urban design excellence appropriate to this important corner at Douglas Road and Springer Street" and notes that the tower has been "positioned to maximize views for residents as well as create larger spaces between existing towers to the east."
Council approved the project on Monday evening without discussion. Pre-sales on Etoile Gold have also reportedly launched, according to MLA Canada, joining an abnormally large group of projects in Burnaby that are all launching sales around the same time.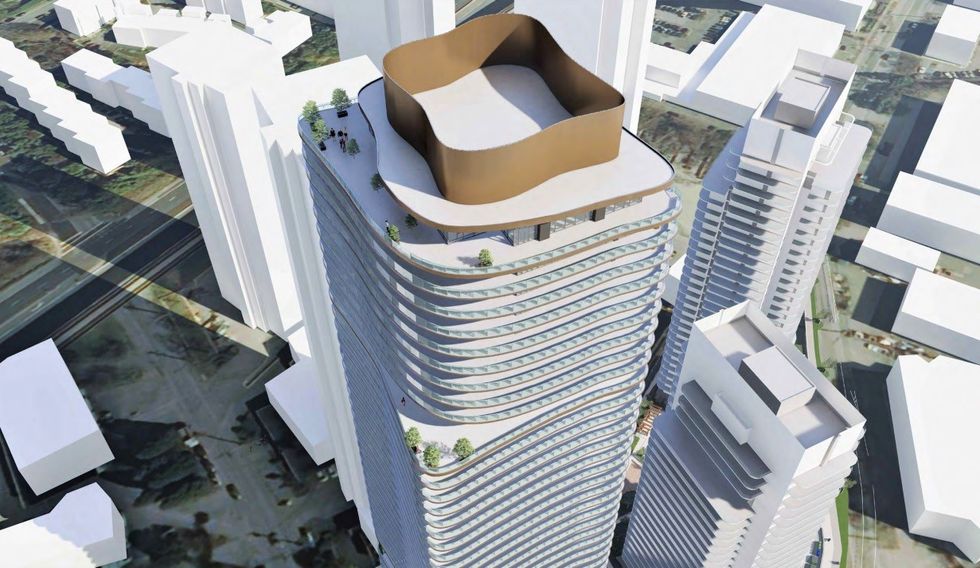 Aerial view of the tower.(Chris Dikeakos Architects / Millennium Development)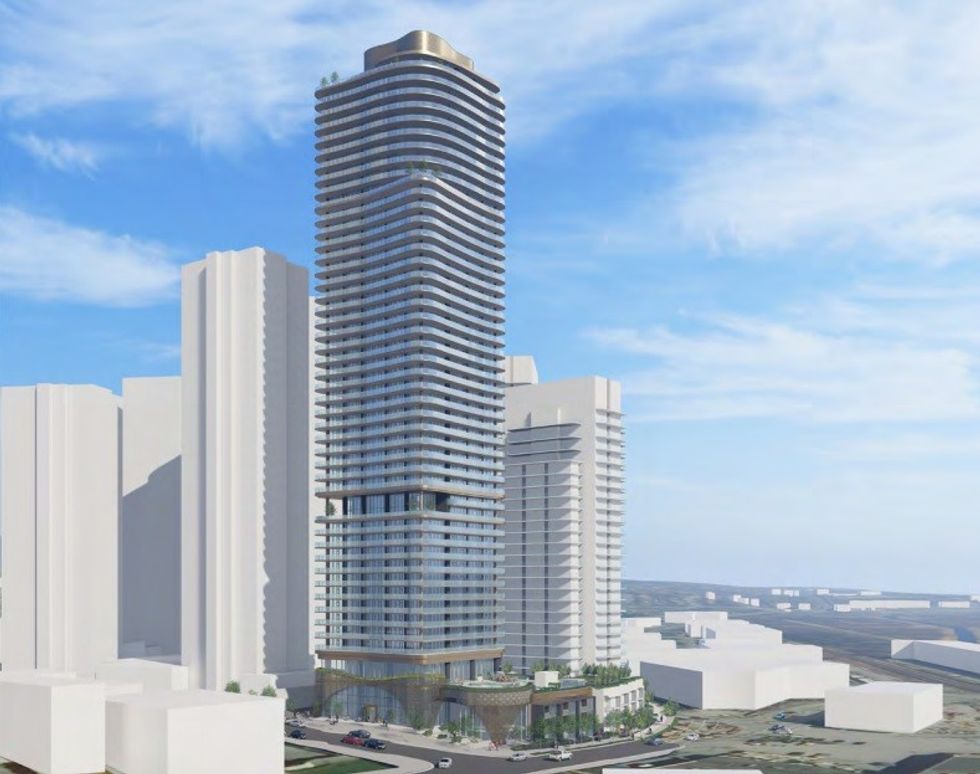 View of the Etoile Gold.(Chris Dikeakos Architects / Millennium Development)
Future Developments