Yesterday, Toronto-based rental housing company Tricon Residential announced a $300-million USD (or $395-million CAD) equity investment led by Blackstone Real Estate Income Trust (BREIT), a global leader in real estate investing.
BREIT will make the investment through the purchase of 240,000 newly created exchangeable units (preferred equity) that are issued by a Tricon subsidiary on a private placement basis and are exchangeable into a minority investment of Tricon.
---
BREIT will acquire $240 million USD of the preferred equity.
The substantial investment reveals a level of assurance in Tricon's disruption of the traditional residential market. "This investment in Tricon illustrates Blackstone Real Estate's confidence in our business fundamentals and the value in our stock," said Gary Berman, CEO of Tricon Residential.
Tricon Residential owns and manages over 30,000 single-family, middle-market rental homes and multi-family rental units in North America through an integrated, technology-enabled operating platform. It uses this technology to buy, lease, service and manage homes.
"Blackstone inherently understands our business and is exceptionally well-positioned to help us bring our tech-enabled operating platform to its full potential," says Berman. "We are excited to have the support of one of the world's largest real estate investors, and we are confident that this investment will create significant value for both Tricon's and BREIT's shareholders."
Tricon says it will use the capital to pay down debt.
The investment comes at a time when the COVID-19 pandemic has put pressure on traditional commercial and residential real estate. Eyes and dollars are now turning to the rental market and its potential.
"We are pleased to make this preferred equity investment in Tricon," said Frank Cohen, Chairman and CEO of BREIT. "We continue to see strong underlying fundamentals in the rental housing sector and believe the company's high quality, income-generating assets are poised to generate stable performance under the leadership of its best-in-class management team."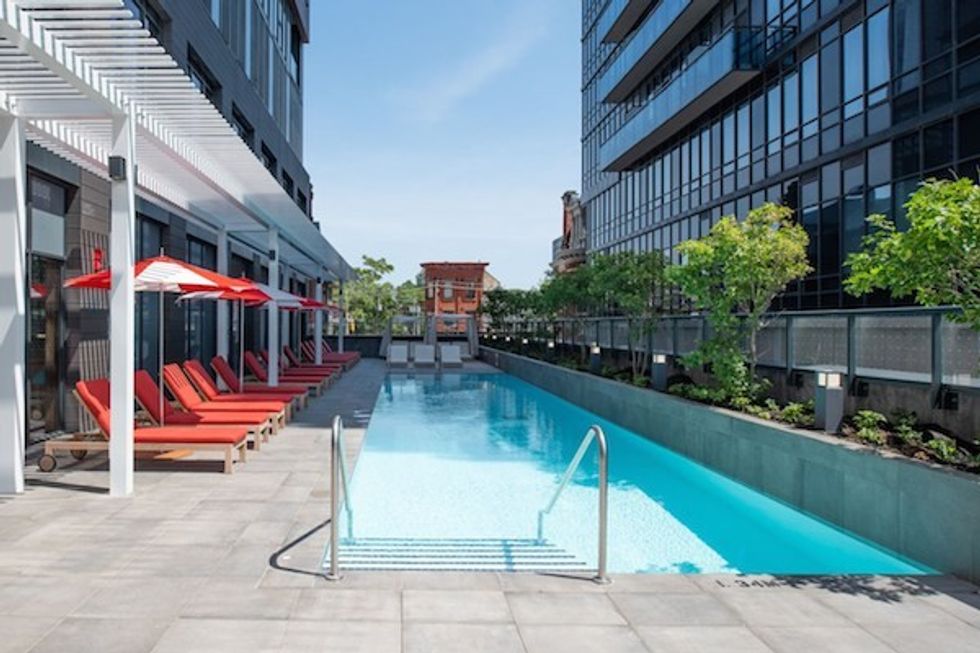 The Selby, A Tricon Residential Project (Image: Facebook).
Rather than uninspiring high-rises, today's made-for-rental buildings can have all the frills of a condominium – plus more. The Tricon team is responsible for Toronto's game-changing new rental building, The Selby. The luxury apartment is designed specifically for rental and features a state-of-the-art gym, a yoga spinning studio, a spa, Italian fabricated Scavolini kitchens, an outdoor pool, pet spa, and an onsite bistro.
With home prices remaining daunting, if not unattainable, for many young Toronto residents, the purpose-built rental model reflected in buildings like The Selby is an attractive one. And with the COVID-19-inspired uncertainty of other real estate markets – not to mention, the job market – renting a home for your family rather than buying could make the most financial sense for some given the economic climate.
Clearly, it's not just home-seekers who recognize the rental market's appeal.
The deal mark's Blackstone's re-entry into the rental market; the company once lead Wall Street's initial venture into the single-family rental business. We can expect a closing date later this month or early September, subject to receipt of TSX approval.
Real Estate News