Coming soon to Toronto's east end is a vibrant master-planned community unlike anything else in the area, poised to elevate quality of life for residents and locals alike.
Set to rise at 411 Victoria Park Avenue, just north of Gerrard and south of the Danforth, Birchley Park is a 19-acre master-planned community from Diamond Kilmer that will feature 665 suites spread across two mid-rise condos -- which reach their highest point at 12 storeys -- and back-to-back townhomes. The development will be complete with retail at grade, plus extensive parkland.
---
Nestled between the vibrance of The Danforth, the charm of Birch Cliff, and the picturesque bluffs of The Beaches, the "community within a community" will offer residents the very best of four-season wellness living in one of the city's most desirable areas.
READ: New Mid-Rise Buildings Are Having A Moment In Toronto
Upon completion, the development will add to the fabric of the locale by serving access -- to both residents and neighbours -- to an abundance of on-site retail options, plus public green space. In an area of Toronto where such offerings have, until now, been limited, Birchley Park answers the call. And, with the development covering an impressive 19 acres of land, residents will have this wealth of recreational opportunities right at their doorsteps.
The community's amenities will feature a central courtyard complete with an outdoor gym, BBQs, and al fresco dining areas. What's more, Birchley Park will bring an innovative concept to the neighbourhood, with the introduction of 5.5 acres of public parkland that will seamlessly blend with the already established community. This integration of green and residential spaces creates a harmonious environment where residents can enjoy their daily routines surrounded by nature's tranquility.
"I don't think there's anything available in the area that is a master-planned community, and [that] has parks and so many different amenities," says ManLing Lau, Vice President of Baker Real Estate Incorporated, who is leading Birchley Park's sales. "This project will be very special for everybody in the neighbourhood. It's not just for Birchley Park residents, it's also for everyone to use within the local community."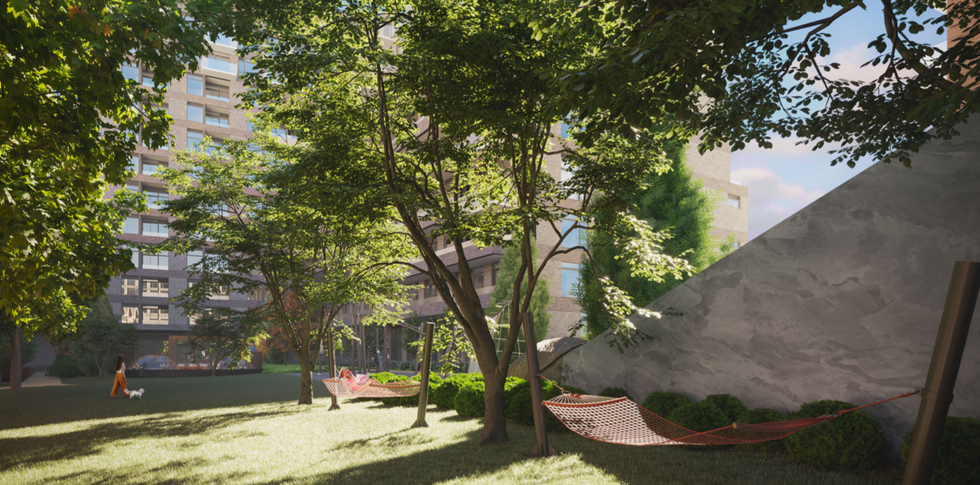 Rendering of Birchley Park outdoor space
A prime location is a key factor in any successful development, and Birchley Park scores high in this regard. Situated in Toronto's east end, residents will enjoy easy access to an incredible array of restaurants, shops, parks, and community spaces.
Furthermore, the development's address is a six-minute walk to Victoria Park TTC station, and just a few minutes more to the Danforth GO, connecting residents to the heart of downtown Toronto in a mere 15 minutes. Birchley Park's strategic positioning doesn't only mean urban conveniences, but also a serene sense of retreat from the fast-paced energy of Toronto's core.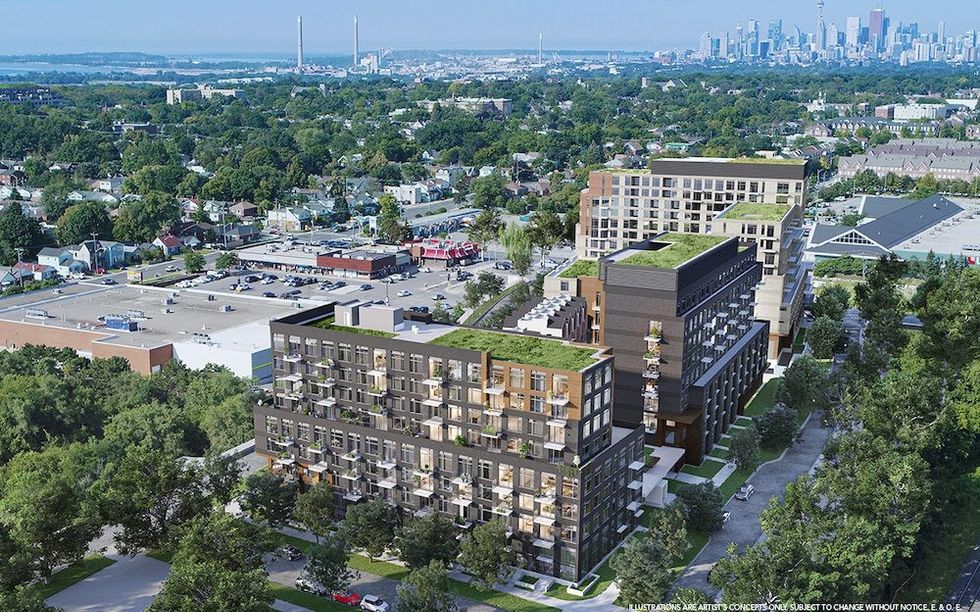 Birchley Parkstoreys.com
Take the development's coveted location, and pair that with its comprehensive approach to green spaces, amenities, and thoughtfully designed condos and townhomes, and the result is a welcoming environment that appeals to families, professionals, right-sizers, and investors alike.
Unlike the surrounding neighbourhood, which is primarily composed of single-family homes, traditional towns, and apartment buildings, Birchley Park brings a refreshing variety of home options via its mix of contemporary condo and modern townhouse living. This diverse range of layouts and styles ensures there's a home to suit every lifestyle and phase of life.
"There are really not too many mid-rise condos -- or condos [at all], for that matter in the area. For first-time homebuyers or a single person planning to have a family, houses in the area are too expensive and a lot of upkeep," says Lau. "For these buyers, it's better for them to move into a condo within a master-planned community such as this, so they can move from a small unit and then grow into a bigger unit over the years."
Lau says Birchley Park is also ideal for right-sizing end users.
"For empty-nester couples who might not want to stay in Toronto the whole year, [they] may want to sell their home and buy a condo. With Birchley Park, the units are turn-key, and residents won't have to worry about things like shoveling snow or cutting grass. All they have to do is move in."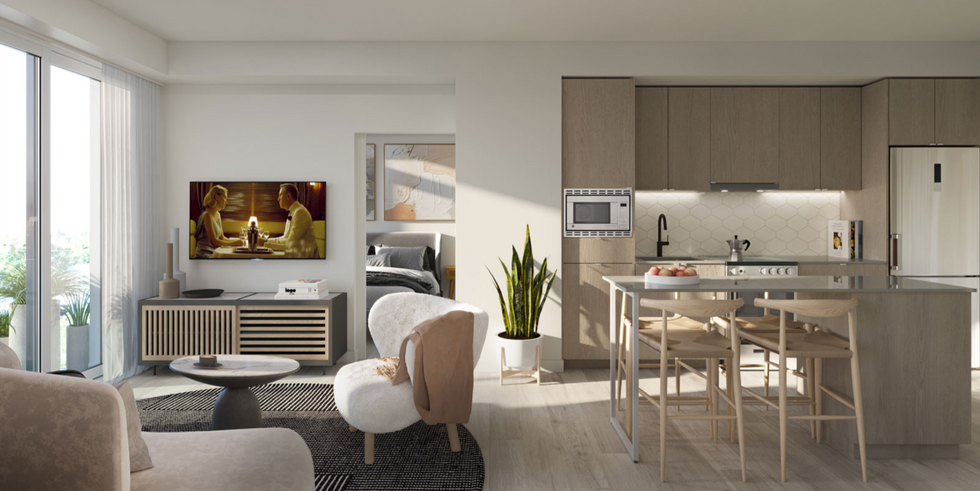 Rendering of Birchley Park suite interior
As for the units themselves, Birchley Park boasts meticulously designed suites, thoughtfully planned to maximize living space and ensure comfort. In short, they're an ideal choice for even the most discerning of homebuyers.
This thoughtful and meticulous planning is found in the development's amenities, too; every on-site offering has been carefully curated. Across the community's 19 acres, there are a plethora of options for relaxation, entertainment, and wellbeing, all of which foster a sense of connectedness -- while elevating the standard of contemporary living.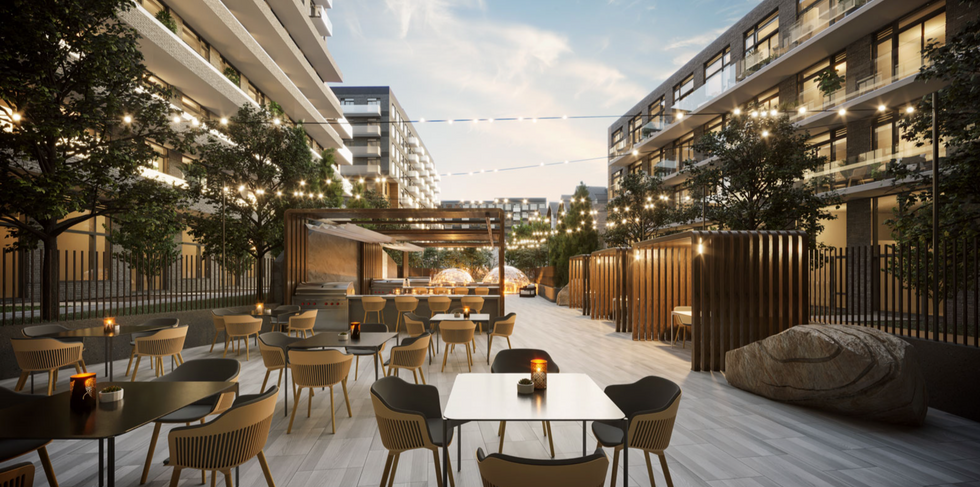 Rendering of Birchley Park outdoor space
"We have an extensive amenity package -- think of it as 'the works'," says Natalie Baksh, Manager, Marketing & Sales at Diamond Kilmer. "There's indoor and outdoor fitness, a year-round swim spa, and an indoor sauna all conveniently located on the main level, so you don't have to go anywhere; everything is right at your doorstep."
When it comes to amenities, Baksh explains that there's something for everyone -- and every age -- to enjoy.
"There are multiple party rooms, a dining room, coworking spaces, a games lounge, there's an area for kids to play... we've really put some thought into how we program the spaces," she says.
READ: New Master-Planned Community Puts Amenities Into (Four-Season) Focus
Birchley Park stands as a shining example of a master-planned community that directly addresses the desires, and needs, of its future residents. By offering abundant green spaces, amenities, and retail all within a prime location, the development creates a harmonious environment that epitomizes contemporary urban living.
As it shapes the landscape of Toronto's east end, Birchley Park emerges as a prime real estate investment, promising a fulfilling lifestyle for present and future generations.
The development is the second project for Diamond Kilmer, a formal partnership between long-time collaborators DiamondCorp and Kilmer Group.
"This project is being developed by a reputable developer," says Lau. "Buyers can rest assured."
With its strategic location, thoughtful planning, and array of on-site amenities, this master-planned community ensures a fulfilling lifestyle for the residents of today while promising substantial returns for investors in the years to come.
Cover image:Birchley Park rendering
This article was produced in partnership with STOREYS Custom Studio.
Future Developments