Toronto
Sponsored
Bayview Village Neighbourhood Embraces the Community at its Centre
The Bayview Village neighbourhood has long been known as one of Toronto's finest.
With a proximity just as near to luxe shopping as to lavish green space, the area is one that just keeps getting hotter.
In fact, this pocket of the city may be more coveted than ever these days, as eyes are increasingly turning toward living spaces that provide not just a place to call home, but an environment that prioritizes community well-being.
And while the Bayview Village neighbourhood can already make such a declaration about its own modus operandi, its truth will be compounded when the upgraded Bessarion Community Centre is complete.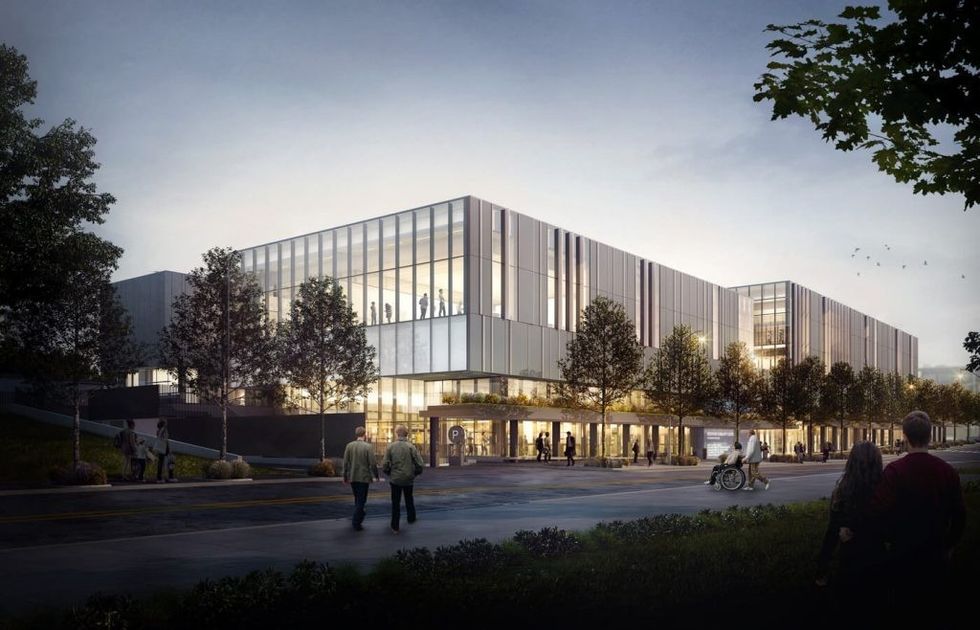 Expected to open in 2022, the new-and-improved multi-use facility will span a total of 38,000 square-feet. Whether a resident is keen on running, lifting, swimming laps, or taking it easy like Sunday morning, the community centre will have space dedicated to serving their needs.
The structure, designed by MacLennan Jaunkalns Miller Architects (MJMA), is currently under construction near Bessarion Road and Sheppard Avenue East.
Within its nearly 40,000 square-foot coverage, workout-ready visitors will be able to enjoy an indoor running/walking track, a fitness studio, and a weight room. Those who prefer their exercise to feel a little more… say, fluid, will appreciate the dedicated 27,000 square-foot aquatic space the centre will contain. Within it will rest a 25m x 6-lane lap pool, and a leisure pool with barrier-free ramp access.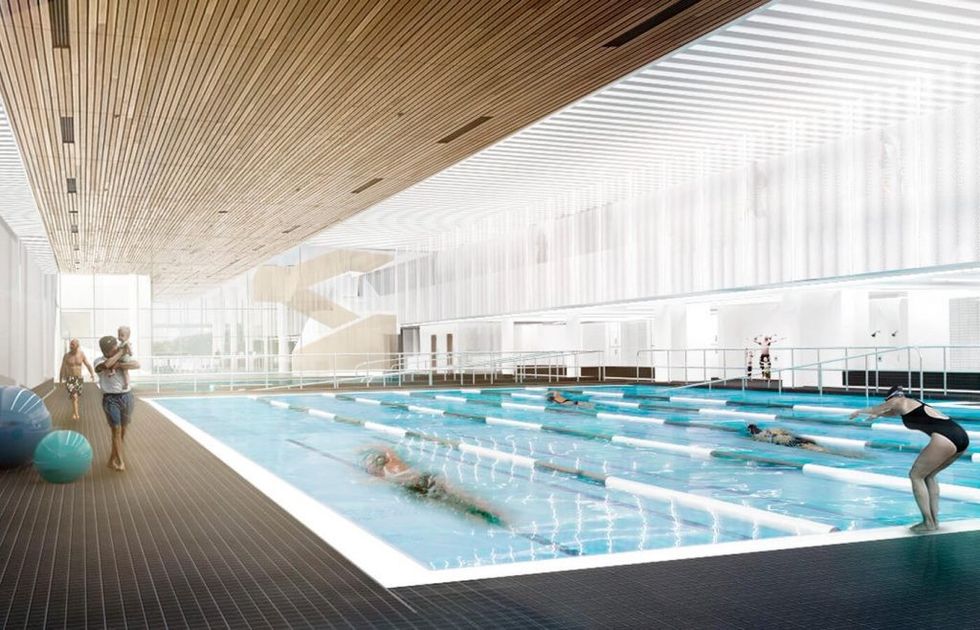 Now, while the upgraded community centre will certainly be a place to hit if someone's looking to stay fit, it's also going to be a hub for anyone looking to stay learned.
Alongside the massive spaces dedicated to physical well-being, brain gains will be prioritized at the centre's 13,000 square-foot Toronto Public Library branch. While destined to be utilized by students at York University's Glendon Campus — a mere 20 minutes away via TTC — the library will also mean those residing in the Bayview Village neighbourhood can breeze through their Goodreads challenges, free of charge.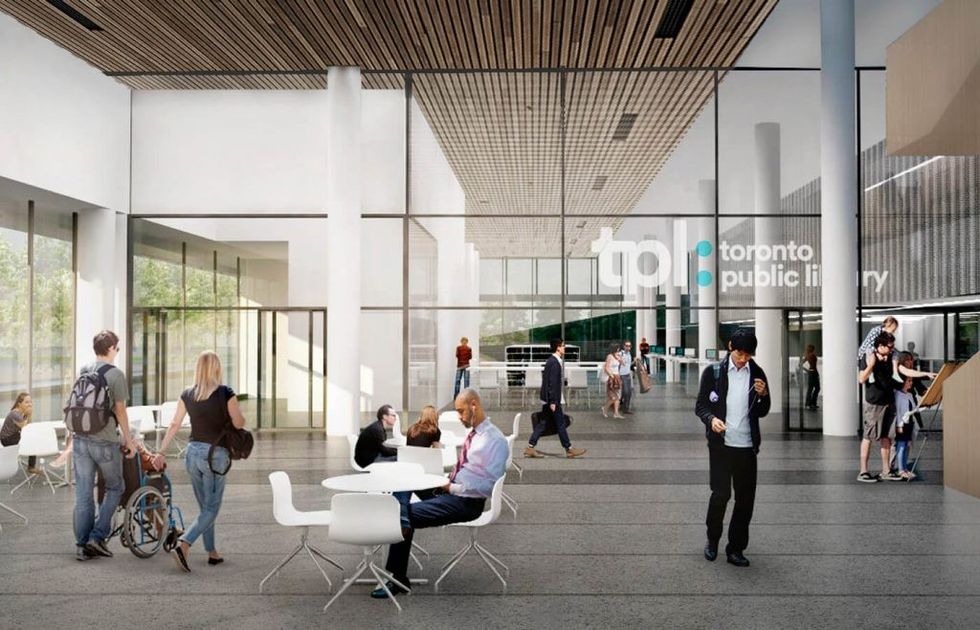 When the time comes back around for community gatherings — and that time will come — the centre's divisible community hall will surely see frequent use, with its kitchen and its several multi-purpose rooms of varying sizes.
If one of these rooms was being used for an adult-only event (you know the type: Face-painting, balloon animals, ice cream, and other elements kids wouldn't be keen on), parents can count on their children being occupied within the site's 6,400 square-foot childcare centre. Designed to meet the requirements of the Child Care and Early Years Act, 2014, the space will be complete with outdoor play spaces that promise to be fun and interactive.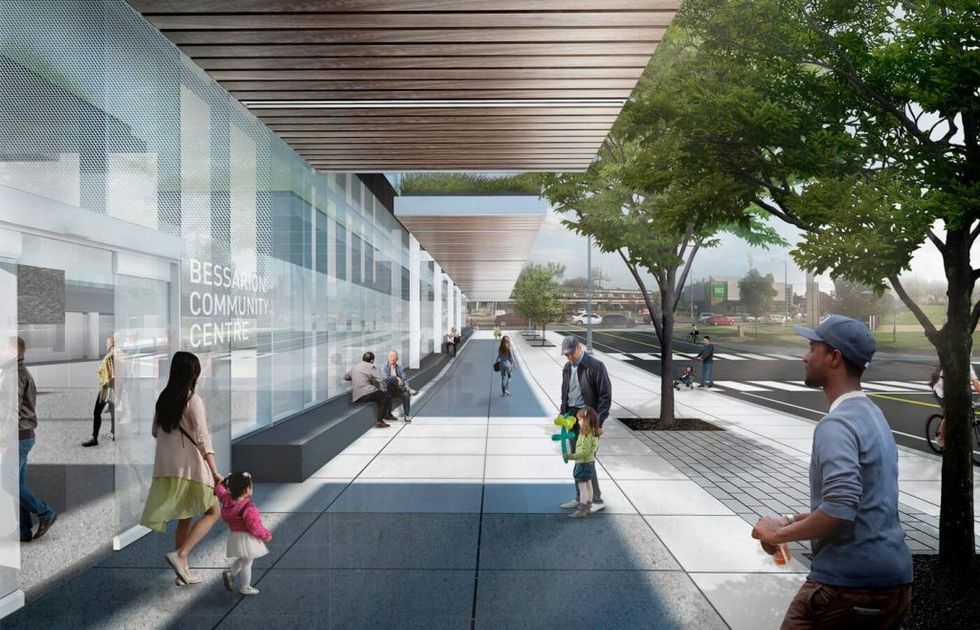 Now, it can't be denied that when it comes to really milking the new space for all its worth, those living nearest to it will have an upper hand. And luckily, an anticipated new project from national developer Canderel is offering new-home seekers such a chance.
Located in the neighbourhood's heart, the upscale 10-storey boutique midrise – titled Bayview at The Village™ – will provide a luxurious home-base for those hoping to nest in, quite literally, the centre of it all.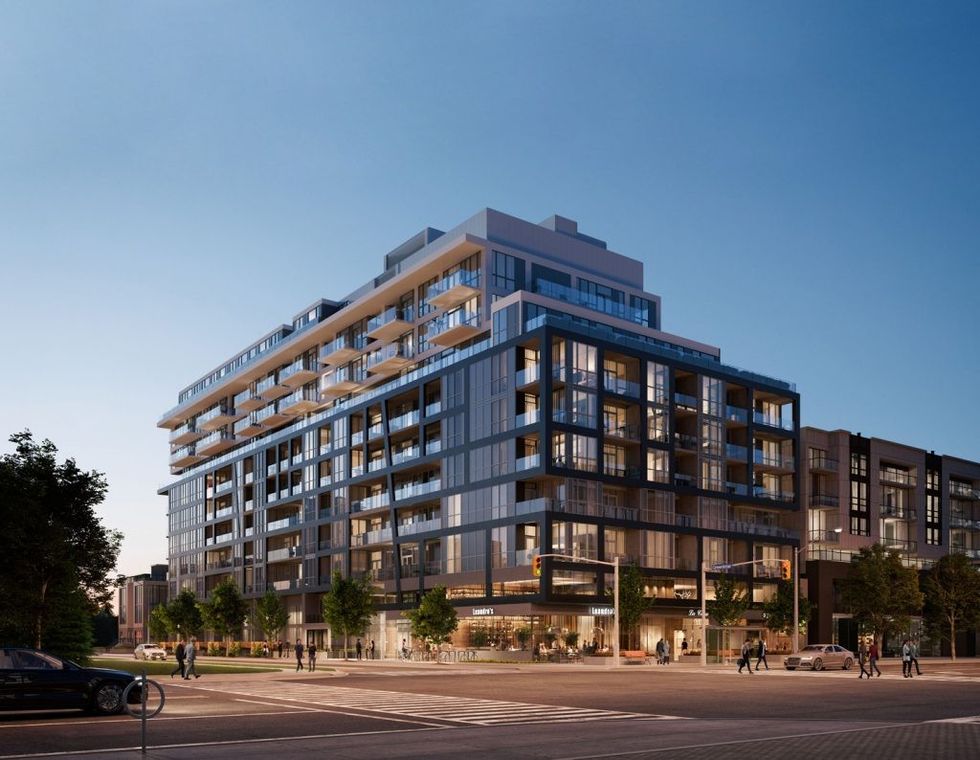 Rising up along Sheppard Avenue, the building will be both eye-catching — featuring a high-contrast façade, geometric patterns, and front gardens — as well as amenity-filled. Think: a co-working space, an editorial-worthy design (courtesy II BY IV DESIGN), suites that maximize living space, and, of course, being just a stone's throw from the new Bessarion Community Centre.
Suites will range from studios to three-bedroom luxury condos, 2-storey Urban towns and a limited number of stacked townhomes facing the quieter, residential side of the project, which will have private front entrances and gardens. Condos are starting in the mid-$700s, while two-storey urban townhouses are starting around $1.5 million.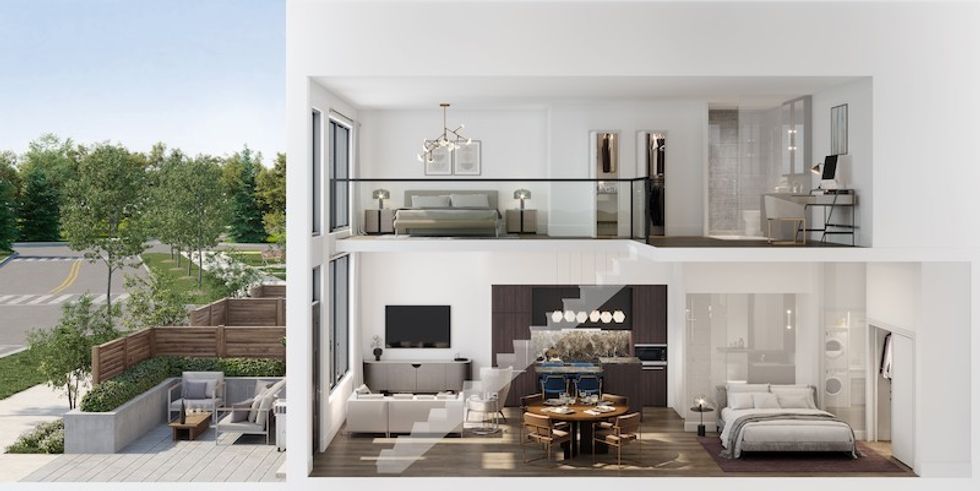 As the updated Bessarion Community Centre's completion date draws nearer, it's likely the Bayview Village neighbourhood's real estate scene will only become more competitive.
So if you want to reserve your space in an optimal urban environment, don't wait.
The presentation gallery on site will open soon, to register for Bayview at The Village™, visit www.canderelbv.com.
Disclaimer: Trademark used under license from bcIMC Realty Corporation.
---
This article was produced in partnership with STOREYS Custom Studio.