---
In the long term, real estate will pretty much always make you money, and homeowners in BC will soon find out how much their homes are worth when BC Assessment sends out their 2023 property assessments on Tuesday, January 3 -- and there is good reason to look forward to the date.
"Most homeowners around the province can generally expect about a 5 to 15% rise in assessment values when they receive their notices in early January," BC Assessment Assessor Bryan Murao said in a press release on Monday.
BC Assessment notes, however, that the assessments will be based on values up to July 1, 2022, as is the case every year, and values are determined based on sales of similar properties.
"Since July 1, we know that the real estate market has changed as interest rates continue to rise and overall sales volume has declined," Murao added. "As a result, your next property assessment will likely be higher than what the current market value might be, but that will be the same for everyone."
While most homeowners can expect an increase in the value of their property, and BC Assessment produces these assessments in-part for tax authorities, the Crown Corporation says that the increase in property value will not necessarily result in an increase in property taxes, because property taxes are generally only directly affected if your property value is above the average value change for your community and property class.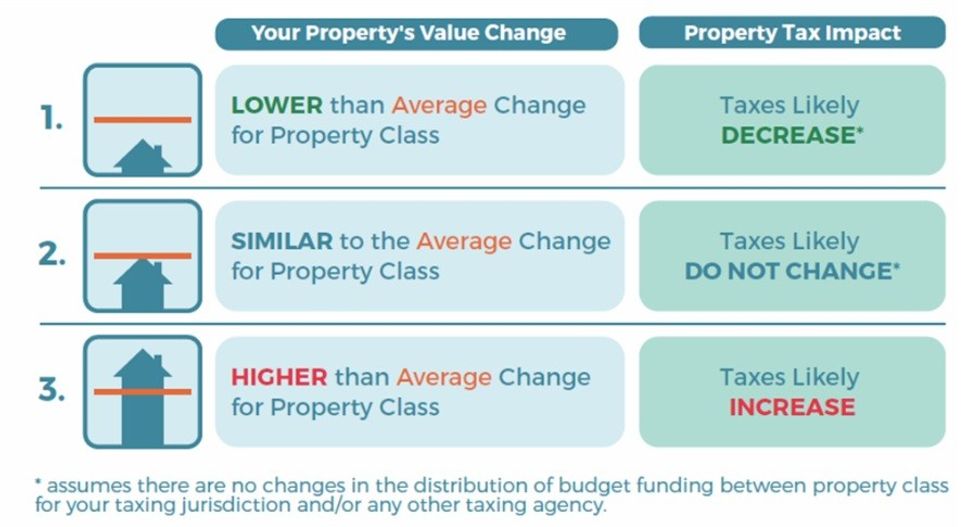 (BC Assessment)
Last year, at large, the overall assessments in the Lower Mainland -- Greater Vancouver, the Fraser Valley, Sunshine Coast, and Sea-to-Sky regions -- totalled to approximately $1.75T, up from $1.45T in 2021. Of that $1.75T, approximately $23.7B was attributed to new construction, subdivisions, or rezonings.
By community, for single-detached homes, the District of Hope saw a 45% average increase ($428,000 to $620,000) last year, the highest of all communities in the Lower Mainland, and many of the communities outside Greater Vancouver saw increases well over 30%, while most of the more populated cities -- such as Vancouver, Burnaby, and Richmond -- saw increases between 15% and 25%.
By value, properties within the University Endowment Lands near the University of British Columbia had the highest assessed value, at an average of $5,461,000, which was nearly double that of the second-highest, West Vancouver.
READ: Data Dive: BC's Latest Speculation Tax Revenue and BC Housing Investments
For townhouses and condominiums, Squamish saw the largest increase last year, with a 29% average increase from $560,000 to $724,000, and again the more suburban cities generally saw higher increases, with Vancouver seeing the smallest increase, of 7%.
By value, townhouses and condominiums in West Vancouver also saw the highest assessed values, at an average of $1,327,000.
Once homeowners receive their 2023 property assessments, those who feel the assessment is inaccurate can contact BC Assessment to speak to an appraiser, and can submit a Notice of Complaint (Appeal) for a review by a Property Assessment Review Panel, which is independent of BC Assessment and appointed annually by the Province.
Homeowners interested in seeing the values of their properties at the moment can do so on BC Assessment's website.
Real Estate News