Toronto
Toronto
Bathurst Quay Yet Another Exciting Chance for Toronto to Transform its Waterfront
Toronto's waterfront is evolving in the right direction.
Bathurst Quay Neighbourhood Plan reps say work is expected to begin this month on its remaining elements and will last for two years, eventually transforming the waterfront at the foot of Bathurst Street.
The Bathurst Quay Neighbourhood Plan (BQNP) commenced in January 2015 with the goal of creating a long-term vision for the Bathurst Quay community and was adopted by Toronto City Council in July 2017. It includes multiple coordinated revitalization projects delivered in partnership and linked together by a new public space at the waterfront. In an initial move, a fresh new promenade was added in 2020.
"This revitalization project is unlocking the potential of a prominent waterfront site with enormous public realm and activation potential, but which has sat largely dormant for decades," says Bryan Bowen, Project Manager, Waterfront Secretariat at the City of Toronto. "When complete, this brownfield site will be transformed by heritage building restoration, dock wall reconstruction, the repurposing of a derelict office building into a waterfront hub for arts and culture, and a remarkable new public realm with which to seamlessly connect these elements to each other, creating a unifying sense of place and identity."
Perhaps the biggest eyesore of the existing landscape — depending on who you ask, of course — are the uninspiring silos from the abandoned Canadian Malting Plant. Built in 1928 and 1944, the two Canadian Malting silos have not functioned since the 80s and were designated as heritage buildings in 2010.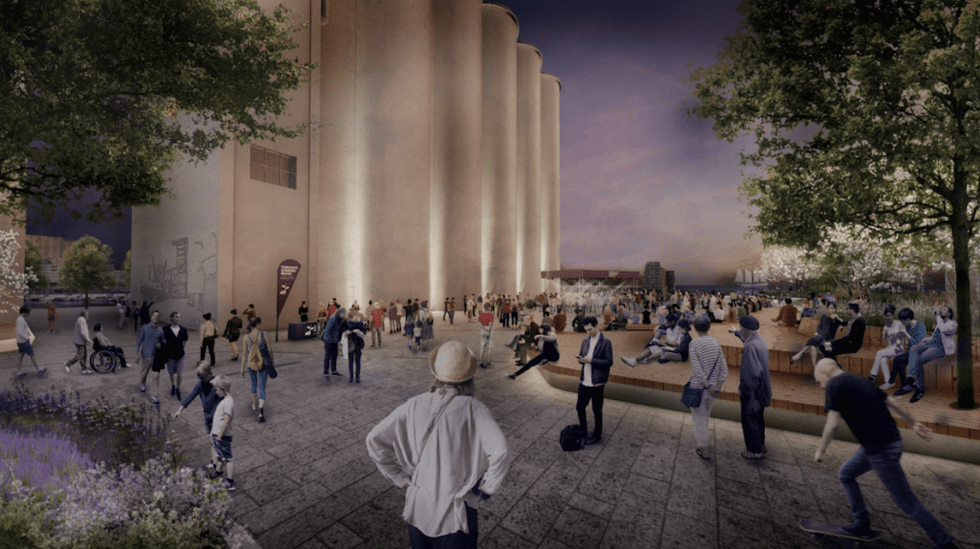 While their appearance subsequently won't change drastically, the silos will undergo detailed engineering work to bring them into a state of good repair. This month, work will start to fix the roof, perform exterior wall repairs, waterproof the basement, and pump out the water from inside the silos. Construction will continue to 2023, with the result potentially being a new lease on life in the form of a public space of many functions (but that's just wishful thinking at this point; details on its internal use, if any, aren't yet available).
What we do know is that we'll see the historic silos in a new light — literally. Their revamp will include the addition of ambient and colourful lighting that will illuminate the towering structures. Last week, Toronto residents got a glimpse of what this could potentially look like when the City tested out new lighting features at the storied site. The lighting, says Bowen, will transform the silos into "iconic, illuminated beacons on Toronto's harbour."
8pm tonight – come check it out…

The City of Toronto is testing new lighting features for the Canada Malting Silos as part of ongoing site revitalization plans. Photos from last night during setup by the great @Jgazze. pic.twitter.com/NaM7EuUq7y

— The Waterfront BIA (@WaterfrontBIA) September 29, 2021
Adding no shortage of value-added talking points, the Corleck building by Ireland Park Foundation will be a new public cultural institution on Toronto's waterfront. The plan is to engage diverse audiences through programming focused on Irish Canadian culture, multiculturalism, and migration. The first phase is expected to open in fall 2022.
The reimagined Bathurst Quay will also feature a breezy plaza designed by PFS Studio (whose work has included Toronto's Canoe Landing Park and the Front Street East Promenade and Park). The multifaceted waterfront plaza will feature distinct "rooms" to support both informal gathering and special event programming, complete with a side of lake views. Detailed plans for the plaza were unveiled on September 23 in an BQNP Stakeholder Advisory Committee meeting, and its construction will begin early next year.
"PFS Studio has done an excellent job responding to the site's varied and complex edges. We have a lot of different relationships to balance here — an airport to the west that also partially encroaches in the site; a famine memorial; the malting silos; a community centre; a school; and the water's edge. PFS has managed to stitch these elements together in a very thoughtful and skilled way," says Bowen. "In particular, the communal sun deck will no doubt become a favourite place to sit by the water's edge in Toronto. The paving treatments in our multi-purpose public plaza space will draw direct cues from the strong vertical elements found in Ireland Park's limestone memorial; and in the malting silos."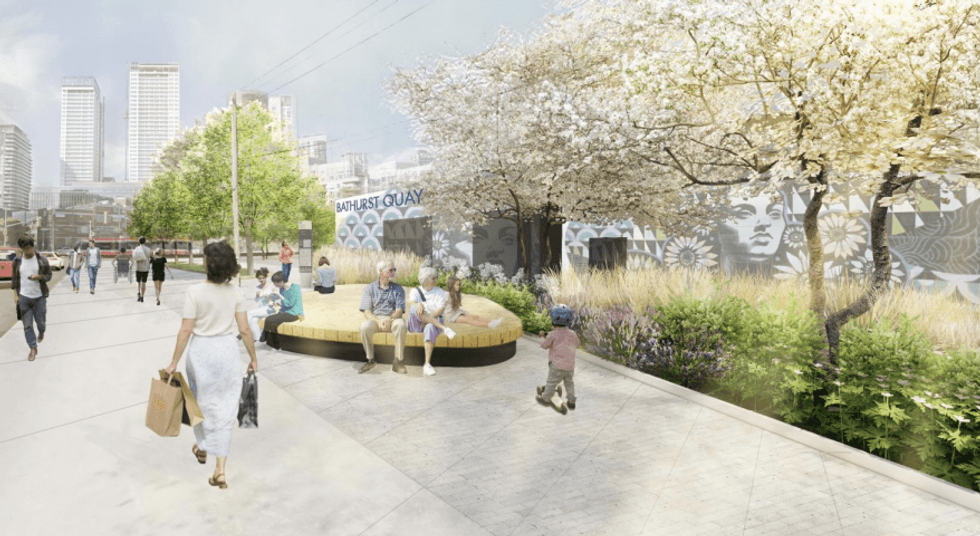 In terms of the streetscape, some improvements were already completed in 2020. Additional improvements are expected, with planning underway for a possible "StreetARToronto" mural. According to plans, the streetscape will also feature a neighbourhood 'pocket park' and gateway that will offer a space for pedestrians, trees, wayfinding, and public art.
According to Bowen, what makes the Bathurst Quay Neighbourhood Plan unique to other (relentlessly complicated) waterfront projects are the multiple moving parts and minds behind it.
"The success we're finally making here, after several prior failed attempts since the malting silos were vacated in 1987, is rooted in partnership. Rather than attempting again to find a single viable re-use investor for the malting silos, this initiative is not one but six distinct capital projects, each delivered by different City divisions and external partners, but all carefully co-ordinated with one another to ensure we achieve a unified whole," says Bowen.
"This approach has allowed us to manage the inevitable funding and approval risks and delays that hold up larger brownfield sites and heritage restoration projects. It's a lot of work to keep that many different projects by so many different partners aligned, but it has made the difference here that allowed us to start reclaiming and invigorating the site with new public spaces."
On the topic of innovative waterfront makeovers, a little to the west of Bathurst Quay on prime waterfront real estate, an epic revamp will transform the grounds of Ontario Place into a world-class destination.
You might say, that after all these years, work on Toronto's waterfront is starting to go swimmingly.