Toronto
Entertainment
Epic Revamp of Ontario Place to Make it World-Class, Year-Round Attraction
It looks like Ontario Place is going back to its stimulation-filled roots.
This morning, the Ontario government announced details to breathe new life into Ontario Place, transforming it into a world-class destination and giving the city something to talk about.
A 2019 Call for Development Process resulted in the selection of three organizations — Therme Group, Live Nation, and Écorécréo Group — to deliver an exciting, inclusive, and family-friendly experience year-round.
Throughout the prime waterfront real estate, visitors can expect breezy gardens and gathering spaces, pools and waterslides, an affordable four-season adventure park, and even a revamped — and winterized(!) — Budweiser Stage.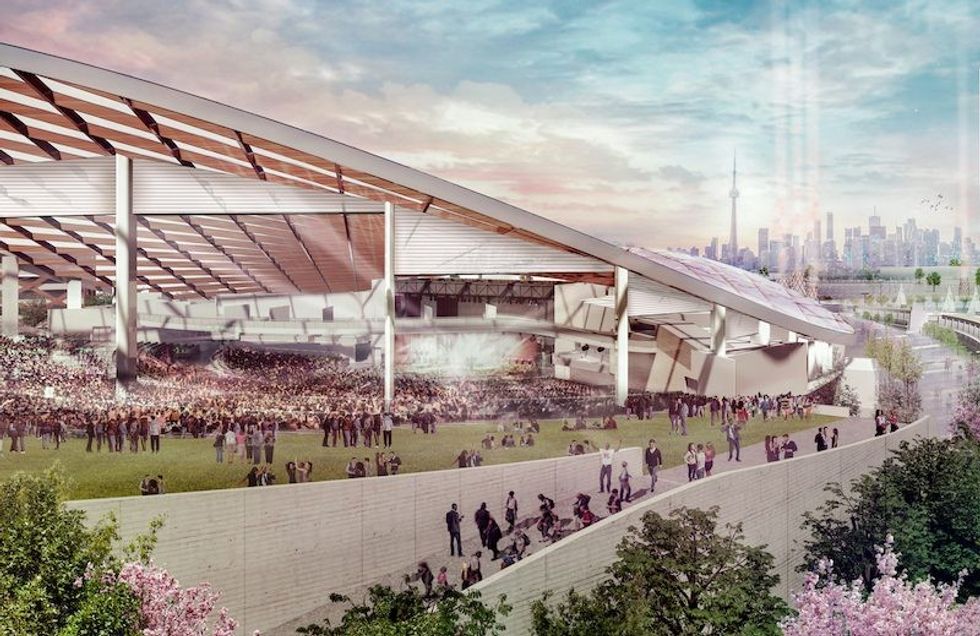 READ: Toronto is Getting a Huge New TV & Film Studio at Downsview
The transformation of Ontario Place will include three new major attractions:
Therme Group is building Therme Canada | Ontario Place, a family-friendly, all-season destination offering something for all ages, including pools, waterslides, botanical spaces to relax, as well as sports performance and recovery services. Outside, people will enjoy more than eight acres of free, publicly accessible gathering spaces, parkland, gardens and beaches.

Live Nation is redeveloping the existing amphitheatre into a modern, year-round indoor-outdoor live music and performance venue that will attract world-class artists and events. Protecting the iconic amphitheatre lawns, the new venue will have an expanded capacity of 20,000 in the summer and close to 9,000 in the winter, offering a unique indoor-outdoor experience with operable exterior walls to accommodate events, rain or shine.

Écorécréo Group is building an affordable, all-season adventure park for all ages. This new, environmentally friendly attraction will include aerial obstacle courses, net-based aerial adventures, ziplines, climbing walls, escape rooms and many other activities. Écorécréo Group will also operate Segway, quad-cycle, canoe and kayak rentals at the site.
"As we mark the 50th anniversary of Ontario Place this year, there is no better time to bring this iconic destination back to life," said Premier Ford. "By taking this first step with our world-class development partners, as well as the City of Toronto and Indigenous communities, we will deliver a renewed Ontario Place that provides year-round entertainment for all ages and interests. As we continue to engage and consult with the community, Ontario Place will realize its full potential as a long-term economic generator for the people of Ontario."
The redevelopment will draw heavily on public input. Mark Saunders, Special Advisor for Ontario Place, will continue to engage with the City of Toronto, Indigenous communities, project stakeholders, businesses, and community groups that have interest in the Ontario Place site to ensure all perspectives on these important proposals are recognized and considered.
Starting in August, the government will launch the next phase of engagement through Ontario.ca/OntarioPlace, providing an opportunity for all Ontarians to share how they would like to experience a redeveloped Ontario Place.