At Home With
At Home With… Broadcaster Gurdeep Ahluwalia on How He Scored His Perfect Downtown Pad
Gurdeep Ahluwalia, 38, a morning host on Toronto's 98.1 CHFI, shows us around his downtown digs, purchased back in 2010.
Specs:
Type of buyer: First-time condo
Location: CityPlace
Listing price: $370,000
Sold for: $360,000
Started In the Basement, Now I'm Here
"This was my first home. I'm in a condo right at Bremner and Spadina in CityPlace, just east of Spadina, which I like to call the 'better pocket' of the neighbourhood. There are a lot more owners in this building, less renters. There's a lot of people who have been here for a while and young families, so it really feels like a community.
READ: At Home With… MasterChef Winner Mary Berg Has Cooked Up Her Dream House
I bought this unit in 2010 and I moved in January 1, 2011. For me, it was very much my first home — I bought it to live in myself, I didn't buy it to rent it out or flip it or anything like that. After university, when I was 23, I moved back home to my parents' place in Etobicoke and lived in the basement for about four years. I had my own space while I was just getting my feet in the industry and trying to save up some money. About a year after I got the job at CP24, and I was like, 'Okay, I'm a news anchor — I should not be living in my parents' basement.'"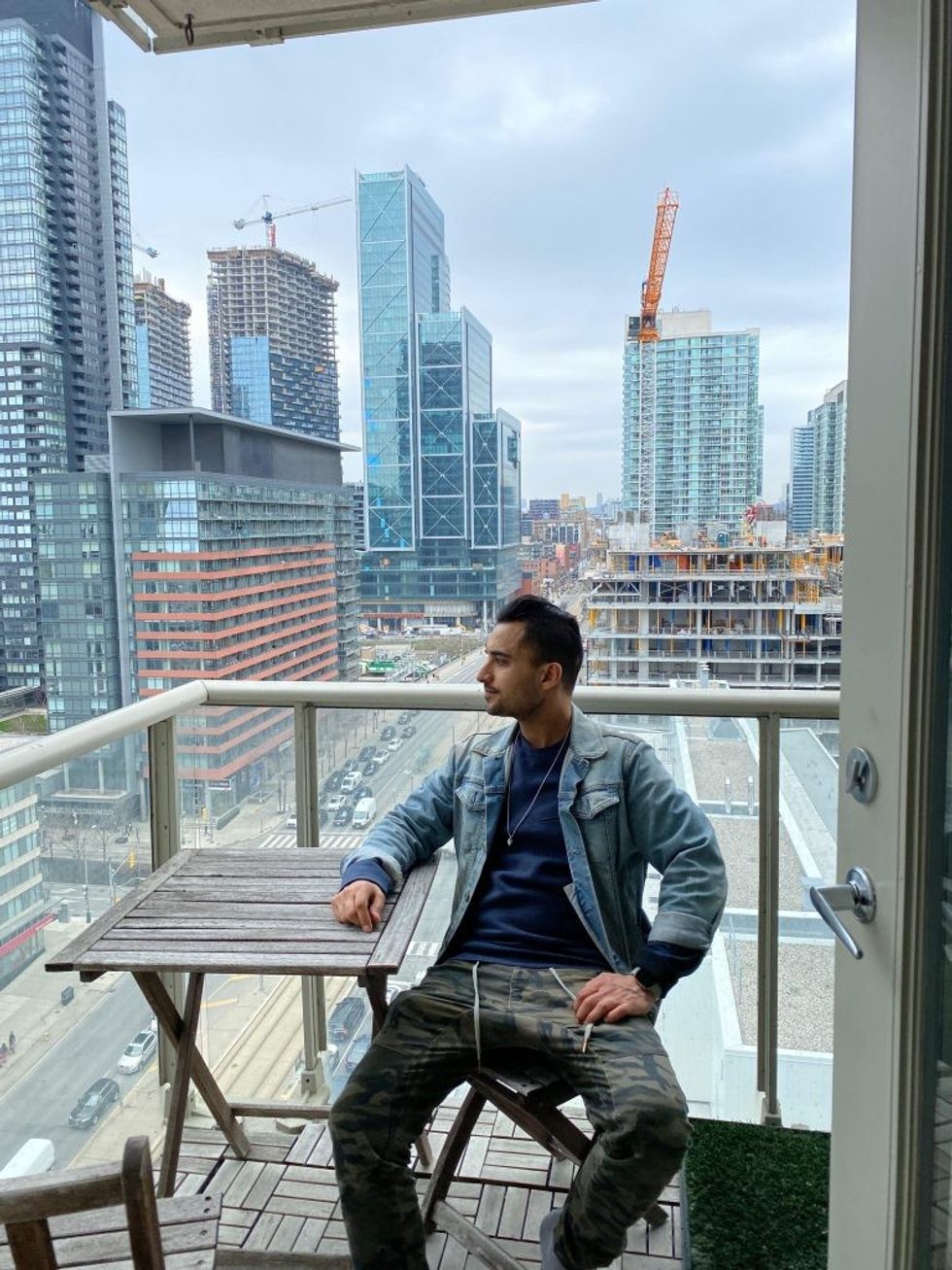 Saving Up
"Thankfully, I have a really good relationship with my parents — and I have Indian parents, so if they had their way, I'd still be at home. Even at 27, when I really wanted to move out, they were like, 'That's so soon, why?' I was working three jobs, believe it or not, out of university — it was like the Beatles song 'Eight Days a Week'. I was doing a nine-to-five at a magazine as a writer and then in the evening, I was going to either TSN or The Score and doing night shifts, and also working weekends. Eventually, I turned those into jobs and then I was like, 'Okay, now I'm actually saving something.' Basically, for three and a half years, I saved and my expenses were extremely low because I was living at home, eating at home, had no rent. So I was able to save up a pretty good chunk, which is sort of what paid for the bulk of the down payment. My parents did help me out a bit as well, which was just really appreciated. I look back at the prices, and I can't believe I was stressing about $360,000. Now that'll get you a parking spot, pretty much."
The Offer
"My limit that I created when I started looking was $300,000, which sounds insane now — I realize that nothing starts with a three at this point. I looked for a year and a half before I actually found this. If you're renting, I think you can be maybe a little bit less choosy — if you don't like something, you can get out of it. I didn't know exactly what neighborhood I wanted, so I started with a really wide net and then slowly narrowed it: I wanted to be close to work, to be by the water. The unit I ended up with, I actually saw it two times prior — different units, same layout. And I lost out on it twice in bidding wars, which was just so disheartening. The market was really hot, and it was a blind auction, where everybody gets to see the place, then you have to put in your best offer by 6 p.m. and you get one shot. The first time I lost out in this unit, I lost it by $1,000. I bid $350,000 on this unit, and it went for $351,000. There were 20 bidders — I finished second and I was sick about it.
It took a year and a half, because I took a six-month break — [it] was like a bad relationship. I said to my agent, 'This is the only unit I want. Only call me if this unit becomes available.' He called me in October 2010. I saw the place and their ask was $370,000. This was when the market had cooled down a little bit, so it was an actual negotiation. We came to them with $350,000, they countered with $360,000. And we agreed.
Show Us Around
"​​I'm on the 19th floor at Bremner and Spadina, facing northwest. It's a 730-sq. ft corner unit with floor-to-ceiling windows, so lots of natural light. You walk in and there's a little corridor, immediately to your left is the den, which I've turned into basically a dressing room. I don't have to wear a lot of suits anymore, but from my time working in news, I have a closet that is just bursting with suits. Then you come up through the corridor and you're in the kitchen — it's a typical condo, so it's all sort of one big room. But basically the kitchen also looks into the living room/chill area, which is the bulk of the condo. I've got my TV in the corner. I've got two couches, a three seater and a loveseat. I've got my dog bed for my dog — I have a four year old cockapoo called Coffee. She's amazing, she's staring at me right now, as I do this interview.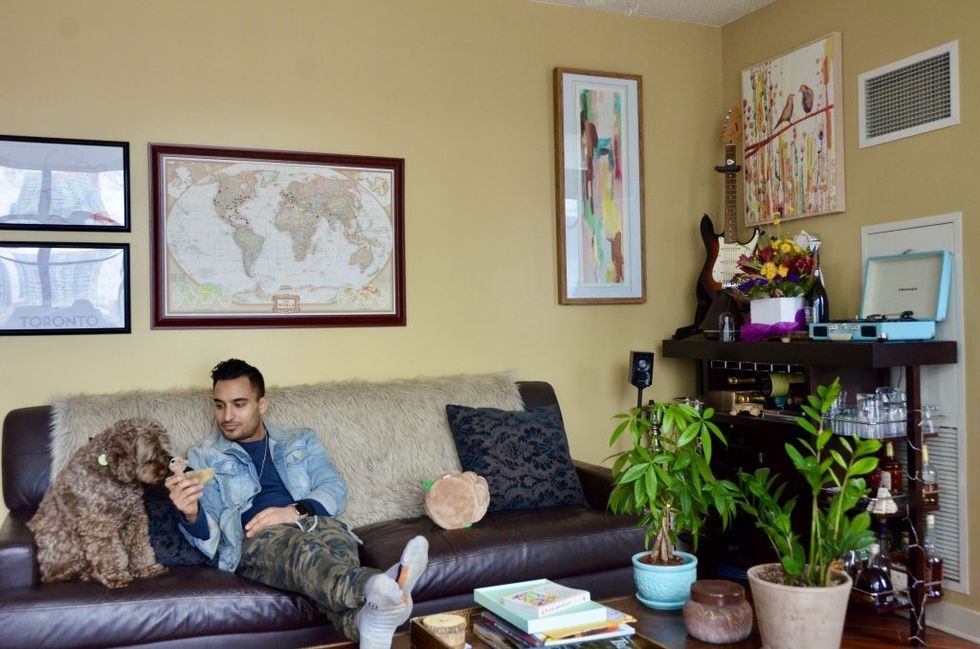 I have got a piano against the window, which I thought I would play a lot more than I actually do. Every time I look at it, it's a reminder of my failures. I've got a bar in the corner with just glasses, booze and a guitar on top of the bar which is also more of a decoration piece. Then on the west end of my condo is the bedroom, which is a good size — about 9 x 12. Again, it's right in the corner so it's got north and west windows. And then I have a small balcony in the corner with just a small two seater table out there and that's about it."
Any Renovations?
"I actually did some right off the hop. This building went up in 2005 and I'm the second owner. The original owners had left all of the builder basics in here. The first thing I did was get the carpet ripped out and I had floors put in. I also painted the entire place. That's really it in terms of what I've done. I did get very close to doing major renos about three years ago; I got estimates on gutting the kitchen and the bathroom, knocking down a wall and just giving it more of a luxe feel. I got pretty close to it, but I ultimately did not pull the trigger. The renos would have cost $60,000 in my current place, so I thought I should sit on that money and put it towards something else."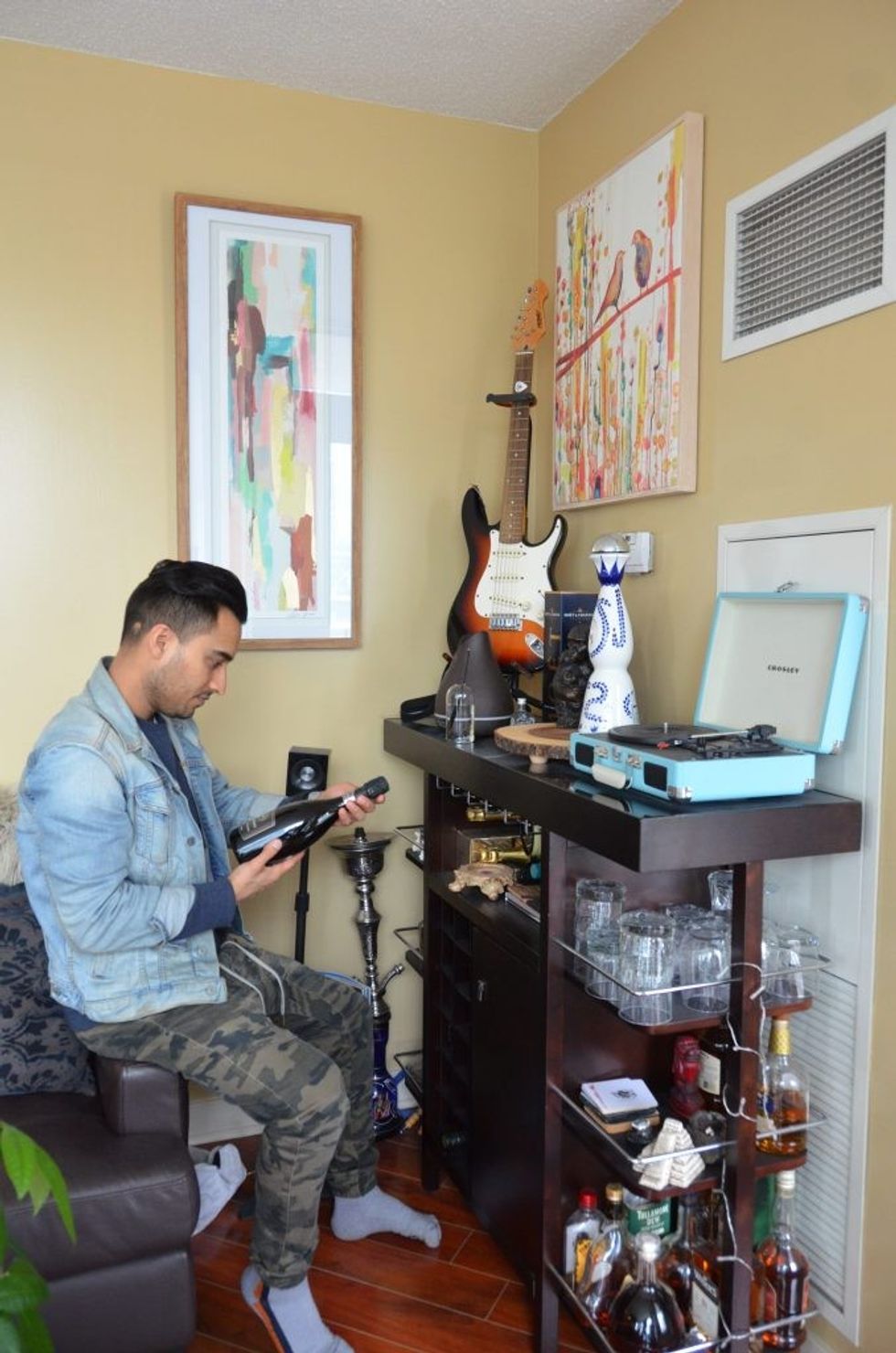 What Else Do You Love About Your Building?
"The other really appealing part of my community is that we have this thing called the Super Club, which is the biggest, best gym in all of downtown. It's a 40,000-sq. ft athletic facility with basketball, an Olympic-size pool, hockey, badminton, bowling alley, tennis court, squash court — you name it, it's got everything. Last night, I went for a run into the sauna and I wore my shorts and a t-shirt because it's got underground access from my condo, so there's no bundling up to go to the gym. To me, all these costs are a no-brainer. I can understand why some people are not fans of maintenance fees, but I have no issues with it. Perhaps it's a fallacy in my pea brain, but I always feel safe and secure. Time is our greatest asset, right? I don't have to worry about yard work, or landscaping or shovelling snow."
Moving On
"I actually bought a new place that I'm likely going to be moving into next year, just up the street at Front and Spadina, called The Well. I'm waffling a little bit — Rail Deck Park [a proposed large urban park in Downtown, Toronto] was a big reason why I wanted to be there, because it's basically like Central Park for Toronto. A massive park in the heart of the city that the Well would have overlooked — but that's been scuttled. So that's one detractor, and then also, I really wanted a water-facing unit. There's just something I love about the water. I have friends who live on Queens Quay and it's so peaceful. But despite spending a lot of money [$1.35M], I still could not get a south-facing unit under my budget. So, I'm very open to all things — flipping it maybe — and I'm keeping all options on the table. All that is to say that I love condo living and my next move, whether it's going to be The Well or somewhere else, it's 100% going to be in a condo."