The next phase for Toronto's Rail Deck Park had its first public consultation last night, and while there's every indication to believe the 2.5-acre parkland and accompanying 11 towers will get developed, it revealed some friction between the city and developers.
---
Joe Cressy, city councillor for Ward 10 Spadina-Fort York, was part of a Q&A and stated that, while it is important to use the land to create a public realm for generations of Torontonians, the city would be on the hook for nearly $1B on the project, which will extend from Bathurst St. to Blue Jays Way.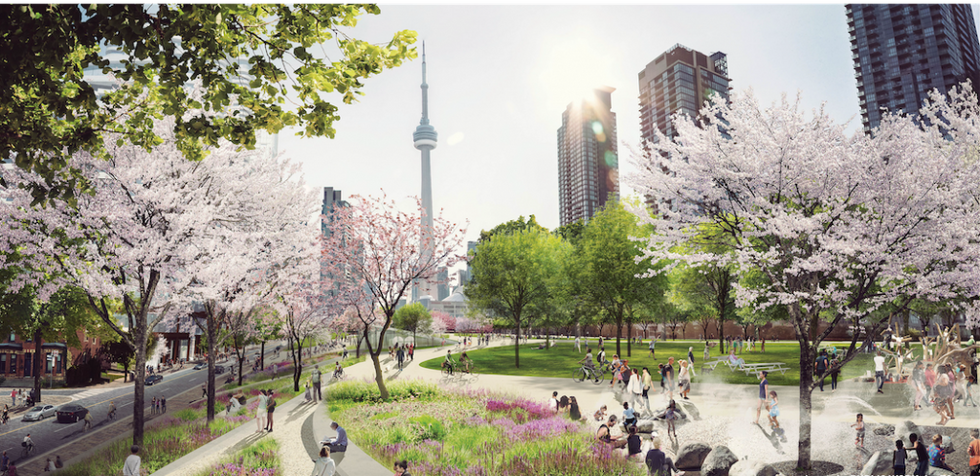 Rail Deck Park/ City of Toronto
"We still believe deeply in the city's vision for Rail Deck Park, a central park in the heart of downtown Toronto where the population grew from 130,000 to 270,000 to half a million people in 20 years. This is, and remains within the core, the last continuous space for a new central park for hundreds of thousands who live here and a city-wide destination," Cressy said.
"We're skeptical about the proposal. The 11 towers proposed involves city-owned land and building over part of Front St., which is city-owned, Puente de Luz bridge, which the city owns. To put it simply, what's being proposed cannot be built without the city. It's not as simple as it's presented on paper or a screen. The proposal is for 11 buildings and 2.5 acres of air that the city would have to spend $850M to build a park. That's nearly $1B for 2.5 acres. If the developer submits this, we will review it."
Use of Public Parklands Disputed by Planner
The public parkland, as it is currently proposed, will be composed of three blocks beginning at Bathurst and Front Streets to the west and ending at Spadina, but it is very likely to change as the public lends its input. One of the key objectives is to ameliorate frontages along Front St., where the south side doesn't even have a sidewalk and overlooks train tracks.
Although it is not clear where exactly the towers will be located, it was noted during the consultation that they will be somewhere on the park surface, and that their elevations cannot cast shadows over Victoria Memorial and Clarence Squares.
Drew Sinclair, Managing Principal of SvN Architects + Planners, presented the early proposal and disputed Cressy's assertion that the development cannot blossom to fruition without the use of City of Toronto's air rights to the proposed 2.5-acre parkland.
"No, that's not true," he said. "It can be built completely without public parklands. It's not to increase the scale of development but the accessibility to accommodate a better Front St., but there's a very narrow strip of land that could be used at grade."
He implied it's in everyone's best to interest to collaborate.
In addition to stitching Front St. with the adjacent side of the train tracks, and Spadina and Bathurst Streets, which, along with the Puente de Luz bridge, are the only ways to traverse the open-air tracks, the project will prioritize transit optimization.
"Transportation and mobility are big parts of this project. One of most important things this project does, from pedestrian perspective, is stitch together parts of city that are currently separated. The opportunities to get from north to south are relatively limited, so one of the keys for this project is to offer ways for pedestrians to traverse and suture together what is a scar in the city," said Thomas Woodhall, a Senior Associate with BA Group.
"[The site] is near future planned stops on the Ontario Line and streetcars. It uses pedestrian and transit infrastructure to get people around. It improves Front St., which has been used as an expressway for automobiles to get out of downtown. Given the residential population in the area, it's about time that changes to make it worthy of people who live around there."
Woodhall added, in addition to the City of Toronto, Metrolinx, which owns air rights around Front and Spadina, will play a major role in what occurs beneath the Spadina overpass because there will be expansions to the rail network that are in tandem with this project.
The development team is composed of Craft Development Corporation, Kingsmen Group, Fengate Asset Management, and Liuna, and a team of experienced rail deck consultants have been brought on board. Although the project has moved at a snail's pace, a rezoning application is slated for tender this spring, according to the Rail Deck's website, with construction expected to begin next year and the project delivered in 2025.
The next phase of the development will be to target an official plan and and apply for zoning bylaw amendments this spring.
Toronto