TV chef Mary Berg, and her structural engineer husband bought their dream home during the pandemic.
---
The Buyers:
Mary Berg, 32, television host, cookbook author and winner of MasterChef Canada Season 3; and her husband Arron Mariash, a structural engineer.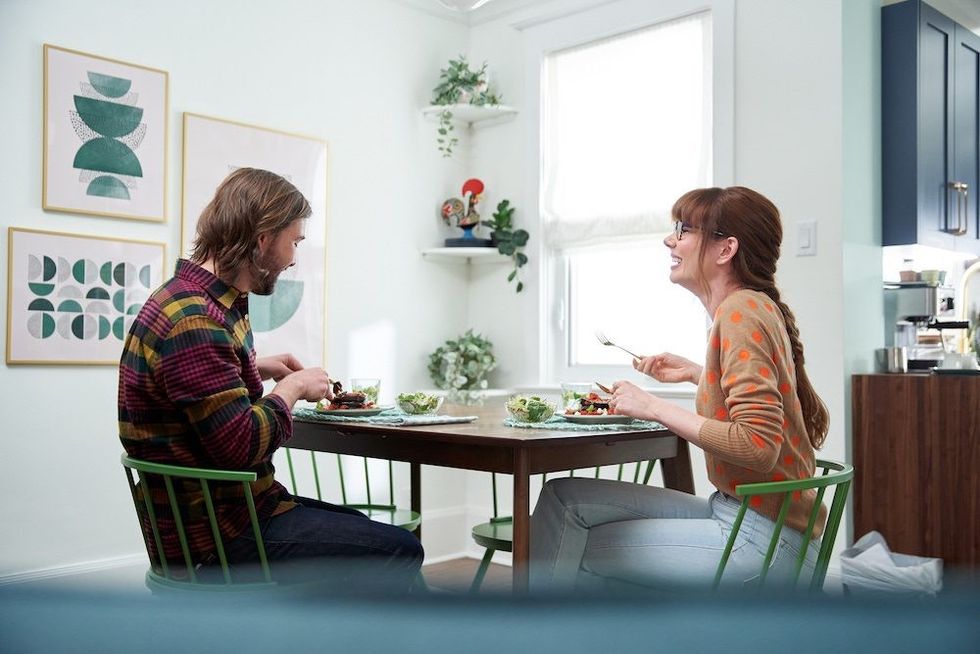 CTV Life Channel
Specs:
Type of buyer: First-time home
Location: Mimico
Listing price: $899,000
Sold for: $1,100,000
The Search
"Prior to buying, I lived for 10 years in the same one-bedroom apartment in Parkdale. It was a three-story walk up building with radiator heating, but it had character and I loved it. To be honest, that apartment is one of the reasons we chose our house and why I went into this being so picky. Basically what we were looking for was that apartment, but with, you know, more drawers, maybe another bedroom or two, and less holes in things. 
READ: Legendary Houses: The Toronto Homes of Legendary Literary Icon Ernest Hemingway
If you're looking for a house, not a condo, in Parkdale, you're looking at a pretty penny. So we originally started looking a little bit north, in the Corsa Italia area. We also looked on the east end as well. Not quite Beaches, not quite Leslieville, kind of Cabbagetown-ish, approaching Riverside. As we were looking, I kind of realized -- having grown up in Pickering relatively close to the lake, and then being in Parkdale where we could see the water from our window -- that I really love to be close to the lake. We actually ended up in an area called New Toronto, but it's basically in south Etobicoke."
The Down Payment
"I won MasterChef Canada back in 2016. I'm not much of a splurger, so the prize money ($100,000), I stuck into investments and didn't touch. That was a huge thing that set us off and allowed me to be able to buy when I was 30, which is before I ever thought I'd be able to buy a house. Other than that, I've always been a saver. 
I was raised by a single mother, my dad passed away when we were little. So, I think on my second date with my husband, 10 years ago, I told him that one day my mom will live with us. And so it was always the plan that we were going to build an in-law suite. She moved in and helped with the renovations. So that was also a huge help, knowing that we had more money than just our own to do all of the renovations."
The Offer
"We probably went in and toured about 15 houses, but this was our first offer…It only took us about three weeks, which is remarkably quick.I quickly discovered that I absolutely hated looking at houses. My husband loved it — he became best friends with our realtor and if it wasn't for the pandemic, I think every weekend he'd just be going to open houses. There's a tendency for a lot of places to give you a blank slate. Everything has that light kind of dove-grey colour, almost clinical but in a slightly 'fashion' way. To me, it was repetitive and cold and nothing felt like a happy home. We went into a couple that felt nice, but they were just not in the right area, or they were astronomically expensive. And then when we came in here, I was like, 'Oh, this is my house.'
I literally stepped in and saw reclaimed wood floors; a central kind of staircase, cutting the living room and the dining room and kitchen apart; big wood beams -- and I fell in love immediately. The people selling were really great. They obviously underpriced, as is the style in the Toronto market, but they didn't necessarily do a bidding war. To be honest, we didn't go up to our top value. But we just thought, what is this house worth to us? We weren't buying a starter home. We were buying our home."
Cooking Up the Perfect Abode
We bought it in the middle of March and got possession on June 30, 2022. We moved in with a couple things, but we kept our apartment until August. We knew we wanted to do some renovations, so we went up to our family's cottage and we stayed there until the end of October. Then we came back and my husband and I lived on the upper floor of our house. I cooked out of a crock pot on the floor of our guest bedroom until December 22. And that is when renovations were done. So it was pretty nuts. We basically lived in tents, our staircase was tented off so dust and debris wouldn't come up. We lived in our spare bedroom. I worked in one, Arron worked in the other and then we ate dinner in bed.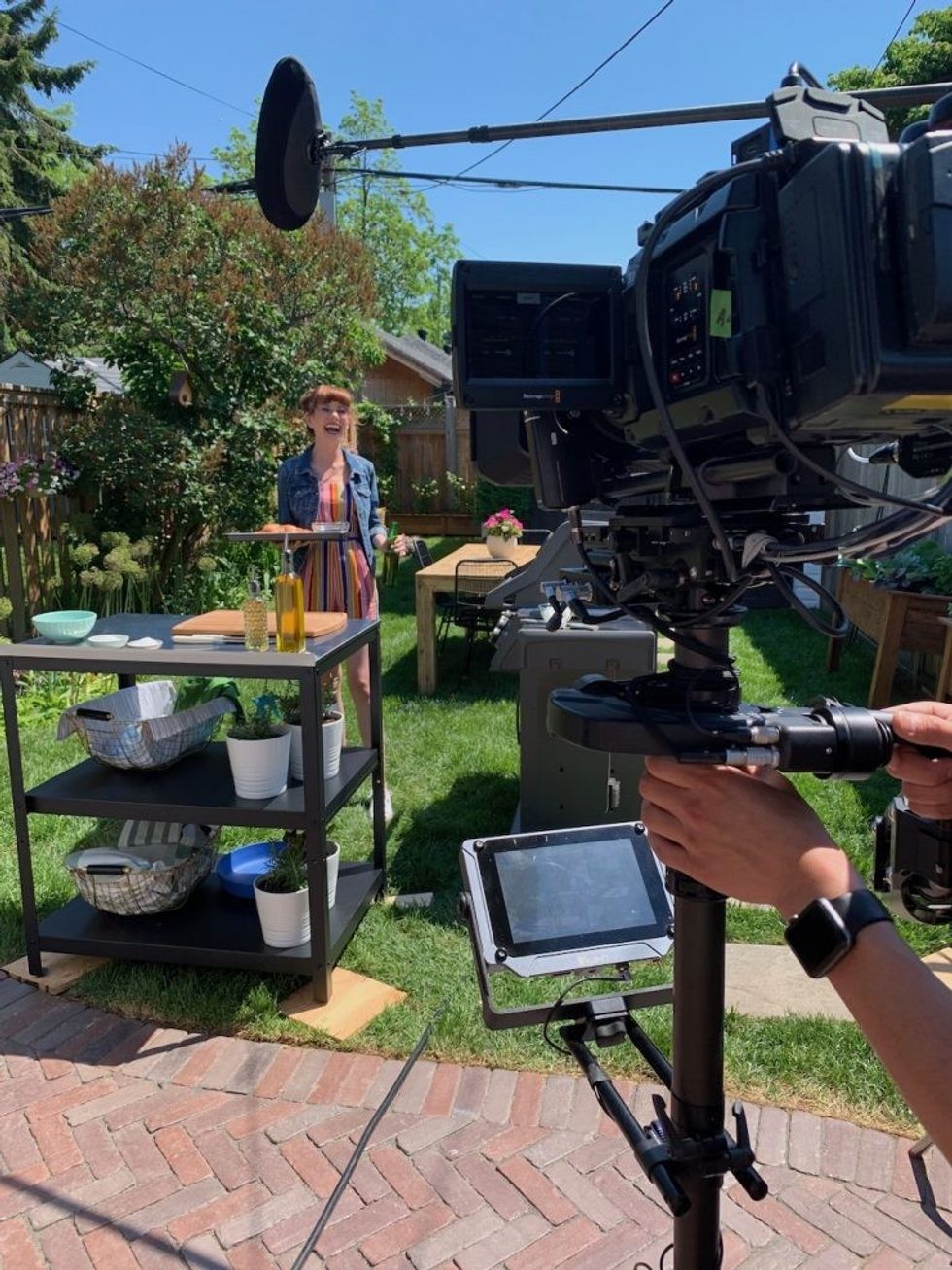 Courtesy of Mary Berg
My favourite room is, obviously, the kitchen. We filmed my new show Mary Makes It Easy in my actual home kitchen. We knew when we bought that we had to have a certain amount of money to renovate the kitchen. The kitchen is an addition, and when we moved in, it only had the old exterior door and the exterior wall was cutting it off from the rest of the house. Luckily, my husband works at a structural engineering firm, so they were able to open it all up and put a beam in, so there's a really nice flow to the house.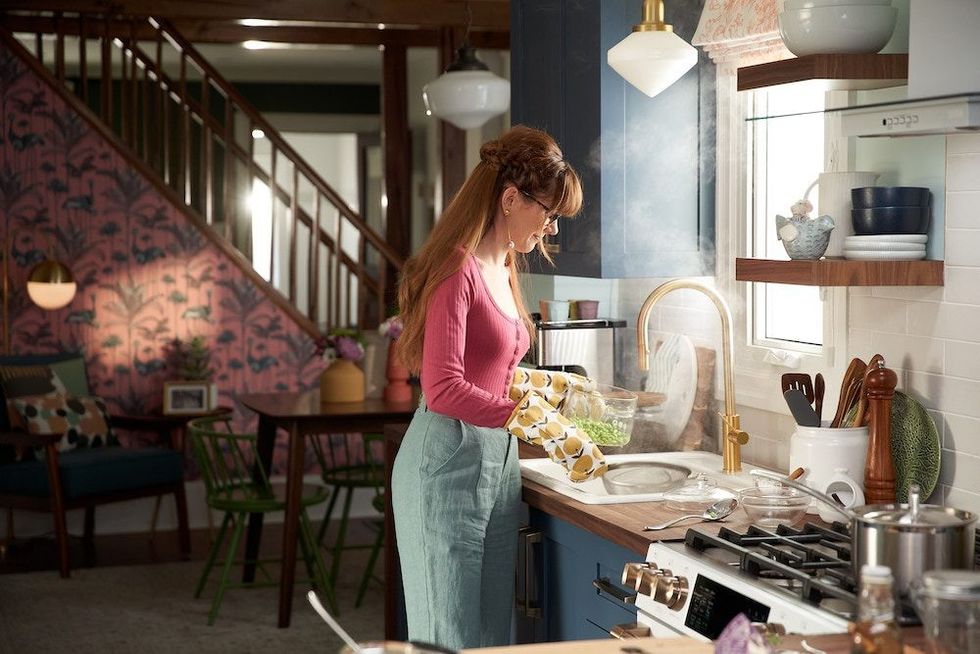 CTV Life Channel
A lot of the kitchens we saw were beautiful, but were maybe made for people who don't cook as much as me? I don't need a giant island, I personally prefer a peninsula. I like something with an L-shape, with my stove on the left and prep in front of me. I was able to design that, which was absolutely amazing and awesome. Plus, this is my first time ever having gas to cook with which is the dream. The vent hood has kind of a glass apron on it, so anytime I'm shooting remotely for TV segments, I'm able to put a camera or my phone on top of that to shoot an aerial shot of the stove -- it blows tech guys' minds, which is all I ever want to do.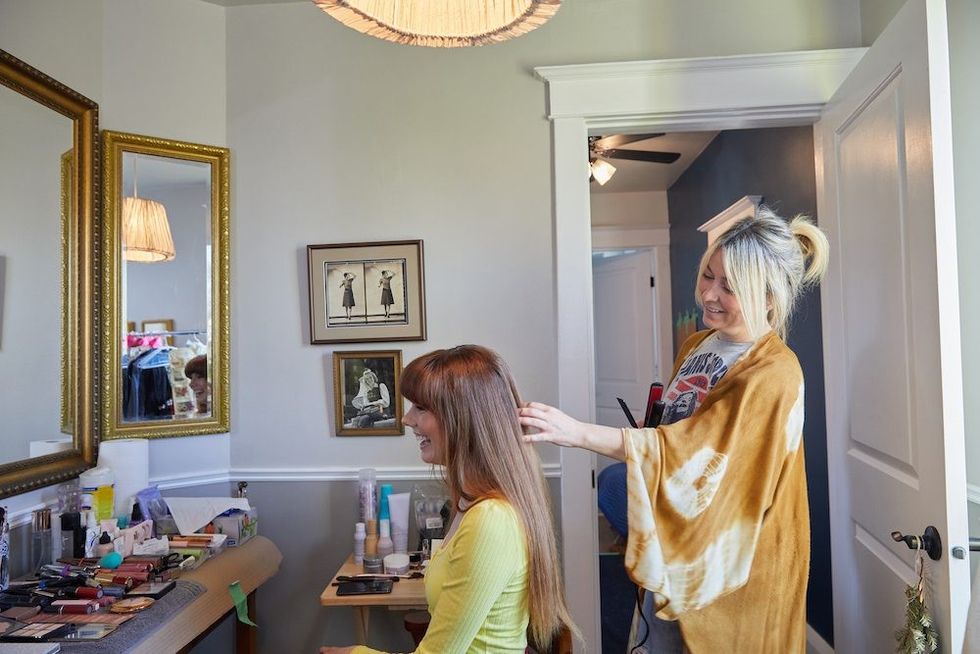 CTV Life Channel
When we bought the house, there was also this higgledy-piggledy structure that someone had built on the back. We removed that and put in an insulated, three-season sunroom. That's basically my office. I've got a view of the backyard — and I've got way too many bird feeders.
The last big renovation thing we need to do is the upstairs bathroom. It's got an interesting layout. I'm not getting rid of the bathtub though, so I don't know how I'm going to do this renovation and maintain it! That's the last big hurrah.
A Recipe for Renovation Drama
The first time I came into the house after signing, I stood at this one point in the kitchen and I was like, 'there's something wrong here'. They had gotten a Sawzall and cut a space for a microwave that hooks straight up the back wall, but unknowingly, they cut through a structural post. So the kitchen was held up by shiplap put there by whoever built it in 1930. So that was a fun surprise.
We ripped up the kitchen and there were -- and I don't think I'm exaggerating -- 11 layers of flooring. After eight layers of flooring, we were like, 'nailed it, we got all the flooring!' Then we ripped up the subfloor, and there was even more flooring. The final layer, which explains the sub floor, was asbestos tile. But that's to be expected, I had my spidey senses about it.
The one funny thing that was left was the original exterior door. The previous owners gave us the original keys for the old lock, but it didn't work. After some glasses of wine, I got my headlamp on and started looking at it and I found so many crayons in the keyhole!
Throughout university, I actually worked as a locksmith's apprentice, so I know how to do more handy things than anyone else in my immediate family. I got doors, I got locks, I got all of that stuff. I know how to use drills and bench grinders and things like that. And my husband is handy — his dad is an electrician. Anytime Arron is doing anything electrical, I have a wooden stick [it's a broken oar] that I stand with just in case he gets zapped. Buying a 100-year-old house, you have to go in knowing that it's a project, there's always something to fix. 
Other than that, my husband resided our shed and built new doors for the front of it. We also need new closet doors, things like that. Home DIY renos are definitely always on the to do list, but sometimes Netflix takes over…
What Are Your Tips for Other First-Time Buyers?
"If you get a good realtor, it is really kind of indispensable because they have so much information and they know what tactics work for them. We got our downpayment out of the bank and registered our offer five days before it even went on sale -- and this is a technique that our realtor said sometimes works. We were like, look, we're just going to sit here and not look at anything else. We're not going to try to force you to give it to us, just know that we're here."
At Home With