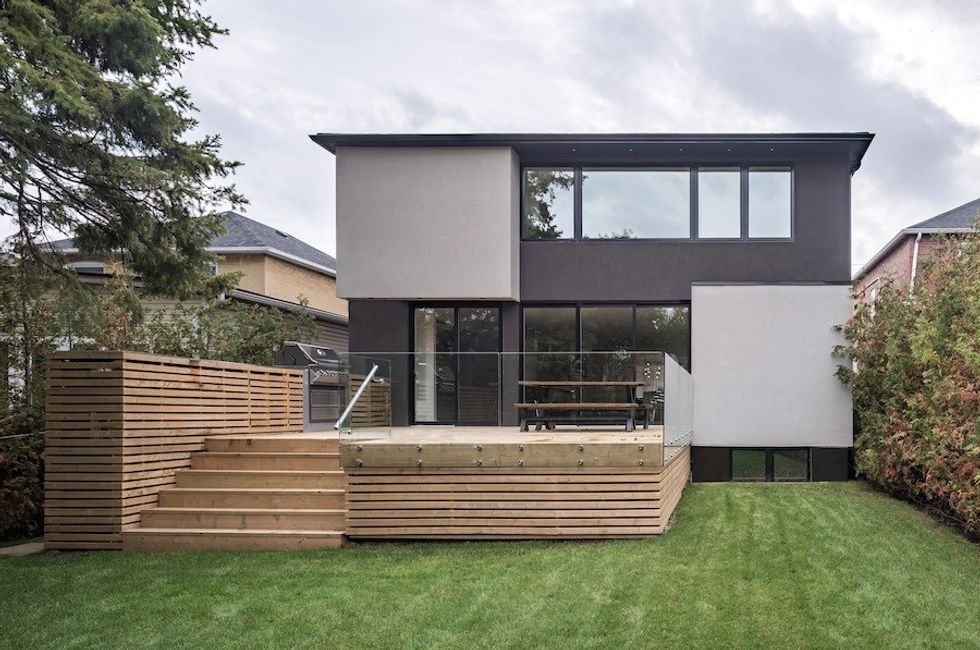 Studio AC's homes, like the one pictured above, are a solid reflection of the original design, as can be seen in the before and after shots below. Too many times, however, architectural designs miss their mark, a result of some firms putting too much focus on the bottom line, the Toronto company says. (Photos courtesy of Studio AC)
Toronto is widely regarded for its innovative architecture.
---
We have a rich history of residential builds and renovations, and can boast some of the finest architects and tradespeople in the world working on our soil.
It is more common than not, however, to hear horror stories of renos and home constructions running well over time and budget. Another common qualm? Rarely does a buyer end up with the house that was promised to them in the original drawings.
Certainly, one could argue that the unpredictability of weather and the even less predictable application process make it tough for architects and builders to hold to a proposed date and dollar figure.
From rendering to reality
But why is the actual design, from rendering to reality, so wrought with compromise?
According to Jennifer Kudlats and Andrew Hill, principal architects at Studio AC, unnecessary design changes are often the result of firms focused solely on the bottom line.
"It has to be about more than that," says Kudlats. "When we draw, we're not just making a line. That line has a material, and that material will have implication. People's literal well-being is affected by the space around them."
In choosing an architect that can hew to the original drawing, Kudlats and Hill cite three significant requirements. The first is training:
"There is a master/builder tradition in architecture," says Hill, "and it is important to find an architect that had a great relationship with their mentor. We were at KPMB, amongst the best architects in Canada, and we were given tons of responsibility and regard early on."
Young start
KPMB saw something in Kudlats and Hill, and had them at meetings and on build sites at the age of 25.
Kudlats was put on the front end of such large-scale projects as the Bremner building, and was gifted enough to remain on the project for three years in the construction trenches.
Hill was allowed to play a leading design role on a number of large international projects, affording him constant contact with mentor and founding partner Bruce Kuwabara.
During phases of refinement, Hill was tasked with conceptualizing new directions and ideas that would then have to be tested through renderings and drawings. That process of design refinement allowed Hill to develop a myriad of representation techniques that would more directly depict the design ideas in his mind.
Gauging how Kuwabara would react to certain visuals and concepts helped Hill to make even better drawings for clients.
Training of this type allows an architect to foresee problems long before they arise, and to avoid chasing trends and touches that counter well-established building precepts.
Kudlats goes on to explain that the premise of their practice is a studio for architecture as well as collaboration and it is collaboration and communication that further allow a firm to deliver on its design promise.
Our clients often want to push the boundaries, and challenge the notions of a conventional space. But at the same time, we have to anticipate and accommodate their practical lifestyle needs, she says. By communicating with consistency and a unique eye to the future, we are better able to execute our design.
Singular vision
Lastly, Kudlats and Hill believe that consistency of design across a project allows a firm to hold fast to an original plan.  At Studio AC, for example, the mandate is to find a singular vision for each build, and to ensure that ideology is present from architecture on through to the tiniest interior finishings.
As a result, they say, each element of a design will inform the whole, and no one detail is gratuitous or disposable. Hill says that at AC, they thrive on this, and he believes that an architect needs to remain excited about every task, from big to small.
With all of the building talent that we have in the city, there should be no reason why an architects vision should be victim to compromise. An architects solid training, detailed communication and commitment to design consistency should help deliver to the buyer the dream home they were promised.
Here are some of Studio AC's projects. Can you guess which column is the rendering, and which is the finished product?
Urban Living