Progress continues to be made on Georgetown, the master-planned community by Anthem Properties, with Council authorizing staff on Monday to draft the development permit for the next phase of the project: Georgetown Three.
The Georgetown community — Anthem Properties' largest ongoing project in Surrey set to be built in eight phases— will be located on a 14.4-acre site at the intersection of King George Boulevard and 102 Avenue, with 102A Avenue, Whalley Boulevard, and Central Avenue running through the site — one block east from the Surrey Central Station.
---
The 30-storey Georgetown One — completed last year — is located at 13685 102 Avenue on the southern edge of the site, while the 31-storey Georgetown Two — with an estimated completion date of 2026 — will be located at the intersection of Whalley Boulevard and Central Avenue on the northeastern corner of the site.
Georgetown Three will consist of two buildings located at 10244 Whalley Boulevard, between Georgetown Two and the Georgetown presentation centre that currently sits on 102 Avenue. Currently, 102A Avenue ends at Whalley Boulevard, but the road will be extended through to the eastern edge of the site and both Georgetown Three buildings will sit along 102A Avenue.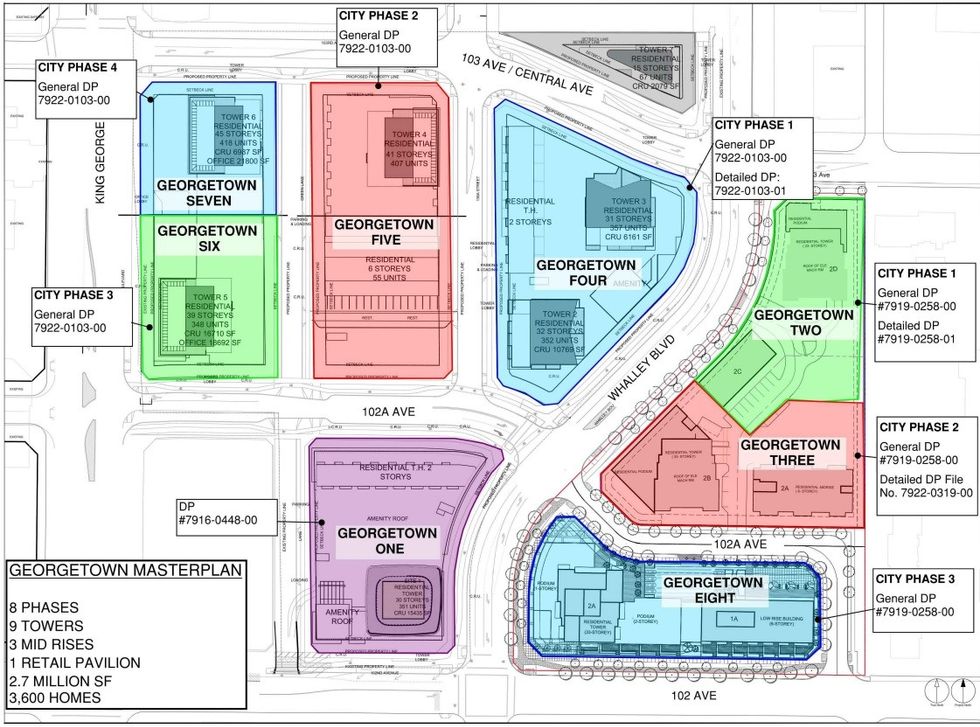 The Georgetown Master Plan.(Arcadis IBI Group / Anthem Properties)
Proposed for the site is a 39-storey high-rise tower that will sit at the intersection of Whalley Boulevard and 102A Avenue, and a six-storey building directly east of the tower.
The 39-storey tower will include 455 units, with a suite mix of 112 studios, 226 one-bedrooms, 114 two-bedrooms, and three three-bedrooms. The tower will also include a three-storey podium that will have retail space on the ground floor, along Whalley Boulevard.
Residential amenities will include a games room, gym, theatre, lounge, and co-working space on the fourth floor, which will also have outdoor amenities including a barbeque, dog run, lounge, dining space, community garden, and fire pits.
According to the City, the developer is required to provide 826 sq. m of indoor amenity space, but the proposal includes only 663 sq. m. However, the developer is making up the difference by providing 1,570 sq. m of outdoor amenity space, when the minimum requirement is 1,365 sq. m. Anthem will still have to provide a cash-in-lieu payment for the shortfall of indoor space, however.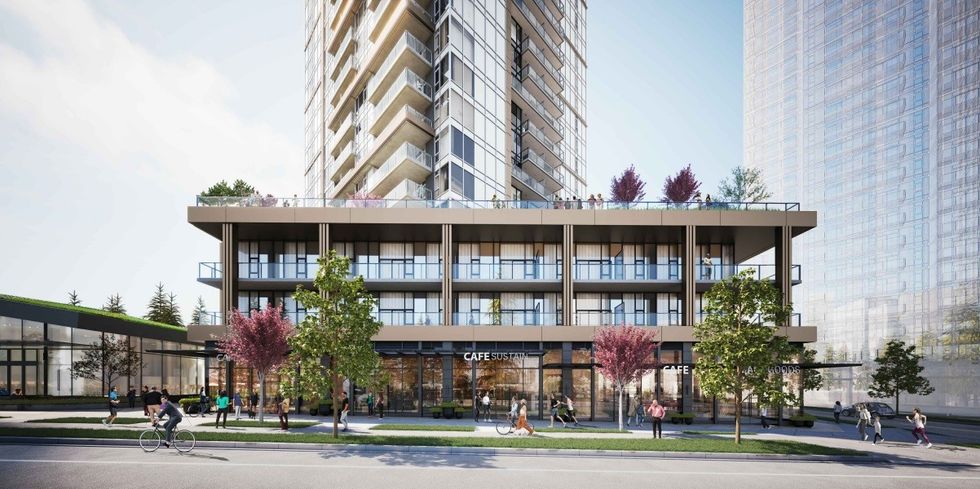 The three-storey podium of Gerogetown Three's 39-storey tower.(Arcadis IBI Group / Anthem Properties)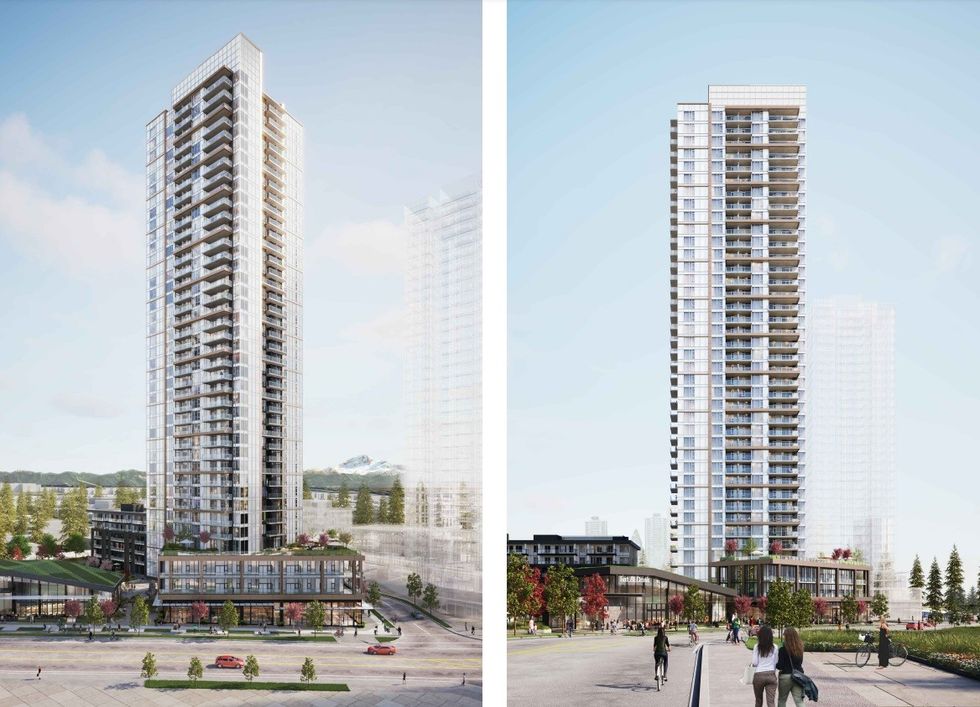 The 39-storey Georgetown Three.(Arcadis IBI Group / Anthem Properties)
Next door, the six-storey strata building will include a total of 42 units, with a suite mix of 16 one-bedrooms, 12 two-bedrooms, and 14 three-bedrooms.
Residential amenities will include a lounge, kitchen, and library on the ground floor, while outdoor amenities will include seat areas, a barbeque, and greenspaces. Similar to the high-rise tower, the developer is proposing less indoor amenity space (103 sq. m) than what's required (126 sq. m), but more outdoor amenity space (347 sq. m) than what's required (126 sq. m).
A grand total of 427 vehicle parking spaces and 634 bicycle parking spaces will be provided. The City notes that both buildings will sit atop four-level underground parkades, but it's unclear if the parkades will be connected.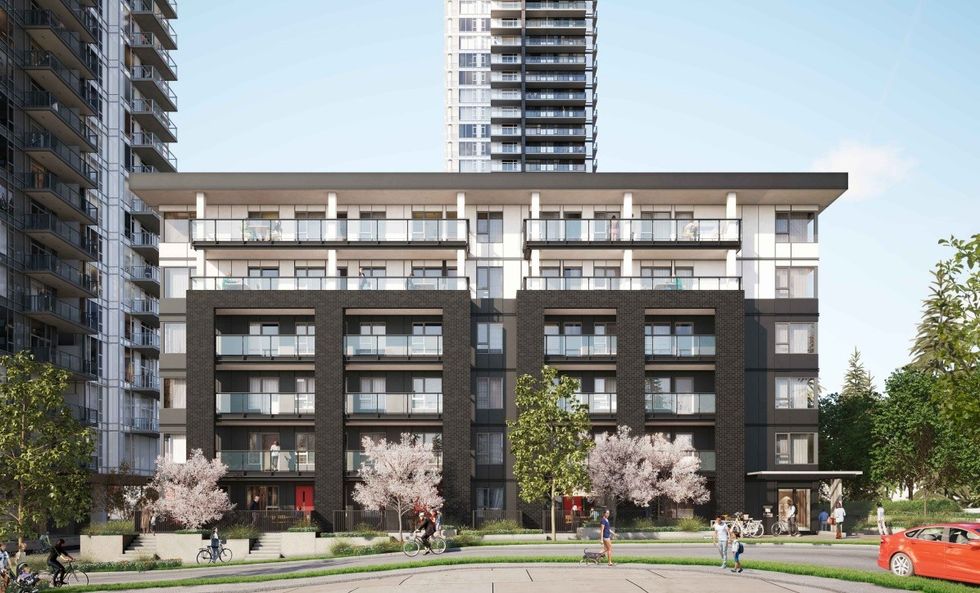 A six-storey apartment building along 102A Avenue.(Arcadis IBI Group / Anthem Properties)
When the Georgetown Master Plan was first proposed in April 2018, the plan was originally for seven towers across 10 acres, with the site ending at Whalley Boulevard. Anthem Properties later acquired a 4.4-acre site on the eastern side of Whalley Boulevard — now being used for Georgetown Two, Three, and Eight — and folded it into the Georgetown Master Plan, reshuffling the phasing and names in the process.

Once fully complete, Georgetown will consist of over 3,500 homes across nine high-rise buildings and three mid-rise buildings, as well as 126,000 sq. ft of commercial space, all in close proximity to Surrey Central Station in Surrey's City Centre.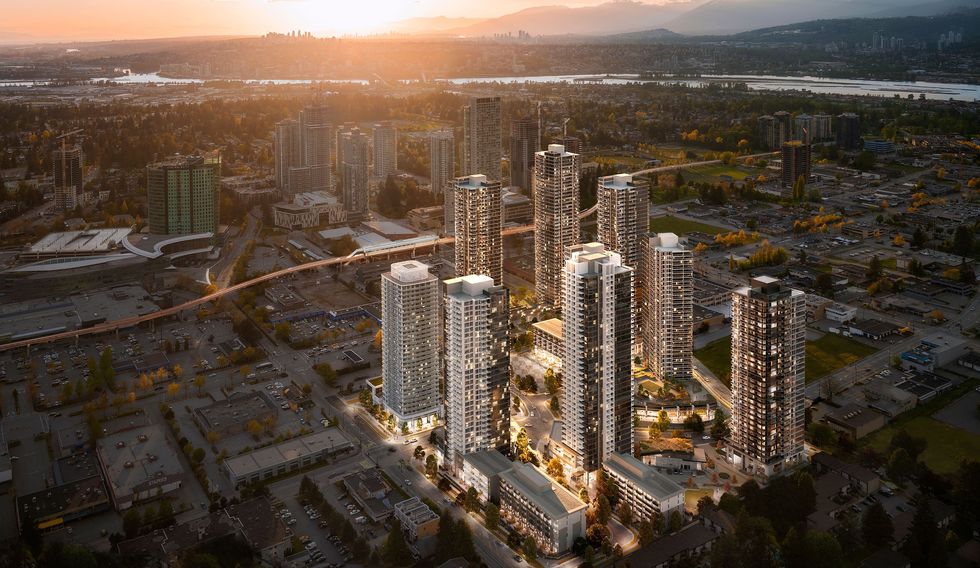 The Georgetown Master Plan.(Anthem Properties)
Related Articles Around the Web
Future Developments