As affordable housing options continue to be limited in the city, a proposed project in Victoria Park aims to be a solution to the growing problem.
If the proposal is approved, a condominium and affordable housing community would take over the vacant, 19.31-acre site located at 411 Victoria Park Avenue in Scarborough.
---
The project, which is spearheaded by CreateTO in partnership with private real estate developer Diamond Kilmer, would be designed by TACT Architecture and include a range of housing options and unit types and sizes.
READ: More Than 283,000 Families Are On An Affordable Housing Waitlist
The proposed plan provides a range of housing types, tenure, and affordability, and will include two new public roads and five development blocks with a mix of mid-rise apartments and townhouses organized around a system of pedestrian connections and public parks.
Submitted application documents say the site has been "designed to fit harmoniously within its existing and planned surrounding context, with mid-rise housing strategically located closest to Victoria Park Avenue and in close proximity to the Victoria Park TTC station."
READ: $200M from Feds to Boost Affordable Rentals at Former Honest Ed's Site
The massing provides a good transition between the higher densities anticipated around the TTC Subway Station and the well-established, stable lower density Birchcliff community to the south.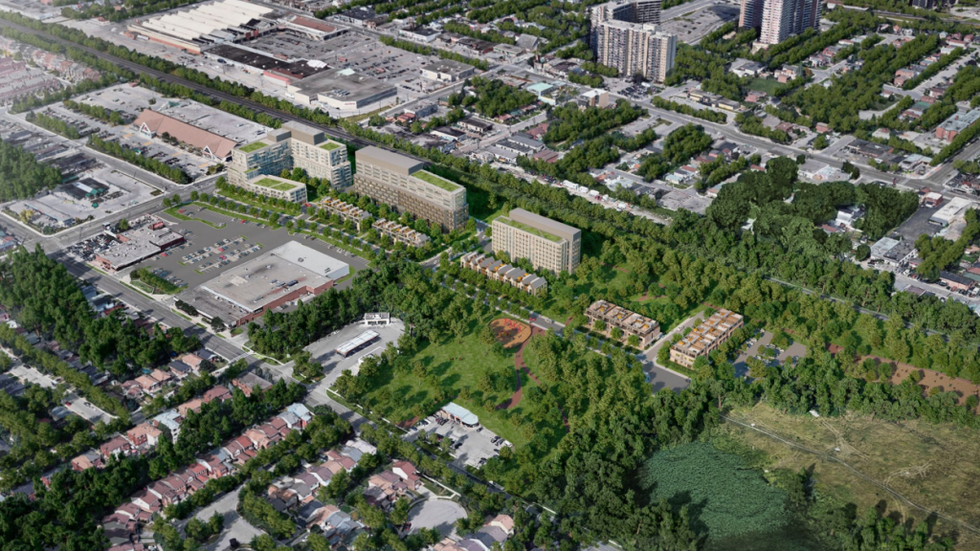 Rending submitted to City of Toronto
As for the housing options, the project includes 798 residential units comprised of 102 back-to-back and stacked townhouse units and 696 apartment units, where approximately 10% of all residential units are in the form of three-bedroom family-oriented units.
Of the total 798 units, 654 units will be market-priced units and 144 will be designated affordable homes.
According to documents submitted to the City of Toronto, 48 affordable townhouse units will be constructed and sold by Habitat for Humanity for modest-income families. The proposed plan also includes 8.6 acres of parkland, a network of pedestrian paths, and pedestrian and bicycle-friendly streets.
Toronto Condos & Homes