Housing markets across Canada experienced "affordability erosion" through the third quarter of 2020, according to new data from RBC.
---
The loss of affordability across the nation can be attributed, unsurprisingly, to transactions that would normally play out in the springtime being pushed to summer and fall as a result of COVID-19, forcing activity to heat up and prices to continue to rise late in the year.
"All markets we track saw an overall deterioration in ownership affordability," reads the report from RBC. "Perhaps more noteworthy, the pandemic created new market dynamics impacting affordability trends differently across categories."
Top tier of these new trends, the report says, is an increased demand for larger spaces alongside a lesser interest in core urban areas. As a result, single-detached and other low-rise homes have become increasingly sought-after.
READ: "Supercharged Demand" Confronts Limited Supply For Detached Homes in Canada
"The ability to work from home has helped spread the heat—and affordability erosion—to all sorts of markets," the report says. "RBC's single-detached affordability measure increased across the board in the third quarter, rising between 0.2 percentage points (St. John's) and 2.7 percentage points (Vancouver)." In this data set, a rise in measurement means a loss of affordability.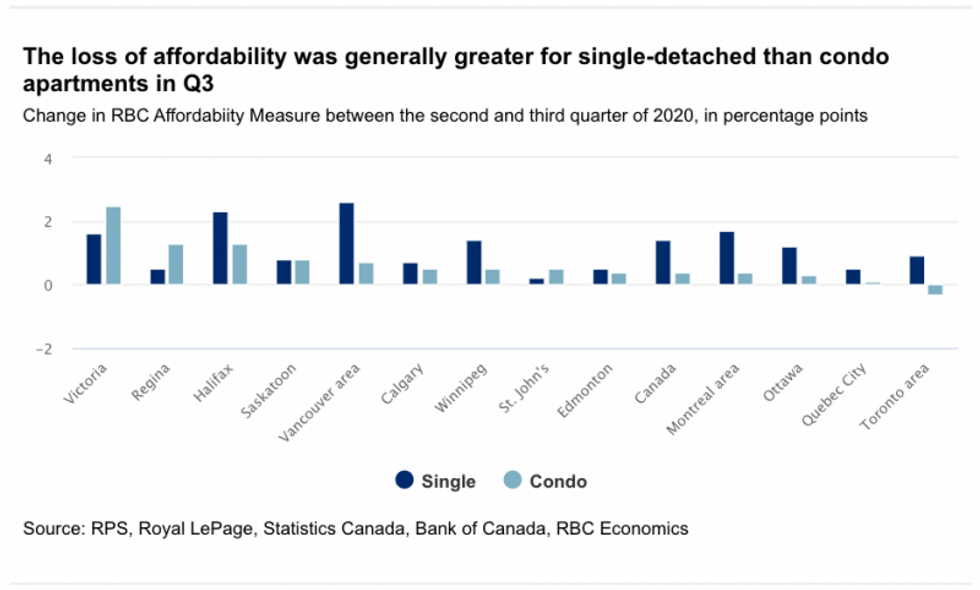 Meanwhile, in general, such measurement rises were not noted in the condo sphere, particularly where Canada's largest cities are concerned. But this is an observation that shouldn't come as a surprise: Toronto has been playing out The Tale of Two Cities for many months now, as competition in the condo market has softened and interest in properties outside the downtown core has only continued to climb.
"Our measure for condo apartments fell in the Toronto area where supply has ballooned during the pandemic," the report says.
Indeed, as Toronto realtor and chartered accountant Scott Ingram points out, Toronto area condos were the only section of the country's housing market that saw increased affordability through the third quarter of the year.
As activity swung dramatically toward single-detached and other low-rise home categories, "serious pre-pandemic supply shortages" were "quickly reinstated," resulting in Toronto's markets moving in two very different directions. While low-rise categories have been moving squarely upward, condo activity has been flat, the report says.
READ: 4 Affordable Ontario Real Estate Markets Ideal for First-Time Homebuyers
"RBC's affordability measures have reflected those divergences. The condo apartment measure was in fact the only one improving (slightly) in the third quarter among all the categories and markets we track. RBC's aggregate measure, at 65.7%, still indicates intense affordability stress overall for an average buyer."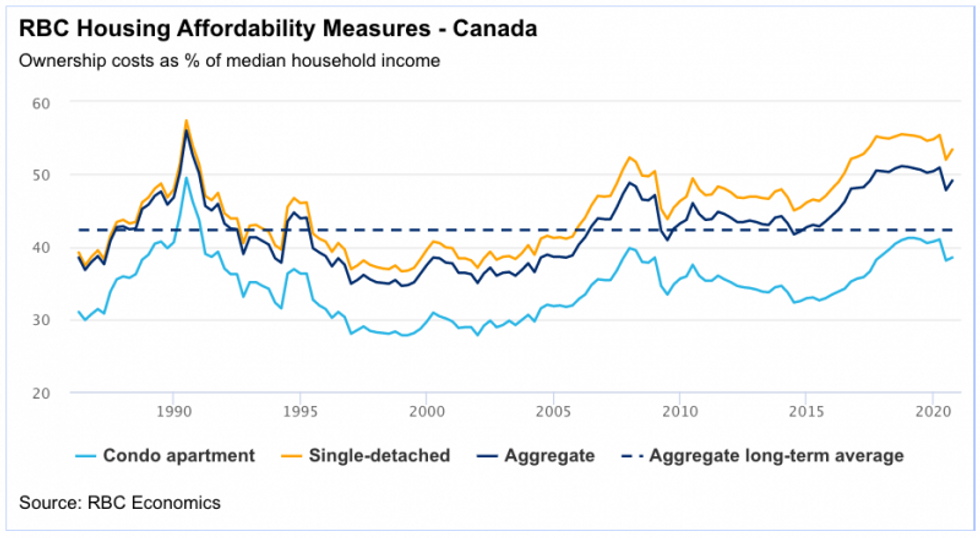 And while rising home prices played a major role in affordability's erosion through the third quarter of 2020, they weren't the only factor. Declining household income -- a lowering of 3.1% -- also had a part. This drop came up behind a record 11% increase in the year's second quarter, when "unprecedented financial aid" was rolled out to Canadians by various levels of government in response to the pandemic (and its related unemployment).
"We expect a gradual re-normalization in government transfers to households and sustained property appreciation to further unwind the sharp affordability gain that occurred in the second quarter. Recent declines in mortgage rates will provide a partial offset. Buyers in Canada's least affordable markets—Vancouver, Toronto and Victoria—are most vulnerable to any erosion in affordability given how stretched they already are, especially when shopping for a single-detached home," RBC said.
"With the imminent start of mass vaccination brightening the economic outlook in 2021, we expect a further dialing down of transfers in the period ahead."
Going forward, if recent strong price increases persist, RBC predicts smaller markets could face material affordability erosion. But for now, overall, the report describes the country's overall affordability as "largely unchanged." Of course, the share of income needed to cover ownership costs saw uneven increases across markets through the third quarter, but "the overall picture hasn't changed much."
Compared to the same period in 2019, home ownership was still more affordable in all markets except Ottawa, and affordability continued to stand in line with historical norms in most markets. Holding their own as the country's least affordable markets were Vancouver, Toronto, and Victoria; in fact, RBC says that in these markets, "huge issues persist" for buyers.
"Much of the affordability stress in these larger markets is due to high prices for single-detached homes. Condo apartments are a generally more achievable option for buyers," says RBC.
(But if you've been keeping your ear to the ground of Toronto's condo scene, you already knew that.)
Real Estate News