A parcel of land located along Toronto's most recognizable street may see some new life if a proposal to build a 37-storey mixed-use building in the area of Yonge and Eglinton is approved.
Last month, a Zoning By-law Amendment application was submitted to the City of Toronto on behalf of developer RioCan REIT to facilitate the development of the site for a 37-storey mixed-use building comprised of 7,506.10 square metres of non-residential gross floor area and 23,240 square metres of residential gross floor area.
---
The 20,774-square-foot development site sits on the northeast corner of Yonge Street and Roehampton Avenue, one street north of the Yonge-Eglinton intersection and Eglinton TTC subway station.
The proposed site, located at 2323 Yonge Street, is currently occupied by an eight-storey office building with ground-floor retail and a single-storey commercial building at 2329 Yonge Street, which would be replaced, according to the planning rationale prepared by Bousfields Inc.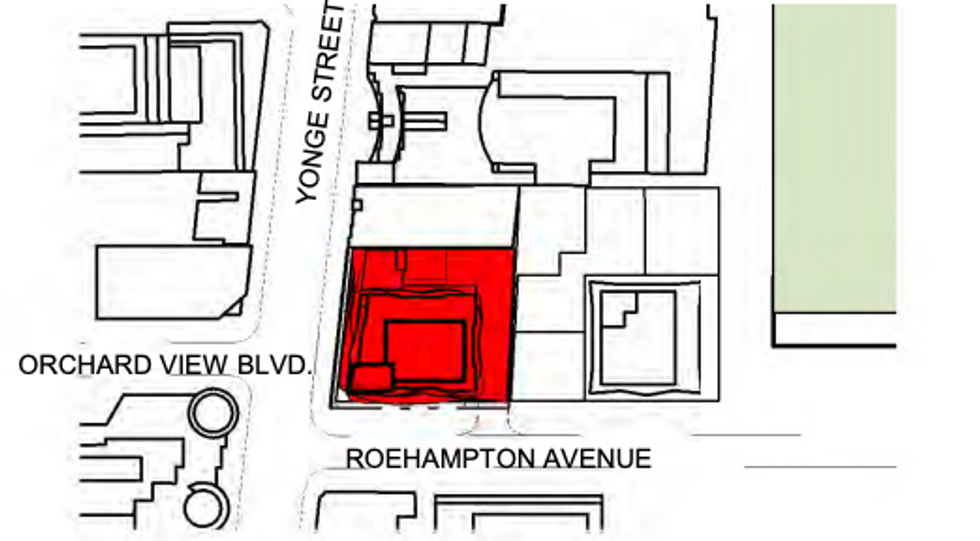 Rendering submitted to the City of Toronto
READ: 38-Storey Condo Development Proposed for Mount Pleasant West
Designed by DIALOG, the mixed-use building will be comprised of a 10-storey podium and 27-storey residential tower above. There building will also house 910 square metres of retail space on the ground floor and mezzanine, 6,596.1 square metres of office space on floors 2 to 5, and 1,140 square metres of residential amenity space on floor 6.
The proposal also mentions including park-like landscaping on the street, paired with a "varying paving pattern" that reflects the architectural treatment of the proposed building, an opportunity for public art, and a covered patio for the adjacent retail space with direct access to the pedestrian clearway.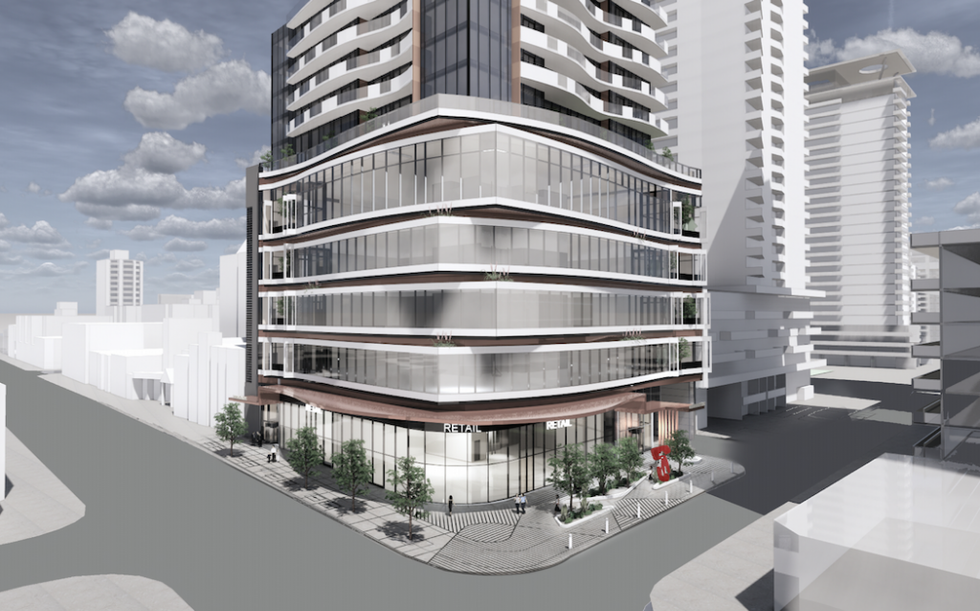 Rendering submitted to the City of Toronto
The residential component will include a mix of 380 units that will be distributed with two units on Level 6, 64 units (16 units per floor) on Levels 7 to 10, 264 units (12 per floor) on Levels 11 to 32 and 50 units (10 units per floor) on Levels 33 to 37.
The building will also have a height of 137.8 metres to the top of the roof, excluding the mechanical penthouse.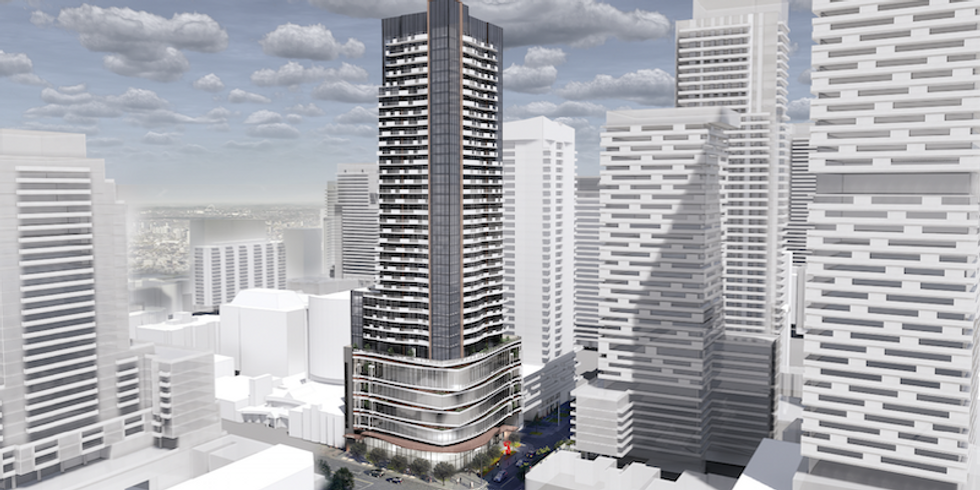 Rendering submitted to the City of Toronto
The proposal also includes 61 residential vehicular parking spaces and 417 bicycle parking spaces that would be located within two levels of underground parking.
Future Developments