---
Anyone driving down Toronto's Gardiner Expressway as of late will have likely noticed the soaring building with a wave-like appearance towering over the highway. The currently under-construction project, dubbed Thirty Six Zorra, is bringing a 459-unit, amenity-filled tower to Toronto's Queensway neighbourhood -- a big change for the west end area.
What's immediately striking about this development is its facade. Rather than going with the typical glass-laden, flat exterior that's all too common in Toronto, developers Altree Developments and EllisDon Developments chose to build the balconies in such a way that they created an eye-catching waving pattern on every floor of the tower.
"I had a dream to do a real icon building that when you drive on the Gardiner, you would see it from everywhere you go," Zev Mandelbaum, President and CEO of Altree Development told STOREYS. "This building stands out, and it really is unbelievable the way the wave works."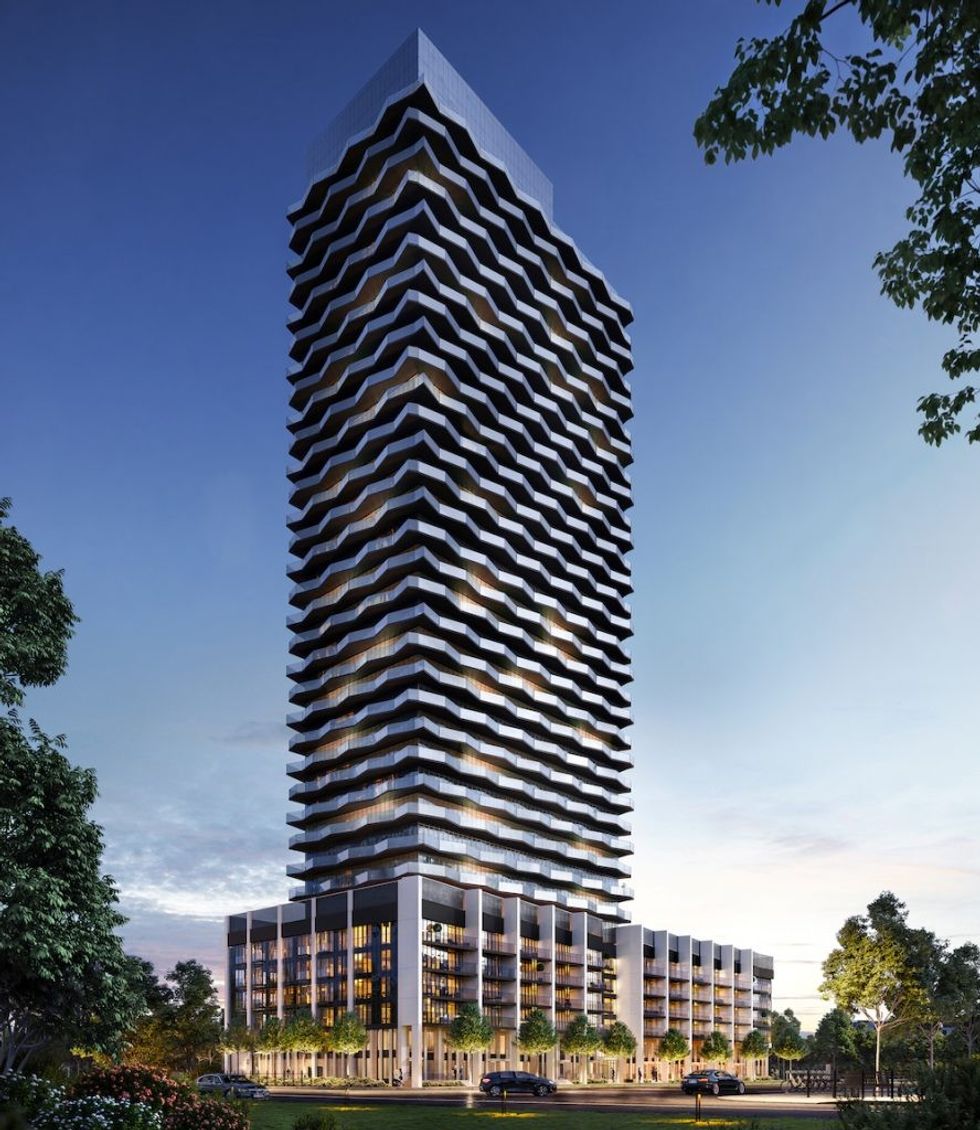 After two years of construction, having managed to stay on track despite challenges from the pandemic and supply chain shortages, the 36-storey development reached an important milestone this month: its topping off.
"It's a real testament [to] our team's determination and resiliency to have kept this project on schedule the entire time," Mandelbaum said.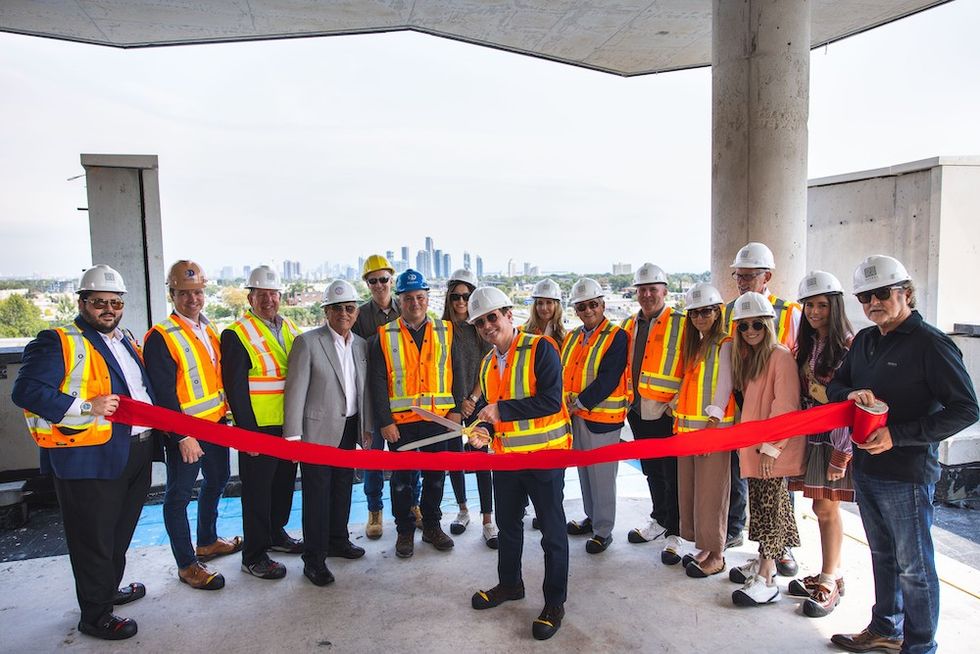 Although there is still much work to be done, the completion of the tower now feels all that much closer. Once it's finished, Thirty Six Zorra will add hundreds of modern condominiums ranging from 440 to 1,306 sq. ft in size, going from studios to three-bedrooms. The units themselves are without a doubt a big selling point, thanks to their sleek, contemporary design, floor-to-ceiling windows, and downtown skyline views. What's more, the spacious unit layouts are complemented by an impressive suite of lifestyle amenities that encourage vibrant, active living.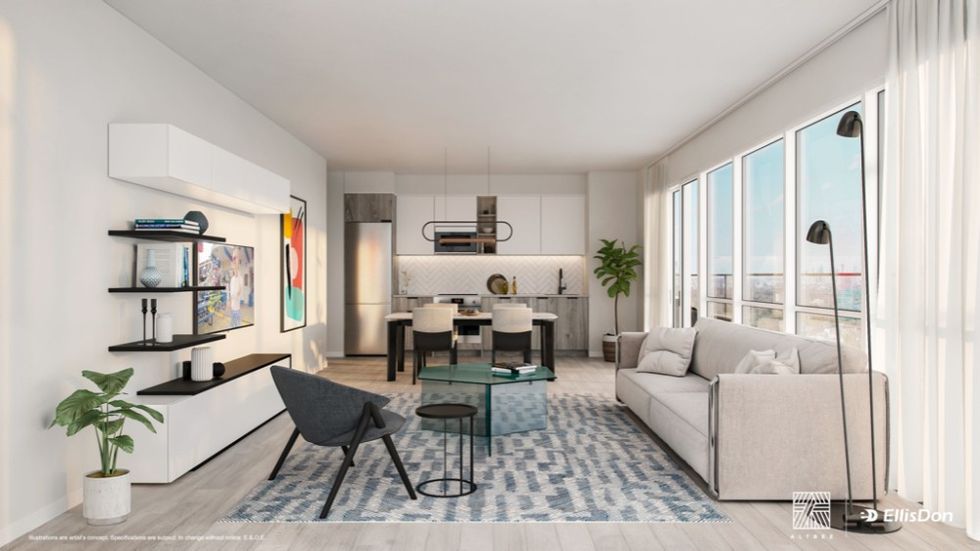 Totalling over 9,500 sq. ft, the building's private amenities include everything from a co-working lounge to a robust fitness facility to a seventh-floor terrace with fire pits and a rooftop pool. A colourful rec room will give residents a chance to relax and have fun with arcade-style games.
"Thirty Six Zorra celebrates the stand out features of a downtown lifestyle," Mandelbaum said. "We made bold design decisions that invoke the vibrancy of urban life. From the games room to the demo kitchen, residents can enjoy a plethora of amenities. The rooftop pool overlooks an iconic city skyline that radiates a new energy to the Queensway."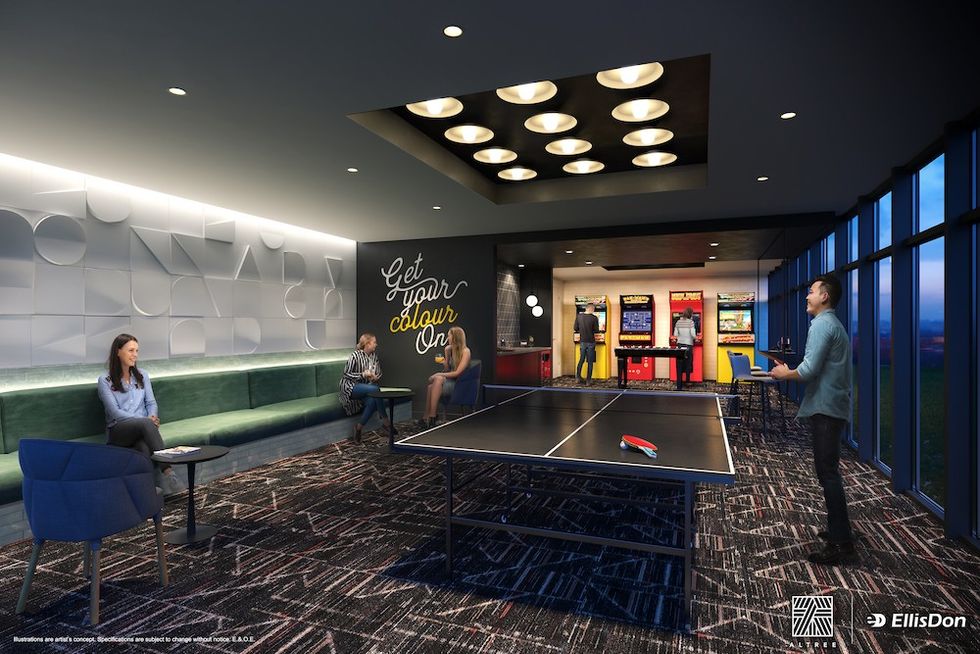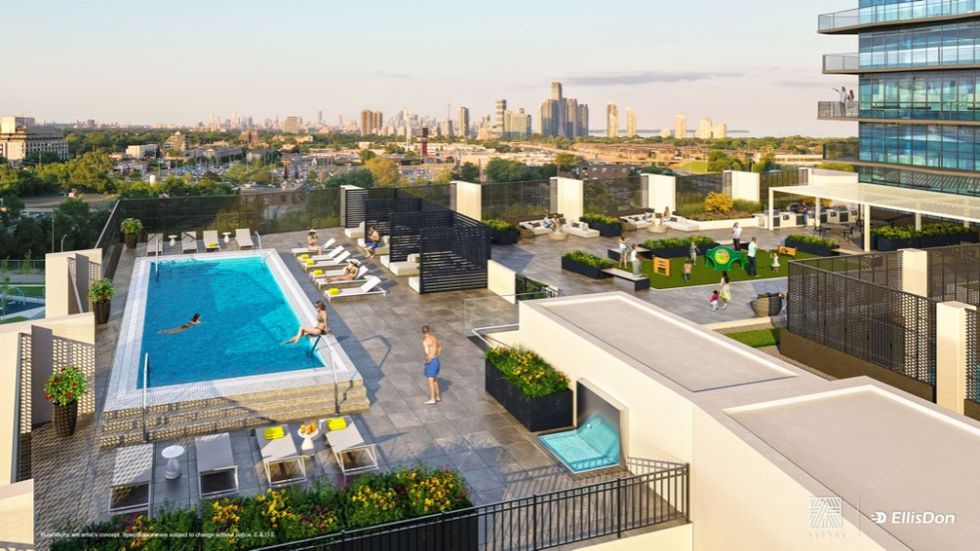 Although the development is close to the waterfront and Humber Bay Park, residents won't have to travel very far to enjoy some green space: just across the street is the new Senator Marian Maloney Park, a two-acre respite with open lawns, a splash pad, and play structures. The development is also bringing a dog park of its own to the neighbourhood, which will be located just north of the building.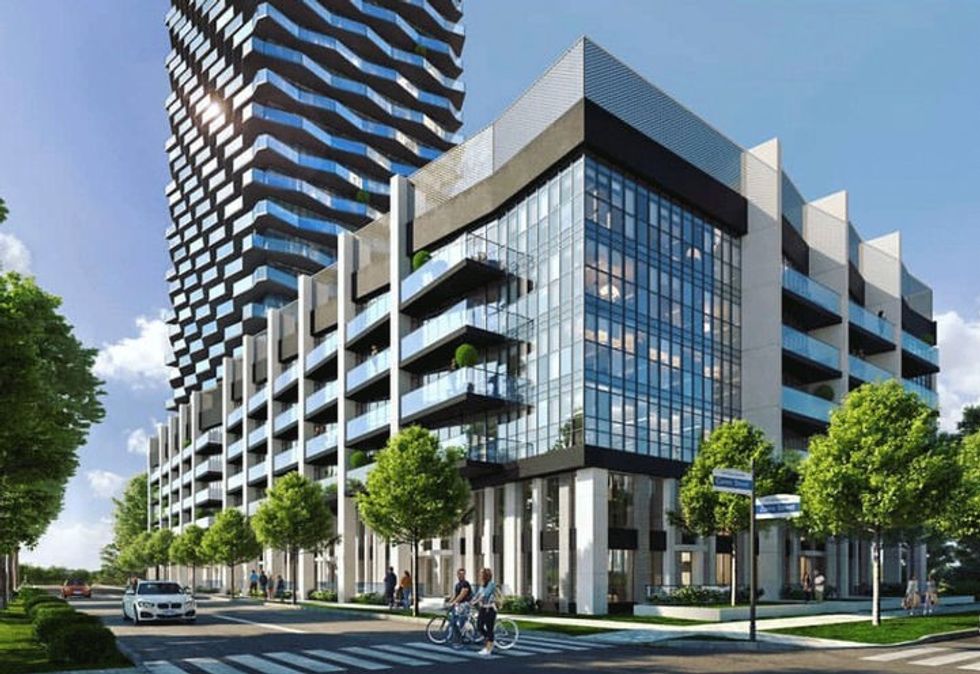 "We are building the foundation for what will be one of the most incredible neighbourhoods in Toronto. Between the contemporary suite designs and bright and bold amenities, Thirty Six Zorra is a stunningly unique residence," says Jordan DeBrincat Mintzas, Vice President of Altree Developments. 
This construction milestone comes at a time when the Queensway neighbourhood has been undergoing its own sense of revitalization. The neighbourhood has historically been the extension of Toronto's iconic Queen Street West, but has recently introduced coveted restaurants and new craft breweries to the Queensway corridor. Access to the neighbourhood is made easy by the nearby Kipling subway and GO station and QEW highway. 
"The Queensway neighbourhood has been undergoing a revitalization, bringing new shops and establishments to fruition," said Christopher Smith, Vice President of EllisDon Developments. "So it's been our great pleasure to bring new housing online at such a defining point for this part of Toronto."
Thirty Six Zorra is the first-ever development from EllisDon, and is the first high-rise for Altree. Building on established legacies in real estate development and construction, the partnered-up companies have combined their expertise to deliver Thirty Six Zorra. Occupancy is expected to begin next year.
For more information, visit ThirtySixZorra.com.
---
This article was produced in partnership with STOREYS Custom Studio.
Future Developments