Renting in Toronto isn't what it once was. Or, at least, it doesn't have to be.
The times, they are changing. Unlike in years past, when the end goal was home ownership at all costs, today, a rising count of modern-day Canadians are opting to rent. The reasons for this are many-fold: there are young professionals who prefer the clear-cut convenience of a rental lifestyle, there are families with children who adore amenities and appreciate flexibility in their routines, and there are right-sizers who simply can't beat the ease of renting, with no mind (or money) paid to home maintenance or repairs.
---
Rather than something to be stigmatized, renting now makes a lot of sense for some, even — and in some cases, especially — the luxury-leaning set of stylish city dwellers.
In the past decade, Toronto has welcomed a handful of well-designed purpose-built rental buildings that redefine what it means to be a tenant. Rather than the basics of times past – when most rental buildings didn't even offer in-suite laundry – these buildings come with all the frills of modern day condo living. Not to mention, in a climate of heightened tenant anxiety thanks to high Toronto rent prices, purpose-built rental buildings offer reassurance that there won't be unjust evictions or surprise decisions to sell the unit.
The only problem? Toronto is currently experiencing a low in purpose-built construction starts. The last high in these new builds was in 2021. If you do the basic building math, this means that the next influx of purpose-built rental markets won't come to market until 2025-2028.
"If we look back at the market and purpose-built rentals, in the late 1980s and 90s, there was a lot of government incentive around building purpose-built rental units," says Christopher Castellano, Vice President Sales & Marketing at Camrost Felcorp. Together with Desjardins, Camrost is introducing 36 Brentcliffe — Leaside's only luxury purpose-built rental — to the neighbourhood's buzzed-about Upper East Village community.
"Similar to what we're going through today, there was a housing crisis back then, and the government thought it would be smart to incentivize developers to bring housing to the market through the avenue of purpose-built rentals. That worked well and there was a boom in the sector at that time. Following that, the government pulled all the incentives off of purpose-built rentals."
When this happened, Castellano says that, due to market dynamics, it turned purpose-built rentals into an unviable excursion. "So, it took many years – decades – to get to the place where the numbers made sense from a purpose-built perspective," he explains. "So, what some people think of rental buildings – or apartment buildings, as many people refer to them – is a bit detached from what we would consider luxury in today's market. It's not to say that these buildings weren't luxurious in the 80s and 90s – a lot of them were at the time – but now they're a bit tired and old."
The bottom line, says Castellano, is there exists a generational gap in terms of new purpose-built rentals hitting the market. The reality is, many of Toronto's apartment buildings – from Yonge and Eglinton to the Jarvis corridor – have seen better days.
However, sleek, sought-after, and renting now, 36 Brentcliffe is about to switch up Leaside's rental market.
"Our latest building, 36 Brentcliffe, is on the cutting edge of the next wave of purpose-built rentals coming to market," says Castellano.
"Camrost Felcorp develops both condominiums and purpose-built rentals," he explains. "Both offer their benefits, and right now we are seeing very interesting things happening in the rental space. We're very proud to be bringing a luxury rental building to a market that so desperately needs, and desires, this kind of product."
A partnership with management company Forest Hill Kipling means the residents of 36 Brentcliffe will experience top-level service, in everything from front of house concierges and porter services, to back-of-house support. "We have online portals for our residents to pay rent, book services, and interact with the staff," says Castellano.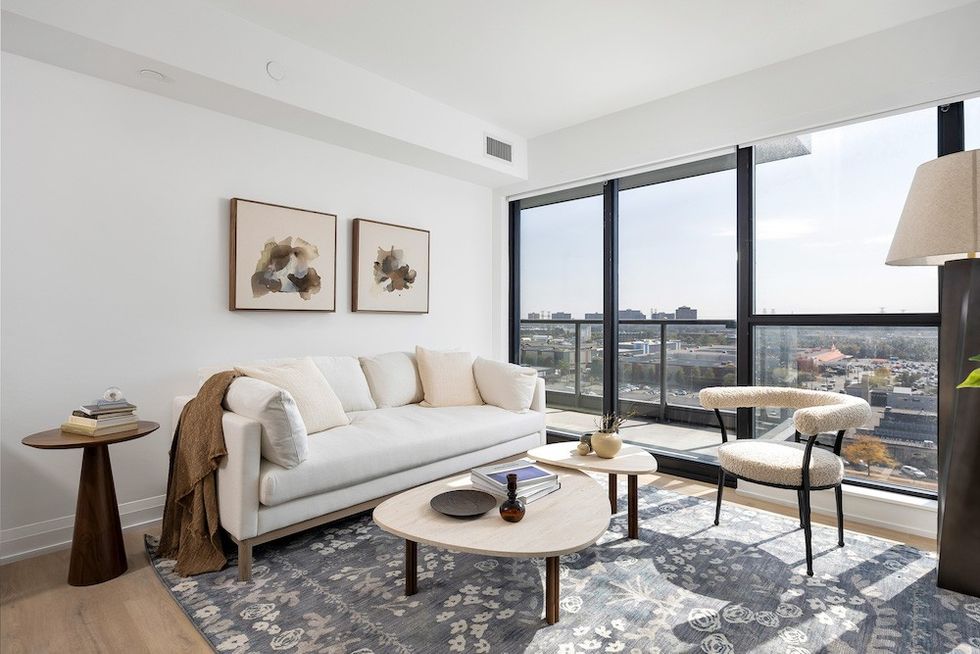 36 Brentcliffe (model suite)
The brand new building scores major points in everything from design and functionality, to its lifestyle-enriching attributes, like its access to a slew of amenities and location to the upcoming Eglinton Crosstown LRT. Throughout Upper East Village, you can envision hotel-inspired services, luxurious finishes, Italian kitchens, and access to over 20,000 square feet of amenities – of which, 10,000 square feet are dedicated solely to 36 Brentcliffe.
This means residents can enjoy a state-of-the-art gym, indoor pool, outdoor sun deck, fire pits, yoga studio, and more within the burgeoning community. Within 36 Brentcliffe itself, bookable amenities include a meeting room, an indoor social gathering space (complete with a catering kitchen and dining room), as well as a fully programmed outdoor lounge.
"The unit sizes are more generous and livable than most newer rental product on the market these days, with smart floor plans," says Toronto broker Nerses Sraidarian of Big City Realty. "The layouts have been very well-received by people coming to the open houses."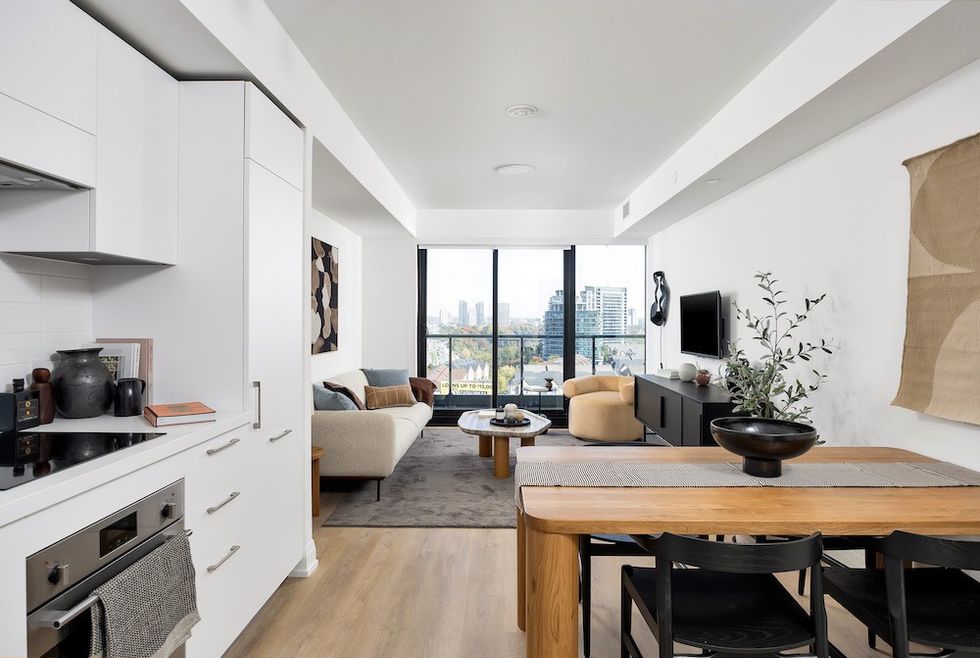 36 Brentcliffe (model suite)
Catering to a variety of demographics and lifestyle choices, 36 Brentcliffe features one to two-bedroom units, says Castellano. He points to four distinct cohorts of future residents.
"There's young professionals starting out in their life who want to stay close to the area they grew up in," he says. "There's also the couple moving in together for the first time, who are looking to move out of downtown but keep a lot of the same access to retail and parks. Then, there's the young family looking to take advantage of the incredible Leaside neighborhood. Finally, we have downsizers looking to find a balance between urban and suburban living."
Perhaps some of these downsizers will be the sophisticated Baby Boomer set who raised their kids in Leaside, but who don't want to leave the coveted neighbourhood. Of course, you can't blame them: Leaside is known for its slew of restaurants, shops, and modern-day conveniences. For the younger residents, it also offers some of Toronto's best schools and the charming Leaside Public Library.
"Today's renters are looking for space, functionality, security (as in, [protection from the question] 'Am I going to get kicked out in a year?'), walkability, and access to top schools," says Sraidarian. "And 36 Brentcliffe has it all – along with the luxury."
________________________________________________________________________________________________________________________________
This article was produced in partnership with STOREYS Custom Studio.
Renting