At a time when applications for new builds are seemingly endless, not all condo amenities are created equal.
The common denominator is convenience: amenities should remove the requirement for residents to leave the building for everyday routines and rhythms. But, as life evolves, so do the types of amenities today's (and tomorrow's) condo dwellers really want — and need.
---
To analyze the rise and fall of amenities in new builds, Spark Real Estate Technologies — a Vancouver-based company that specializes in new development sales and marketing software — surveyed a panel of industry experts based on what they were seeing in the market.
The panel ranked each condo amenity in terms of homeowner desirability in 2023, and assessed whether that ranking is on the rise, unchanged, or sinking. The results were then reviewed, consolidated, and curated into the rankings shown below.
READ: To Build Or To Buy Real Estate Software? (That Is The Question)
With backgrounds in everything from urban planning to media to real estate software sales, this expert panel includes Naama Blonder (Urban Planner, Smart Density); Laura Hanrahan (Deputy Editor, Storeys Publishing); Jessica Radziszewska (Vice President of Sales, Spark); Riel Sammy (Strategic Director, Channel 13 Advertising & Design Inc.); and Sally Turner (Director of Consulting, Urbanation).
In the findings there were several surprises, some signs of the times, and more than a few no-brainers. Here's what's hot – and what's not – when it comes to today's condo amenities:
1. Rooftop and Green Space |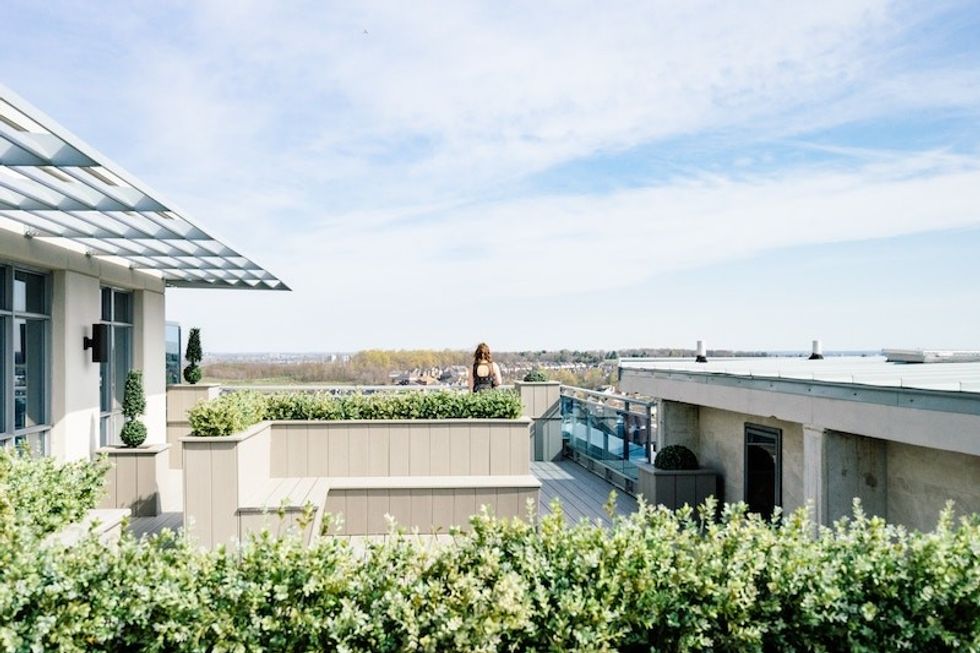 Pomeroy Place rooftop in London, Ontario (Unsplash)
Access to quality green space took on a whole new meaning during the pandemic. With cities rapidly increasing in density, and urban parkland limited, new condo developments have increased their outdoor amenity program in recent years, as fresh air went from nice-to-have to essential. This is especially true at a time when more young families are living in condos, with more new builds including playgrounds.
"Well-programmed outdoor space on a patio or courtyard is essential in a building with efficiently-sized suites," says Turner. "But the outdoor patio of today should include a variety of group seating options, and consider including a pizza oven, well maintained natural landscape boxes, and where possible, outdoor game areas."
2. Exercise Room |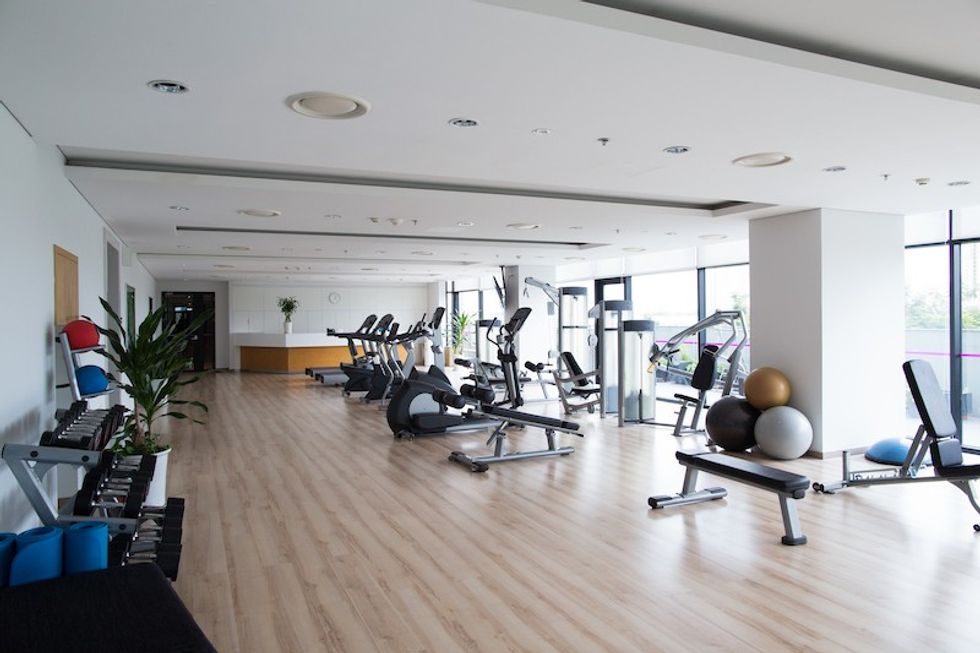 Sun-soaked gym (Shutterstock)
Whether or not they're utilized as often as one would hope, the demand for exercise rooms and gyms in condos isn't going to waver any time soon.
"Exercise rooms are a must-have, but should be designed with ample natural light and a variety of machines that could reasonably replace a gym membership," says Turner. "Society has enjoyed going back into group fitness settings and will pay premiums for elite gyms, classes and training in reaction to a sense of losing it for so long."
3. Meeting/Party Rooms |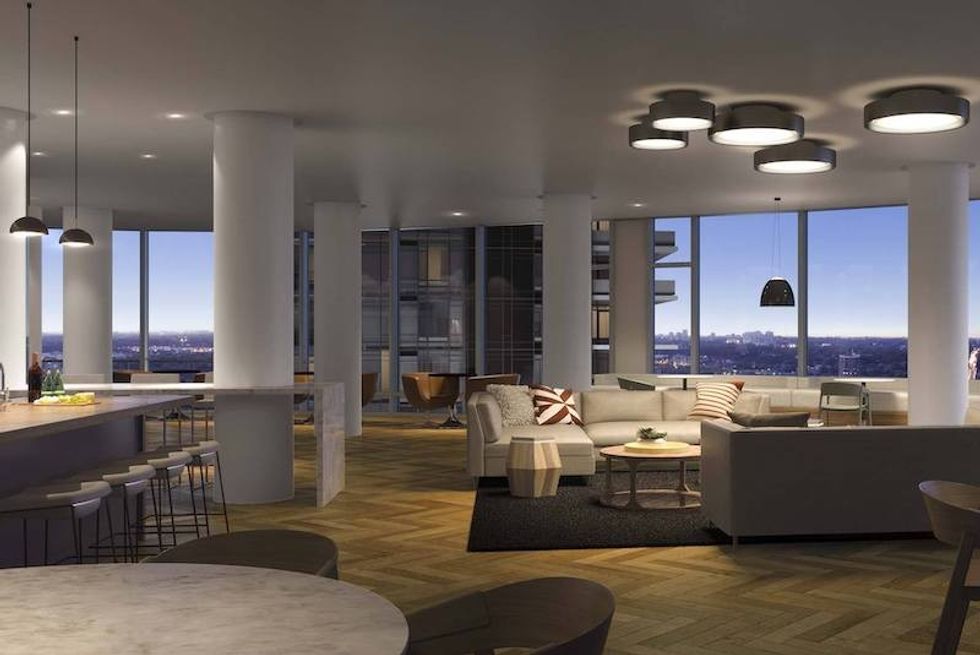 Bar and games room at Daniels Arc Condominiums (via HOK)
While they may have been celebrated as perks decades ago, offerings like meeting rooms and party rooms are now considered a given – but are still important.
"I think there are some amenities that every buyer would expect, or heavily desire, their building to have — things like a gym, pool, party room, and rooftop," says Hanrahan.
In fact, shared spaces meant for gatherings and celebrations could be even more important in present day, as the number of young families living in condos is on the rise. Where better to host a birthday than a space dedicated to parties?

4. Bike Storage |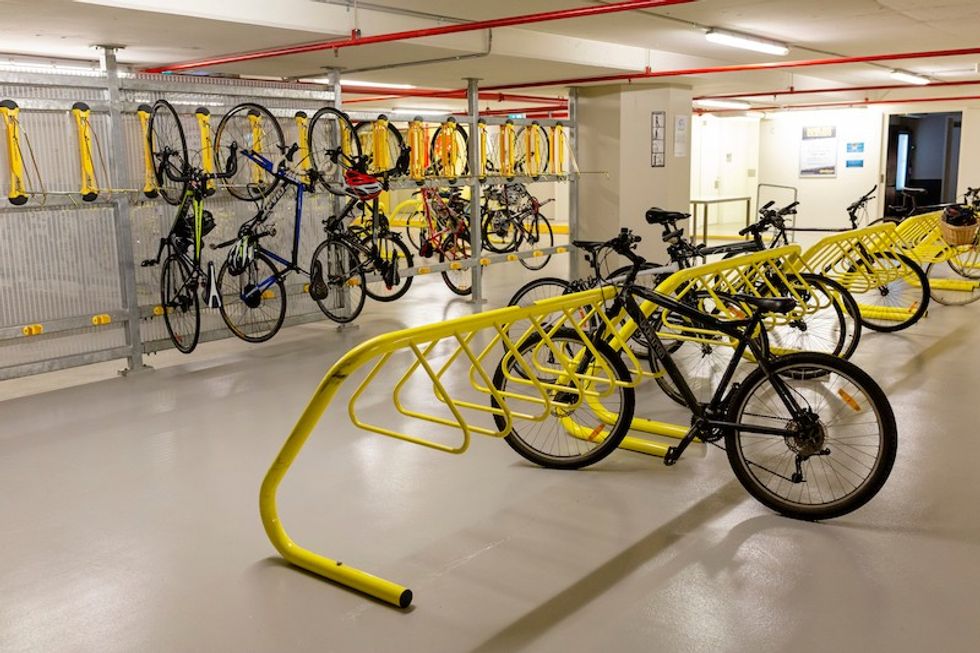 Indoor bike storage (Shutterstock)
The need for bike storage remains a top demand in the amenities department. As new builds continue to allocate a shrinking number of parking spots for cars, and cities like Toronto move away from a reliance on the car, bike storage is more essential than ever before.
"Oh my, you need to see our bike room while parking is only at 40%," says Blonder of her downtown Toronto condo building.
5. 24-Hour Concierge |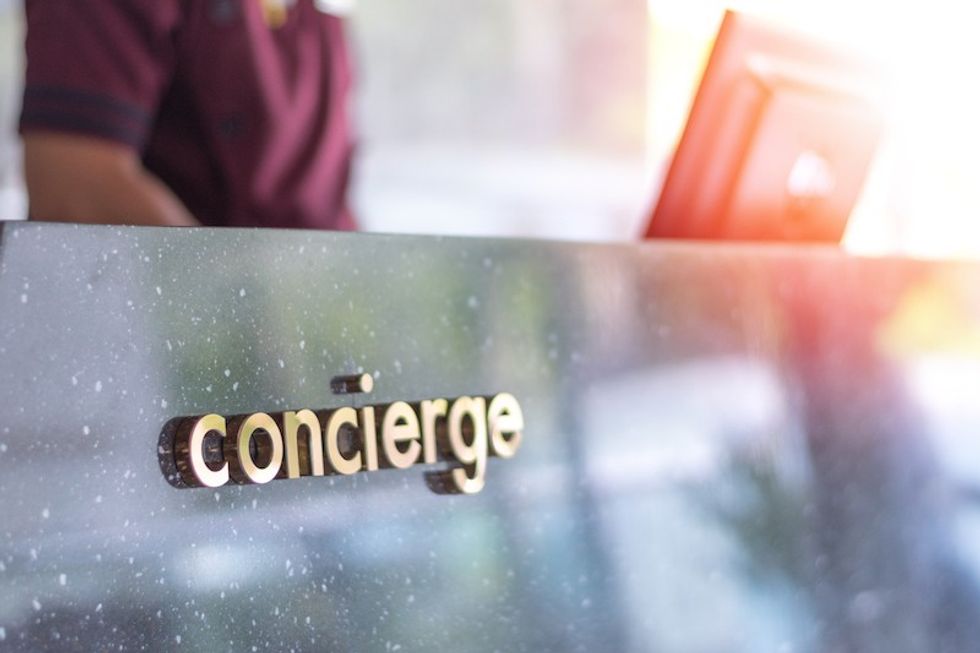 Concierge service desk (Shutterstock)
Especially in an era of e-commerce and on-demand food delivery, a 24-hour concierge is a highly important perk for many busy buyers – a trend that has remained unchanged.
"Concierge services that extend and automate redundant tasks for residents are expected by a discerning buyer of a luxury build," says Radziszewska of Spark.
6. Remote Work Stations |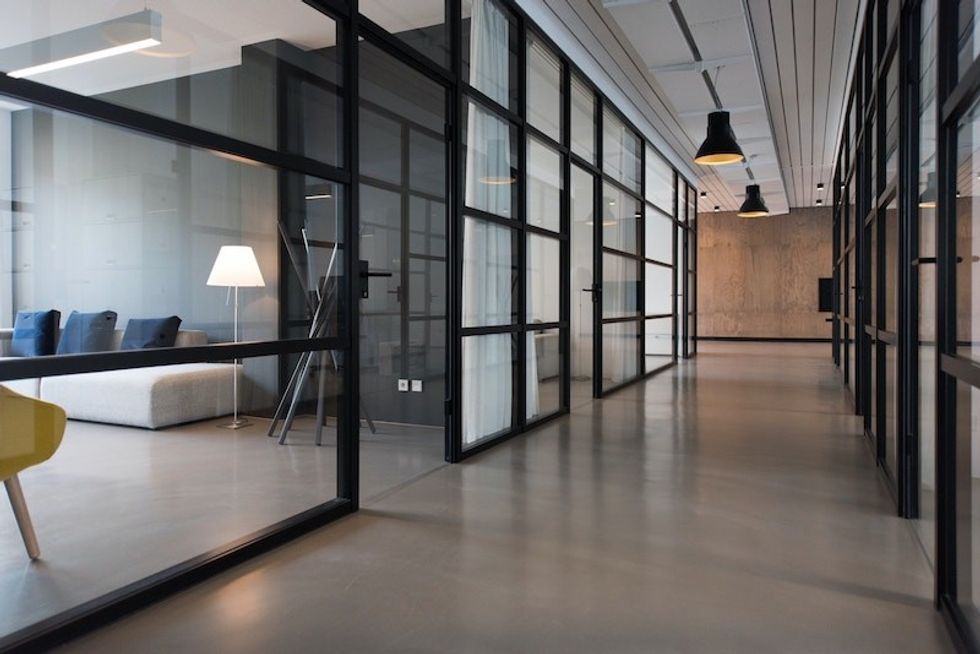 Office space in Munich, Germany (Nastuh Abootalebi/Unsplash)
According to the experts, remote workstations are highly important amenities in today's new condo developments. This trend has shot right up -- more notably than any other included on the survey, in fact.
"Particularly during the pandemic, there was a big surge in condo development plans including co-working spaces," says Hanrahan. "But with more and more companies ordering employees back to the office, it will be interesting to see if that continues."
7. Secured Delivery Storage |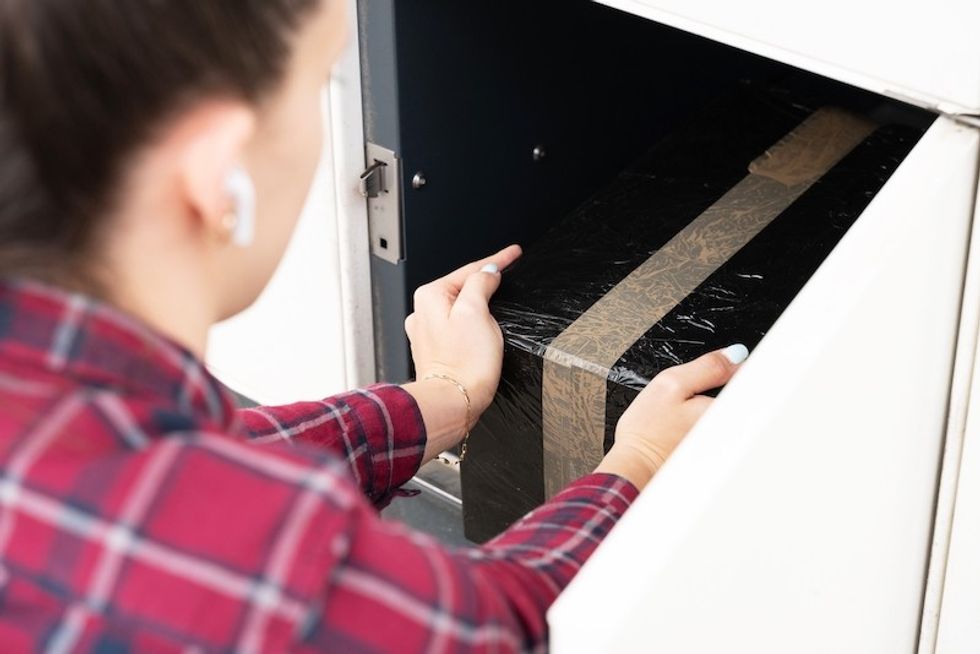 Secure parcel pickup (Shutterstock)
Online shopping isn't going anywhere, and there's only so much room for parcels at traditional condo lobby reception desks. All of the experts agreed that secured delivery storage was a must-have – a trend that was up.
"Amenities such as parcel delivery systems, pet grooming and relief areas, alongside secure bike storage should be considered a part of basic building functions rather than resident amenities," says Turner.
8. Pet Centric Amenities |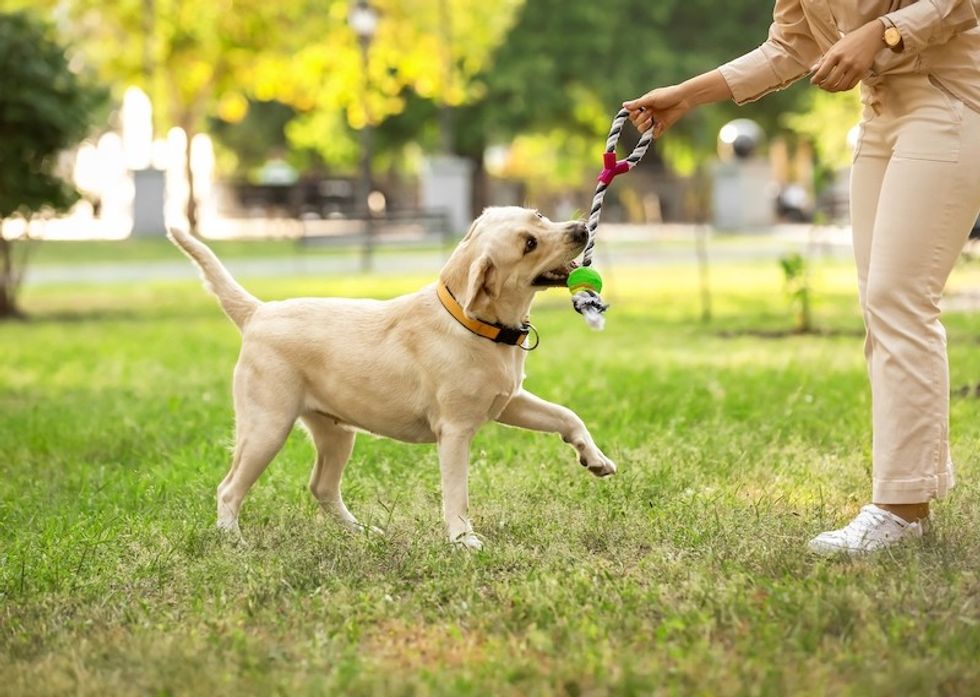 Woman and lab playing in park (Shutterstock)
Today's amenities aren't exclusive to a condo's human residents. The emergence of pet-centric amenities has gained quick traction in recent years.
"Looking at recent development plans, pet amenities, like a dog run or washing station, are increasingly prevalent across Canada," says Hanrahan.
9. EV Charging |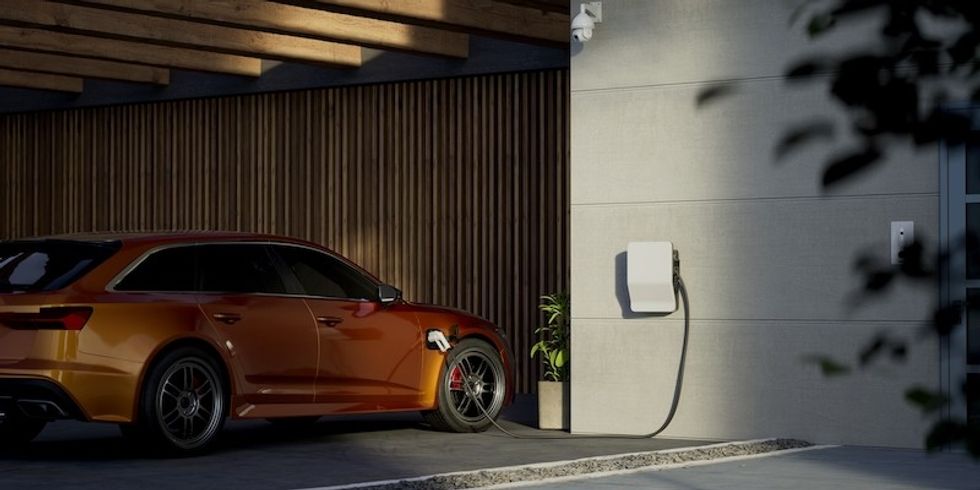 Electric vehicle charging station (Shutterstock)
While parking spots are decreasing in new builds, we're seeing the introduction of EV charging stations to fuel the vehicles of the future, as more environmentally minded consumers are choosing electric vehicles.
"I am also seeing many more development plans include EV charging stations; they're becoming staples," Hanrahan says.
10. Wellness Facilities |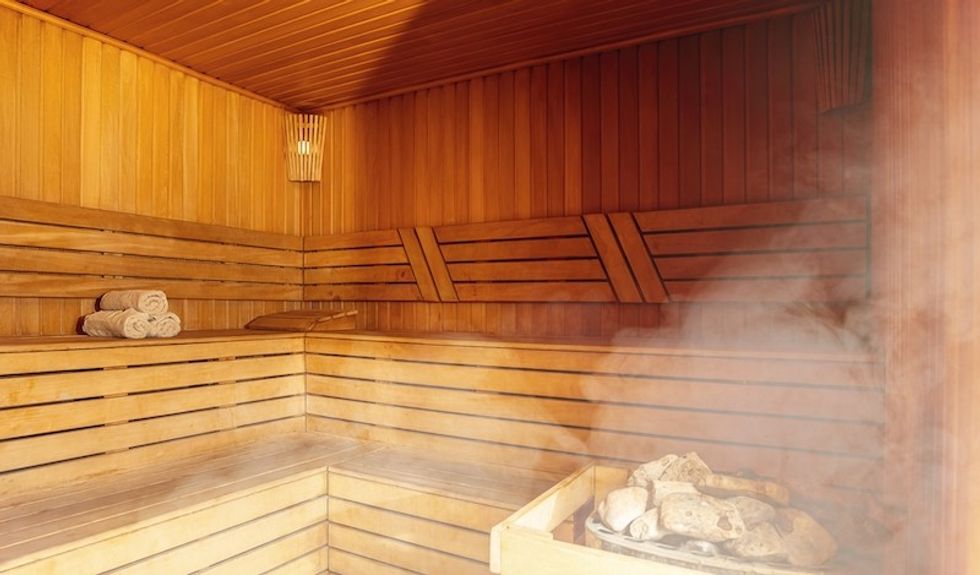 Sauna interior (Shutterstock)
Perhaps one silver lining to the pandemic was the newfound focus it lended to personal wellness – and this is reflected in amenities. Things like a cold plunge pool are now popping up in development plans as a cost-effective alternative to a heated swimming pool.
"Yoga/stretching rooms, sauna, and now the benefits of cold plunging have gained widespread awareness and would attract buyers and residents, when paired with amenities that offer heat therapy," says Radziszewska.
11. Swimming Pool |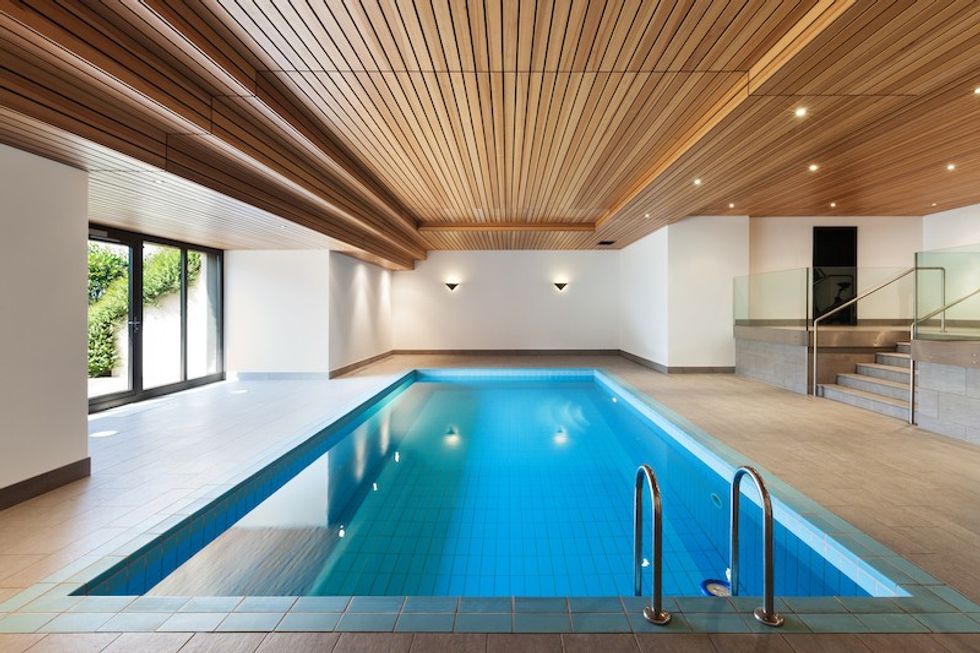 Luxury condo with indoor pool (Shutterstock)
Somewhat surprisingly, given that many new condos feature swimming pools, the experts agree that this trend could be on its way out. While a pristine indoor pool or breezy outdoor option sounds great in theory, pools take up a great deal of space, and come with maintenance requirements and a steep price tag — which inevitably gets passed down to condo owners.
12. Workshop |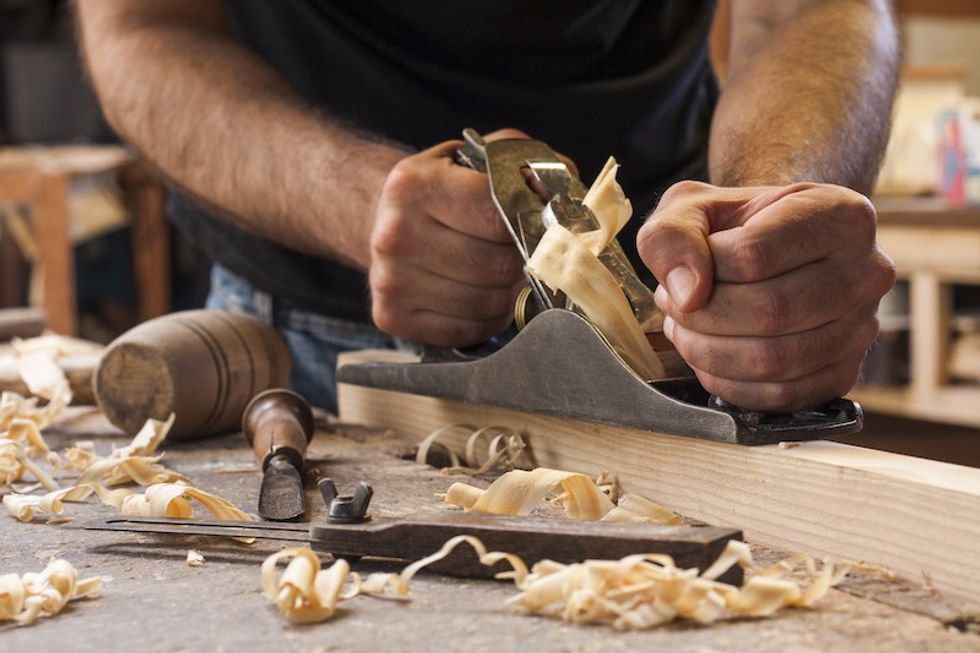 Carpenter working with plane (Shutterstock)
In a tech-forward world, tactile hobbies — woodworking, pottery, crocheting — are having a major moment. It makes sense, then, that having a workshop as an amenity is trending up.
"I ranked my [preference of amenities] according to the ones that are the most useful in a condo living," says Blonder. "The spaces that I need, I don't have inside my condo. A tool library/workshop is a great example."
Hanrahan, however, isn't convinced a workshop will get much use. "I think there are the amenities that every buyer would expect, and then there are the amenities that may sound like a nice bonus but realistically end up getting very little use, like a golf simulator or workshop," she says.
13. Car Washing Station |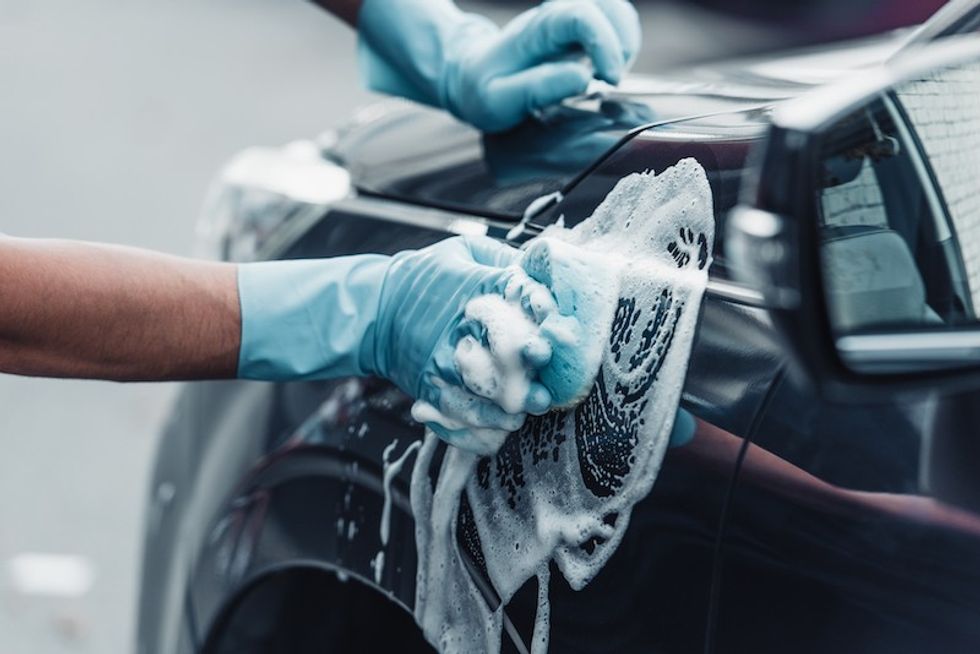 Car washing closeup (Shutterstock)
While a car washing station may sound nice in theory, the reality is, it will likely see little use.
"Something like a car-washing station in Toronto is likely to be a rarity, considering the City axed their parking minimums for new builds, and many developers are taking full advantage, offering few if any places to park your car -- let alone wash it," Hanrahan says.
14. Theatre Room |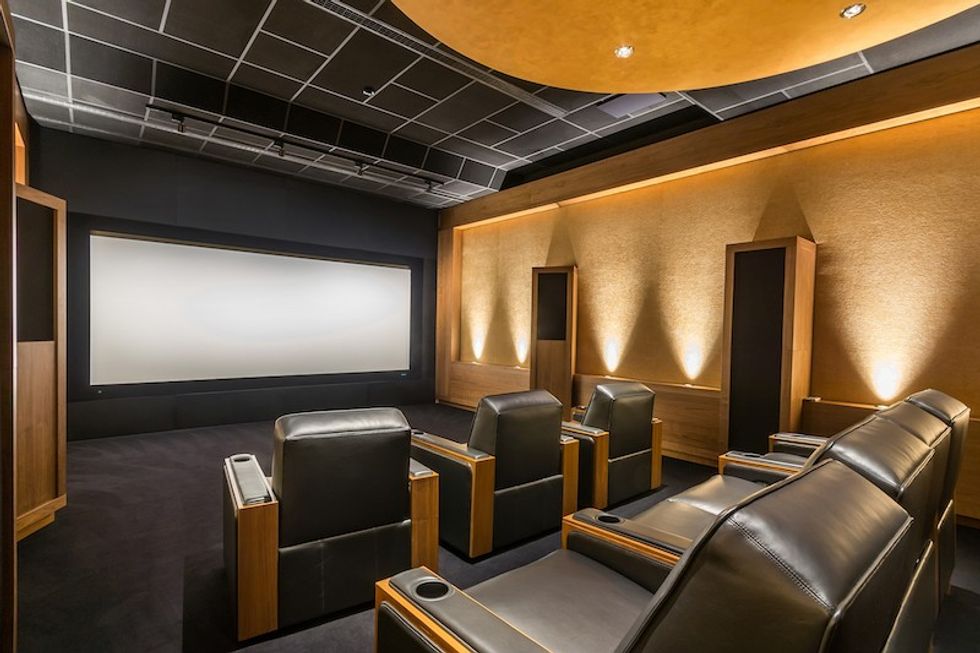 Luxury theatre design (Shutterstock)
Once a bragging right among condo residents, it appears the shine has worn off of theatre rooms – especially when home TVs have tripled in size in recent decades.
"In a post-COVID world, I think many people have become fatigued with watching TV/movies, as that was the only escape for a number of years," says Sammy. "So, a traditional theatre room seems to be less desirable when it comes to amenities."
15. Billiards/Games Room |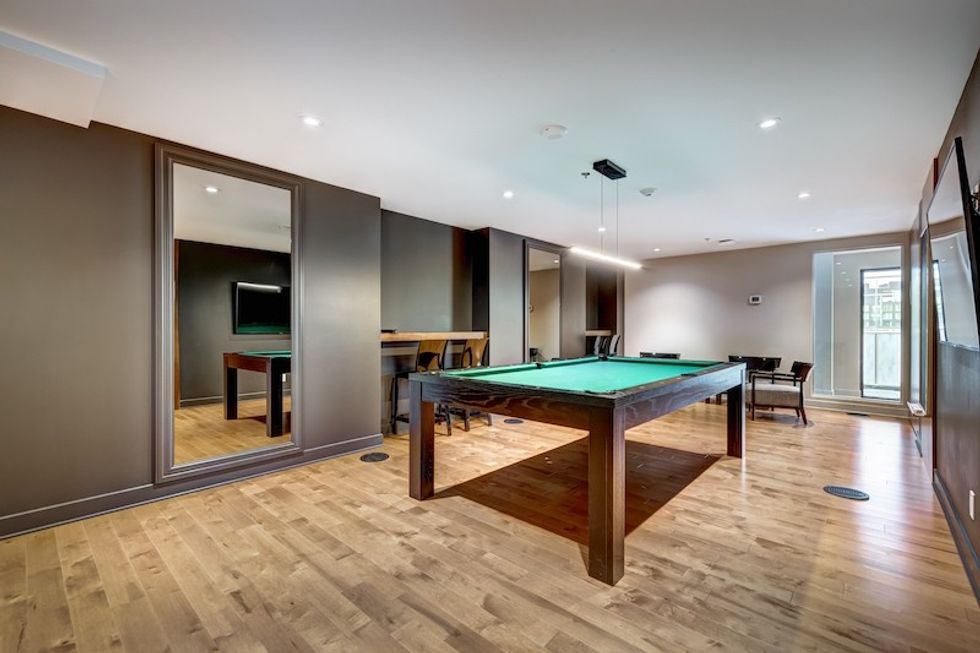 Billiards room in downtown Montreal, Quebec building (Shutterstock)
A billiards/games room is a longtime condo amenity – but it appears to be a stale one.
"A billiards/games room is usually a very under-utilized space, but it depends on what buyer demographic the building is intended for ," says Radziszewska. "They often take up a lot of space that could be dedicated to something else."
Conclusion

Clearly, some appreciated amenities are here to stay, while others may become a thing of the past.
The general theme is that condo amenities reflect shifting values and lifestyle considerations. This means a prioritization of wellness, for example -- something that's reflected in everything from quality outdoor space, to top-of-the-line gyms and cold plunge pools. It also means a sense of convenience like never before, as amenities simplify everything from food and parcel delivery, to working remotely.
Our Experts

From left: Naama Blonder of Smart Density; Laura Hanrahan of Storeys Publishing; Jessica Radziszewska of Spark Real Estate; Riel Sammy of Channel 13; Sally Turner of Urbanation
This article was produced in partnership with STOREYS Custom Studio.
Condos