---
While Toronto's condo market remains hot throughout the city, with the average selling price for a unit currently sitting at $716,976, finding a condo selling below this seems like a dream. But in Little Portugal, units are selling well below the current average -- driving down the neighbourhood's average property values by a considerable amount.
A new report from Strata has revealed that condo units in the Little Portugal pocket were selling for an average of $582,000 (or 18.8% less than the current average) last month.
According to MLS data for the area (C01), 33 units sold in Little Portugal in May, with 13 of them selling well below the current average, while more than half of those transactions were concentrated in two buildings: 36 Lisgar Street and 68 Abell Street.
As a result, Sam Massoudi, real estate agent at Strata, says these sales drove down the neighbourhood average by over 20%.
READ: This is Where Home Values Have Jumped the Most in Toronto (MAP)
"It's really peculiar to see 1-bedrooms selling in the low $400s, considering the Toronto average for units this size are actually $560,000," said Massoudi.
Strata says when 36 Lisgar and 68 Abell are removed from the MLS data search, the average sale price of a condo for May in Little Portugal jumps to $753,000. 
"If those two buildings did not exist, Little Portugal would have some of the highest real estate values in the city. It would beat out neighbourhoods like High Park, Cabbagetown and Leaside, which sit at $700,000, $713,000, and $677,000, respectively," reads the report.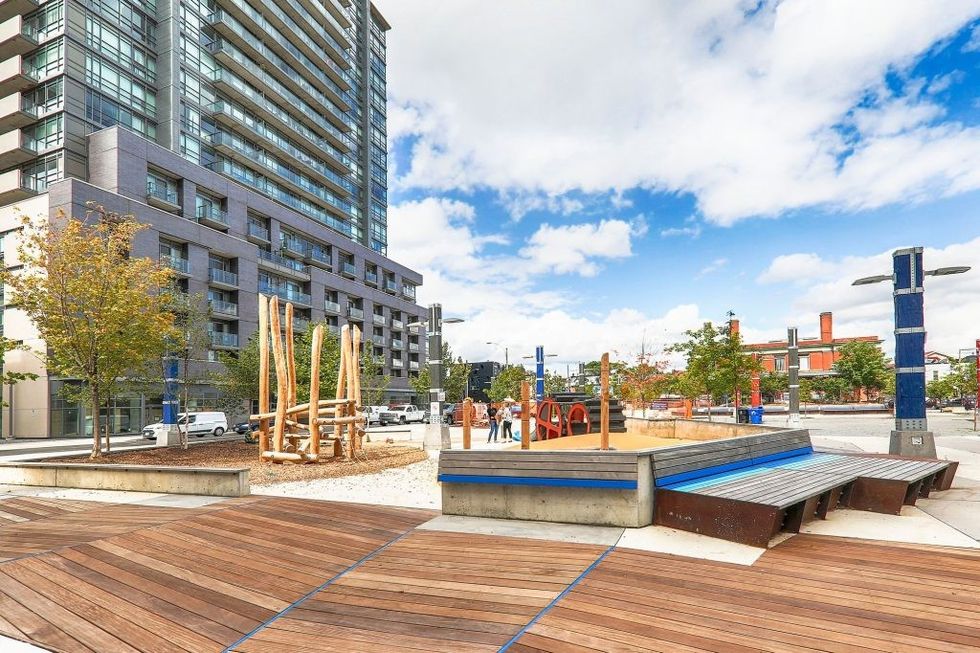 36 Lisgar Street/Strata
Alex Hood, a realtor for Strata explained that 36 Lisgar and 68 Abell were originally introduced to the neighbourhood as a more "economical living situation" and the boutique features that many homebuyers typically look for don't exist in either building.
"The finishes are of lower quality, the layouts are smaller, and they don't have any unique character," said Hood.
Hood also notes that a lot of the units, especially at 68 Abell, are purchased as investment properties and rented out to tenants, so they may not be as appealing to end-users.
"Both buildings also have a revolving door of inventory with units that stay on the market longer, and sell at about $900 per square foot... well below the average of $970 for Toronto's west end," said Hood.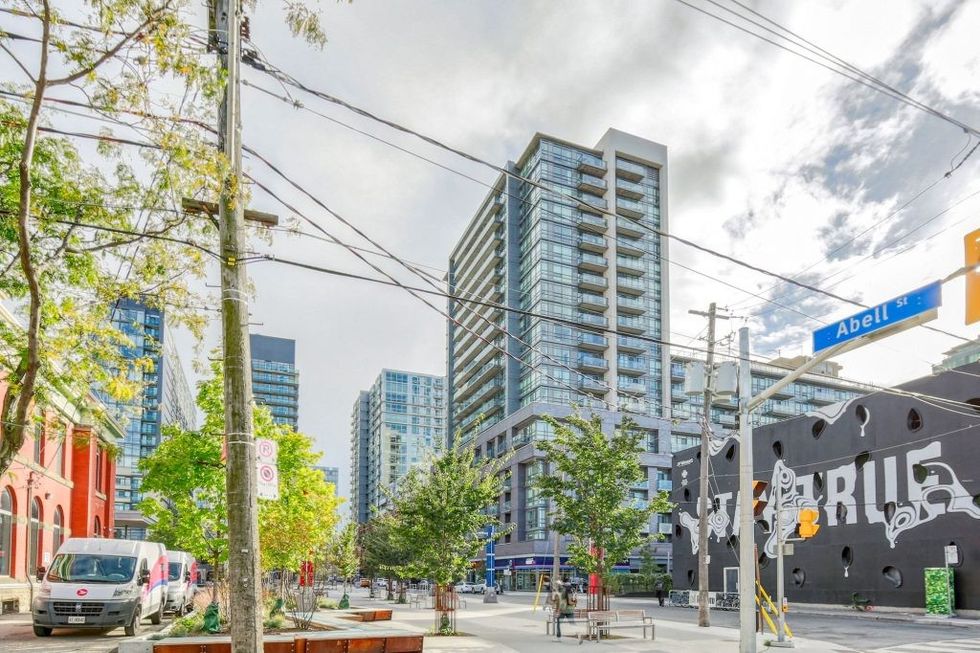 68 Abell Street/Strata
While buying a condo well below the average might seem tempting to some buyers, it may come with some risks.
Not only might you face poor maintenance amongst other issues, Canada Mortgage Housing Corporation (CMHC) likely won't provide any insurance on a mortgage, which is required if a buyer is paying less than 20% down.
"CMHC's role is to assess applications for mortgage loan insurance submitted by Approved Lenders (such as banks or credit unions), who arrange mortgage loans. Our mortgage loan insurance is provided to the lender, rather than the homeowner, and protects the lender in the event that a borrower is unable to make the required mortgage payments," Leonard Catling, CMHC's senior officer of media relations, told STOREYS.
"CMHC has an obligation to ensure that certain qualification requirements are met before issuing mortgage loan insurance. When reviewing mortgage loan insurance applications, we assess many factors, including the borrower's credit history and individual financial circumstances, the performance of the marketplace in which the property is located, as well as the characteristics of the property being financed. The overall risk and suitability are determined through the assessment of these components," explained Catling.
That said, if you do happen to stumble upon condos listed for incredibly low, make sure to check over condo documents like the status certificate carefully and to look for upcoming required repairs that would indicate a poor quality build.
Editor's note: This article has been updated to reflect concerns made by condo owners living in one of the aforementioned buildings.
Condos