Listed
Listed: Unique 4+2 Bed in Leslieville Serves Up Beachy Vibes for $3M
Once in a while, a funky-looking house on the street calls out to you, piquing your interest and making you wish you could peek past the place's front door.
Such is the case for 160 Morse Street and, lucky for you, we've got the inside scoop on what this home's interior is all about.
It's no surprise, gleaning insight from the address' outer layer, that the inside experience is modern, airy, and bright.
The 4+2 bed, 6 bath property spans upwards of 2,500 square-feet, nearly all of which are flooded with natural light (the basement included, impressively). Fresh to the market and asking $2,999,000, the Leslieville home looks ideal for a family that craves the convenience of urban life, but would prefer a haven that provides an easier, breezier, beachy vibe.
READ: Listed Luxe: Bright and Open Beauty in The Beaches Asks $3.9M
Towering three storeys, the "custom modern masterpiece" features soaring ceilings, massive windows and — leaning into that beach-side energy — bamboo flooring throughout.
Chill as it may make a visitor feel, the home's laid-back essence doesn't obstruct the elegance that's translated through its small details. The European kitchen, premium appliances, and master suite spoils are, in fact, balanced by the broader, more relaxed particulars.
The result? A space that is captivating and comforting, all at once.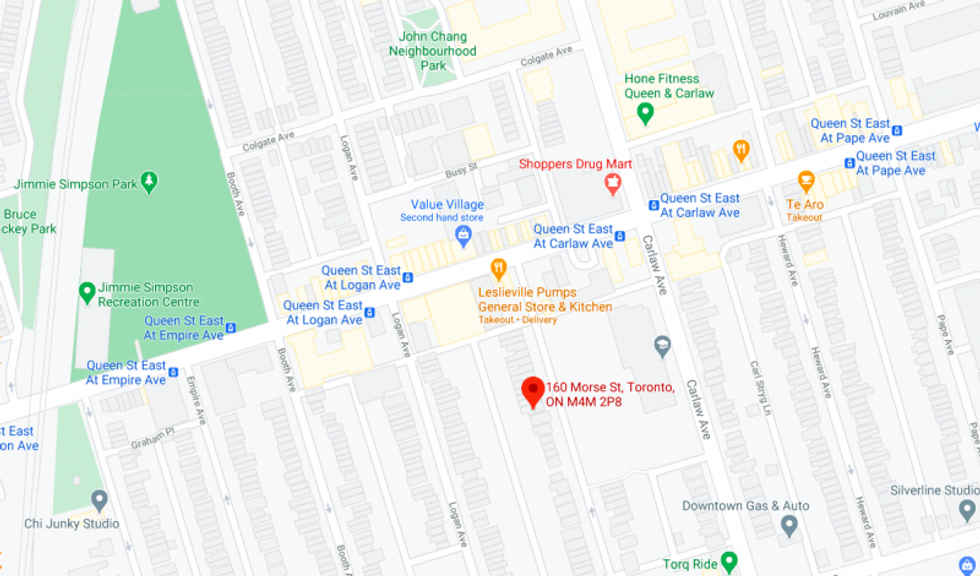 Mirroring the calm-but-classy energy of the address itself, 160 Morse is located in a corner of the city that brings together the best of what Toronto has to offer.
Restaurants, local shops, and grocers all wait along the Leslieville neighbourhood's Queen East strip, ready to provide goods to whomever takes up residing in the listed home. Jimmie Simpson Park is steps away, providing a sprawling outdoor place to play, while the 501 streetcar passes on the regular, offering easy access to downtown's bustle.
Specs:
Address: 160 Morse Avenue
Type: Detached
Style: 3-Storey
Bedrooms: 4+2

Bathrooms: 

6

Size: 2

500-3000

sq. ft.
Lot Size: 29.99 x 129 Feet
Price: $2,999,000
Taxes:

$9,511 /yr
And while the city waits for travel, commuting, and out-of-home experiences to again become things of the moment, the one who snags this home will be blessed with their own outdoor spaces to enjoy.
Several balconies, a beautiful zen garden, and a backyard complete with decking that — again — brings forth images of a beach boardwalk, all mean this place's new inhabitants will be able to savour the sun as often as is desired, be it amid the cold winter air or the heat of a summer afternoon.
What's more, the home's basement is fitted with two apartments, providing an income opportunity, or the capacity to offer an inlaw or nanny suite. The backyard, too, includes a two-car garage with a 12′ ceiling, and the option of a laneway apartment addition. Tightness of those two basement apartments aside (we might suggest joining them, to provide a little more space between the bed and the kitchen counter), this home is one that checks the boxes of spaciousness, location, design, and intrigue.
While people may be encouraged not to judge books by their covers, we'd argue this Leslieville address challenges that notion: its exterior is matched — if not surpassed — by the treats that wait beyond the front door.
EXTERIOR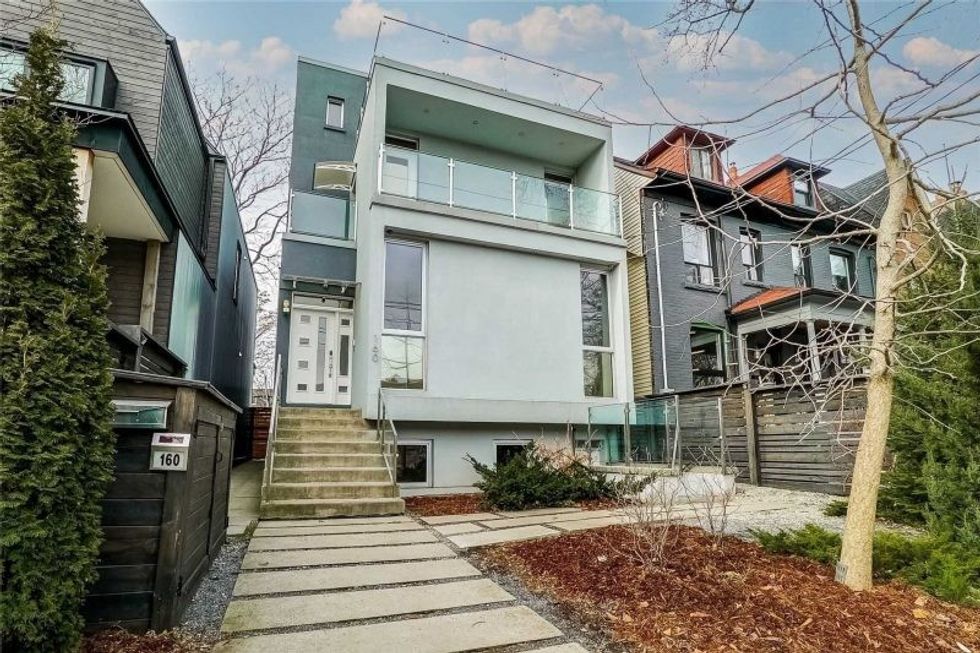 LIVING AND LOUNGE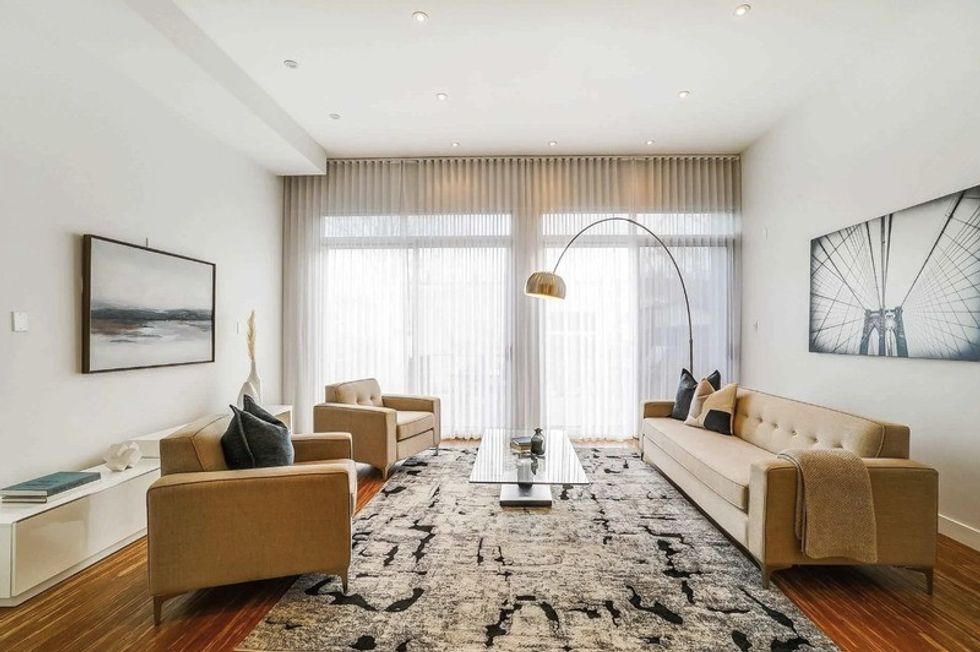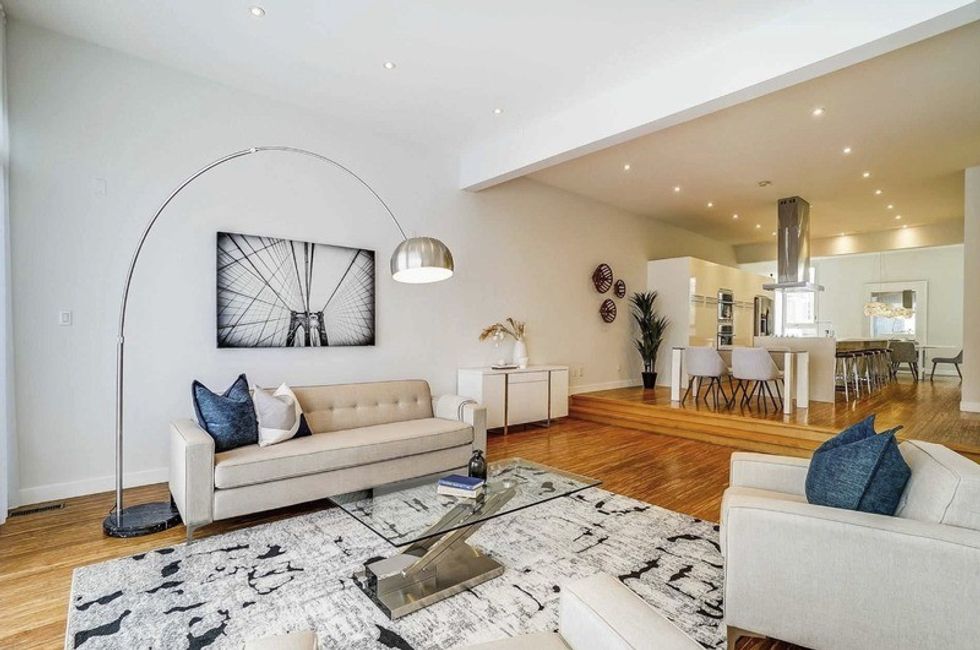 KITCHEN AND DINING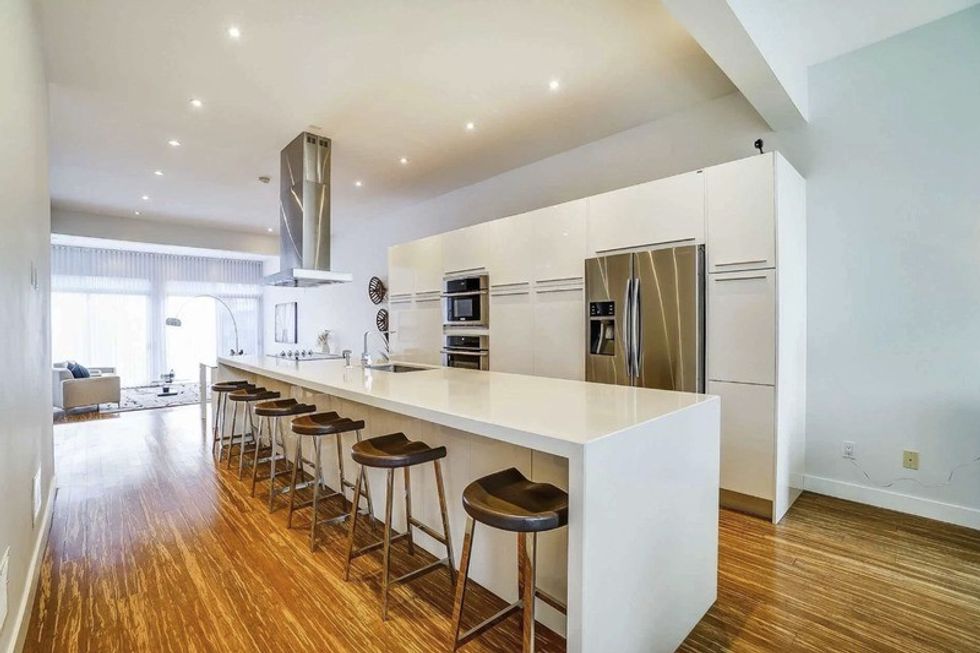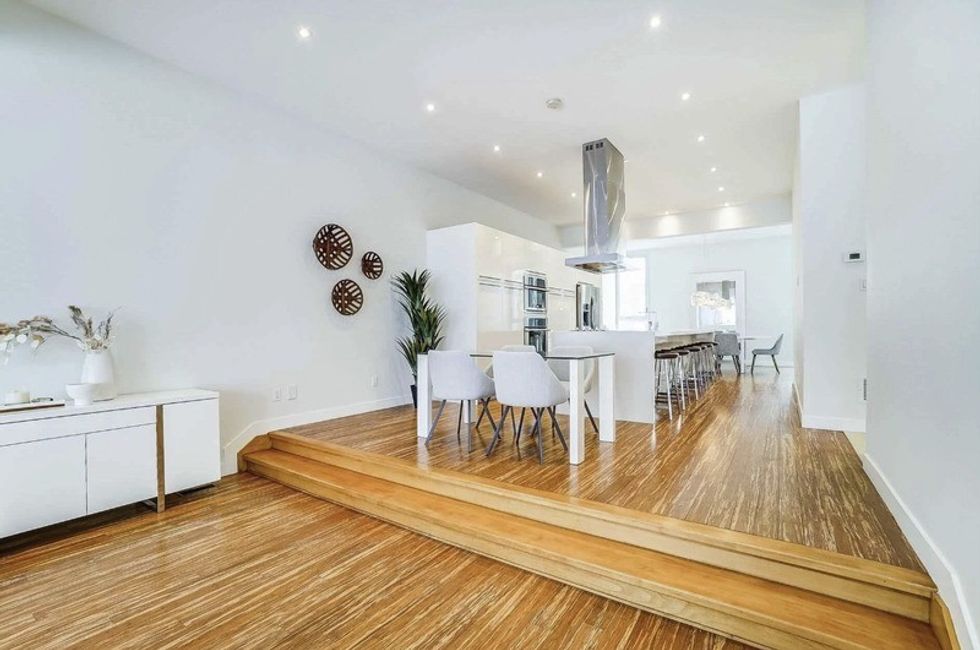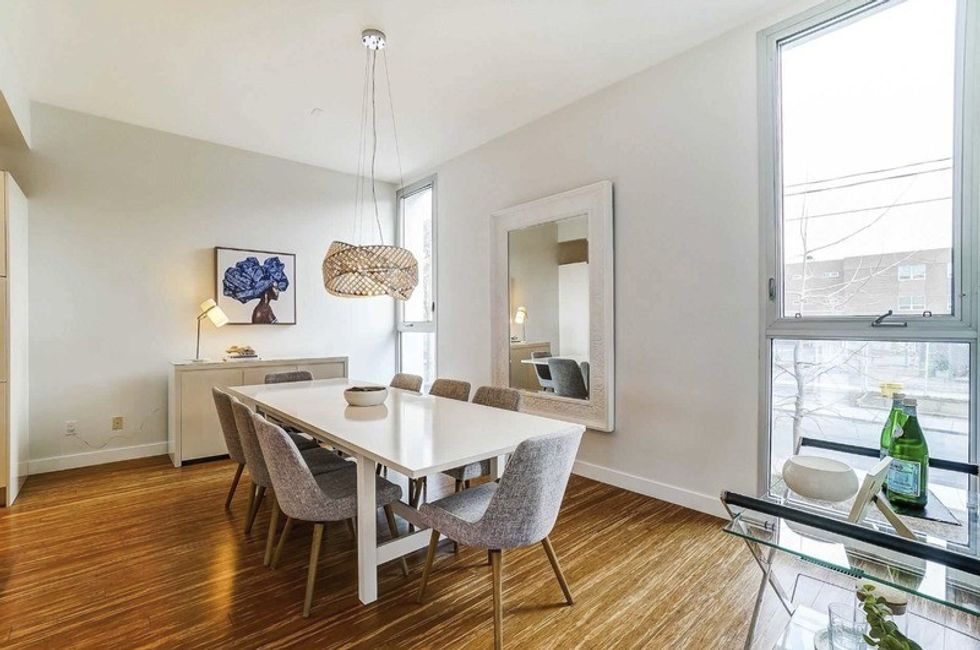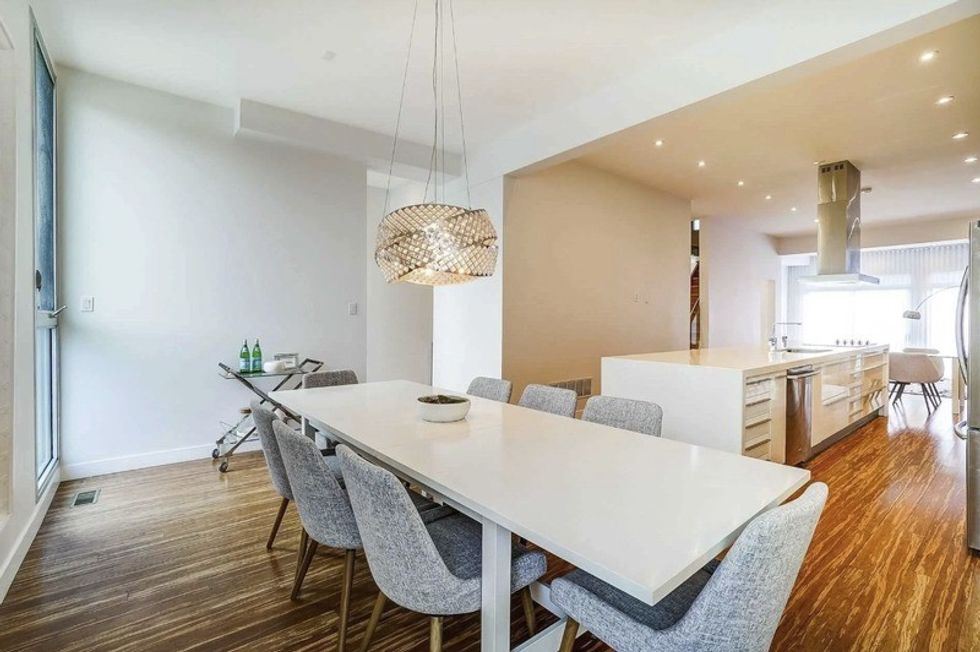 BEDROOMS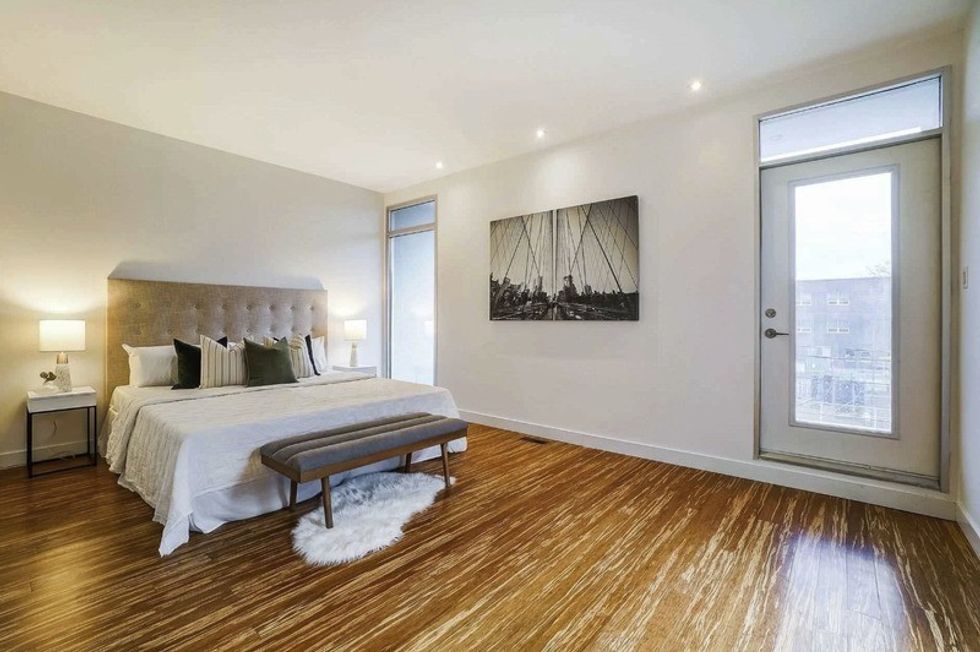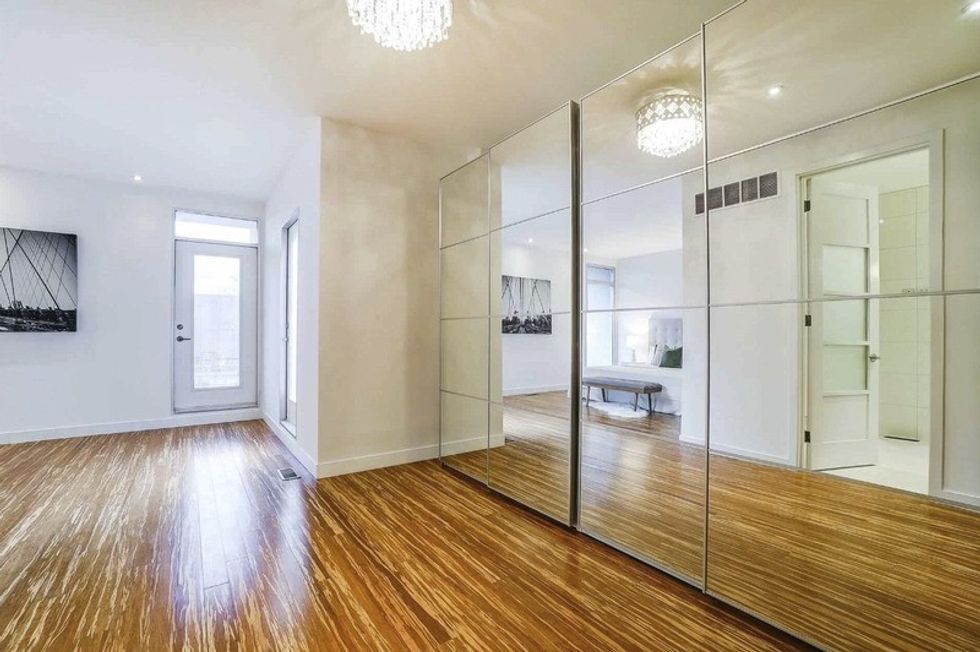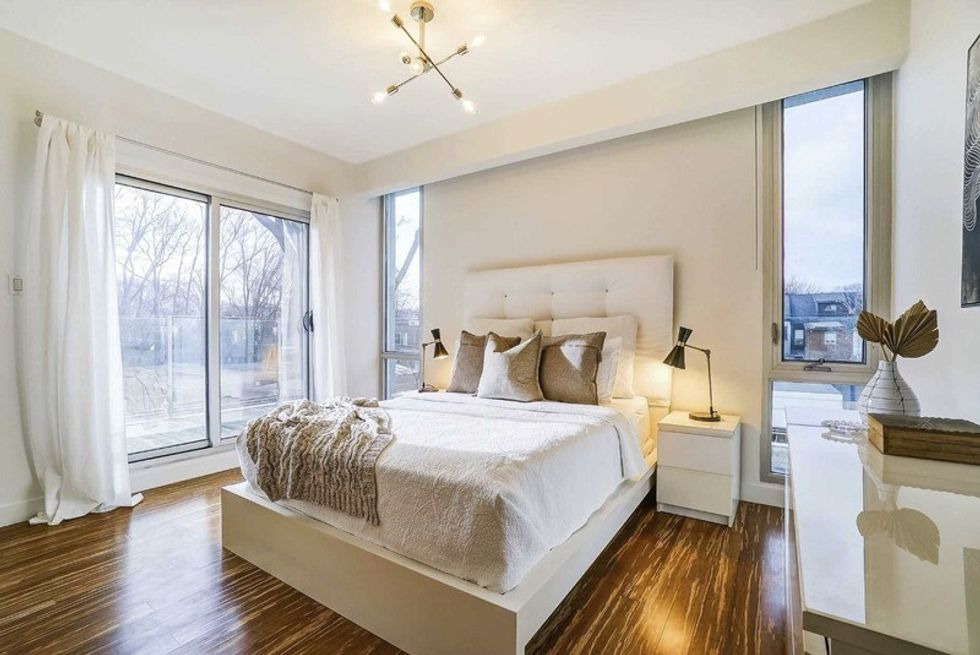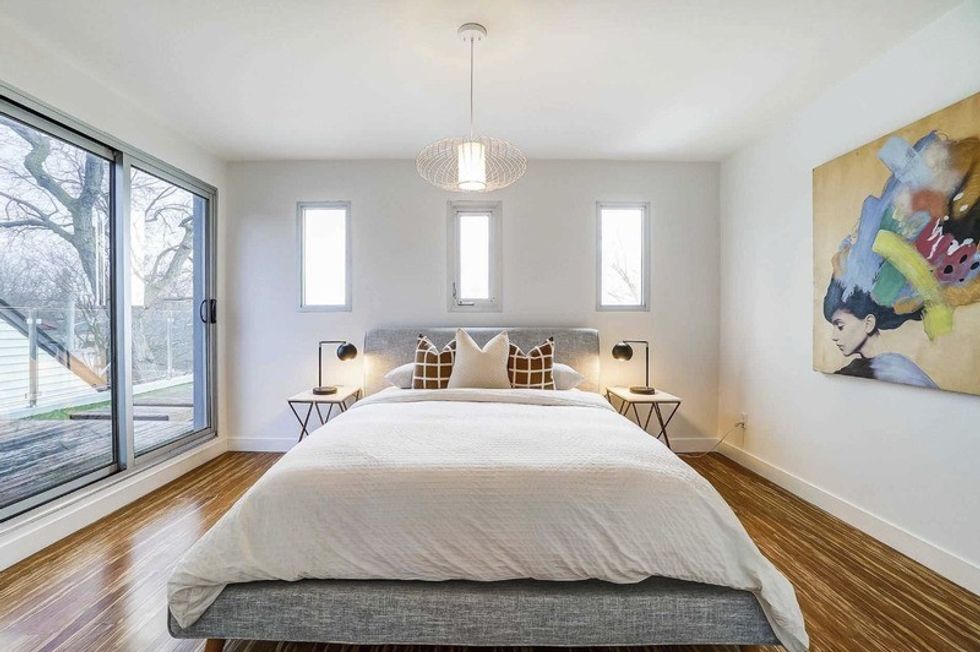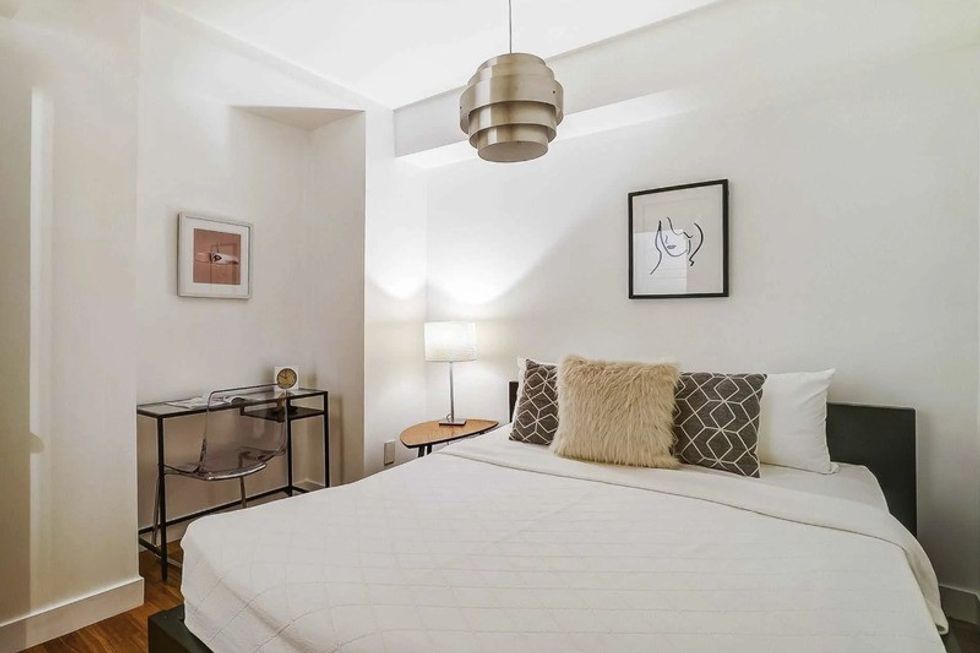 BATHROOMS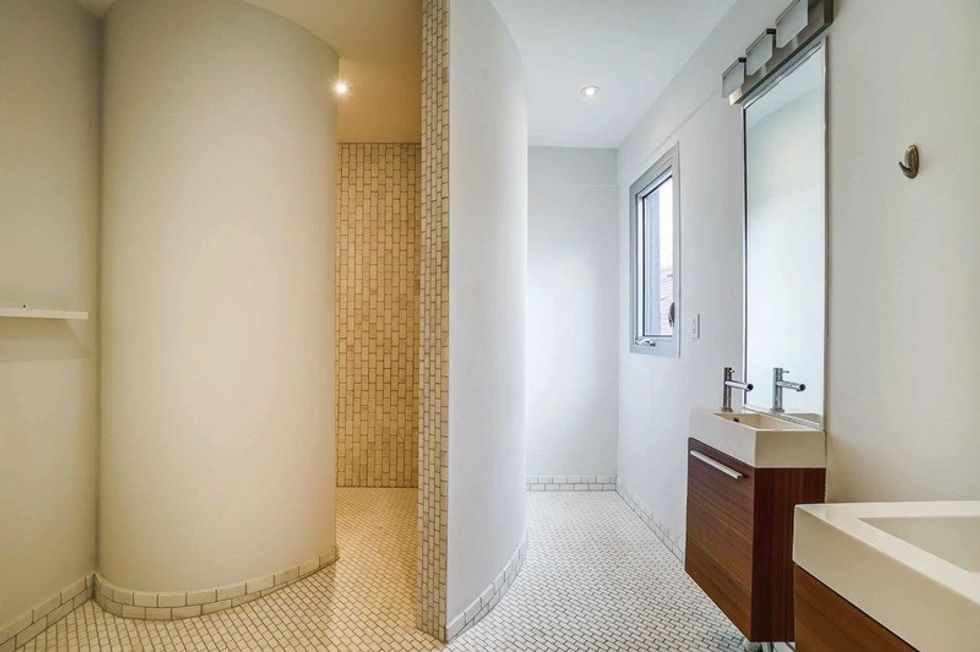 OFFICE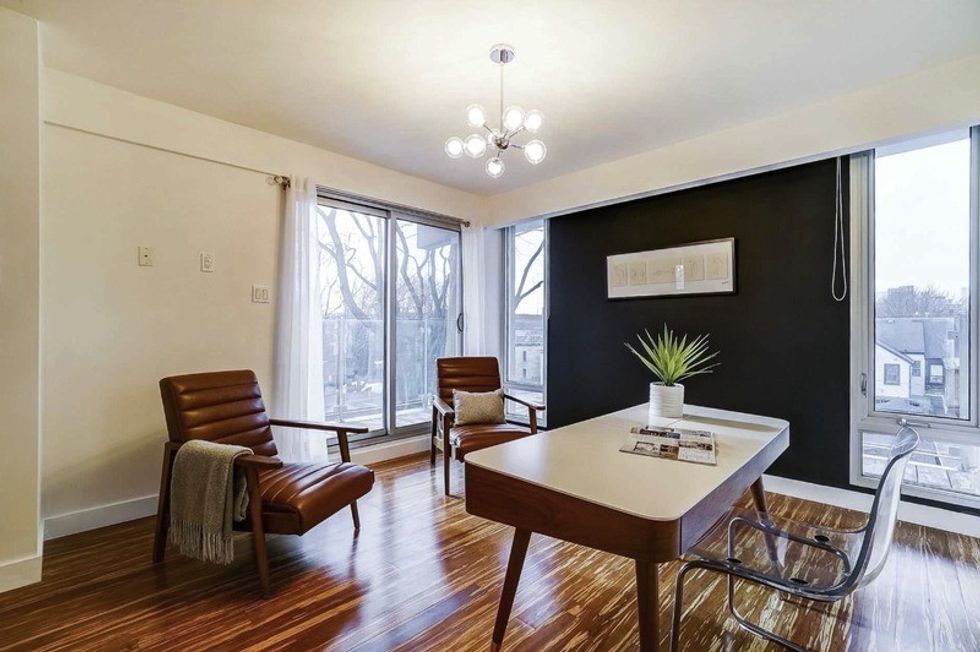 WORKOUT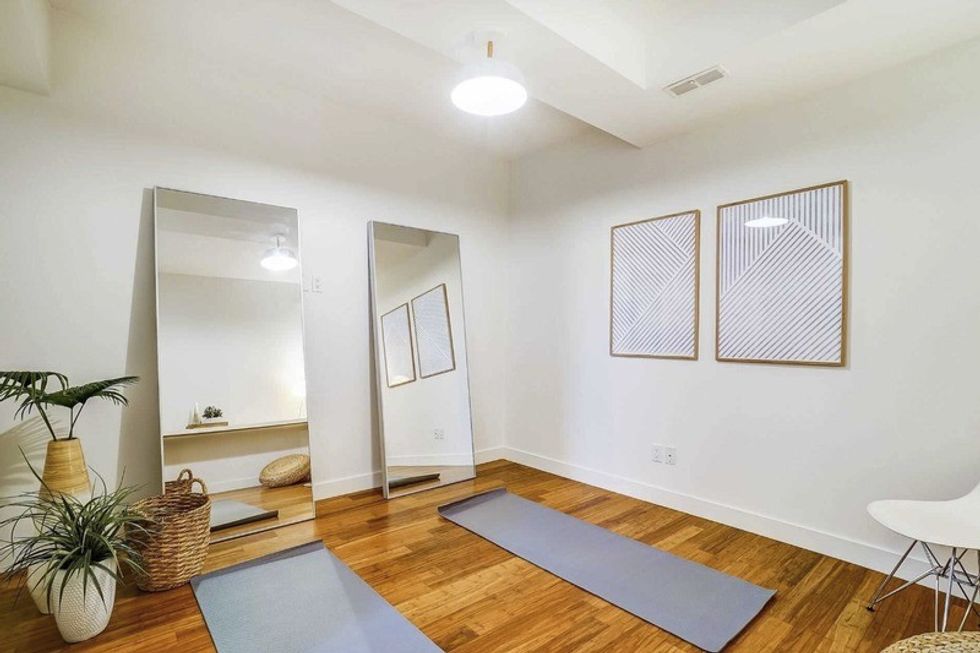 BASEMENT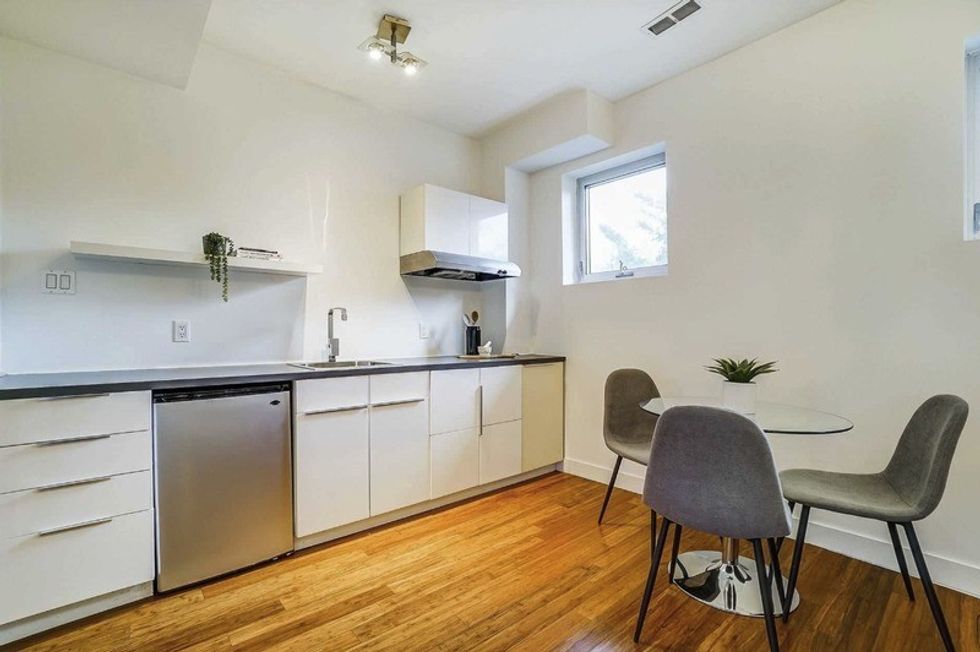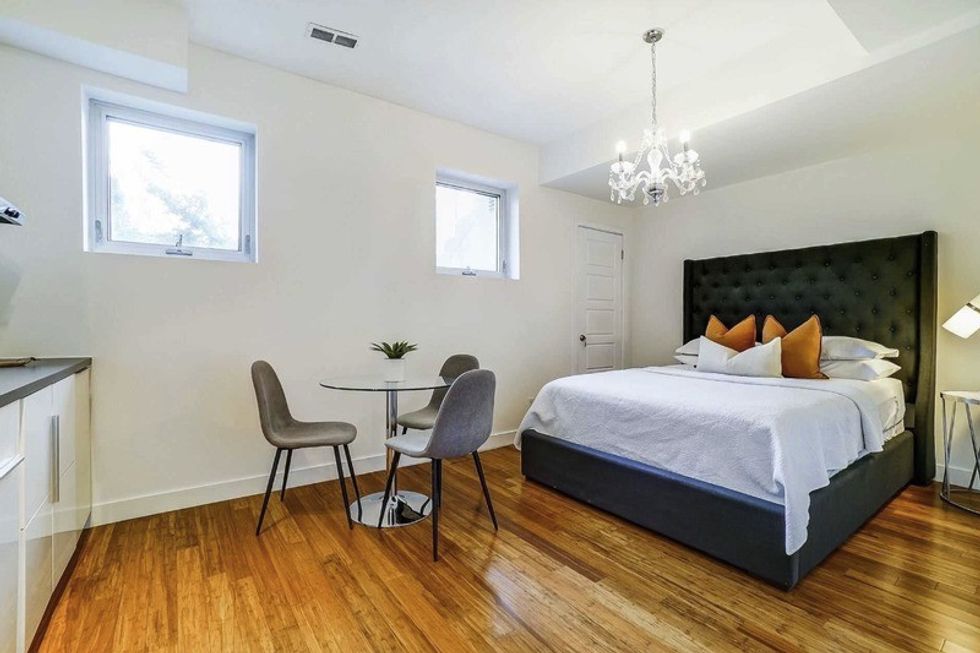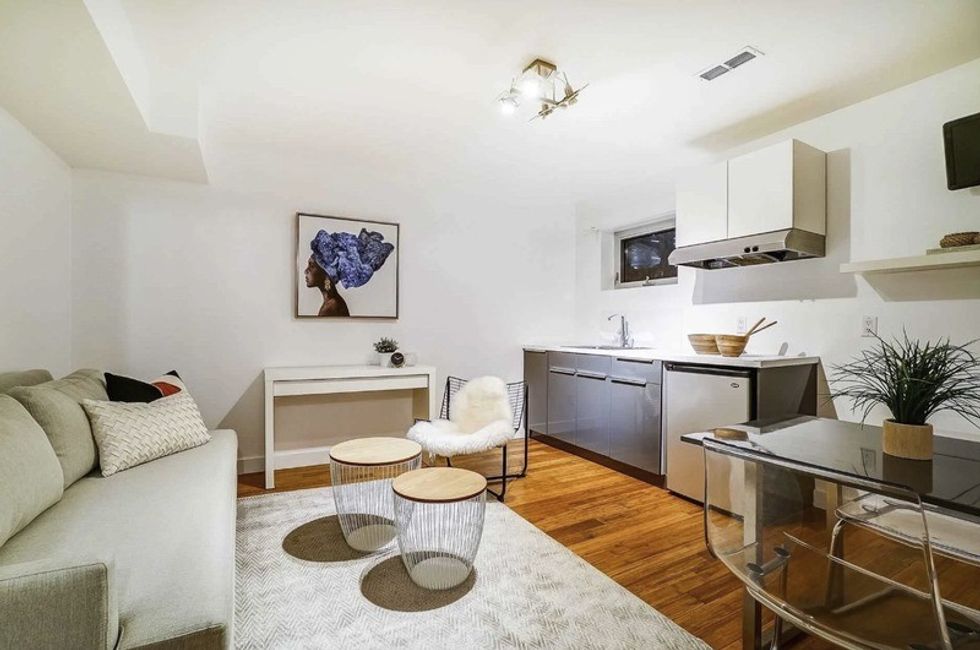 OUTDOOR