Condominium broker Brad J. Lamb is looking to expand his vast portfolio with the addition of an 18-storey condo project on Bloor Street West in the southern part of the Junction Triangle.
Lamb Development Corp. submitted the Official Plan Amendment and Zoning By-law Amendment Application to City planners in late September to build a high-rise condo development at 1405 Bloor Street West. Spanning approximately 43,080 square feet, the "irregularly shaped" site fronts onto the south side of Bloor Street West, Ruttan Street, and Sterling Road, and is located between Lansdowne Avenue and Dundas Street West.
---
If the project gets the green light, Lamb would build a mixed-use, predominately residential development having a height of 18 storeys along Bloor Street West then stepping down to 12 and 4 storeys to the south.
Currently, five low-rise, industrial-type buildings exist on the proposed site, which is occupied mostly by automotive repair businesses. One of the buildings, a two-storey, mixed-use structure at 1407-1409 Bloor Street West, houses two service shops below two loft-style live/work units that are currently in use as rentals.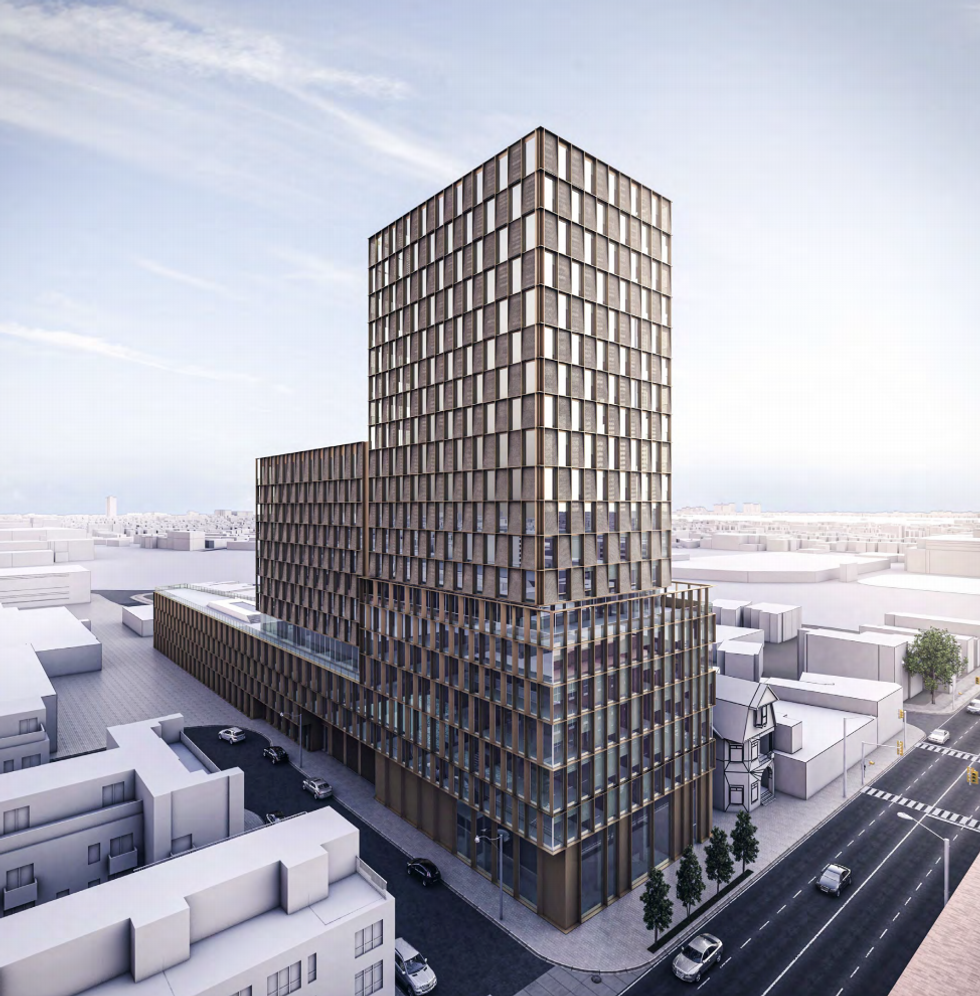 Designed by architectsAlliance, the building would house 326 residential dwelling units, which would be broken down as 49 studios, 197 one-bedrooms, 43 two-bedrooms, and 37 three-bedroom suites.
In terms of amenity space, indoor amenity space is proposed at the mezzanine, 2nd, 3rd, and 4th levels and outdoor amenity space is located adjacent to the indoor amenity space at level four and at grade and will include a pet-friendly area.
READ: 11-Storey Mixed-Use Building Proposed to Replace Strip Mall on Victoria Park Avenue
Approximately 7,158 square feet of indoor amenity space would be located throughout the second, third, and fourth levels, while a 6,835-square-foot outdoor amenity space is proposed to be built on the roof of the four-storey component.
A potential park is also proposed at the most southerly extent of the site.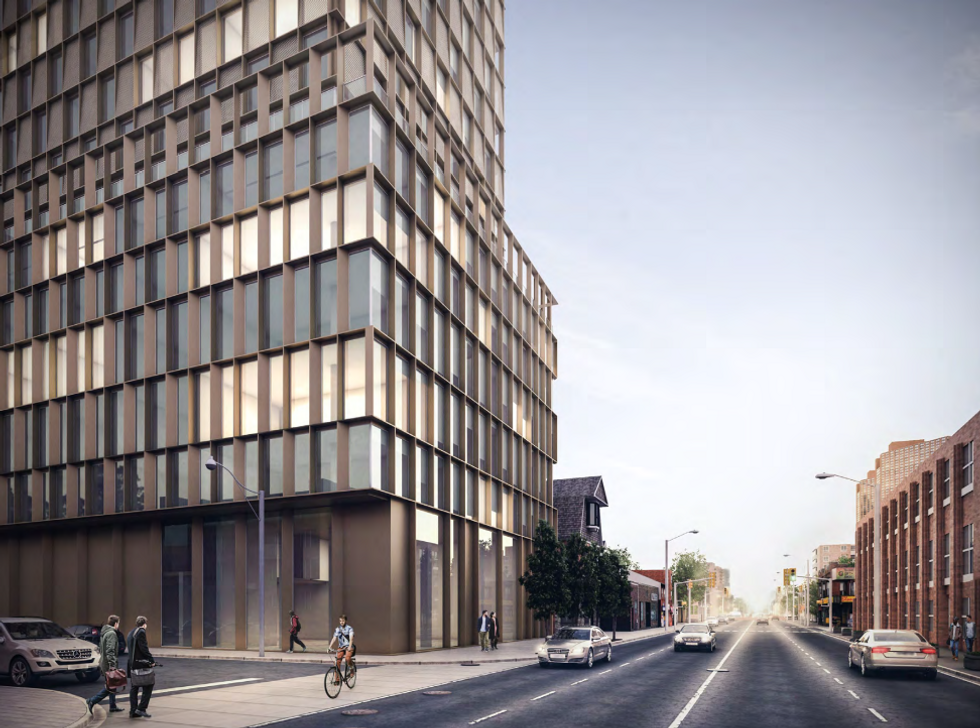 The building's four-storey low-rise component, which consists of three storeys plus a mezzanine level, would house 23 grade-related residential suites.
According to the planning rationale from Bousfields Inc., the residences would front onto a proposed north-south pedestrian "mews" extending south from Ruttan Street. This would be part of redeveloping the adjacent property, which is currently in use as the site's driveway.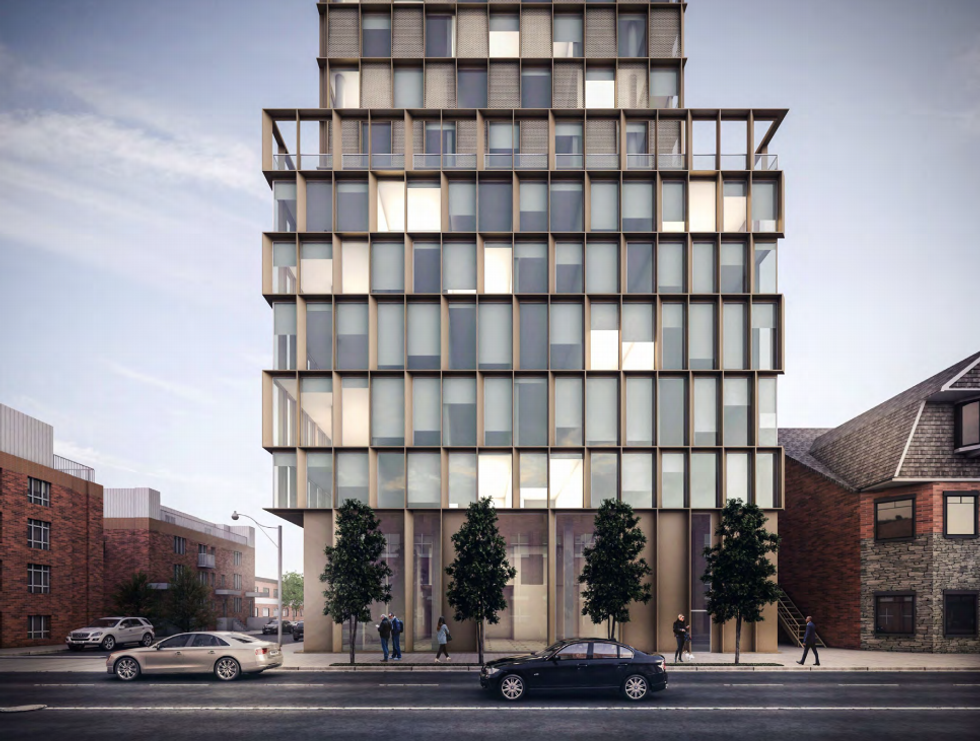 At the ground level, 237 square metres of grade related retail space is proposed for the building's northeast corner, which would be accessible from Bloor Street West.
On the same level, the residential lobby would be built in the northwest corner, sharing the floor with garbage and loading areas, in addition to internal vehicle elevators that would lead to the three-level underground parking garage.
A parking garage is proposed under the 12 and 8-storey building and would house 101 residential parking spaces. Bicycle parking would be provided throughout the garage, totalling 330 spaces, 296 of which would be reserved for residents.
Future Developments