A commercial strip mall located on Victoria Park Avenue just north of Highway 401 could see some new life if plans to build an 11-storey, mixed-use building is approved.
---
Submitted to the City for Zoning By-Law Amendment last month, the development would rise between 2499-24525 Victoria Park Avenue in the Tam O'Shanter-Sullivan neighbourhood -- an area where eastern North York meets Scarborough --which is currently home to a low-rise plaza and a parking lot.
When completed, the 5,066 m² site would be intensified with a new mid-rise residential building with retail at grade, resulting in a total gross floor area of approximately 32,000 square metres.
The proposed development from SmartCentres' residential sub-brand, SmartLiving, envisions a 354-unit, 11-storey, mixed-use residential building -- offering a wide range of residential unit sizes that will favourably appeal to young professionals and growing families -- and two-level townhouse units fronting Meadowacres Drive and Farmcrest Drive.
READ: Two-Tower Mixed-Use Development Posed for Yonge and Davisville
Designed by Rafael + Bigauskas Architects, the U-shaped building would replace the existing buildings and surface parking lot with approximately 512 square metres of retail, 354 residential units, and 177 car parking spaces.
The proposed unit types achieve a mix that is favourable to both young professionals and families to reside because it will be located just minutes from the downtown core. The residential units will be comprised of family-sized units (two- and three-bedroom units, including the grade-related townhouse units), as well as one- and two-bedroom units with convertible dens.
According to documents submitted to City planners, the unit breakdown consists of 236 one-bedroom units, 87 two-bedroom units, 11 three-bedroom units, and 20 townhouse units (that are 3-bedroom units).
The building will include both indoor and outdoor amenity spaces (a total of approximately 1,466 square metres which is slightly higher than the required 4.0 square metres per dwelling unit). Approximately 708 square metres of indoor amenity space and 758 square metres of outdoor amenity space -- a majority of which will be located on the 4th-storey. Private balconies will also provide additional outdoor space for each unit.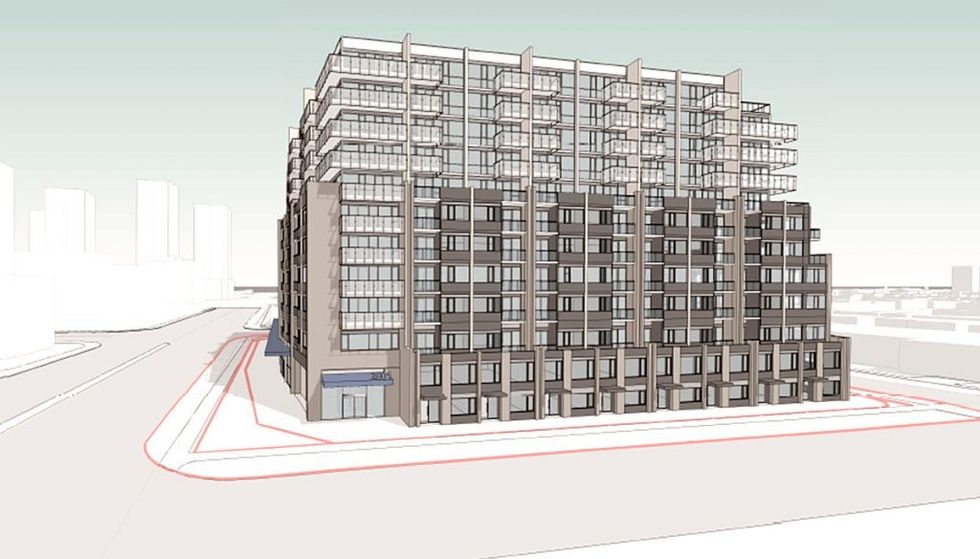 Parking for the development is to be split above- and below-grade -- with a total of 177 vehicular parking spaces provided, including 111 underground spaces at the P1 Level, 22 at grade spaces, 14 spaces on the 2nd storey mezzanine level, and 30 spaces above grade on the 2nd storey. Of the total 177 parking spaces, 142 are resident spaces and 35 are visitor spaces.
The ground floor is also planned to house 271 bicycle parking spaces in a mix of 242 long-term and 29 short-term spaces.
Future Developments