New data shows that young Canadians are shedding more mortgage debt than all household types combined — a trend that could indicate that higher interest rates are boxing young people out of the real estate market.
Statistics Canada (StatCan) reported last week that average mortgage debt for households in the under-35 cohort plunged 2.8% between the second quarters of 2022 and 2023. Comparatively, mortgage debt was down 1.8% across all household types over the same time period.
---
In stark contrast, younger households saw a 22.4% rise in debt between the second quarters of 2020 and 2022. In other words, things have taken a fairly dramatic turn since the Bank of Canada kicked off its hike cycle last spring.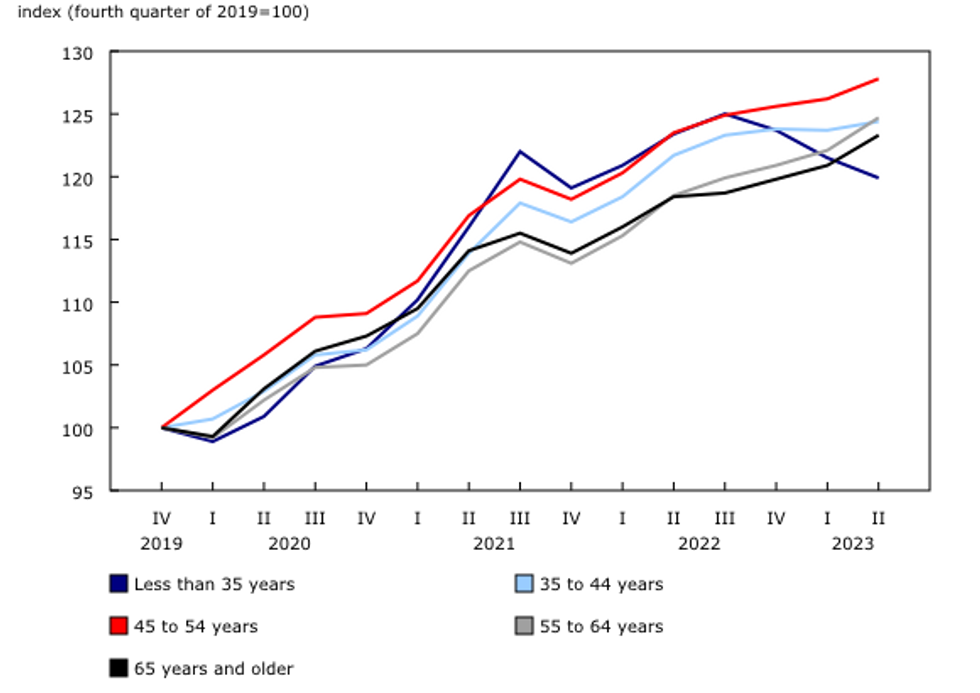 Statistics Canada
StatCan says that the recent reduction in mortgage balances amongst younger Canadians could mean that existing homeowners who purchased when rates were at rock bottom are now seeking out "more affordable accommodations" requiring them to take on less mortgage debt. As for those with hopes to buy, the national agency speculates that young people simply aren't in good purchasing shape amid "affordability concerns."
"If you're a first-time or younger buyer and you're saving for a downpayment, that's a lot of money to come up with regardless," says Karen Yolevski, Chief Operating Officer for Royal LePage's Corporate Brokerages.
And then there's inflation and the interest rate environment to consider, she adds — not to mention, home prices, which Yolevski estimates have risen by around 120% in the past 10 years.
"That's going to impact how much young people have to save for a down payment and it's going to impact qualification for a mortgage. Certainly, people have seen wage increases and they may have had job mobility, but has that matched the increase in the pricing of homes? No, it has not."

Despite the uphill trajectory of home prices and borrowing conditions that have gotten more and more challenging with every interest rate hike, young people are "keen" to break into homeownership, says Yolevski, and they're exploring more inventive ways to do so.
She points to a recent Royal LePage survey that digs into co-homeownership amongst Canadians. While Yolevski says that co-owning a home is "certainly not a new trend," she also notes that the number of young people citing affordability as their "number one reason" for co-owning with friends, family, spouses, and even acquaintances is on the rise.

Royal LePage asked current co-owners if affordability was "a major motivating factor" the decision to purchase a home collaboratively
"What we're seeing is creativity from people who are saying, 'If I can't do this on my own, perhaps I can get some help.' So we're seeing parents helping younger people to get into the market, we're also seeing siblings buying together to a lesser extent and we're seeing friends buying together as well," says Yolevski.
That's not to say young people are necessarily shacking up, Yolevski adds.
"It kind of falls into the transfer of wealth phenomenon that we know is coming in Canada," she says. "There is a tremendous amount of wealth in the boomer generation, and in the generation above that even, that will be transferred through estates and gifts over the next number of years. And that has an impact on housing because a number of people are using those gifts to invest in housing."
In short, says Yolevski, the dream of homeownership amongst Young Canadians isn't dead — it is, however, limbo.
"What we may see more of is people looking at what we would call the secondary markets, where homes are more affordable. And we may see more young people leading a migration movement into other provinces in Canada where they have more affordability," she says.
Real Estate News