Yotam Ottolenghi had a confession.
The man who has probably done more than any one chef over the last decade to influence home cooking, and whose trickle-down hand can be felt in restaurants in any major metropolis (he is the reason you see pomegranate seeds in your salad, why sumac is a spice du jour, and how cauliflower became a thing) admits that his kids prefer his partner's cooking.
---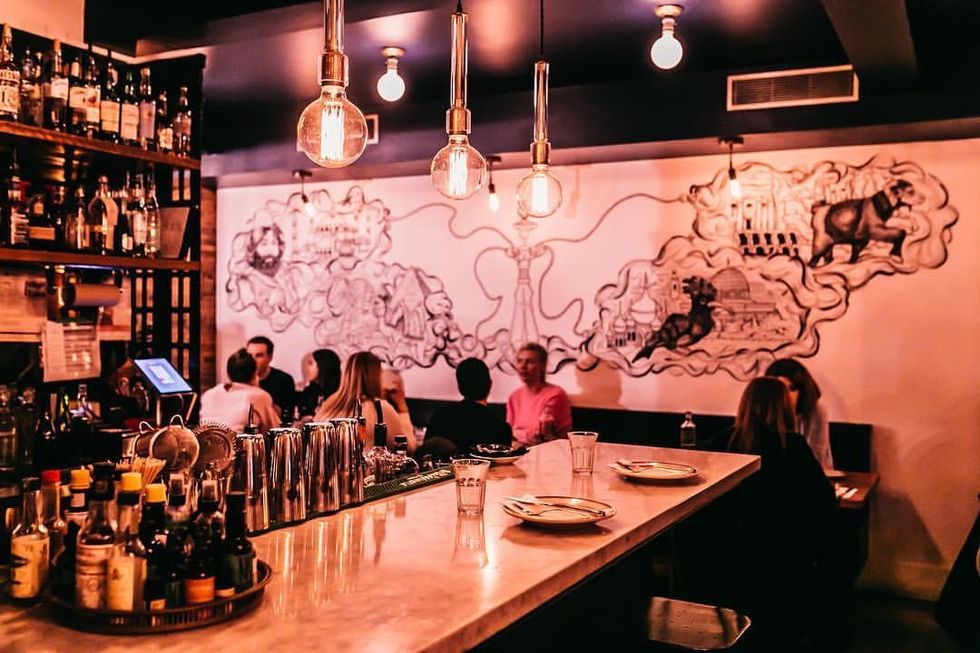 Inside Fat Pasha (Photo Courtesy of Fat Pasha via Facebook)
"The boys love his food, especially his Shepherd's Pie," the London-based cook told me conspiratorially, nudged beside me in a corner booth at Fat Pasha, in Toronto. Referring to his two sons under seven, Ottolenghi added then that his man, Karl — the Northern Irish half to his own Jerusalem born-and-raised — does most of the cooking at home.
Call it work-life balance!
 In town recently to promote his latest title, Ottolenghi Simple (just the latest in a oeuvre that started with his first, Ottolenghi, which ranks as one of the top 10 best-selling cookbooks ever on Amazon!), he had taken an opportunity to sit down with me at one of two back-to-back Saturday lunches held in his honour.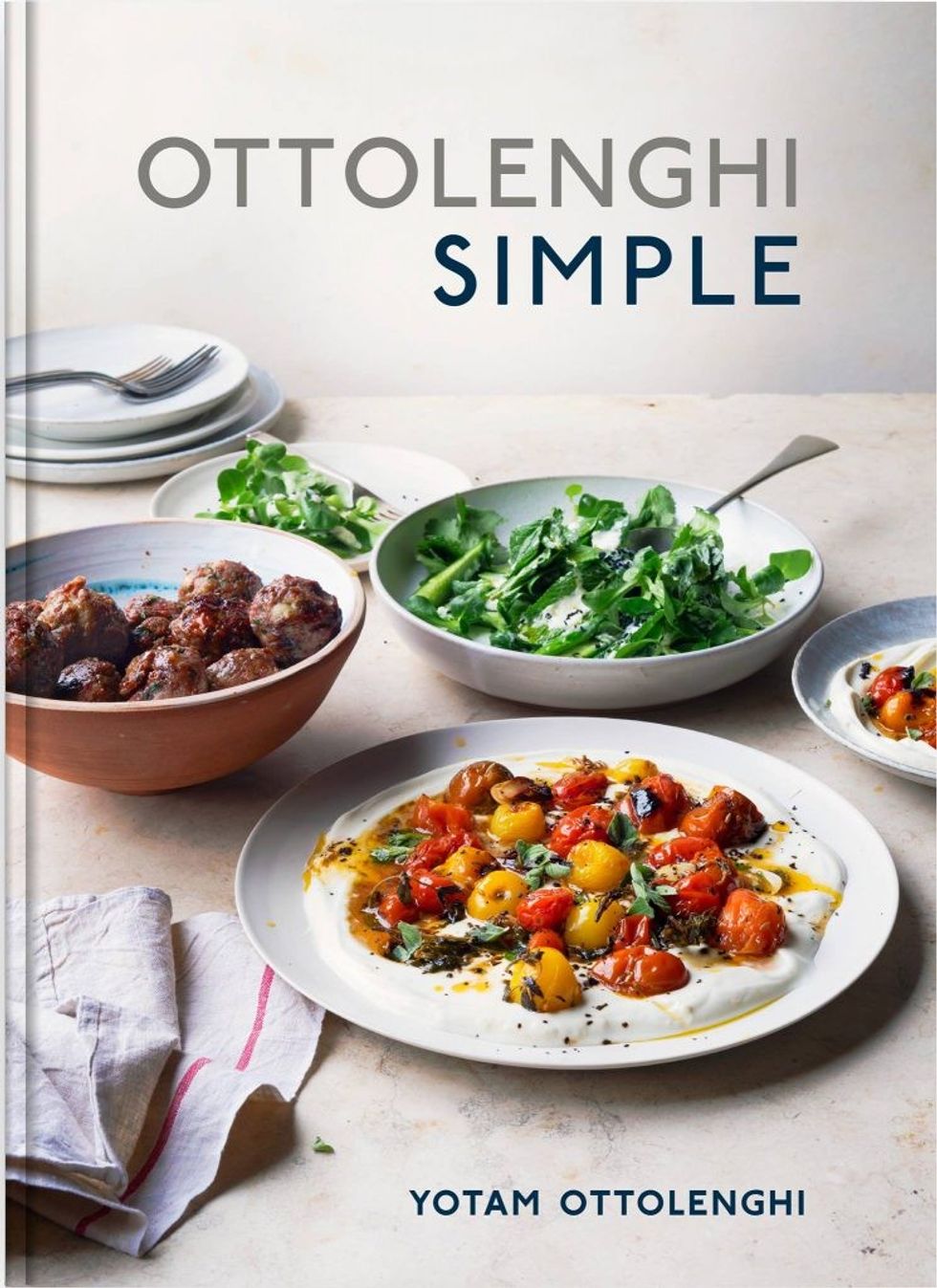 (Photo courtesy of Ottolenghi UK via Facebook)
Hosted by Fat Pasha's Anthony Rose — who himself told us that no one had influenced his own concept for his Middle East-leaning eatery on Dupont more than Ottolenghi himself! — the meal had brought out a solid quorum of mouth-waterers.
Interested in hearing more about how his own childhood shaped his palette — and how the worldwide ecosystem of taste can grow from one person — I asked Ottolenghi, 50 this year, about his earliest influences.
"My Dad," he told me, "was born in Italy, and he had that Italian touch. Quite restrained. I remember him making a really good polenta, home-made pasta.  Good olive oil. He is still a good cook."
Mom, meanwhile, came from a family that hailed from Germany, so "more Central European… cabbage, potatoes…also was a good cook."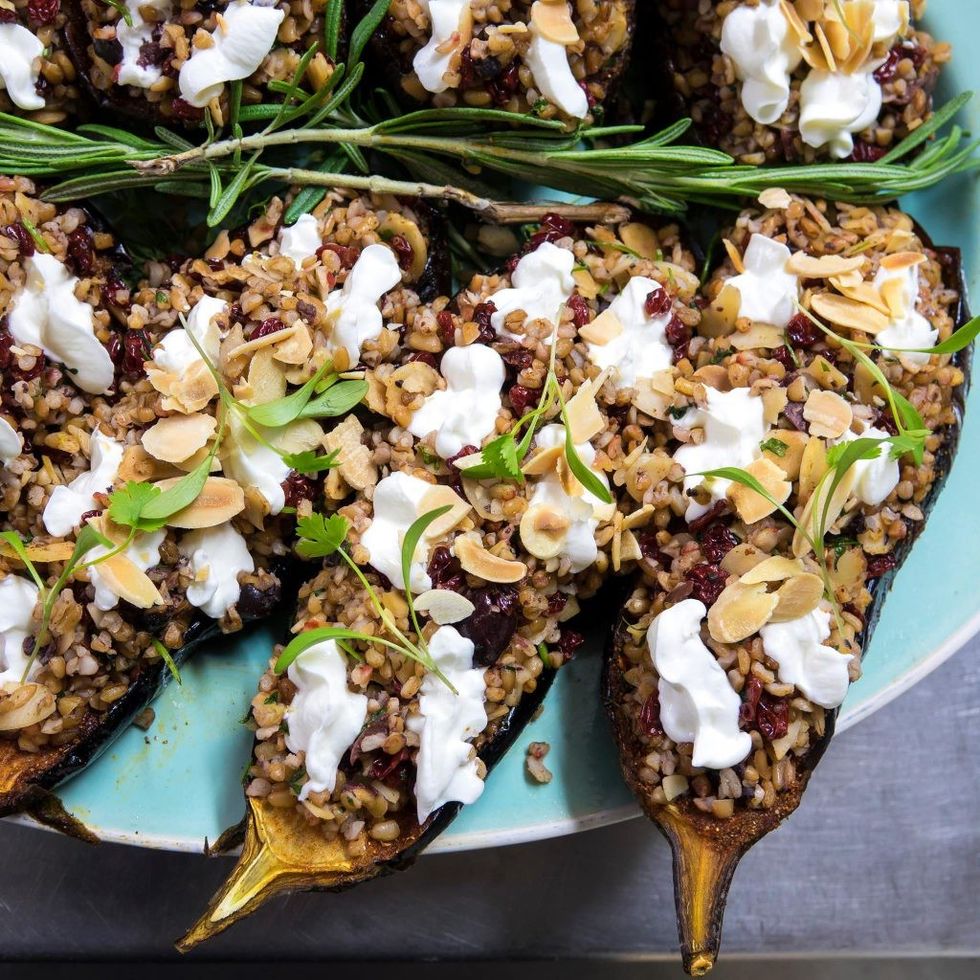 Chermoula aubergine with brown bulgur and toasted almonds from Ottolenghi Islington. (Photo courtesy of Ottolenghi UK via Facebook)
Growing up in Israel, though, Middle Eastern food had provided the "dominant set of flavours"— a food narrative that booms further when you consider that his long-time business partner is Sam Tamimi (a Palestinian who also grew up in Jerusalem, but did not meet Ottolenghi until much later, in London!), and that his style, furthermore, has been called something that "isn't fusion cooking so much as look-what-happens-when-we-all-get-along cooking... skipping across continents, he takes the food of his native land as well as its less-friendly neighbours, leaps to southeast Asia, and returns to host an informal brunch or an impromptu dinner party."
The only chef I can think of who is also, amazingly, a qualified Pilates instructor — enunciated by his lean, agreeable frame today — Ottolenghi also told me how he was an "oddball," during his original entry into kitchens: he was, he reminded, already well into his late 20s when he started! A dinosaur in the rough-and-tumble world of restaurants — where many start apprenticing about a decade earlier — he stood out even further because he came from academia. Ottolenghi did a masters in philosophy and literature, and later, a stint in journalism.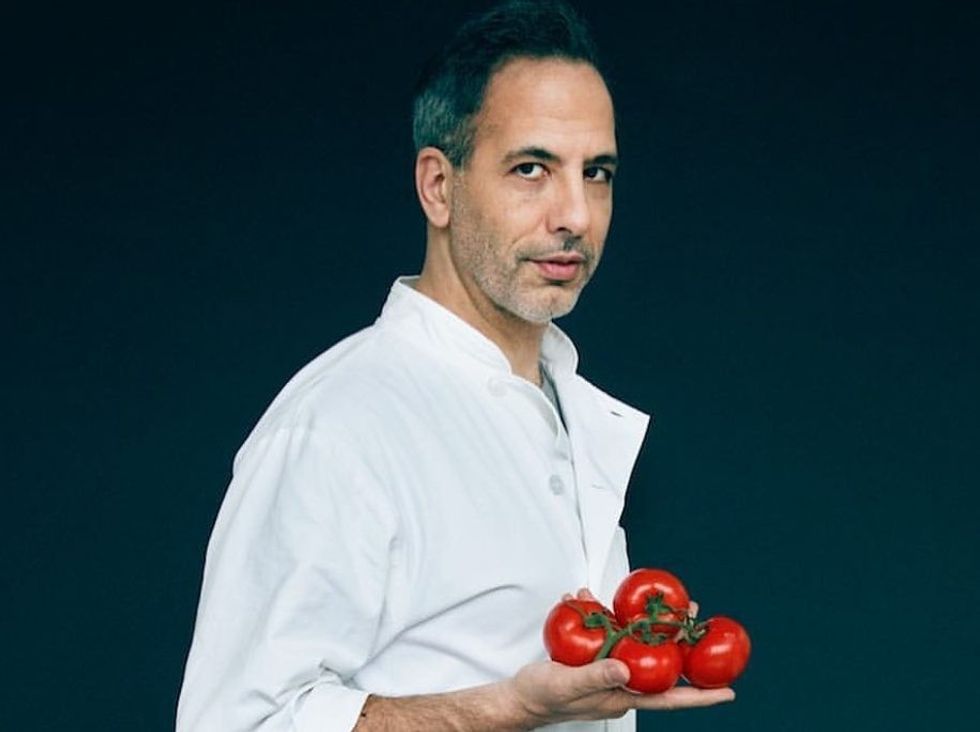 (Photo Courtesy of Random House)
An accidental chef, as he has sometimes been called — not to mention, "the philosopher chef," as a giant profile in The New Yorker once dubbed him — he did concede that he does approach his cooking, and the medley of flavours, with an almost theoretical gaze.
"I don't think it makes me a better chef," he side-noted, but his background does "really help to communicate my message...and with the book writing."
Asked, finally, if it took a non-vegetarian such as himself to make vegetables sexy — and to help give plant-based cooking that extra oomph — he sat on that question for a bit.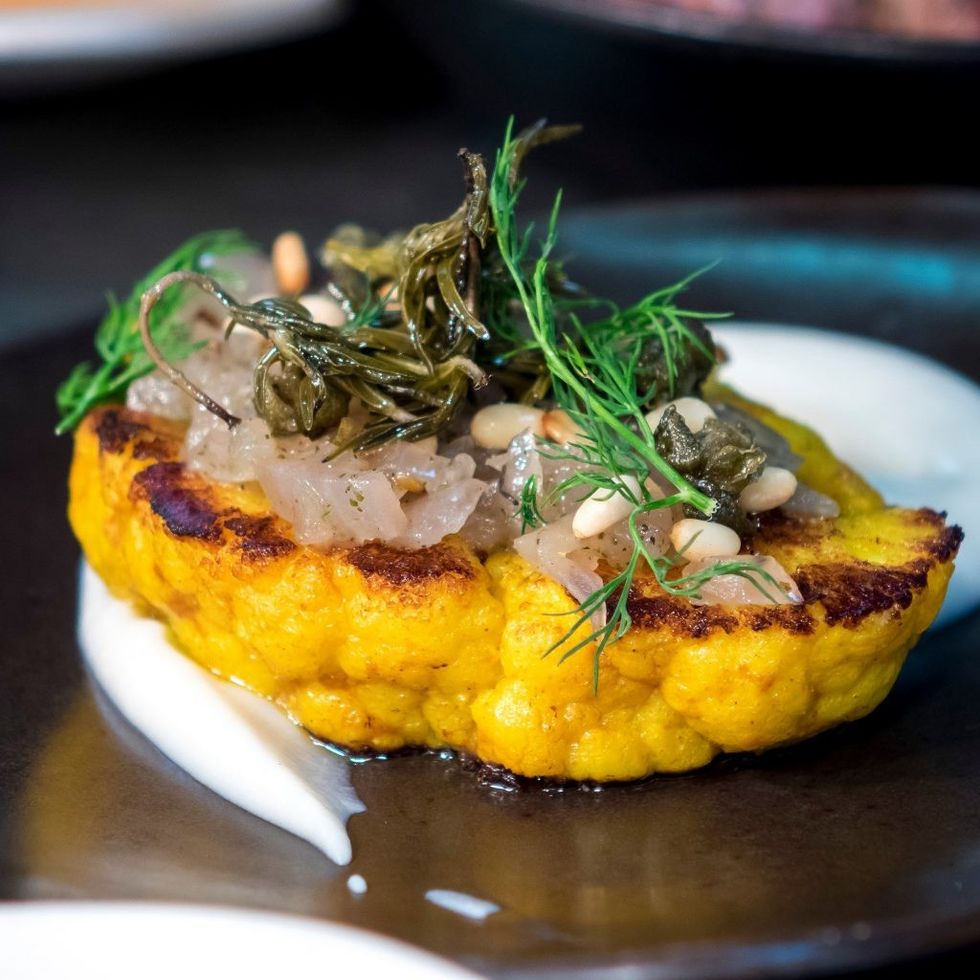 Cauliflower steak with cauliflower and tahini purée, wild zahter and fried capers from Ottolenghi Spitalfields. (Photo courtesy of Ottolenghi UK via Facebook)
"I do think it is a lot about framing," he says, perhaps referring to his super-colourful, fun meze-style approach to plating.
Viva eggplant! Well, hello there, tahini and za-atar.
Like an artist who may go around to various cities seeing his own métier reflected back at him in various ways, Ottolenghi mentioned that he had also stopped at Aloette, on Spadina, while in Toronto. He absolutely loved it — particularly the old-school iceberg wedge, done there with chive cream, avocado, and pumpkin.
Ever the enthusiast, he declared it, "delicious." 
Toronto