---
Culturally authentic, incredibly diverse, growing and changing fast — and these are just the restaurants.
But cuisine caters to the people, and the same words describe the Yonge and Finch community as a whole. This intersection is young and vibrant, with many newcomers and students, and a storied history behind its rapidly-developing future. 
Torontonians are foodies, however, so the meal scene is front and centre.
"It's kind of a great place for Chinese and Korean food in particular," says Councillor Lily Cheng, Ward 18 — Willowdale. "I think food is what a lot of people are interested in. I'd say Yonge and Finch is just amazing for food variety and to try something maybe you've never tried before. If you go south, there's all these lineups for this hot dog place Chungchun Rice Dog. There's the MeNami Udon & Sake Bar, which has an amazing fusion interpretation of how to cook udon noodles. And then there's bubble tea — probably more bubble tea shops per capita than any other neighbourhood in Toronto."
Chungchun's first Canadian location opened here, just before the pandemic, and was so successful it's since exploded across Toronto with more than 20 locations in the province. Yonge and Finch was the original testing ground for the chain founded in Seoul, South Korea.
Sebastian Biasucci agrees: Authentic cuisine is big here. 
Biasucci is a marketing and events manager for NeighbourLink North York, a community development organization — but he's also a third-generation Willowdale resident. And the local culinary scene, from sushi to Korean barbecue to kebabs, has evolved with the immigrant communities that have flourished in North York.
"I love the strip of Yonge Street near Finch because there's just so many incredible restaurants," Biasucci says. "I think when my grandparents moved to the area in the late 50s, there was a large Italian community, closer to Bathurst. There was a Jewish community, a thriving Filipino community. I think along Yonge Street near Finch, there's a really great Chinese and Korean community. And it's been evolving with a Persian community as well, and Russian. And I think the suburbs is where you often find those cultural groups living. And so you get [these] really authentic — not gentrified — versions of these cultural hubs."
Past and future collide
Like so many key intersections in the GTA, Yonge and Finch has shot up fast. 
Developers love transit connections — TTC, VIVA and GO Transit connect to downtown and the surrounding region. And existing area amenities serve up a lifestyle that draws new residents, from shopping and dining, to refreshing green spaces and vibrant nightlife. Karaoke is huge here, late into the night.
As condos start to cluster, it can be easy to forget this is also a historic area. North York just celebrated its 100th birthday — a full century since its founding — and the North York Historical Society (NYHS) has engaged with a "youth coordinator" to keep its story alive with younger and newcomer generations.
Glenn Bonnetta, NYHS president, moved to the area in the 80s and says today's Yonge and Finch has evolved dramatically. Gen Xers might remember this neighbourhood's big decade: the 90s.
"It wasn't really until [then-mayor] Mel Lastman decided to create a downtown North York, right in the 80s and 90s, that things really changed," Bonnetta says. "The area along Yonge Street, on both sides, there was really rapid development. He was a businessman and he had been very, very successful … he had ambitions and he attracted developers."
The NYHS installs historic plaques and works to save heritage buildings, welcoming the Willowdale community to discover historic treasures hiding in plain sight: the Golden Lion (now almost 200 years old), Ivan M. Nelson Fire Station Remnant (named after a 22-year-old who became fire chief), and the 1897 birthplace of former prime minister Lester B. Pearson (now the Finch Station Kiss-N-Ride).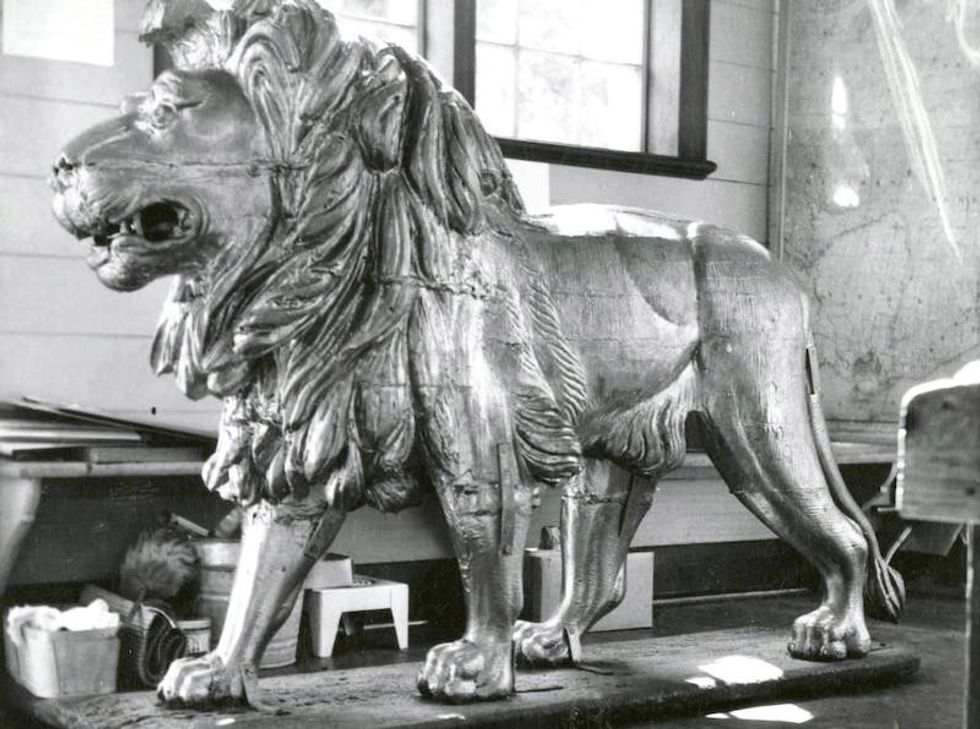 Golden Lion Statue, Sharon Temple, 1956. Photo by Ted Chirnside, courtesy Toronto Public Library and the North York Historical Society.
READ: Agreement Reached to Build All-Electric Community on Former Sidewalk Labs Space
As for Yonge and Finch's future, transit connections and proximity to York University and Seneca College will keep demand high for under-developed plots. 
Proposed and pre-construction projects nearby include two towers at 5576 Yonge Street, the 29-storey Olive Residences on nearby Olive Avenue, and a 10-storey mixed-use condo, Ava Luxury Residence, on Finch.
With a large student and newcomer population, and strong future development, both Councillor Cheng and Biasucci are working on how all the pieces fit together — building a community.
'A deep sense of pride'
When she first moved to Yonge and Finch years ago, Councillor Cheng describes a lonely experience living "anonymously" in a condo — and an empty hallway where doors were always closed. She started a family, and then a journey to build a community, which eventually led her to office.
"For me as City Councillor, [community] is one thing that I hope to continue building on," she says, "because too often in North America, we build vertical neighbourhoods without building communities. And I don't think anyone should live anonymously in the city, which unfortunately happens far too often."
Before her election to council, Councillor Cheng was executive director for NeighbourLink North York. The organization, Biasucci explains, works on issues around food insecurity and social isolation. 
Food banks, community donations and a volunteer network help improve food security in the area, but social isolation requires creative approaches. Biasucci offers a rundown: Willowdale Christmas Market and Walking Parade, Meet Your Neighbour week, a yard sale day, a walking group for families through the Finch Hydro Corridor, a basketball and arts camp, regular seniors events, and a monthly event for Ukrainian newcomers. 
Bring people together, form a community, forge an identity — make the future brighter for North York, an area that is both young and old at the same time.
"I've lived here forever," Biasucci says. "But when I went to school downtown and worked downtown, people were like, 'What happens north of Eglinton?' Like North York is kind of this enigma. They don't venture north. It's like, 'What's going on up there?'"
"After the Christmas Market it seemed like the response was like, 'I'm so happy to be seeing people,'" he explains. "It felt like there's a deep sense of pride being in North York, and maybe it's because we kind of get overlooked. But I think maybe that is also part of the pride — it's like, you know, we're this hidden gem in the city."
Toronto