---
The City of Vancouver's 2023 budget, approved on Tuesday, included a last-minute amendment by Mayor Ken Sim increasing the property tax hike to 10.7% after a draft budget released last week proposed a 9.7% increase.
The 10.7% jump marks the highest property tax increase Vancouver has seen in at least a decade. In recent years, property taxes went up by 7% for 2020, 5% for 2021, and 6.35% for 2022. According to Sim, this year's sizable hike was a financial necessity.
"Vancouver has been placed in a very challenging position," Sim said in a statement. "In an effort to keep taxes artificially low, previous administrations chose to severely underfund public safety, road upkeep, sanitation services, and critical infrastructure maintenance for over a decade. We have inherited a half-billion-dollar infrastructure deficit, and the City's cash reserves have been almost completely depleted due to the previous Council's spending during the pandemic."
The City says that the 10.7% increase is made up of a 1% increase for infrastructure renewal, 1% for reserve replenishment, 3% for the Vancouver Police Department (VPD), and 5.7% to fund City services.
Improving public safety was at the core of Sim's mayoral campaign, and the 2023 budget reflects that priority. In a presentation put together by City staff prior to the last-minute amendment, the City's draft budget for the VPD was $370M, while the Police Board's proposed budget was $383.1M.

The City-proposed budget vs. the Police Board-proposed budget. (City of Vancouver)
According to the staff presentation, the City's $370M draft budget did not include the $7.7M needed to fund the remainder of the 100 new police officers that was a core promise of Sim and ABC Vancouver's campaign, or the $2.1M needed for investments towards digital evidence management systems, cellphones, and body cameras. The City estimated that those two things accounted for a 1% tax impact.
After the last-minute amendment, both of those initiatives are now included, and the VPD budget now totals $401,834,522. In a news release, the City said the amendments (adding an additional $31.8M) to the VPD budget included:
$8M for enabling the requisitioning and hiring new police officers, implementing Council's direction to hire 100 new police officers;  
$7.8M for estimated increases in fixed costs such as compensation and benefit expenses, fleet expenses and increases in recoverable overtime and other expenditures; 
$7.3M for permanent funding of 2021 VPD budget appeal, approved by the Province of BC, as well as new requirements from the Justice Institute of British Columbia (JIBC) recruit training; and 
$5.1M increase for third-party costs related to non-emergency call taking services provided by E Comm 9-1-1;
$0.20M for the Vancouver Police Department to fund a new Community Policing Centre in Mount Pleasant to be funded by an increase in property tax; and
$3.4M for the Vancouver Police Department to provide funding to support the following items that were approved by the Vancouver Police Board as part of the provisional 2023 VPD Budget to be funded by additional property tax:

Digital Evidence Management System (DEMS) -- $747,500 
Cell phones -- $415,500 
Pilot for body-worn cameras -- $200,000 
Community Policing Centres including establishing annual COLA adjustments -- $250,000 
One-time Sworn overtime increase in recognition of the current unprecedented number of protests -- $969,468  
One-time Statutory holiday pay for the new Truth & Reconciliation Day -- $670,000  
Contract awards -- $100,000 
Operating impacts of capital and other city adjustments -- $39,598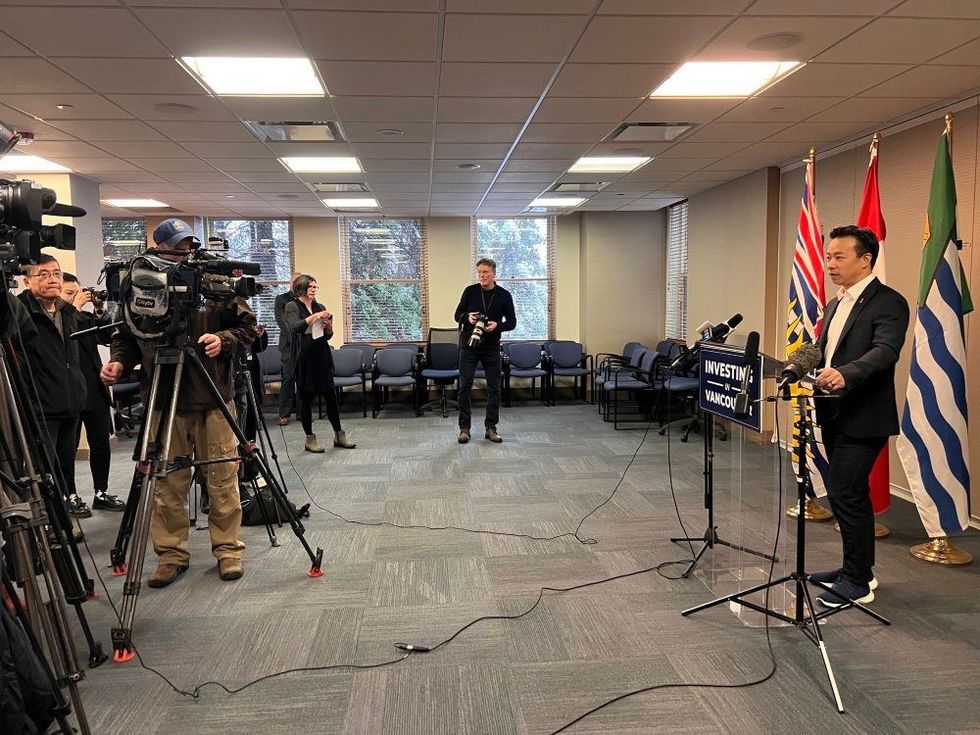 Mayor Ken Sim at a press conference on Tuesday. (Ken Sim / Twitter)
Leading up to the municipal election, Sim had said that a 10% property tax increase in 2023 would be "not sustainable."
"When property taxes go up 25% over a three-year period under the current administration, and they're projected to go up another 10%, that's not sustainable," Sim told Glacier Media in September. "It's not sustainable for property owners, it's not sustainable for businesses that are looking to start up a business here or currently exist here. It's not sustainable from an affordability perspective."
READ: Surrey Proposing 17.5% Property Tax Hike Due To Police Transition, Inflation
In his statement on Tuesday, Sim admitted the budget was a challenge, but said that he and Council will continue to explore potential revenue sources to avoid future property tax increases of this size.
"This budget presented some significant challenges, but we have chosen to invest in Vancouver's future," Sim said. "Property tax increases of this magnitude cannot and will not become the norm. As we move forward, Council will explore further opportunities to achieve cost savings. We will identify new sources of revenue, work with senior levels of government to secure funding for new initiatives, and continue to find ways to deliver services more efficiently and effectively."
Vancouver