On Saturday morning, Chinatown hosted the first official debate of the municipal election cycle, as the five candidates discussed solutions to alleviate the various issues in and surrounding Chinatown in Vancouver.
---
The debate was held at the S.U.C.C.E.S.S. Centre, moderated by journalist Frances Bula, and included all five candidates: Mayor Kennedy Stewart (Forward Together), Ken Sim (ABC Vancouver), Mark Marissen (Progress Vancouver), Colleen Hardwick (TEAM), and Fred Harding (Non-Partisan Association).
Public Safety and Crime
After brief introductions of each candidate and the debate's format -- four main questions, two minutes per candidate, 10 minute follow-up period after -- the first question centered on the uptick in violent crime in Chinatown: "How do you propose we make our space safe in your first months in office?"
First up was incumbent Mayor Kennedy Stewart, who discussed the COVID-19 pandemic for a bit too long, only getting into his solution with about 15 seconds left, and being cut off by the timer.
The remaining candidates then had their turns -- each deciding to stand-up from the table to speak, which Stewart did not, and continued not to as the other candidates continued to do so most of the time -- and each started off with talking points they'd circle back to numerous times throughout the morning.
Ken Sim reiterated his plan to hire 100 new police officers and 100 new mental health nurses on his first day.
Colleen Hardwick voiced a similar sentiment, saying that she believed the area needs more police officers on the ground, does not support the Vancouver Area Network of Drug Users (VANDU) doubling as security, and says that she'd see to conducting an audit of spending since public safety in the area has gotten worse despite an increase in budget.
Fred Harding started off by speaking in Mandarin, then said that the issue is "entirely solvable" with strong leadership -- an answer he'd repeat several more times throughout the debate -- and highlighted his credentials as a police officer in London, England.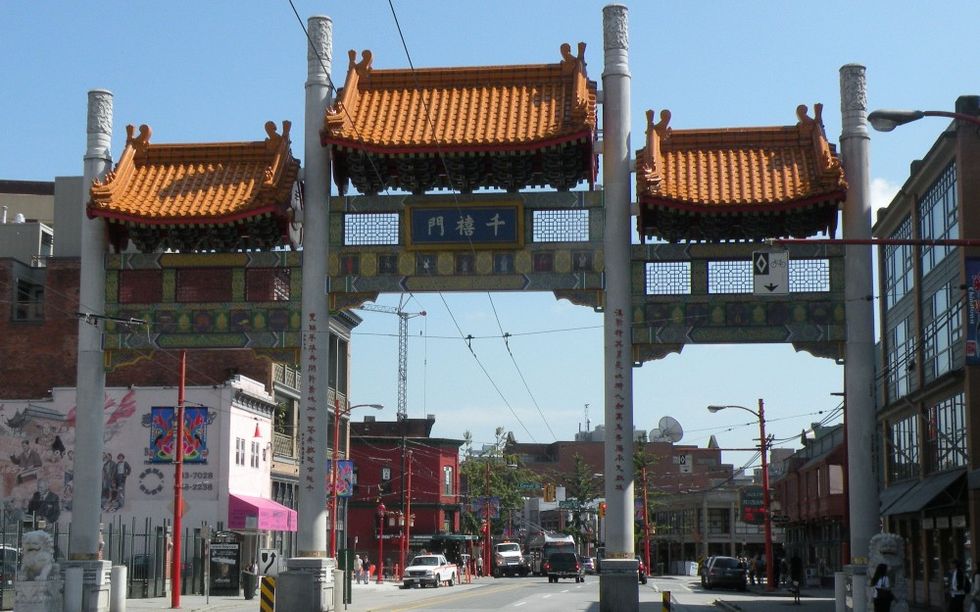 (Image: City of Vancouver)
Mark Marissen then said that he would be open to more officers patrolling the streets, and added that he'd want to clean up the streets -- literally -- in order for the area to be more welcoming.
During the 10-minute follow-up period, Stewart got a chance to elaborate, and emphasized the need for social housing, and rhetorically asked why more police officers would make a difference.
There were also several exchanges between candidates and Bula, the moderator. After Harding alluded to the existing government being "soft on crime", Bula asked if Harding was implying "VPD officers are not arresting people because the Mayor is telling them not to." Harding said he wasn't, but that the City needs stronger leadership. Bula also got into an exchange with Hardwick, after trying to get Hardwick to stay on-topic and Hardwick shot back saying that she was framing her answer and that Bula was cutting into her time.
Homelessness
The second question focused on homelessness and encampments, which earlier this summer took over the East Hastings area near Main Street in Chinatown, near the Vancouver Downtown Eastside. The candidates were asked how they would immediately reduce encampments in a way that prevents them from sprouting up again in the future and improve the lives of the homeless.
Ken Sim said he believes the City of Vancouver is focusing on quantity rather than quality, reiterating his critique of Mayor Stewart and the poor conditions of Single Room Occupancy (SRO) units.
READ: Vancouver SRA Rent Control Bylaw Quashed By BC Court, City To Appeal
When it was Hardwick's turn, she compared the situation to a refugee crisis and pointed to Hastings Park as a place "to get people organized," prompting pundits on Twitter to point out that Hastings Park once served as an internment camp for Japanese-Canadians. Hardwick would continue, saying she believes Vancouver is viewed as a "destination" by the homeless, adding that "I'd rather be homeless in Vancouver than in Winnipeg."
Harding again said the issue is entirely solvable with strong leadership, saying he'd have the encampments cleared by Christmas, but added that he wants a focus on treatment. "If it was your child on the street and all we had to offer them was harm reduction and some housing, do you think that's good enough?" he said. "We have to tie this to treatment."
Marissen spoke on the stories he heard from those in the encampments, saying that many chose to live in encampments because they felt safer and cleaner than they did living in the SROs.
Stewart then highlighted the social housing he's helped open and fill, and reiterated his stance that it's the only way forward. He also said that those from the Oppenheimer and Strathcona Park encampments have been housed and that those from the new encampment were people who fell on hard times during the pandemic.
READ: Here's How BC Residents Feel About Various Ways To Reduce Homelessness
In the follow-up period, Hardwick and Bula, the moderator, got into another brief exchange after Bula pointed out that Hardwick clearly thinks "we're being too liberal", prompting Hardwick to say that she doesn't dispute that the City needs to house them, but that she was just "being realistic" about the steady stream of homeless people.
When Harding got a chance to speak again, he started off by acknowledging that "I wear tailored suits and am married to one of the world's most successful recording artists," before saying that he also "lived on a slice of bread and a cup of tea" when he once lived in London, had a 26" waist, had to sell his guitar for food, and that the homeless are not his enemy.
Urban Development
The third question was focused on development in Chinatown, specifically the plans surrounding the Northeast False Creek area. Bula pointed out that many groups in the community have been disappointed with this plan, and asked how the candidates would address those concerns and meet the needs of the communities.
READ: 7-Year Legal Battle Over Plaza of Nations Development Ended By Supreme Court
On this topic, almost all of the candidates agreed that they would speak to the various parties and communities to hear their concerns. When asked directly by Bula whether they'd scrap the plan, all the candidates said they would not, except TEAM's Colleen Hardwick.
"We'll stop the Northeast False Creek plan immediately," Hardwick said, questioning the plan's proposal to remove the viaducts and green spaces, and implying that the 11,000 residences proposed was perhaps too dense for the amount of land they have to work with.
Stewart pointed out that the viaducts, built in 1972, are full of asbestos and that they could potentially crush the SkyTrain in the event of an earthquake, so should therefore be removed, with the land going towards enhancing Chinatown.
Businesses
The fourth and final question centered on how each of the candidates would support the small businesses in Chinatown and how they would bring vibrancy back to the historical neighbourhood, and on this topic, the candidates described much more concrete actions.
Harding tied his solution to those of public safety and crime, but added that he'd want to bring cruiseship travelers back into Chinatown, a solution Hardwick agreed with, saying that she'd want to see a "yellow brick road" from the Port of Vancouver to Chinatown.
Marissen said he'd create a "Night Mayor" position, who would serve as a commissioner of nighttime economy and culture and act as "part-promoter, part-negotiator, and part-peacemaker", and Sim said he thinks parking in Chinatown should be changed from parallel spaces to angular spaces and that the first hour of should be free, to decrease barriers for retail customers.
All of the candidates also voiced support for a possible subsidy or tax relief benefit for Chinatown businesses, similar to those in San Francisco.
The debate then concluded with a few quick-hit questions from the audience. The first question was about the impending St. Paul's Hospital and pressures that could bring to the area, and most candidates circled back to protecting and enhancing Chinatown, answers they'd repeat for the second audience question as well, about how Chinatown fits in to the Vancouver Plan.
The final question was centered on the lack of public washrooms in Chinatown, during which a member of the audience interrupted the proceedings after Bula -- who has since apologized -- used the word "frivolous" when setting up the question.
The candidates all agreed that this was something they needed to address. Marissen said that if there aren't public washrooms, people will just go "elsewhere", Sim said it's a matter of human decency, Harding agreed, Hardwick told a brief story about taking her family to Chinatown and seeing feces on the street, and Stewart said that plans with the Park Board already include adding washrooms.
The debate can be watched in-full on YouTube. More debates are scheduled for this week, ahead of Election Day on Saturday, October 15.
Vancouver