---
Just when you thought the maddening construction was finally over at Toronto's newly renovated Union Station, it turns out that the iconic transit hub's facelift is far from finished. 
In fact, the city is in store for three more years of construction on the Front Street landmark.
Yesterday, Metrolinx announced the signing of a procurement deal for the Union Station Enhancement Project (USEP). This marks the next official phase of the massive renovation project at Union station -- an initiative that began over a decade ago. 
The Union Station Revitalization Project occurred between 2010 to 2021 and brought the 90-year-old station up to modern standards. This renovation saw a former parking garage transformed into the current York Concourse, a new state-of-the art bus terminal (which opened just last year), and the addition of the new Bay Concourse. With the transformations, Union Station has also introduced food, arts, and culture-based programming and pop-ups to its property in recent years.
Now, the USEP will include renovations of the glass atrium, the removal of heritage steel, the installation of overheard lighting, the addition of a new south concourse, widening of platforms, increasing stair and elevator access, and upgrades to passenger communications systems.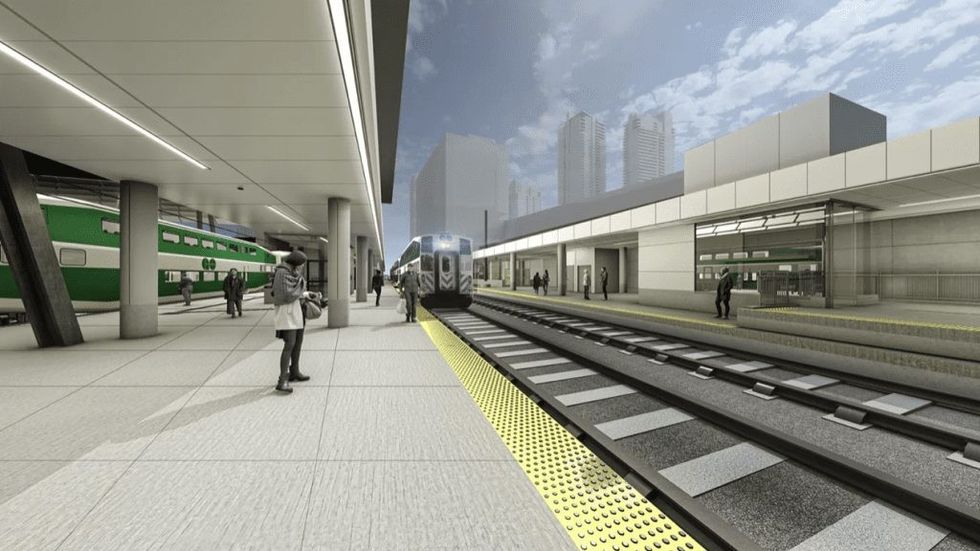 Image: Metrolinx
Construction will begin in the coming weeks and wrap up in late 2025. Metrolinx acknowledges the ensuing construction-related headaches for commuters and city drivers, but assures that the continued upgrades are for a greater good. 
"While it seems upgrading, retrofitting, and improvements mean sometimes the station seems to be a never-ending construction zone, its many projects are part of a larger transit vision -- whether to modernize the hub, make way for additional work on adjacent rail, or make way for a plan to increase service for the entire region," reads a Metrolinx blog post. 
One of the most notable features of the renovations is the creation of a new shared platform for both VIA Rail and GO Train riders. Platform 20/21 was previously dedicated exclusively to VIA Rail. "The converted platform will better enable GO train service to use it while other platforms are taken out of service to be widened during future phases of the Union Station Enhancement Project (USEP)," says Metrolinx.
Other changes include the addition of three new stairways to access platform 20/21, new customer communications systems with trip information, and several new PRESTO devices. 
Starting Feb. 16, GO trains will begin to use this platform, and the south platforms (24/25 and 26/27) will be decommissioned to make way for USEP. Metrolinx says this project focus the transit infrastructure and upgrades at the southernmost part of Union Station. This includes the construction of two new platforms, new stairs and elevators, and a new continuous south concourse connecting the York, Bay and VIA concourses, Union Square and Scotiabank Galleria, and the creation of two new south tracks.
Well the changes aren't exactly thrilling (compared, for example, to the addition of shiny new retail space or WiFi-connected lounge/work spaces), Metrolink says these initiatives will accommodate GO rail service increases, improve customer experience, and enable the planned GO Expansion program.
"We are very glad to see this project moving into major construction in February," notes Trevor Anderson, Program Sponsor for Union Station. "This project will enhance access and connectivity at the station, providing great benefit to our customers, our stakeholders, and  all users of Union Station."
As for the construction woes, that's another story -- especially when the city's core bounces back to life once lockdowns and masks (finally) become a distant memory.
Toronto