---
Now more than ever, corporate values are much more than nice-to-have lists found on a company's website.
We live in a post-luxury world defined by a consumer culture that increasingly appreciates experiences, sustainability, and company values rather than over-the-top luxury in a traditional sense. Now, the company behind a product or service is just as important – if not more so – than its offerings.
Toronto's real estate industry is no exception.
Leading Greater Toronto Area (GTA) developer Tridel is arguably known just as well for its progressive corporate culture and strong core values – defining traits that are reflected in everything the company does and builds – as it is for its sought-after residential projects.
In theory, their six core values – quality, teamwork, integrity, innovation, family values, and safety – may compare to those of other organizations.
But with Tridel, "business as usual" involves perpetually putting these core values into practice – something that has set the long-time developer apart for decades.
"It's not as much about what these core values are – though that's important – as it is about how we apply them, and how they work their way into all aspects of our operation," says Danielle Feidler, Senior Vice President, Brand Experience at Tridel. "They drive our culture and set the expectation of the ultimate brand promise that Tridel brings both to everyone in the outside world – customers and stakeholders – and to employees."
Tridel's way of business is "people, planet, profit," Feidler says of the company's human-centric design.
The first community that Tridel builds and nurtures is its very own; a testament to this is the company's collection of employees who have been with them for many decades. (Feidler herself has been with Tridel for 22 years.) A progressive focus on people is reflected in the demographics of Tridel's diverse 500+ person workforce, which includes roughly 50% of those employees identifying as women, and employee age ranges spanning five generations.
And while a passerby could clearly see from the outside that the developer's demographic makeup displays diversity, Tridel is making a conscious effort, working to ensure the priorities of diversity, equity, and inclusion are held up from the inside. 
For example, in November, Tridel kicked off their Built for Respect campaign in partnership with Ellis Don, the Labourers' International Union of North America - Local 183, Residential Construction Council of Ontario (RESCON) and BuildingIndustry & Land Development Association (BILD).
The initiative, developed with Tridel's construction division Deltera, aims "to tackle and ideally eliminate racism within the construction industry." Built for Respect is driven by employees from all levels, and across all Tridel's teams; a two- to five-year plan will underscore the campaign, which highlights the sustained commitment the company has made to support the industry and communities in which their builds rise.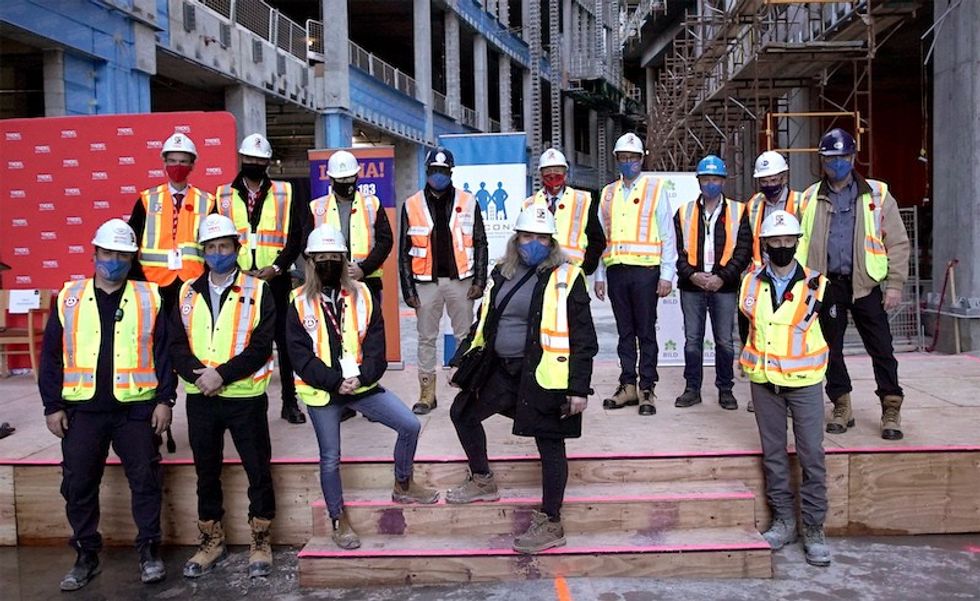 Tridel and EllisDon kick off the Built for Respect campaign at The Well alongside Mayor John Tory, Minister Monte McNaughton, LiUNA Local 183, RESCON and BILD.
But the developer doesn't stop there. Tridel's people-focused priorities also reach into those aforementioned communities, and then beyond them, impacting the city's landscape at large.
For example, Tridel is a founding sponsor of BOLT, a charitable foundation that inspires a new generation of tradespeople by providing access to education, training, and employment in construction to often-vulnerable groups, working closely with George Brown College.
With a mandate to aid under-resourced youth throughout the GTA in accessing rewarding careers in construction, BOLT raises awareness about diverse career opportunities in the development industry. What's more, through this foundation, young people are presented opportunities to both immerse themselves in career exploration programs, and to access financial support for skilled training and post-secondary education.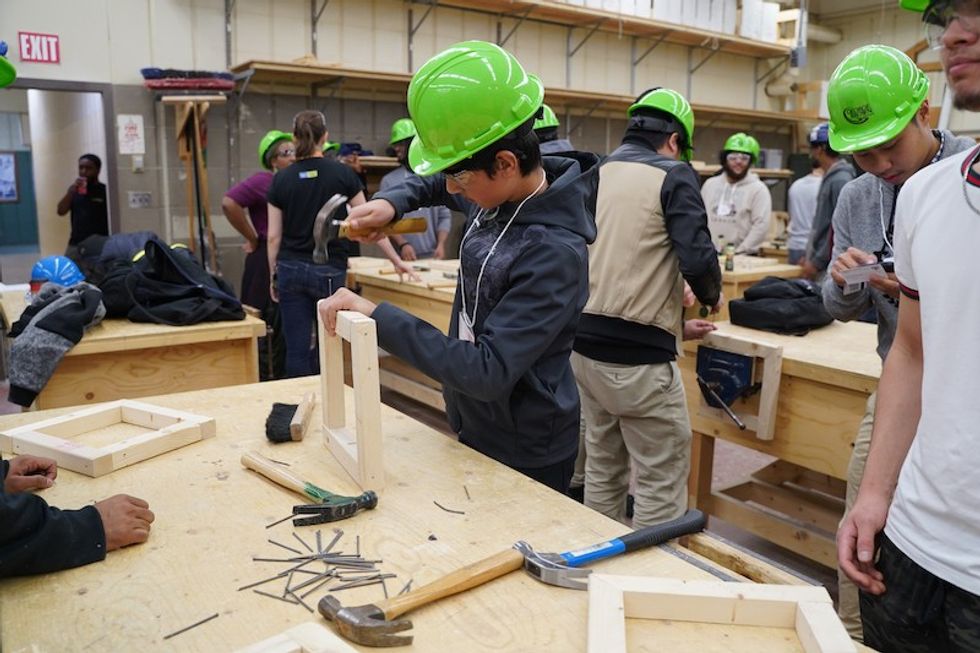 A snap from the BOLT Day of Discovery, where students interested in careers in the skilled trades endeavoured on a day of exploration.
To date, BOLT has provided $1.3 million via more than 420 scholarships, which have spanned more than 40 programs at 27 schools. The foundation's support for skilled training programs has led to more than 125 apprenticeships since 2014. 
And while BOLT has been making waves in educational settings, the Tridel Take Action Team -- made up of passionate, change-making volunteers -- is maximizing social impact in the community. From events including Toronto Pride and Waste Reduction Week to CAN-struction in support of the Daily Bread Food Bank, the Take Action Team offers opportunities for increased employee engagement that simultaneously provide support for the revitalization communities Tridel works to develop. 
Through 2020 alone, the Tridel Take Action Team participated in more than 50 events and over 650 hours of volunteer work. The year saw 2,637 lbs of food donated, 1,420 lbs of e-waste diverted from landfills, and more than 675 lbs of textiles either donated or diverted from their original fates. 
The Take Action Team collected more than 6,000 bottles from legacy communities for recycling last year, the proceeds of which were donated to charitable organizations across the city; meanwhile, $11,375 was raised for community events & non-profits. In direct response to COVID-19, the team assembled more than 130 Fresh Food Baskets of Meals, which were supported through employee fundraising.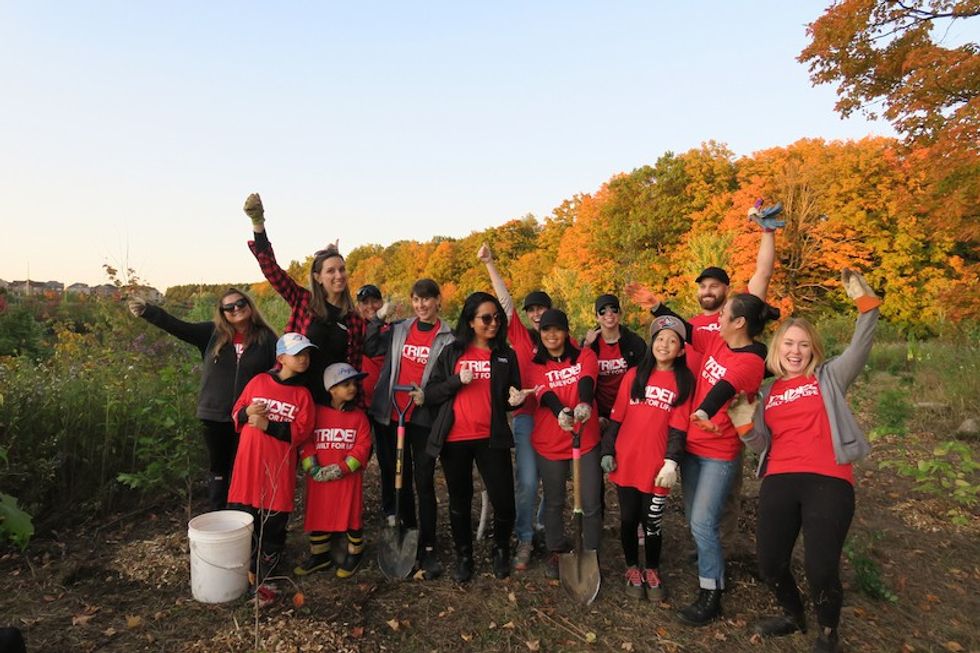 The Tridel Take Action Team on a tree-planting excursion (Tridel)
The numbers speak for themselves: Tridel's commitment to people, and their communities at large, couldn't hide if it wanted to. 
Naturally, this commitment is further reflected in the communities Tridel builds. Indeed, Community Economic Development (CED) is considered an integral aspect in growing strong, resilient communities, and Tridel holds that priority up from before shovels hit the ground, through to post-completion. 
For example, the developer is working to attain Fitwel Certification for Phase 2 of its Alexandra Park Revitalization master-planned community -- wherein MRKT is set to rise -- and for its downtown development Tridel at the Well, too. 
A global program which aims to improve residents' health and well-being, the Fitwel Certification System includes details like stairwell graphics that promote the use of stairs, surpassing exercise equipment requirements, and the introduction of community gardens to promote (home-grown) nutrition. Water filtrations and potable water access throughout buildings are part of the System, too. 
And while, of course, the developer is consistently looking to the future and laying blueprints for improvement, Tridel's emphasis on both wellness and its neighbour, accessibility, have long been evident. For example, Tridel buildings were among the first to feature accessible entryways, balconies, and elevator buttons.
"Elevator buttons need to pass an open-fist test. You need to be able to accurately press an elevator button with a closed first in order for it to be considered accessible," Feidler explains. "If not, you're alienating an older population, or people who face physical challenges."
And as accessibility is a neighbour to wellness, it could be called a cousin to sustainability. Proving such, a planet-friendly focus is front and centre in Tridel's progressive buildings and communities. In fact, the Aqualina building at Hines and Tridel's innovative new Bayside community – where the anticipated fourth and final phase, Aqualuna, is currently coming to life – was Toronto's first residential building to achieve Platinum certification under the LEED NC DB+C 2009 rating system.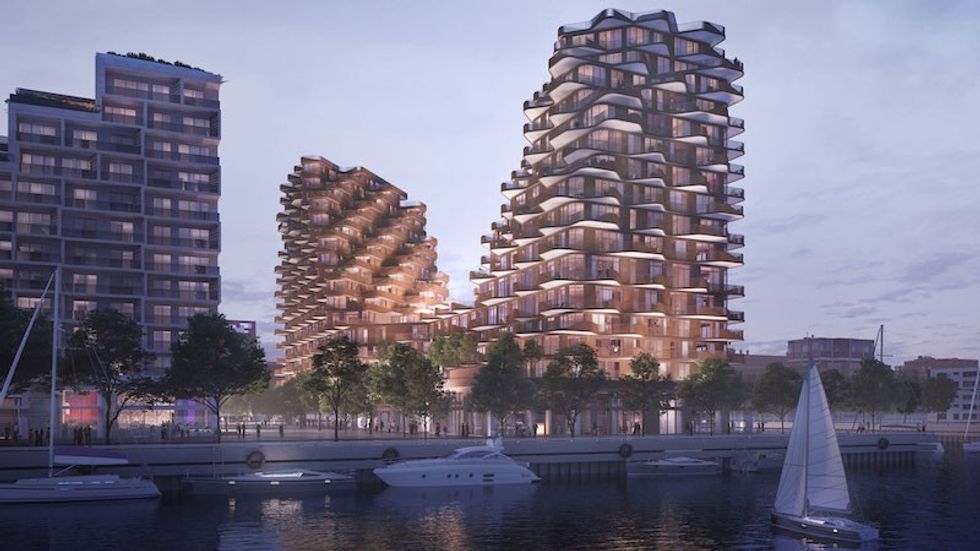 Aqualuna Rendering (Hines Tridel)
"We've never waited to act when it comes to innovation and building sustainability," says Feidler. "We were one of the first developers to move to have our buildings LEED-certified."
This forward-thinking move, of course, reflects more than one of Tridel's six aforementioned core values.
"Each core value is important; as an 80-year-young company, we have established ways of being that have been successful," says Feidler. "But no matter how good you are or how long you've been in business, you're always going to find yourself in a time and place where something unique and new is thrown at you. We are always working toward doing things better. In the absence of a rule or guideline, we make the decision based on core values."
Guiding Tridel's People & Culture Advisory Group are the words of wisdom instilled by Tridel founder Jack Delzotto (known internally as "Jackisms," says Feidler) – principles that undoubtedly contributed to the company's long-time success.
For example, "stay humble and stay hungry" is something Jack would say – a Jackism. So is "courage over comfort."
Judging from Tridel's past and present success, Jack's timeless advice will continue working well into the future.
Real Estate News