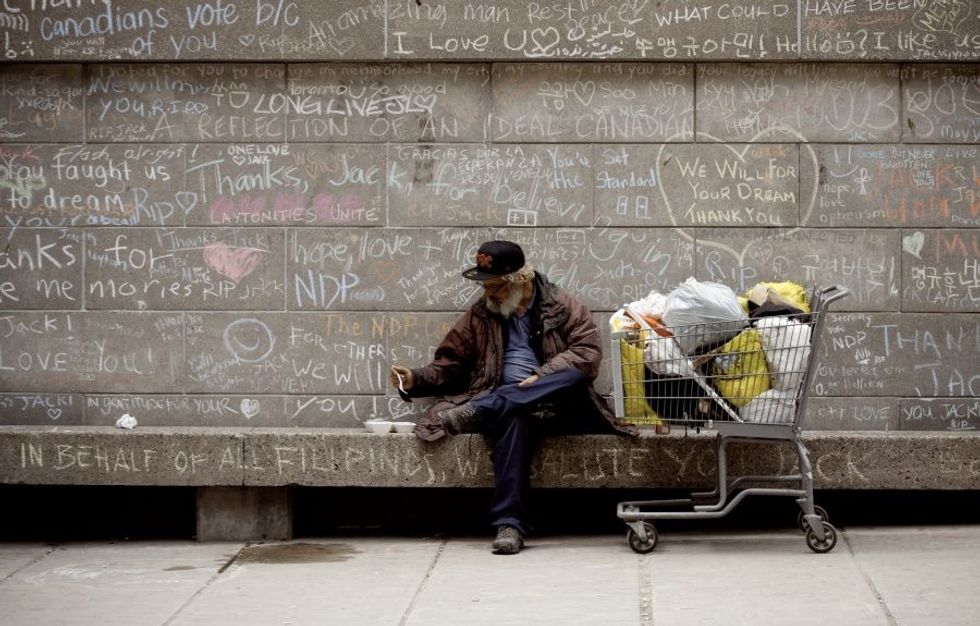 The Canadian government announced this week a $40-billion, 10-year national housing strategy that will aim to create 100,000 housing units, repair 300,000 homes, and cut homelessness by half. (Flickr)
Toronto
Prime Minister Justin Trudeau released a $40-billion national housing program on Wednesday, but the plan counts on the provinces to contribute billions and key elements won't begin until after the next federal election.
---
The 10-year program assumes the provinces will be willing to match federal spending plans in some areas, meaning further negotiations will be needed before the details are worked out. Quebec in particular says it wants to hammer out its own agreement with Ottawa.
Tenants of retail units on Toronto's Bloor Street paid an average U$231 per square foot per year as of the second quarter of 2017; but that's far from expensive in global terms.
Canada's most expensive shopping street is number 25 in the world according to the latest report from Cushman & Wakefield, sitting below New Delhi's Khan Market at $232 and above Ho Chi Minh City's Best Achieved Shopping Mall at $223.
Flashy Toronto condo developer Brad Lamb can now count a starship captain among his enemies.
William Shatner, famous for his role as Captain Kirk on the original Star Trek series, took Lamb to task on twitter overnight for using the names and likenesses of some of Hollywood's biggest stars as part of promotional materials for Lamb's "Television City" condo development in Hamilton.
Canada
Home sales across Canada in October were up by a seasonally adjusted "modest" increase of 0.9 per cent from September, the Canadian Real Estate Association said Wednesday.
The real estate group said sales activity in October was up from the previous month in about half of all local markets, led by the Greater Toronto Area and the Fraser Valley, along with a number of markets in the Greater Golden Horseshoe region.
Ski resort property can be some of the most vulnerable in a bad economy and that was certainly the case following the 2008 global economic crisis.
But some of Canada's top cold weather recreation centres, including Blue Mountain, have recovered and become hot performers on the property market, according to a report released Monday by Sotheby's International Realty Canada.
Foreign buying numbers for Toronto and Vancouver real estate are going to spike soon. The registry will likely be hammered with higher numbers, and climb at a rapid rate. This will look like the non-resident speculator tax, and China's capital controlsare starting to fail, but that's likely not the case.
Most of these units about to hit the registry were bought months, and possibly years ago. Canadians are about to be bluffed because not even government officials understand the flaw with their method of data collection. Here's the problem, and why the numbers are going to soar. Even though an increase in foreign buying is very unlikely here.
USA
Housing supply south of the border remains a major barrier to existing home sales and the driver of rising prices.
New data from the National Association of Realtors reveals that existing sales gained 2% in October, the strongest pace since early summer. The seasonally adjusted annual rate of 5.48 million sales is 0.9% below October 2016.
Residential real estate sales in Miami bounced back in October after two months of delayed inspections, appraisals and closings following Hurricane Irma, according to a report Tuesday by the Miami Association of Realtors and the Multiple Listing Service.
The luxury market, defined as sales over $1 million, saw the biggest gains in October. Luxury single-family home sales jumped 22.2% year-on-year to 66 from 54, while existing luxury condominium sales rose 9.8%, to 56 from 51, over the same time, according to the report.
Owning a home may help you save money, but it won't help you make money.
Households are better off taking control of their finances than relying on fluctuating home values. That is the finding of a new study conducted by Florida Atlantic University, Florida International University and the University of Wyoming.
International
There's limited upside on China's property prices going into 2018, as the country's monetary authorities maintain their tight grip on the financial spigot and limit the amount of credits that can flow into mortgage loans, according to the consensus of a group of financial institutions and developers during a recent meeting.Top of Form
Property transactions will shrink in volume, according to the majority of the 51 financial institutions and more than 20 developers assembled in a November 16 meeting organised by the china Index Academy in Beijing, according to meeting minutes seen by the South China Morning Post. Most banks said there's little chance for either mortgages and property loans to grow next year, according to the minutes.
 A waterfront acreage that boasts its very own English-style pub is expected to smash the record for Australia's most expensive property.
38B The Crescent in Sydney's Vaucluse is currently on the market, and it is expected to beat the previous record of about $75 million. The exclusive property, known as Phoenix Acres, comes with six huge bedrooms and bathrooms, a tennis court, conservatory, a 28-metre pool with "his and hers" change rooms, a library and gym and even an English-style pub.
As the city gears to host the globally recognised real estate-focused West African Property Investment Summit (WAPI) next week, there is a renewed sense of investor confidence in the Nigerian real estate sector.
Tom Mundy, Head of Advisory for Sub-Saharan Africa at JLL, and one of the speakers at the event, believes 2018 will be a year of consolidation and recovery. "Nigeria is finally coming out of recession. Of course, there will be the usual lag between economic recovery and market recovery, but real estate, which has suffered from a sharp supply demand imbalance, widening vacancy rates and falling realised rents, looks close to bottoming. Yes, it will take time for confidence to return fully but there is sound cause to be bullish on Nigeria going forward."
Real Estate News