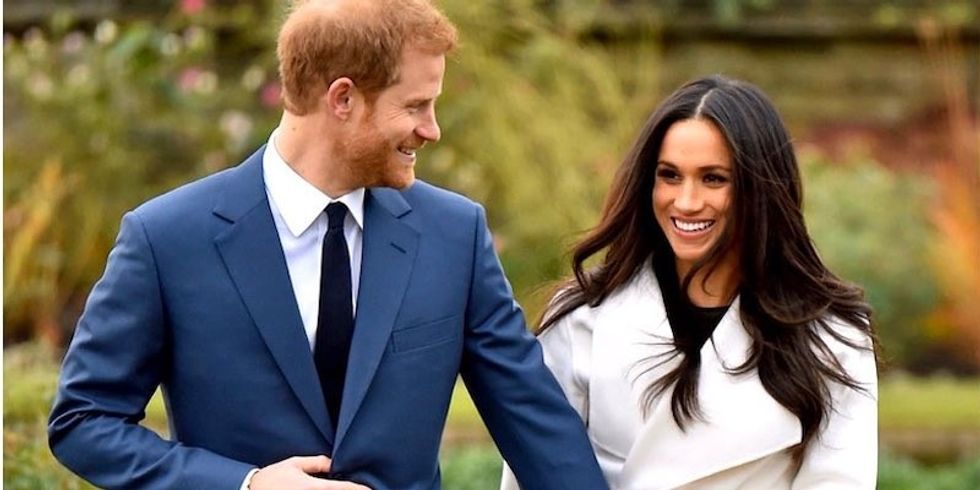 Do you want the keys to Meghan Markle's former Toronto house? Competition is fierce, as real estate agent Alex Beauregard said 150 people came through the open house at 10 Yarmouth Rd. recently.
Here's what you may have missed this week in real estate news from Toronto, Canada, the U.S., and around the world.
---
Toronto
Developers say new studies point to a worsening shortage of buildable land in and around the Greater Toronto Area.
A report by Altus Group showed that, of 5,377 new homes sold in October, 2017 in the GTA, "about 91 per cent of them (4,884 units) were multifamily homes, and only nine per cent (493) were low-rise single-family homes such as detached and semi-detached houses and townhomes." The report, prepared for Toronto's Building Industry and Land Development Association, said it continues the trend that began in 2016 of falling rates of low-rise new home availability.
Time is running out to buy the Toronto house where Prince Harry and Suits actress Meghan Markle spent time before announcing their engagement last month — as the sellers are expected to choose a buyer as soon as tonight.
Real estate agent Alex Beauregard says the two-storey, three-bedroom house — which the future princess rented for two years — has drawn a lot of interest since it was listed last week, at $1.395 million.
TORONTO — New stricter mortgage rules are expected to slow the housing market next year, but prices are still expected to rise about five per cent, according to a report by Royal LePage.
In its market survey forecast, the real estate firm says its house price composite, which measures prices in 53 Canadian cities, is expected to increase 4.9 per cent next year to $661,919.
Canadian real estate prices slipped for another month in a row. Numbers from the Teranet, the operator of multiple provincial land registries, shows a third consecutive decline for urban home prices in November. Most of the decline in the index was due the largest component, Toronto, which printed another substantial loss.
People looking to buy property in British Columbia won't soon have access to the torrent of information their counterparts in the Greater Toronto Area are now seeing – the result of a Federal Court of Appeal ruling that has opened the door to previously private data.
Real estate brokerages in B.C. say they are awaiting the results of the coming legal challenge by the Toronto Real Estate Board (TREB) to the decision.
Merging its Canadian and American offices, Intracorp is streamlining its knowledge of different markets to bring a unique approach to building.
Active in Southern California, Seattle, Toronto and Vancouver, Intracorp works in partnership with landholders who want to retain some, or all, of a development's ownership.
USA
According to ATTOM Data Solutions Q3 2017 U.S. Residential Property Loan Origination Report, the median down payment for single family homes and condos purchased with financing in the third quarter was $20,000, up from $18,161 in the previous quarter and up from $14,400 in Q3 2016 to a new high as far back as data is available, Q1 2000. The average down payment also rose to a new high of $76,645 in Q3, 2017.
The loan origination report is derived from publicly recorded mortgages and deeds of trust collected by ATTOM Data Solutions in more than 1,700 counties accounting for more than 87 percent of the U.S. population. Counts and dollar volumes for the two most recent quarters are projected based on available data at the time of the report (see full methodology below).
Love visiting Santa Cruz and think it might be fun to live there?
You might not be able to afford it. But then again, neither can the people who already live there.
According to JLL's latest Residential Sales Market Monitor released this week, Hong Kong's private residential completed are forecasted to climb 52% from an average of 14,500 flats per year over the last four years to an average of 22,000 flats per year between 2018 and 2021.
However, the expanding supply pipeline, said to be an important scales-tipping factor, is not expected to immediately trigger a housing correction in the market.
Paris could lead residential market growth among the globe's top cities in 2018 with international buyers, particularly from the United States, viewing the prime housing sector favourably.
The forecast from Knight Frank experts around the world also suggest that Singapore and Geneva could be the most improved markets next year with price growth of 5% and 3% respectively.
Investment in China's real estate market rose at the slowest pace in nearly a year last month as growth in sales volume edged closer to a late 2015 low.
Real estate investment during the 11 months through November grew 7.5 per cent year on year to Rmb10.04tn (about $1.52tn), according to China's National Bureau of Statistics, slipping from an end-September rise of 7.8 per cent and to the lowest level since December 2016.
Real Estate News