---
Between contract negotiations for the new Ontario Line, the impending Eglinton Crosstown LRT, and several ongoing improvements to existing stations, Metrolinx is the driving force behind many infrastructural developments in Toronto -- and the agency is to credit for yet another potential project currently under review by the City.
Earlier this year, Metrolinx offered up a high-rise residential redevelopment opportunity for sale, eventually handing it off to real estate company, Marlin Spring. This week, Marlin Spring submitted rezoning and site plan control applications to the City to build a transit-supportive development on the formerly Metrolinx-owned site at 8 Dawes Road, down the street from the Danforth Go Station.
If approved, the development would tower 38 storeys and contain a total gross floor area (GFA) of 28,244 sq. m. Of the total GFA, 27,793 square metres would be residential, accommodating 399 residential units, including 39 three-bedrooms, 109 two-bedrooms, and 251 one-bedroom units.
Meanwhile, 451 sq. m of the interior would be dedicated to non-residential. Marlin Spring's proposal details plans for a retail component on the ground floor, five levels of above-ground parking, and 1,707 sq. m of indoor and outdoor amenity space on the ground and fifth levels.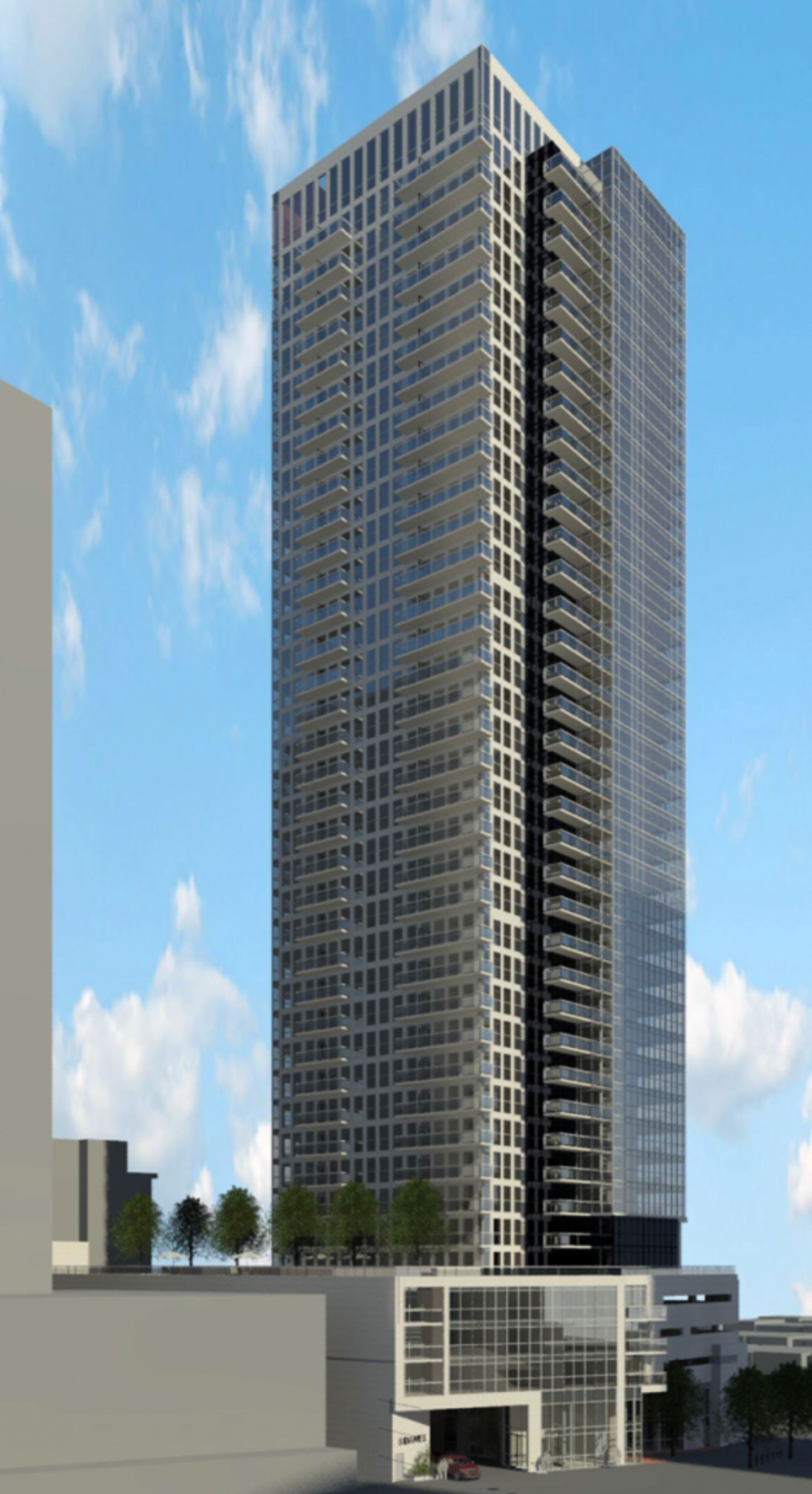 Arcadis IBI Group
The building design -- depicted with a sleek, frill-free frame; balconies would break up the massing -- would be handled by Arcadis IBI Group.
8 Dawes Road is well-served by the surrounding community of East Danforth. The subject site is currently vacant, and according to the planning rationale, "the proposal will help the City of Toronto achieve its minimum intensification targets, through the creation of a compact, residential development on an under-utilized site."
In addition, the development poses an opportunity to add affordable housing to the area. Of the residential units proposed, approximately 5% would be delivered at 100% average market rent as part of Toronto's Open Door program. This is in line with Marlin Spring's demonstrated track record of affordable housing on projects across Toronto.
Future Developments