Industry Profiles
Toronto's Top 5 Green Spaces — That Aren't Trinity Bellwoods Or High Park
Build out, or build up.
Earlier generations focused on building out, but the dream of suburban sprawl — and the promise that everybody gets a backyard — has lost its appeal. You don't need a team of researchers to tell you that spending an hour on a highway drags you down. (Although every couple of years, they do anyway.)
So now we build up, adding height and density to our city.
Balconies have become the new backyards. This is splendid in the summer, but inhospitable for too many months of the year. That little slice of sky isn't quite enough, is it?
This is the exact problem that Park People — "Canada's leading city park transformation organization" — sees as an opportunity.
Dave Harvey, Park People founder and executive director, says urban density renews the urgency for green spaces that are open to all.
"We're seeing parks more and more as community spaces," he says.
"I think maybe 20 years ago, you'd go there on a family picnic maybe, or do an organized sport. Now people go there to just hang out. You look at a Trinity Bellwoods on a weekend and it's just packed with people. You see that in parks right across the city, too."
Hanging out, kicking a ball around or walking your dog is only a tiny sampling of parks' true potential, Harvey says.
To reimagine the possibilities, Park People has launched an incubator to support public space rejuvenation, offering to fund 10 projects. This includes five this year and five in 2019 — with up to $50,000 in funding per project.
"Parks are used for a much broader range (of activity) than they used to be," Harvey says. "You go there for cultural events, for food events … you go there to be part of an active space."
With roughly 1,600 parks in the city, Harvey rounded up his favourites that are fulfilling their potential as vibrant, lush, active public spaces. We've omitted some of the blockbuster names (sorry, Trinity Bellwoods and High Park) and toured around the city's east, west, north and downtown areas.
"Guild Park is a fantastic park," Harvey says. "It's about an 80-acre site. So it's a really nice mix of beautiful natural areas. And it's right on the water, so you've got these great cliffs overlooking the lake.
"It's got great cultural events too," he adds, citing music and theatre programming.
Guild Park is perhaps most famous for its history as an artists' colony and the sculptural elements that remain today. Interesting fact from the City of Toronto website, "During the Second World War, the Canadian Government requisitioned the property and turned it into a training base for the Women's Royal Naval Service."
Nearby Builds
This part of Kingston Road is a bit quieter than the exciting activity to the west. According to Urban Toronto's map of developments, The Guildwood at 3655 Kingston Road is the lone project in the immediate area.
"Centennial Park is a real gem people don't know about," Harvey says, highlighting its gardens and community programming. "It's one of the largest parks in the city. It's got a ski hill. It's got a conservatory — one of three conservatories in the city."
Interesting facts: The park was opened in 1967 to celebrate Canada's 100th birthday; the land was once a dairy farm; the ski hill sits atop a former dump. Area councillor Stephen Holyday has asked city planning staff to initiate a public consultation process for the park in 2018. If you live in the community, email [email protected] for more information.
Nearby Builds
According to the Urban Toronto map, the closest projects are rental buildings — 555 The West Mall, and 70 Dixfield. Untapped potential indeed.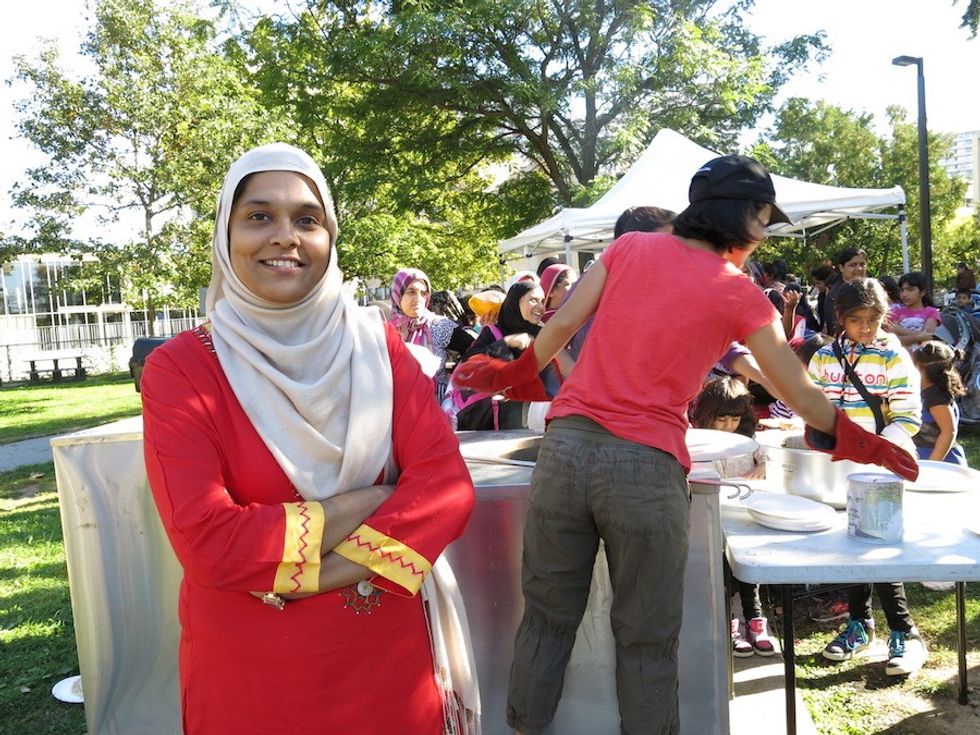 "It's fantastically animated by the Thorncliffe Park Women's Community," Harvey says. "It's right beside the largest elementary school in the western hemisphere. They've got a container café, a tandoor oven, a community garden, a bazaar. It's a very lively community space."
Interesting facts: The women's group started a Friday Bazaar in 2009; 35 countries are represented in the nearby elementary school, which is the largest on the continent; its permanent outdoor tandoor oven is the first in North America.
Nearby Builds
The immediate area doesn't boast a lot of new development, but the nearby Leaside community (Eglinton Avenue East and Laird Drive) has some density on the way, including a retirement community, and luxury suites from Leaside Manor and The Upper House Condos, which features boutique townhomes as well — to name just a few.
"It's a huge park, part of an old golf course that's been turned into a proper park," Harvey says. "It's got music facilities, it's got heritage buildings."
Interesting fact: Some of the former golf course's tees and greens are still visible in the park today. Earl Bales spans 127 acres and features an off-leash dog area, playgrounds and a splash pad, a sensory garden, an outdoor amphitheatre, hiking/biking trails, picnic sites, fire pits, and a ski and snowboard centre run by the city. You can easily spend a full day there, with such basic conveniences as bathrooms and water fountains available.
Nearby Builds
Mega-project Bogert Condos is bringing serious density to the area, with a reported unit count upwards of 1,600, including townhomes, in its master-planned community. On a smaller scale, Clanton Park Towns will bring 51 homes close to the park, in a combination of stacked towns and city towns. Sheppard Avenue West, in general, is a healthy strip of density development.
"They've made some improvements," Harvey says. "And there's a new organization there called the Friends of Allan Gardens, with a full-time staff member, to put on more community programming. There's a lot of interesting things happening in Allan Gardens."
Interesting tidbit from the past: In 1894, the city replaced the old conservatory with a new, more spacious one, but a fire in June 1902 destroyed the Horticultural Pavilion and parts of the new conservatory. The domed Palm House, opened in 1910, was constructed as a replacement, and today it shelters a vibrant collection of palms, bananas and tropical vines.
Nearby Builds
Jarvis Street has a sprinkling of activity, including a Ryerson student residence under construction, a 10-storey, 300-unit proposal for 280 Jarvis, and a massive 34-storey tower proposed for 308 Jarvis.