---
There may not have been a high-profile Opening Night party and the show may be slightly scaled back compared to years past, but Toronto's Interior Design Show (IDS) 2022 brings no shortage of innovative design inspiration. 
Taking over the South Building of the Metro Toronto Convention Centre from April 7 to 10, IDS -- aptly themed New Futures -- returned in-person after a two-year pandemic-inspired hiatus. As always, future-forward design is artfully displayed and discovered throughout the space and reflected in everything from ultra-connected kitchens and sustainably-made countertops, to vignettes that highlight the co-living trend. 
Here are some of our favourite talking points at IDS 2022.

An Immersive Installation Designed By Allessandro Munge
Toronto-based design legend Alessandro Munge teamed up with luxury quartz brand Caesarstone to create Neo Colosseo. The immersive (and Instagram-worthy) installation highlights Caesarstone's newly-launched 'Pebbles Collection" -- a series of sustainable, nature-inspired surfaces -- as it takes guests on a whimsical journey of constant discovery.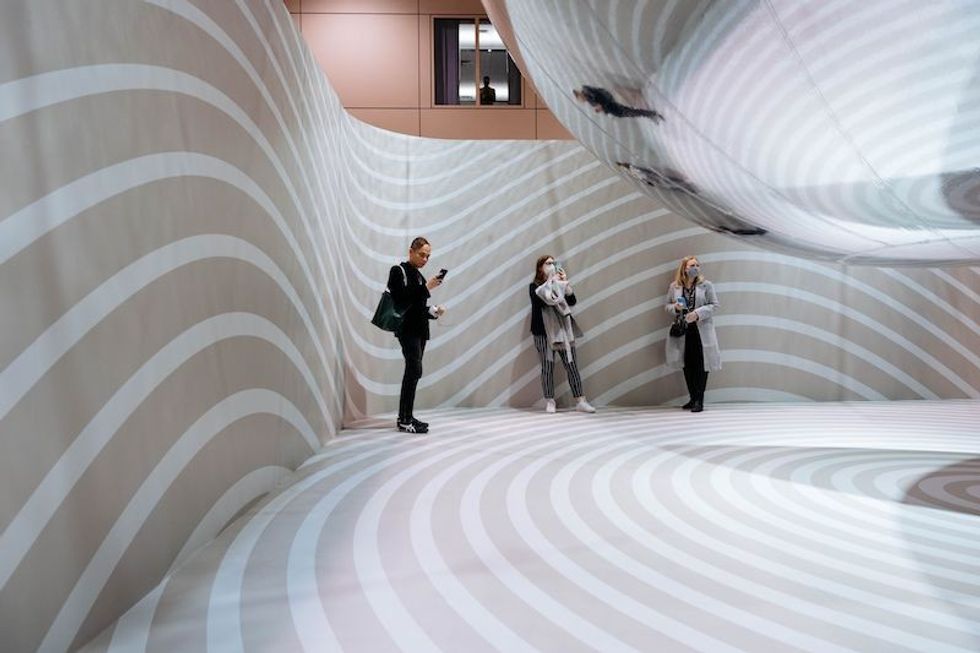 Photo: Arash Moallemi
A Look into the World of Co-Living 
Through a series of eye-catching vignettes, Picnic Design, in collaboration with GOCO, Aya Kitchens, and the English Carpenter, brings the emerging trend of co-living alive with the Dare to Share lounge. The sprawling display highlights how co-living interweaves both private and public spaces within a home and offers a built-in sense of community.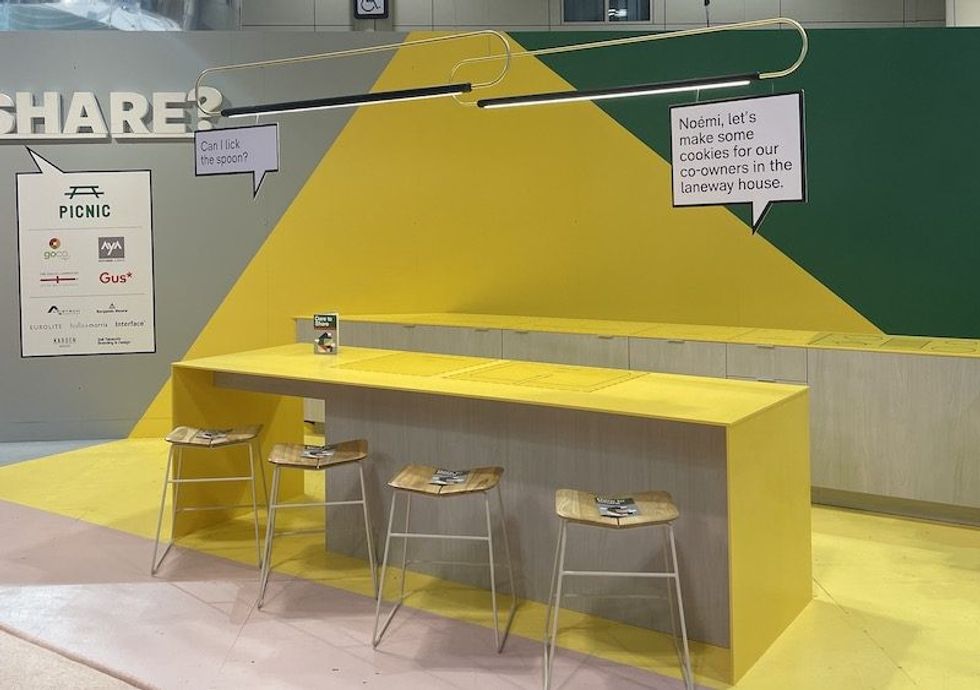 Photo: STOREYS
A Table Made from Chopsticks 
Celebrated Vancouver-based company ChopValue gives guests something to talk about with its innovative repurposing of chopsticks. The company has recycled over 56M chopsticks to date, transforming them into sustainable design products like cheeseboards, shelves, desks, and tables -- one of which is on display in all of its chopstick-filled glory.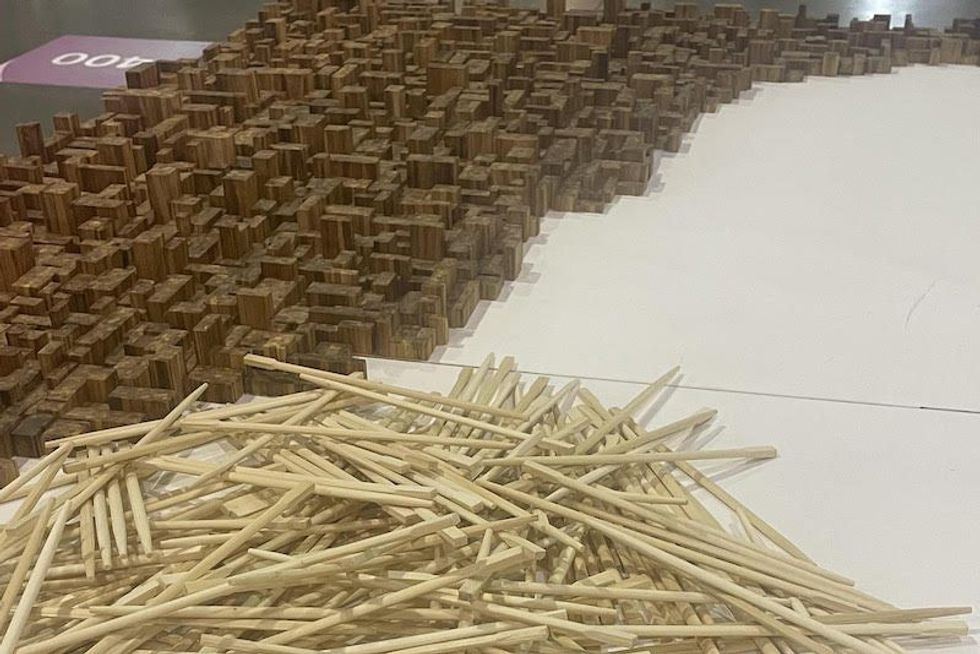 Photo: STOREYS
Lighting Inspired by the Night Sky and Phases of the Moon 
Canadian lighting and furniture brand Hollis+Morris debuted their innovative new lighting collection in a photo-worthy floor light installation. The booth showcases the latest collection -- one inspired by the night sky and phases of the moon -- with multiple moon lamps, a cluster of pendants, and a Giboous tri-lamp. Also on display was the brand's new upholstered daybed.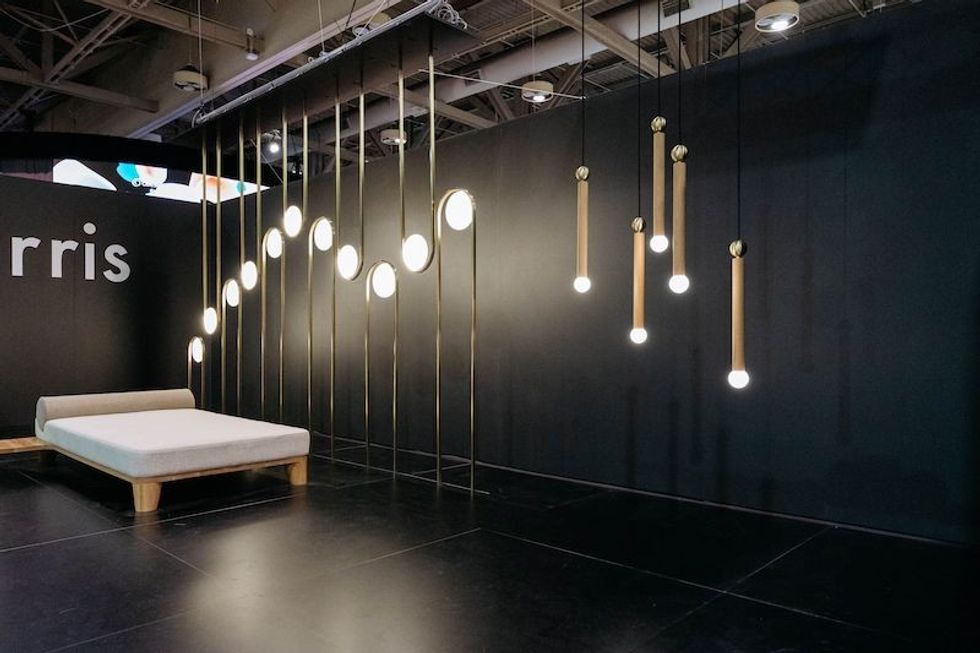 Photo: Arash Moallemi
Futuristic Kitchens 
Brands like Thermador and Bosch offer a look into the ultra-connected kitchen -- a place where a tech-forward steam oven is a staple. Notable products include a built-in coffee machine from Thermador that allows for the selection from one of 28 different beverages, the strength of the bean, the size of the drink, the temperature, and the size of the grind. Meanwhile, a glass stainless steel (no fingerprints here) fridge from Bosch features a French door bottom, MultiAirFlow™ cooling system, and AirFresh Filter to neutralize unwanted odours.
Photo: Thermador
A Sustainable Urban Forest 
Flooring brand PurParket teamed up with Mason Studio to design a playful urban forest with over 60 living coniferous trees for a calming display that refreshingly redefines a typical show room booth. The space also features statement-making custom wooden plinths made from PurParket flooring materials -- all of which are environmentally responsible and promote sustainability.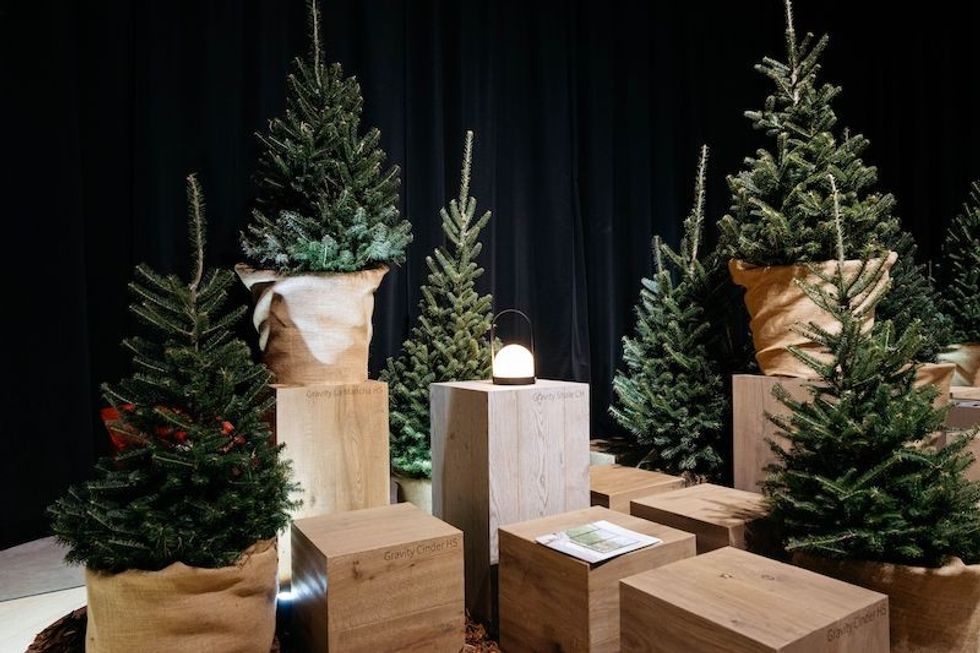 Photo: Arash Moallemi
Innovative and Spa-Worthy Surfaces
A bustling booth from Cosentino offers an immersive look into the latest and greatest in surfaces for kitchens, bathrooms, and floor coverings. Guests are welcome to take a walk through the space, where they're surrounded by a selection of larger-than-life surfaces of all colours and designs -- including sustainable solutions, like the HybriQ Surface from Silestone, which is made in part from recycled glass.
Photo: Arash Moallemi
North America's First Circular Shower
North America's first circular shower is a quick show-stopper this year, especially among the sustainably-minded set. Rainstick's WiFi-enabled circular shower system saves up to 80% energy and 80% water while providing shower-takers with almost twice the flow rate of a low flow option.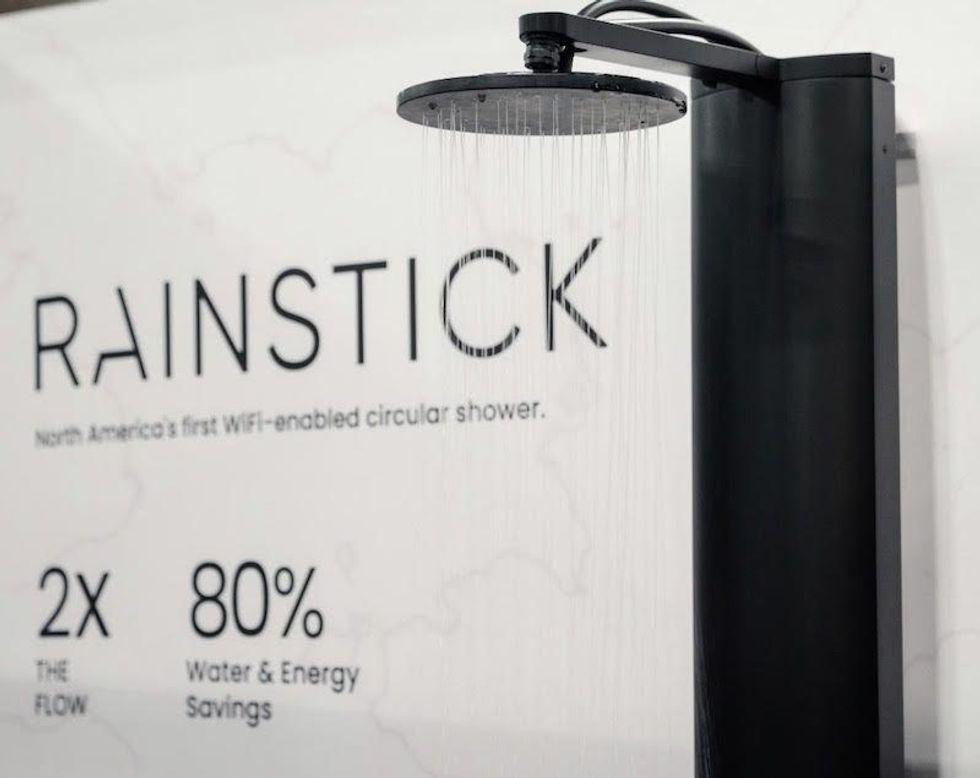 Image: Rainstick
The Modern Office Cubicle 
The emergence of co-working spaces and wide-open work areas shakes up the modern office. Reflecting this trend, Ottawa-based Kiosk Dimensions showed of its sleek, sound-proof and eco-conscious Kubicule privacy pods at its Come To Rest installation, which invited guests to step inside and take a moment to themselves from the bustling show.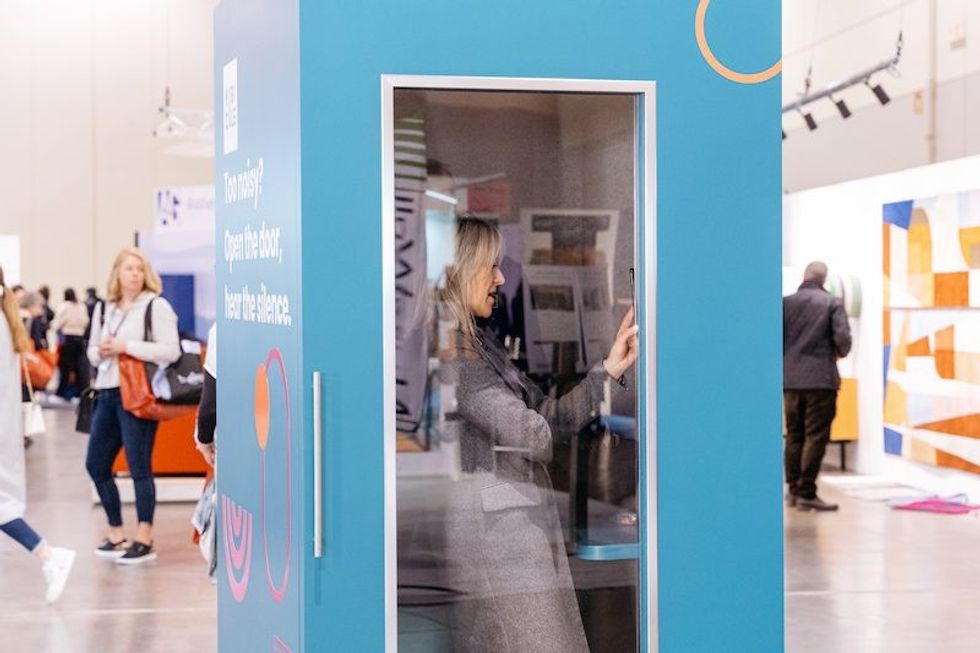 Photo: Arash Moallemi
Style + Décor