---
With the goal of increasing available housing supply in the City, Toronto's Vacant Home Tax will kick in on January 1. This means homeowners are required to declare their property's 2022 occupancy status by February 2, 2023… and there's a penalty for not doing so.
According to the City of Toronto's website, "All residential property owners in Toronto will be required to declare the status of their property(s) annually, even if they live there. Declarations must be made by the homeowner or someone acting on behalf of the owner. The declaration will determine whether the Vacant Home Tax applies and is payable."
"Principal residences may be left unoccupied for periods of up to a total of six months throughout the taxation year without being subject to the tax."
Residents who fail to declare or make a false declaration could face a fine of $250 to $10,000. Renters are not required to declare.
READ: Toronto Vacant Home Tax Raises Questions Over Implementation
Many Toronto residents have already received status declaration forms by mail -- they outline the steps for declaring, the declaration deadline, and explain the Vacant Home Tax itself -- but for those who have not, instructions and a declaration portal can be found on the City's website. If required, homeowners can also submit a paper declaration form, which must be received by the City by the February 2 deadline.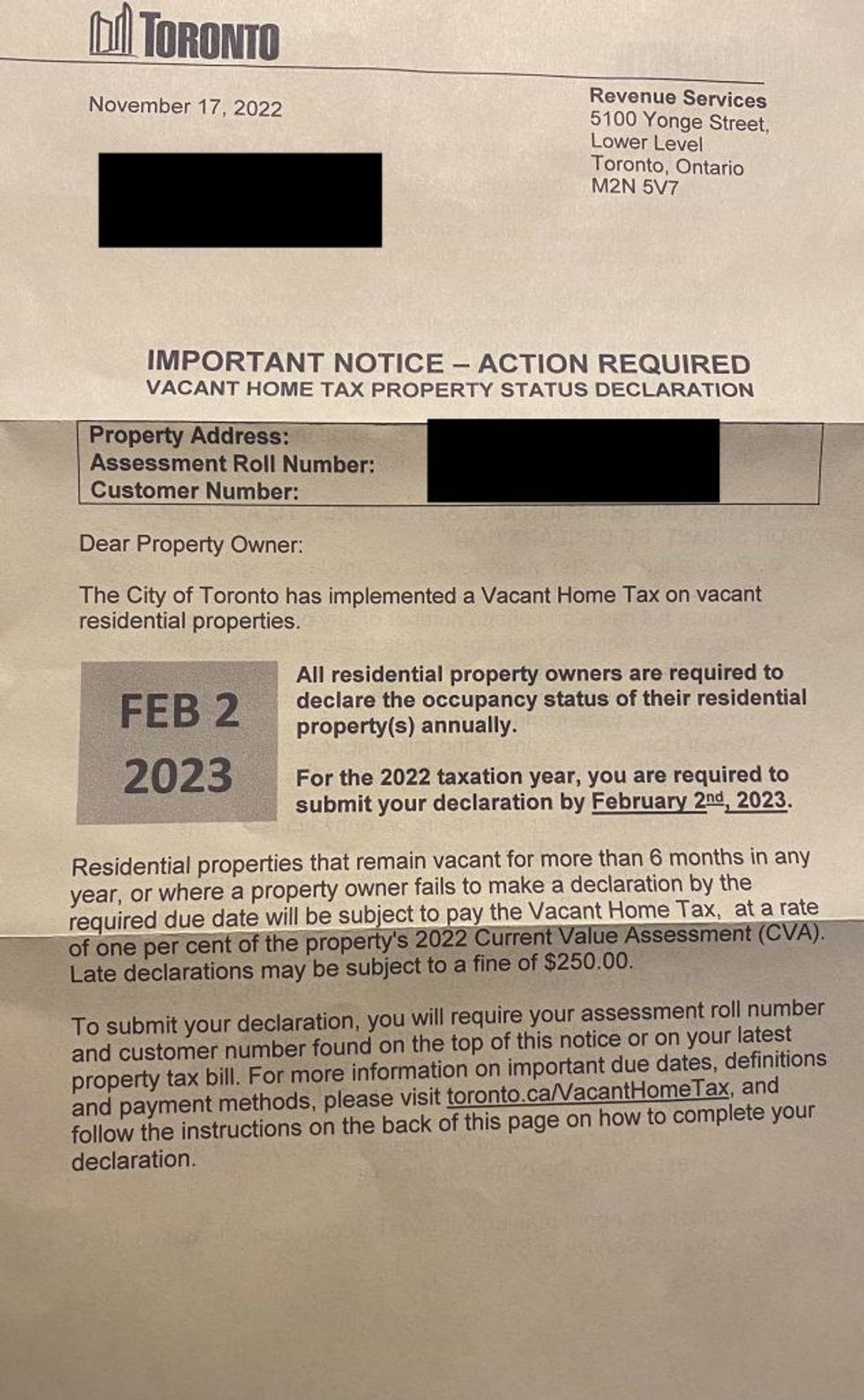 City of Toronto Vacant Home Tax Property Status Declaration Form
Those subject to the Vacant Home Tax will be taxed an additional 1% of their property's Current Value Assessment, and revenues collected will be put towards affordable housing initiatives.
There are a few exemptions to the new tax. Homeowners who do not occupy their homes for six months out of the year may be exempt if their property is undergoing repairs or renovations, if the principal resident of the vacant property is in a hospital or long-term or supportive care, if the property is required for occupation for employment purposes, in the event of legal ownership transfer, in the event of a court order, and in the event of death.
Real Estate News